Payne air conditioners are some of the least expensive ones you can buy. Since Payne has been around for more than 100 years, they have had plenty of time to improve their products. The ENERGY STAR® certification shows that Payne's air conditioner is of high quality, and half of Payne's models have this certification.
Payne has different models of central air conditioning systems for homes that range from 13 SEER to 17 SEER. These ratings also show that the EER ranges from 11 to 13, with mid-range models falling in the middle.
Payne makes heating and cooling equipment that is easy to use and doesn't cost too much. They also offer basic safety features for their air conditioners that aren't usually found in other brands, such as switches for high and low-pressure refrigeration. When something goes wrong with your Payne air conditioner, this can sometimes protect you.
Payne's Best AC Models
Payne has a wide range of high-quality AC models to choose from. Even though each Payne AC unit can be used for many different things, it helps to know some basic facts about them so you can choose the best one.
17 PA17NA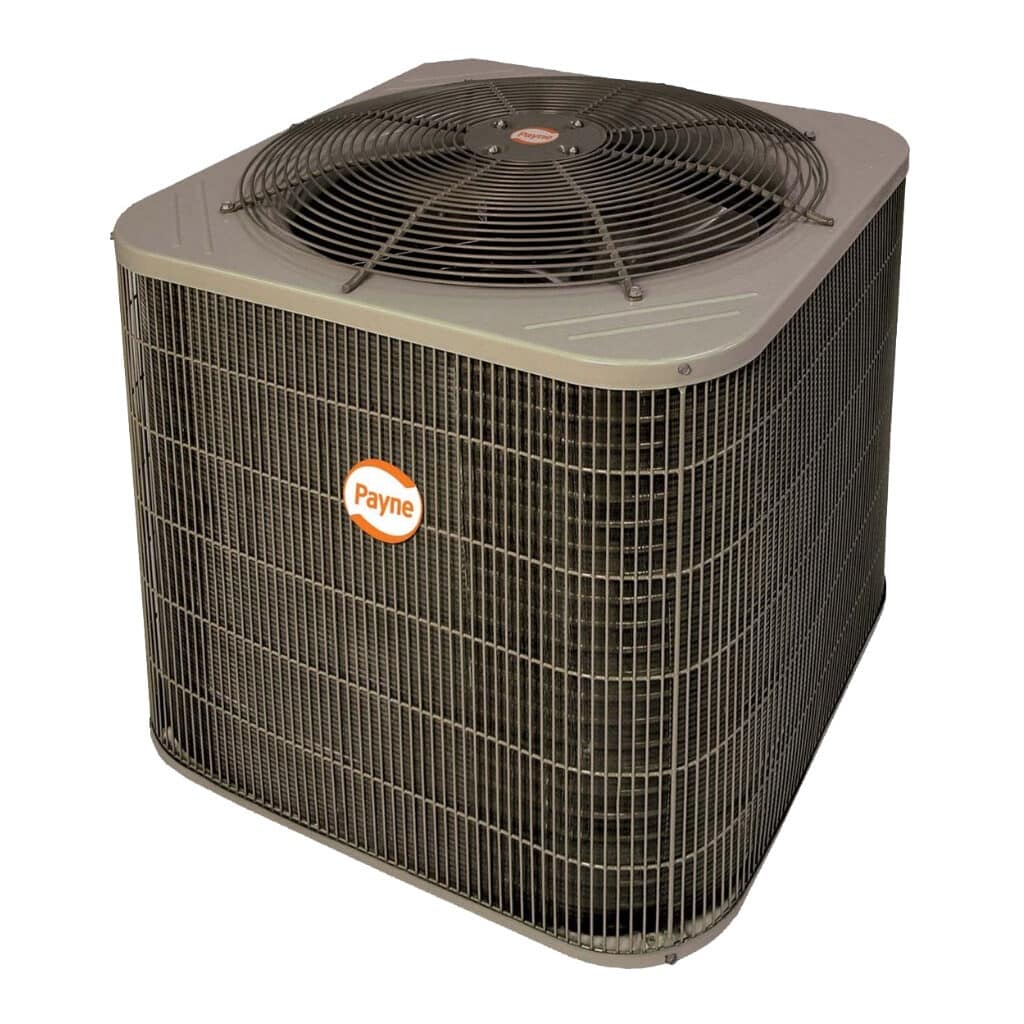 Cooling capacity: 2-5 tons
Energy efficiency: 17 SEER and 13 EER
Sound level: as low as 73 decibels.
The PA17NA has a two-stage compressor and is an ENERGY STAR central air conditioner unit. This model is the only one in Payne's split-system series that has two stages. It does a great job of controlling both temperature and humidity, which makes it perfect for humid climates. The Payne PA17NA air conditioner also has a filter drier and "high & low" pressure switches that protect the system.
17 PA7TAN
Cooling capacity: 2-5 tons
Energy efficiency: up to 17 SEER and 13,5 EER
Sound level: as low as 73 decibels
Payne 17 PA7TAN two-stage air conditioner will take your comfort to a whole new level. With the almost constant, low-stage operation, it is extra-efficient with up to 17 SEER cooling, keeps temperatures even, and works in a whisper-quiet way. Then, a high-stage operation keeps you comfortable as long as the situation calls for it.
16 PA16NA
Cooling capacity: 2-5 tons
Energy efficiency: up to 17 SEER and 12 EER
Sound level: as low as 76 decibels
With the Payne PA16NA air conditioner, you can stay cool and comfortable in the best way possible. This model uses new technology to keep you cool for longer, so you can enjoy its effects for longer. The PA16NA has a scroll compressor with one stage and a 17 SEER rating. It is ENERGY STAR certified and can only make 76 decibels of noise. It is made to last with a cabinet made of galvanized steel and painted with paint that won't chip or peel.
16 PA16NW
Cooling capacity: 2-5 tons
Energy efficiency: up to 17 SEER and 12,2 EER
Sound level: as low as 73 decibels
The Payne 16 PA16NW is a mid-range air conditioner that has a lot of cool features but is still affordable. This model has a single-stage compressor and can run as quietly as 73 decibels, so you can stay cool without all the noise. The PA16NW qualifies as an ENERGY STAR® unit. And because it's made by Payne, you'll be able to enjoy its comfort for years to come.
13 PA13NA
Cooling capacity: 1.5-5 tons
Energy efficiency: 13 SEER and 11 EER
Sound level: as low as 74 decibels
The PA13NA is an entry-level central air conditioner from Payne. It has a single-stage compressor, a single-speed fan motor, a filter drier that protects the system, and protective inlet grille panels that make it easy to clean the coils. A baked-on powder coat finish over galvanized steel keeps the model from rusting. But, due to efficiency standards set by the Department of Energy, the Payne PA13NA air conditioner may not be able to be installed in some parts of the U.S.
Exclusive Features from Payne Air Conditioner
Whisper-Quiet Performance
Even though Payne doesn't have the most cutting-edge technology in the HVAC industry, their models run almost silently thanks to a well-designed scroll compressor and a powerful single-speed fan motor.
Non-Ozone Depleting R-410A Refrigerant
This refrigerant stops ozone depletion from happening at all, so you can stay cool without hurting the environment.
Protective Grilles Made of Tight Wire
For a smoother operation, these tight wire grille panels stop harmful particles from getting in. This improves performance and makes it last longer. With these tight wire grille panels, it will be easier to get to the coils when you need to clean or do maintenance.
Payne AC Price
Payne AC prices vary depending on which unit you choose. A 2.5-ton Payne central air conditioner may cost around $1,900 before installation. Depending on the HVAC technician and the type of unit, installation costs can range from $2,000 to $7,500.
Factors that can affect the price of your Payne air conditioner include:
Capacity or size of the system
Efficiency rating
Installation costs
Tax credits and rebates
Talk to a local HVAC professional to get the most accurate price for the installation of the Payne air conditioner.
Payne AC Warranty
Payne warranties are only good for the original buyer and can't be passed on to other owners. You need to register your unit to get the 10-year limited warranty on parts. If you don't register the warranty within 90 days of installation, it lasts for 5 years.
Payne History
Who makes payne air conditioners?
Over 100 years ago, D.W. Payne and his son built gravity-type furnaces in a Los Angeles barn that had been turned into a house. From there, it all started. Since 1914, Payne has grown and made some of the most reliable, durable, and cost-effective heating, ventilation, and air conditioning (HVAC) products.
Payne is proud of how simple its HVAC units are, which are also very efficient. Payne's line of air conditioners is the best choice for homeowners who want to cool their homes at an affordable price.
Payne Air Conditioner my Honest Reviews
Payne is one of the best-rated AC companies on the market today, and they sell a wide range of reliable AC units that will keep your home cool.
The moderate-efficiency air conditioner from Payne costs between $2,400 and $6,500. It has a two-stage cooling process and a SEER rating of up to 16, which makes your home less humid and more comfortable. If you want a less expensive option, the low-efficiency model from Payne costs between $1,900 and $5,500. This model has a 13-SEER rating and comes with a standard grille that will last for a long time.
One problem with Payne air conditioners is that the coil doesn't seem to last as long as it does in other brands. But, with the 10-year limited warranty on parts, this would be no problem.