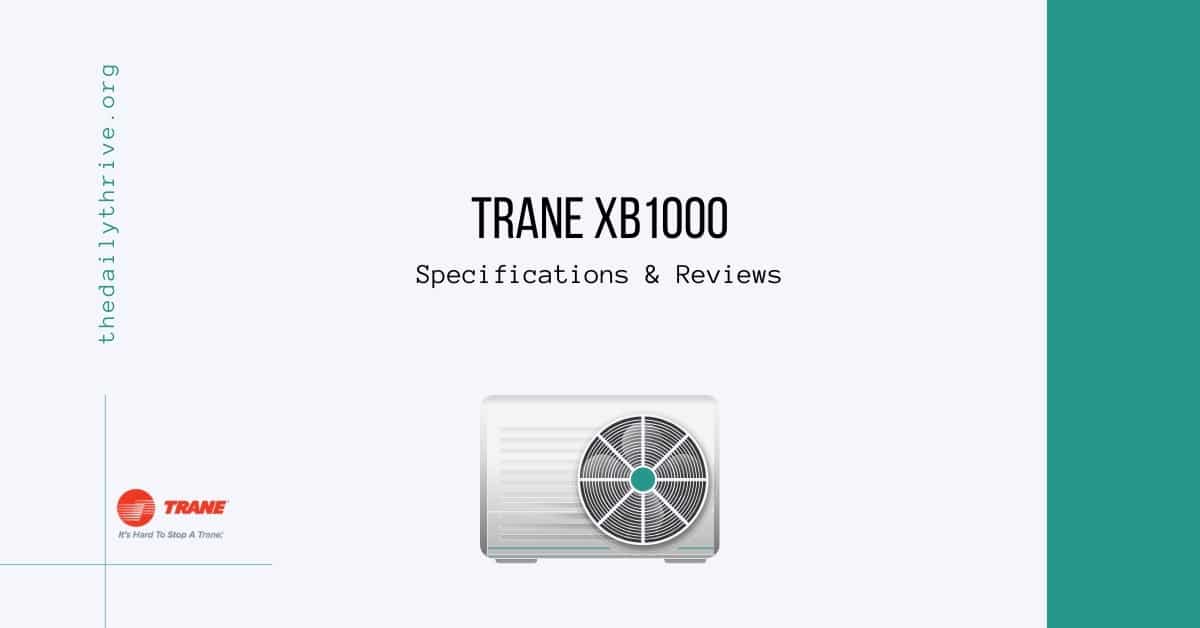 Trane XB1000 Specs and Consumer Reviews – Trane split outdoor air conditioners and heat pumps, when combined with an indoor gas furnace and cooling coil or an air handler, provide a balanced system to offer you maximum comfort at lower operating costs. Trane XB1000 air conditioners offer efficiency SEER ratings in the 10.00 range, which meets the minimum standards mandated by federal standards today.
If your old xb 1000 unit is at least 10 years old, you could realize up to 40% accumulated savings over a 3-year period of operating costs. That savings is based on a comparison of an old 6.00 SEER unit with a new 10.00 SEER. Efficiency ratings and lower operating costs, coupled with advanced technology features shown below, are some of the reasons why Trane is a world-class manufacturer of heating and air conditioning products. Let see the trane xb 1000 specification below.
Trane XB1000 Specifications
Standard Efficiency
10.00 SEER Efficiency Range
Lasts a Long Time
Full-Side Louvered Panels
Baked-On Powder Paint
Corrosion-Resistant Screws
Runs Time After Time
Climatuff® Compressor
Spine Fin™ Coils
Torture Tested
Backed by Trane
Five-Year Limited Warranty on compressor and outdoor coil
Five-Year Limited Warranty on internal functional parts
Five-Year Internal Functional Parts Limited Warranty is effective on units installed after October 1, 2001,and manufactured January 1, 2000 or after. Earlier installations have One-Year warranty
Optional Extended Warranties available. Extended Warranties cover labor, refrigerant and other costs not covered by Manufacturers Limited Warranty
Ask your dealer for full warranty information at time of installation
The Trane xb1000 TTB048 is a 10 seer condensing unit. Its components are top quality and the compressor is heat pump rated (than it will last) and is especially good as a tough effecient unit. I have installed a lot of trane air conditioning and heat pump products without problems.
Trane XB1000 Consumer Reviews
I installed a Trane heating system in my new home and have had to replace the igniter numerous times. It had to be replaced twice in the first year. I voiced concerns to Trane's authorized dealer and they said they had consulted with Trane about this as igniters if properly maintained should last years. Their answer was to install a heavier duty igniter. That has not worked as I just replaced it again for the 6th time. I came home on Sunday night December 27 to a freezing house. Had to spend the night next to a space heater trying to stay warm. Not a pretty picture when you are in your 70's. I have had an ongoing preventative maintenance contract with Comfort Flow Heating which is Trane's authorized representative for this area. So the system has been properly maintained. In fact, their supervisors sad they would always be sure to send out one of their top technicians to ensure it was done properly since we had so many problems.
We purchased our home in 2013. My a/c was out in August this year with bad coil which only 2 years and 2 months a/c system. I was told by Trane rep the coil part is not covered by warranty because is over 2 years. We have to paid a/c company full price to replace the coil. Now after 3 and half months later it's go out again. Many people telling us the Trane coil part is not quality part, broke very easy in the short time. I am extremely upset with Trane a/c unit. House only 2 years old. Should not have such problems! Not sure there are people out there has the same problem as me? What advise someone can give us.
Trane XB1000 Price
Trane xb1000 is no longer in production. You may consider to replace your old trane units with the new one.