Trane XR14 Central Air Conditioner System offer their customers a high-quality AC unit that are tailor made to provide the service you individually need. Whether you are trying to cool a two-bedroom condo, or a 6-bedroom home or a multiple room office, it is important to find the right AC Unit that will meet your needs the best. And Trane XR14 offer superior quality units for multiple applications.
Trane XR14 Air Conditioner unit offers you up to a 16 SEER rating. This is one of the most efficient and reliable AC systems on the market in it's category and price. Trane air conditioners always receive a good reviews from consumer for satisfaction and reliability.
Trane XR14 Features & Specs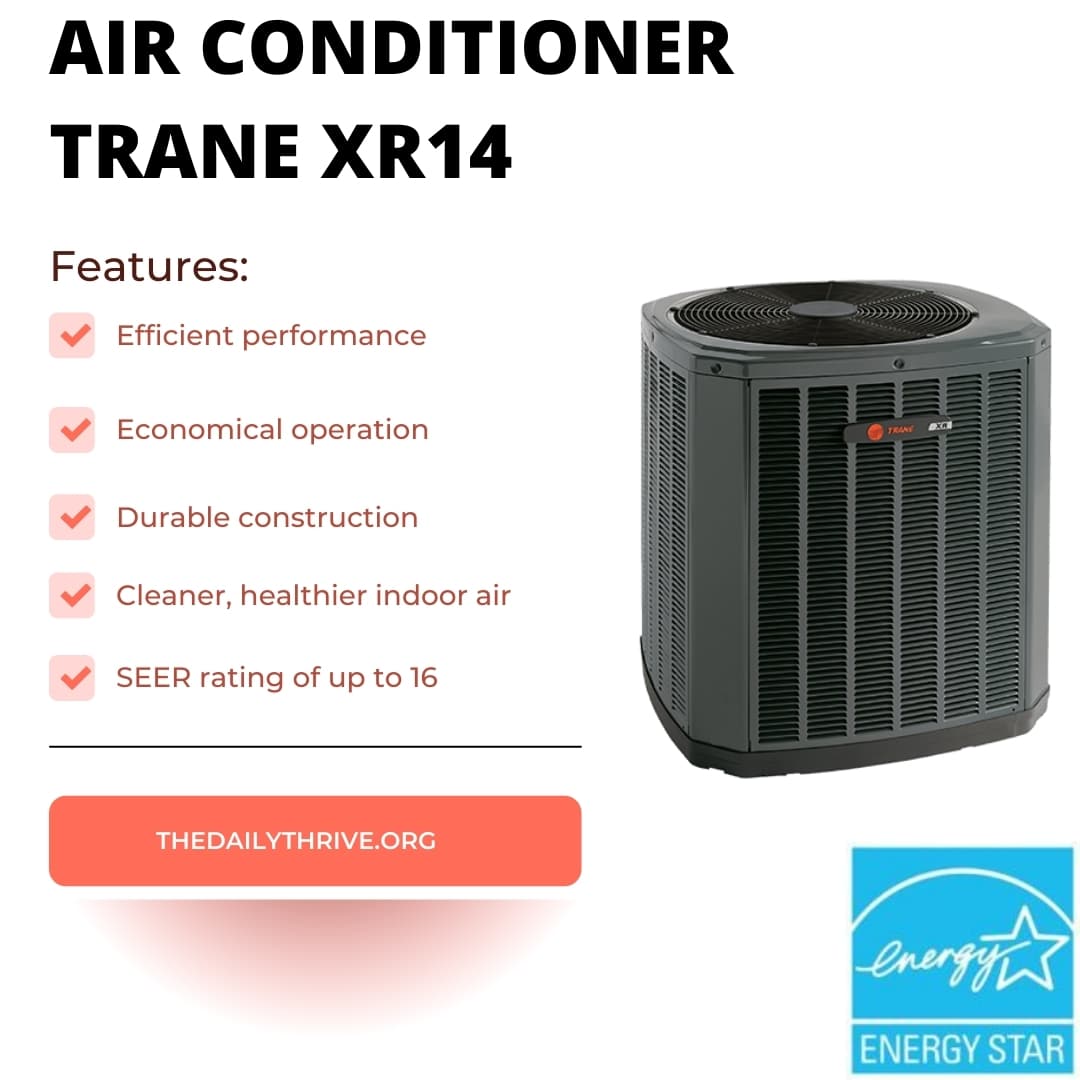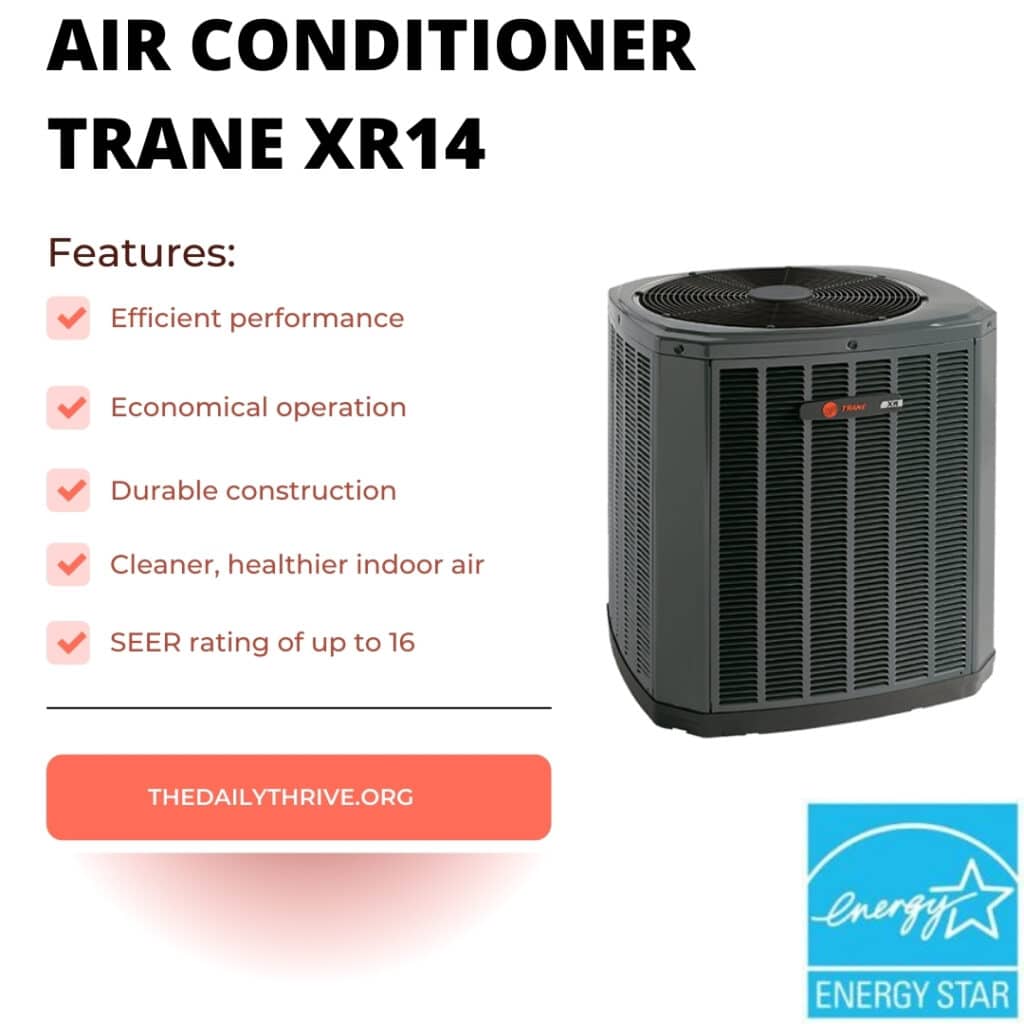 Efficient performance
The XR14 A/C system has a SEER rating of up to 16.00, making it an excellent choice for home comfort and for earning energy-efficiency tax credits.
Economical operation
The increased energy efficiency of this air conditioning system may substantially lower your home cooling costs.
Durable construction
Materials for all components in this central A/C unit are tested again and again for long-lasting performance and reliability.
Cleaner, healthier indoor air
Add Trane CleanEffects™ to your air conditioning system for advanced air filtration that removes more dust, pollen and other irritants from conditioned air for a cleaner, healthier, more comfortable home.
Specifications
Every Trane air conditioner is packed with high-quality components. Each helps ensure that time after time, your unit will provide total comfort your family can rely on. The XR14 includes:
Climatuff® compressor
Spine Fin™ outdoor coil
Full-side louvered panels protect your investment
Baked-on powder paint resists rust
Unique DuraTuff™ non-corrosive basepan
Quick-Sess cabinet with full coil protection
Sound insulator (on select models)
Models
XR 14 Air Conditioner Models (R-410A refrigerant)
| Model | Cooling Capacity (Btuh) | Nominal Tons |
| --- | --- | --- |
| #4TTR4018 | 17,000 | 1.5 |
| #4TTR4024 | 23,600 | 2 |
| #4TTR4025 | 23,600 | 2 |
| #4TTR4030 | 28,400 | 2.5 |
| #4TTR4031 | 28,400 | 2.5 |
| #4TTR4036 | 34,000 | 3 |
| #4TTR4037 | 34,000 | 3 |
| #4TTR4042 | 40,500 | 3.5 |
| #4TTR4043 | 40,500 | 3.5 |
| #4TTR4048 | 47,000 | 4 |
| #4TTR4060 | 56,000 | 5 |
3-Phase XR14 Air Conditioners Models
| MODEL | COOLING CAPACITY (BTUH) | NOMINAL TONS |
| --- | --- | --- |
| #4TTA4036A3 | 36,000 | 3 |
| #4TTA4042A3 | 42,000 | 3.5 |
| #4TTA4048A3 | 48,000 | 4 |
| #4TTA4060A3 | 60,000 | 5 |
| #4TTA4036A4 | 36,000 | 3 |
| #4TTA4042A4 | 42,000 | 3.5 |
| #4TTA4048A4 | 48,000 | 4 |
| #4TTA4060A4 | 60,000 | 5 |
Trane XR14 Price and Warranty
Price
Trane air conditioners price are more expensive than other brands. The price of a new Trane Air Conditioner unit or system varies based on the model you choose. However, here are some average costs homeowners should expect. The average cost of a 3 ton Trane XR14 Air Conditioner installation starts at $4,200. The cost doesn't include for new ductwork.
Warranty Details
Warranty is the main advertising factor for various HVAC brands. Trane giving their customers up to 10 years of limited warranty on replacement parts! You might invest in an Extended Warranty as well, that'll not only cover the parts, but also the labor cost!
10 Year limited warranty on compressor
10 Year limited warranty on outdoor coil
10 Year limited warranty on internal functional parts
If the product is not registered within 60 days of installation Trane's Base Limited Warranty terms will apply.
An option to purchase transferability of your Registered Limited Home System Warranty is available.
Optional Extended Warranties are available. Extended Warranties can pay for labor and other costs not covered by manufacturer's limited warranty.
Ask for full warranty information at time of purchase. Warranties are for residential use only, some exclusions may apply.
Register within 60 days of installation to activate warranty. Residential use only. Some exclusions may apply.
Product registration is required within 60 days of installation for maximum warranty coverage. 
Trane XR14 Reviews
The reputation of Trane has in this HVAC industry is unparalleled. From their products being made in America to the testing of their equipment in laboratories. Trane offer the XR14 Air Conditioner line as their budget option for residential hvac systems.
Trane is an established company that takes a lot of pride in their HVAC products. If I didn't believe this was a good product that is going to last a long time in your home without giving you problems, I wouldn't recomend it for you.
Consumer Reviews
This is for a new installation, for finishing up part of a basement. The area being finished is around 730 sq ft, but there is an adjacent section about 2300 sq ft that will not be conditioned, but will have some (about 4) ducts run, if in the future we need to send some conditioned air. These extra duct installation was quoted at an extra $400. The 2 ton 14 seer system can support a home ranging in size up to 1600 sq. ft, which gives extra tonnage for future expansion.
Bought this unit in 2018 to replace a 20-year-old Trane XE1000 system. The Trane XR14 has no trouble maintaining 75 even when the outside temperature is over 100. Even on those days it cycles about twice an hour and doesn't run non-stop. Trane is not kidding when they say their all-aluminum coil is better at heat transfer than traditional aluminum fin copper tubing condensers. Even though it's only 1 year old it has worked flawlessly since it's first start up. I think most people who have problems with a new system of any brand are not matching all the components and getting a bad install.
Remember, no matter who you have install your Trane XR14 Air Conditioning system, please make sure they know how to measure and install the correct size system for your particular home. Pick the licensed contractor in your local area that will pull a city or county permit and has a good reputation online. When you do, you'll have better peace of mind. Cheap prices don't usually translate to quality installs.