Getting a portable air conditioner is the best way to keep your garage at a comfortable temperature. But which unit is best for a garage with no windows? In this article, we'll talk about the different types of garage air conditioners and how to choose the right one for your garage.
If your garage has no windows, you know how hard it can be to keep it cool in the summer. Windows bring light, warmth, and airflow into a room. It will be stuffy and very hot without windows because hot air can't get out. Portable air conditioner units are great for places like garages where you can't install a permanent window or HVAC system.
It's easy to move a portable air conditioner around however you like. Since you don't spend all your time in the garage, and you might need your portable air conditioner somewhere else, this makes them a good choice to use there.
We're focusing more on portable air conditioners, because we think they're the best for the garage with no windows.
What to Consider Before Buying a Portable AC for Garage
When looking for a portable AC unit for a garage with no window, it's important to know what size to get and how to clean it. Look at the model's British Thermal Unit (BTU), which tells you how much energy it takes to cool a room and how fast. Manufacturers usually list the square footage along with the BTU to show if the model can cool a large or small room.
For maintenance, you should look for a model that cleans itself or has an easy-to-remove, reusable filter. Emptying a bucket of water in a portable air conditioner is a pain, and it can also be a place where mold and mildew growth.
Portable air conditioner prices range from $150 to $1,000, so we have the option to choose the best and most affordable portable air conditioners on the market right now. 
Best Portable AC for Garage with NO Windows – Buying Guide
Before you spend a lot of money on portable air conditioners, check out our helpful buying guide to find the right one for your home garage and your budget.
BLACK+DECKER 14,000 BTU Portable Air Conditioner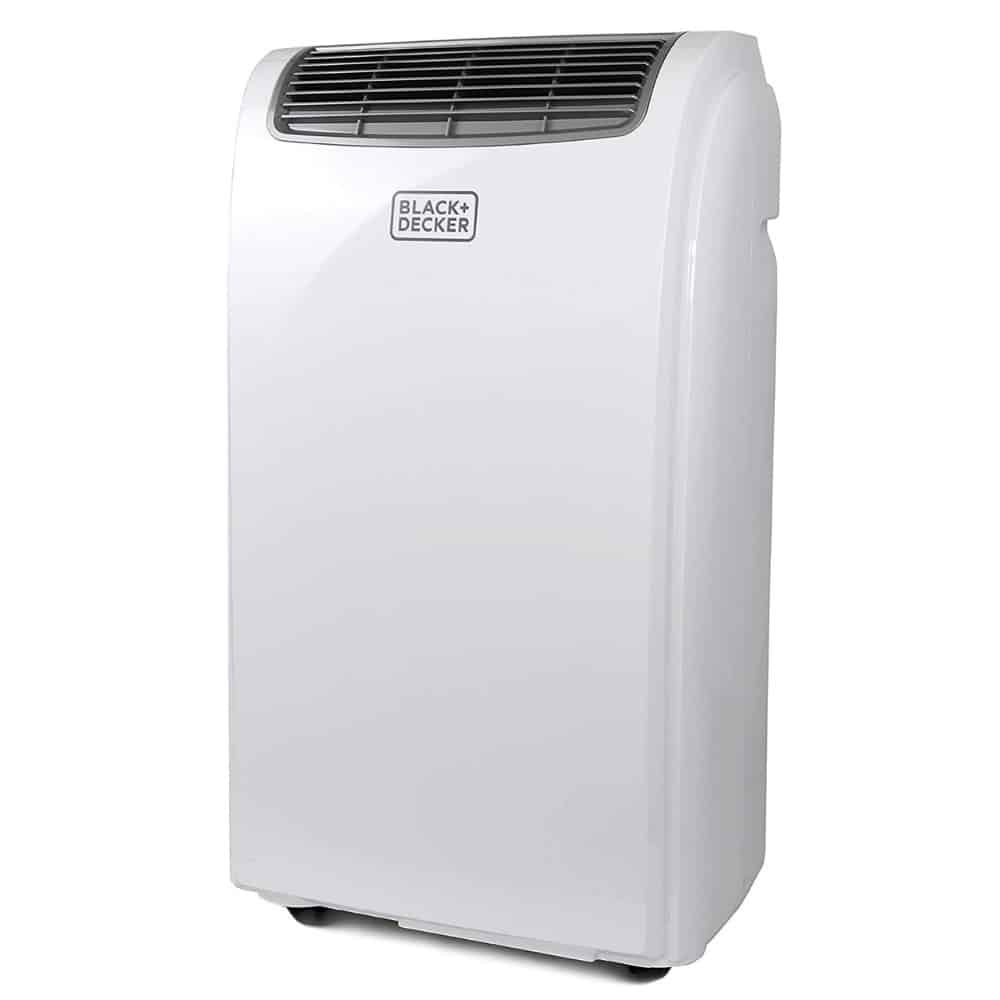 Check out the BLACK+DECKER 14,000 BTU Portable Air Conditioner if you need the best portable AC for a garage with no window. It doesn't have a fancy remote or WiFi, but it does what it needs to do for less than $500.
The BLACK+DECKER portable AC delivers 14,000 BTU to cool a garage space between 550 – 700 square feet. It also has a sleep mode and a mode to remove moisture from the air, making it a great all-around unit. It's also easy to set up.
SereneLife SLPAC12.5 Portable Air Conditioner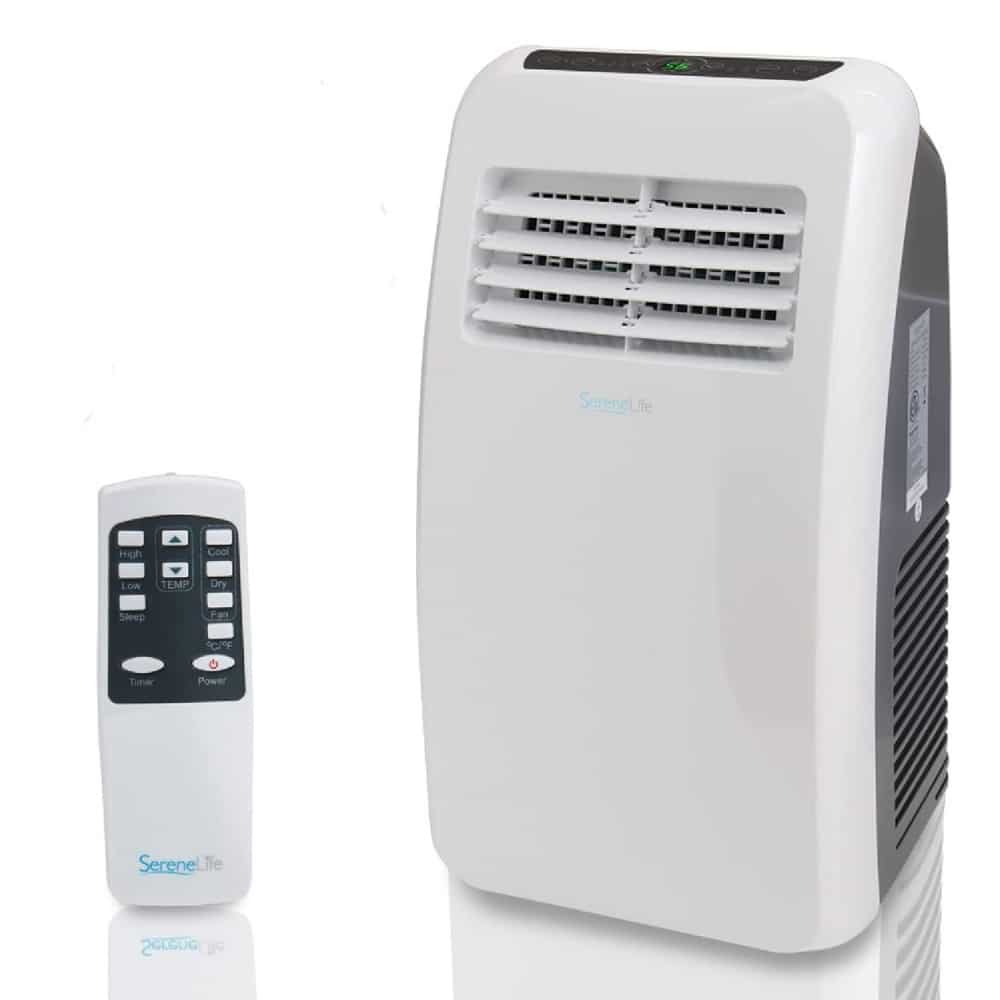 Consider this portable air conditioner by SereneLife if you need an air conditioner for your garage that doesn't have windows. It has a strong operating system and a sleek, light exterior design that work together to cool your garage efficiently. The unit also has wheels, so you can move it out of the garage and use it in another room when the garage isn't being used.
Lastly, the AC has three cooling modes, including a dehumidifier and an automatic swing mode, that make it easy to control the temperature in a closed garage. It also has an easy-to-use remote control system that lets you change the settings whenever you want. The unit can cool a space that's more than 450 square feet and up to 12,000 BTUs, making it perfect for medium-sized to large garages.
hOmelabs 14000 BTU Portable Air Conditioner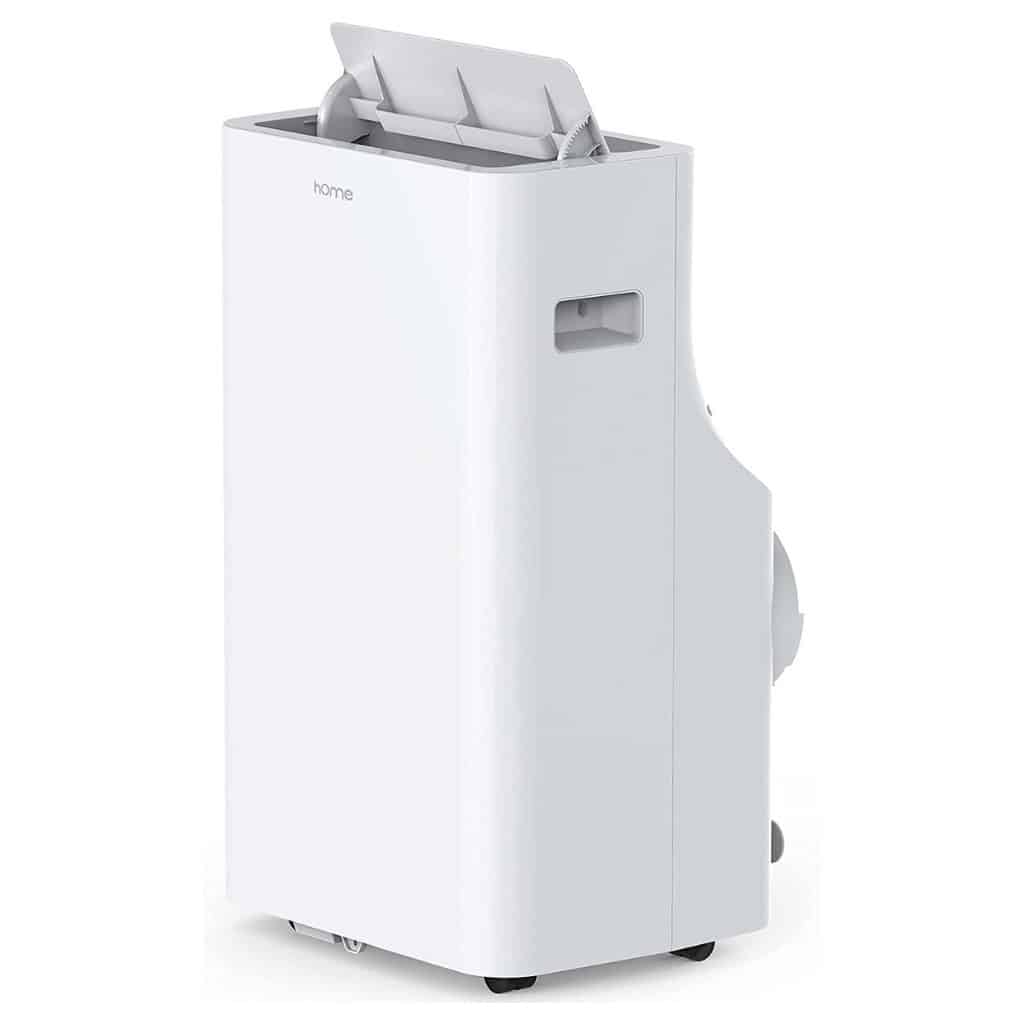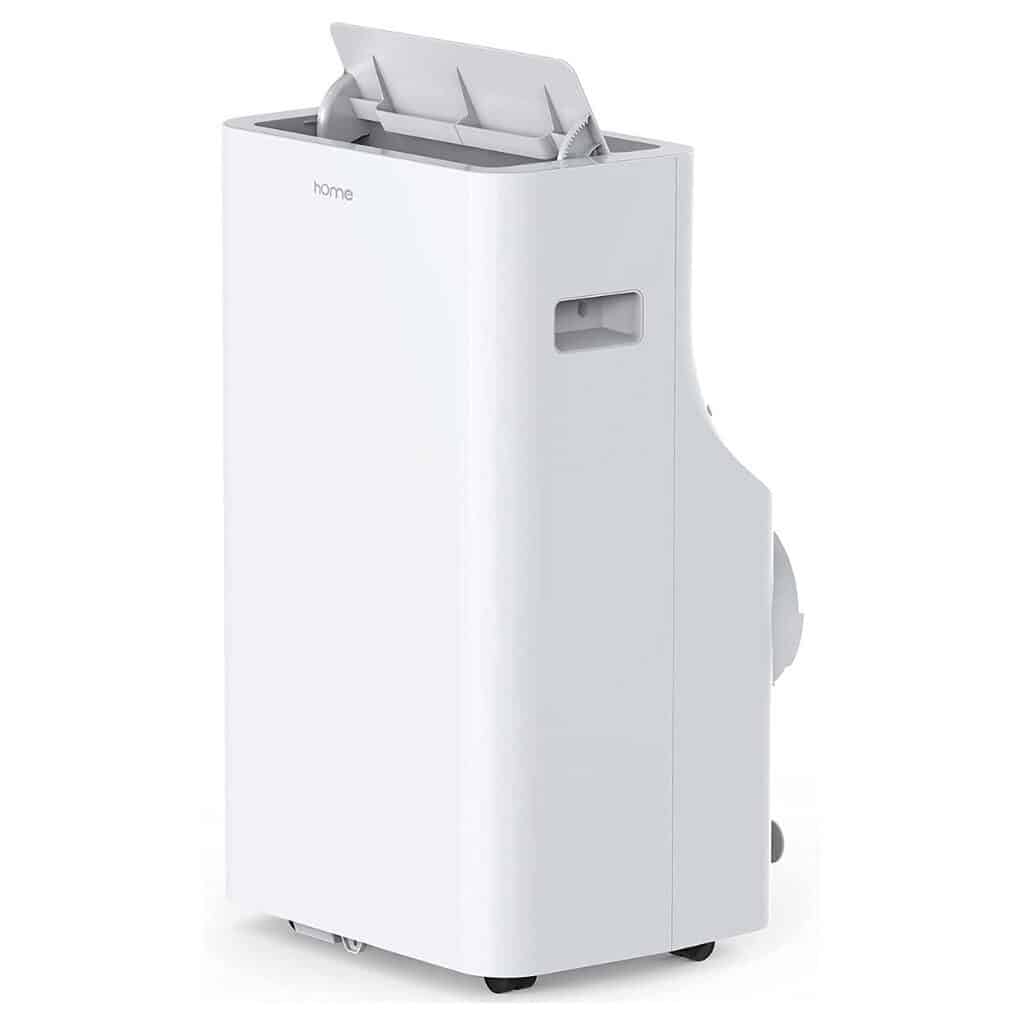 hOmelabs 14000 BTU is the quietest portable air conditioner that you can move around your garage with. It's easy to set up and works well in any room in your house because it has wheels. With 14000BTU, this unit can cool a room that is 450 to 600 square feet. It also features a horizontal window opening and an automatic vertical swing function that spreads airflow evenly around the room.
The air filter on this device can be washed, which makes it easy to take care of. The remote makes it easy to change any of the air conditioner's settings. Every two weeks, try to clean the air filter to make sure it works well.
How Many Btus Do You Need To Cool A Garage with NO Window?
When looking for the best portable AC for a garage with no windows, the size of the space you want to cool is the most important thing to consider. If you buy a unit that is too small, the system will work too hard, and your monthly energy bill will go up. If your portable AC unit is too big, it might use more power than you need and cool down so quickly that it can't get rid of all the humidity in the room.
Use the chart below to figure out how many BTUs you need for your garage:
| Garage Size (square feet) | BTU needed |
| --- | --- |
| 250 up to 300 | 7,000 |
| 300 up to 350 | 8,000 |
| 350 up to 400 | 9,000 |
| 400 up to 450 | 10,000 |
| 450 up to 550 | 12,000 |
| 550 up to 700 | 14,000 |
| 700 up to 1,000 | 18,000 |
Final Words
Most garages don't have windows that can be opened to let in the fresh air. Adding a portable air conditioning unit to control the temperature and humidity is one of the first steps to making the space usable.
A portable air conditioner for a garage with no windows makes the space more useful without putting too much strain on your home's HVAC system. This is the simplest way to make a room more comfortable.