Portable air conditioners both cool and dehumidify rooms and small areas without the need for permanent installation. Many models even offer heating and purifying features as well. When choosing a portable air conditioner, keep in mind certain factors such as the size of the area you wish to cool, energy consumption, and maintenance requirements. We've compiled a list of some of our best air portable air conditioners below.
Portable air conditioners are small, mobile, and don't need to be mounted through a wall. Because these types of units are compact, fully portable, and don't require any type of permanent installation. They're perfect for areas where installing standard air conditioning units may not be possible or cost-effective, such as apartment buildings.
Also, portable air conditioners lower the ambient temperature by using a refrigeration cycle. This process results in reduced humidity of the air processed by the system and even lower relative humidity levels. This makes them ideal for those living in humid climates.
What is a Portable AC?
A portable AC is a compact, mobile appliance that lets you take control of the indoor temperature, so you can be cool and comfortable even in the hottest weather.
Like window and wall units, portable air conditioners provide cooling in rooms and buildings where central air conditioning is not available. If you live in an apartment, studio, or older home where you can't install central AC, these self-contained cooling units will give you welcome relief during the summer.
But unlike window or wall units, portable ACs do not require permanent installation – there is no need to break through a wall or reconfigure a window in order to use it.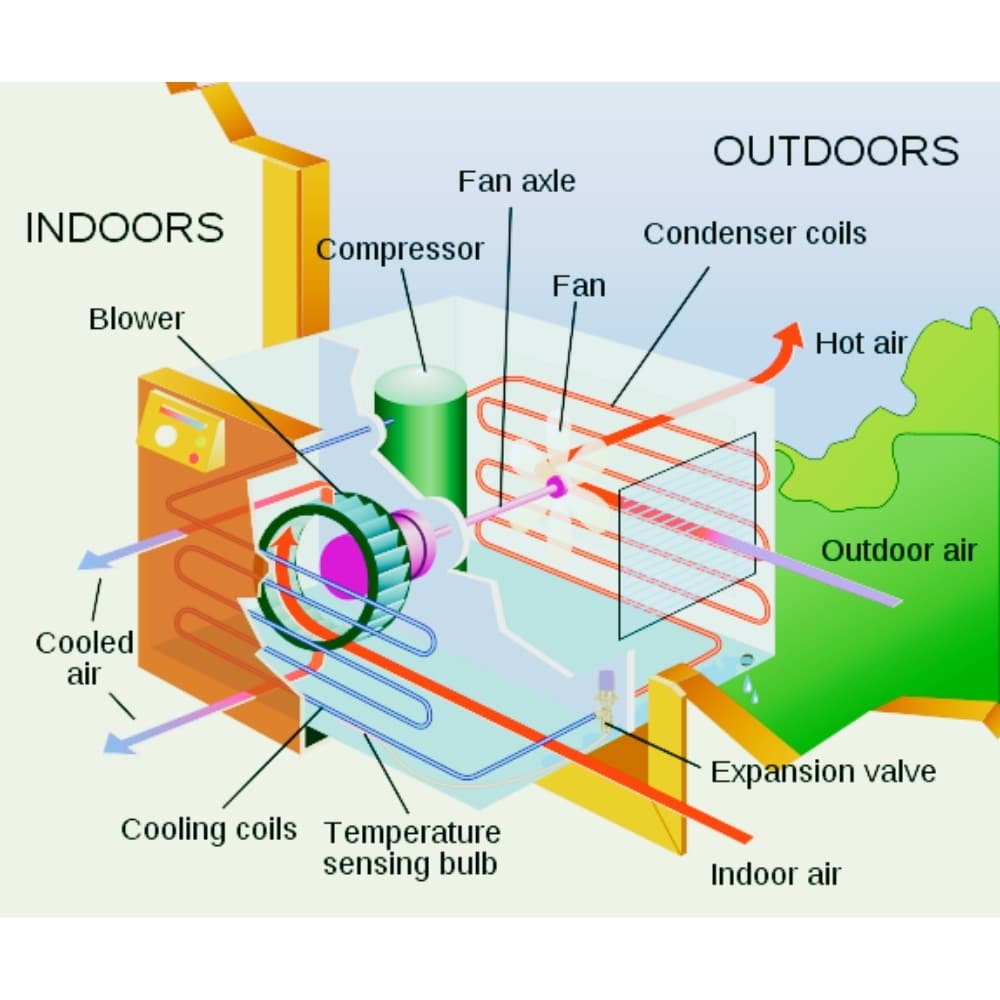 Instead, a flexible exhaust hose vents hot air through a window to the outside. Typically outfitted with caster wheels, they're easy to move around and set up wherever you need to provide spot cooling.
In areas where installing a central air conditioning unit is:
Impractical
Impossible
Cost-prohibitive
A mobile air conditioner can help you stay cool and comfortable. Some of the greatest advantages of a portable air conditioner are its maneuverability and simple installation. Although portable ACs still need to be vented, permanent installation isn't required, and most units have caster wheels that allow you to move the unit from room to room. They are also a cost-effective alternative to central air conditioning systems because they allow you to cool specific areas instead of an entire home.
Many models available on the market are also multi-functional in that they offer more than just portable cooling. In fact, some units include built-in dehumidifiers, air purifiers, and even heaters – making them truly versatile and not just suitable for the summer heat.
Best Portable Air Conditioner – Review
We're rounding up the best portable air conditioners to keep your home cool this summer. The following are the best available that you can buy online.
LG LP1419IVSM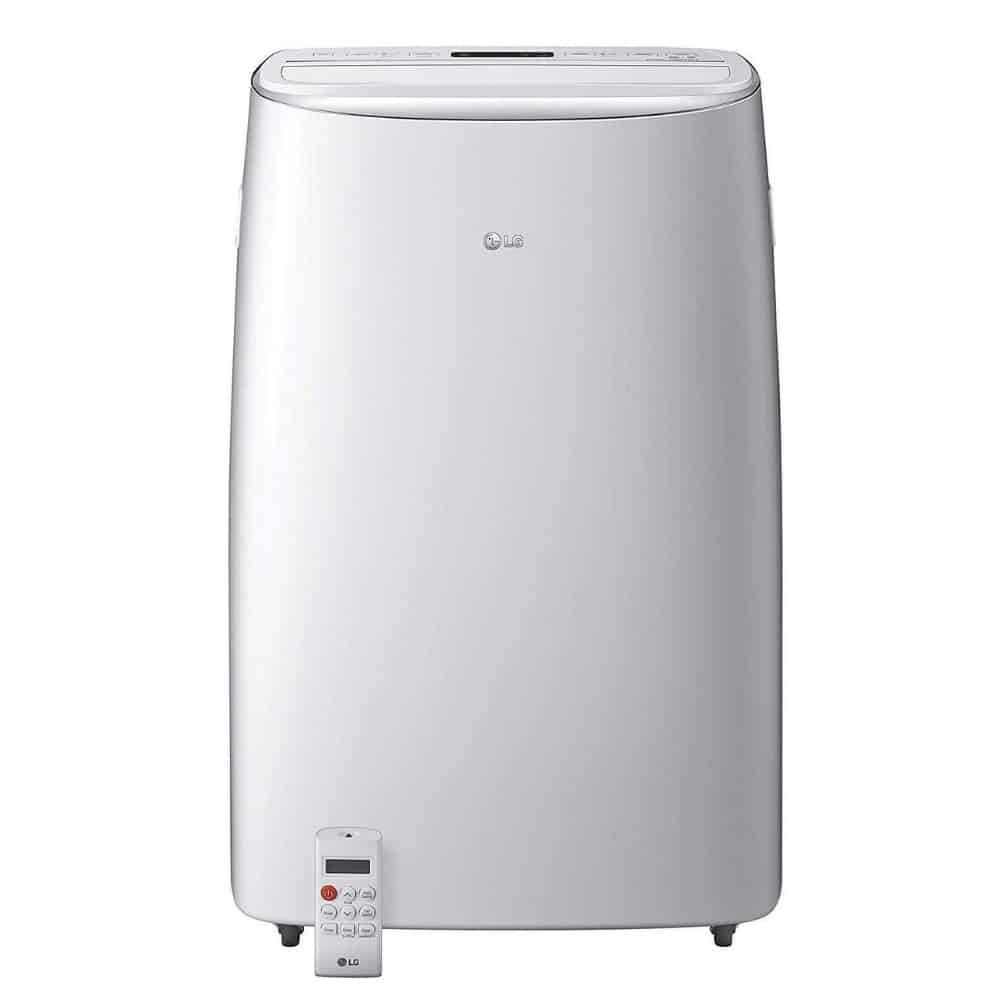 Power: 14,000 BTU ASHRAE (10,000 BTU DOE)
Coverage area: up to 450 square feet
Drainage: empty collection tank
Noise level: 53 dB (highest setting)
Additional features: includes fan and dehumidifier functions.
The LG Portable Air Conditioner is our top choice because of is surprisingly quiet but powerful. This unit is rated at 14,000 BTU ASHRAE (10,000 BTU DOE), and it can effectively cool rooms up to about 500 square feet. This portable AC offers a bunch of intelligent features, including a variable-speed dual-rotor compressor, a built-in hose for easier setup, and a convenient storage pocket. It's also Alexa and Google Assistant-compatible, so you can command the AC by voice.
Black+Decker BPACT10WT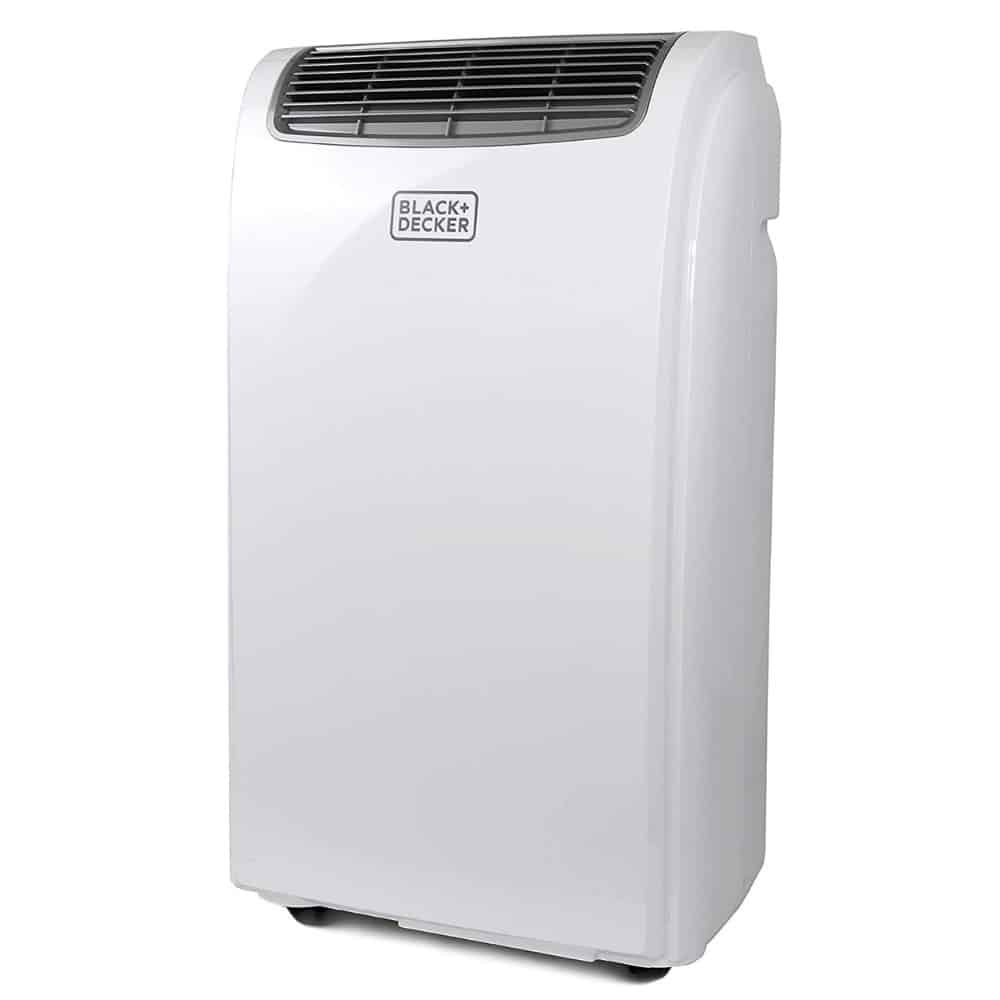 Power: 10,000 BTU ASHRAE (6,000 BTU DOE)
Coverage area: up to 250 square feet
Drainage: bucket-less design evaporates water; drain hose included
Noise level: 51 to 53 dB
Additional features: includes fan and dehumidifier functions.
Black + Deck portable AC unit is best suited to a small room. It features cooling vents as well as dehumidifying modes to make sure you can sleep comfortably this summer. It has a remote control, and top-mounted LED display where you can change the settings. The AC has a self-evaporating design, so there is no need to dump the water, keeping the portable air conditioner maintenance simple.
SereneLife SLPAC10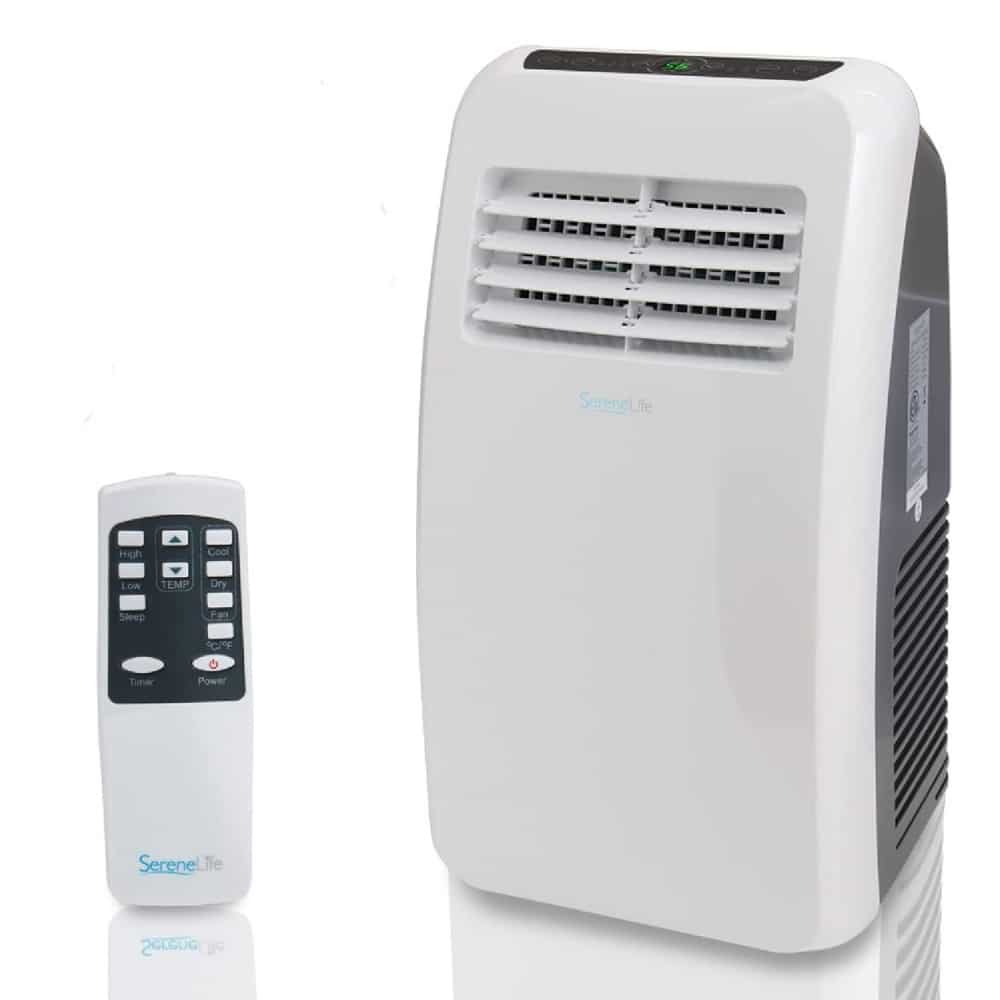 Power: 10,000 BTU ASHRAE (6,000 BTU DOE)
Coverage area: up to 270 square feet
Drainage: automatically exhausts moisture but may need drain hose (sold separately)
Noise level: 55 to 57 dB
Additional features: includes fan and dehumidifier functions
This SereneLife portable air conditioner is the best affordable portable air conditioner. It is a well-priced model that comes in several sizes. Not only does it act as a cooling system, but it can also act as a dehumidifier and fan.
Midea 6,000 BTU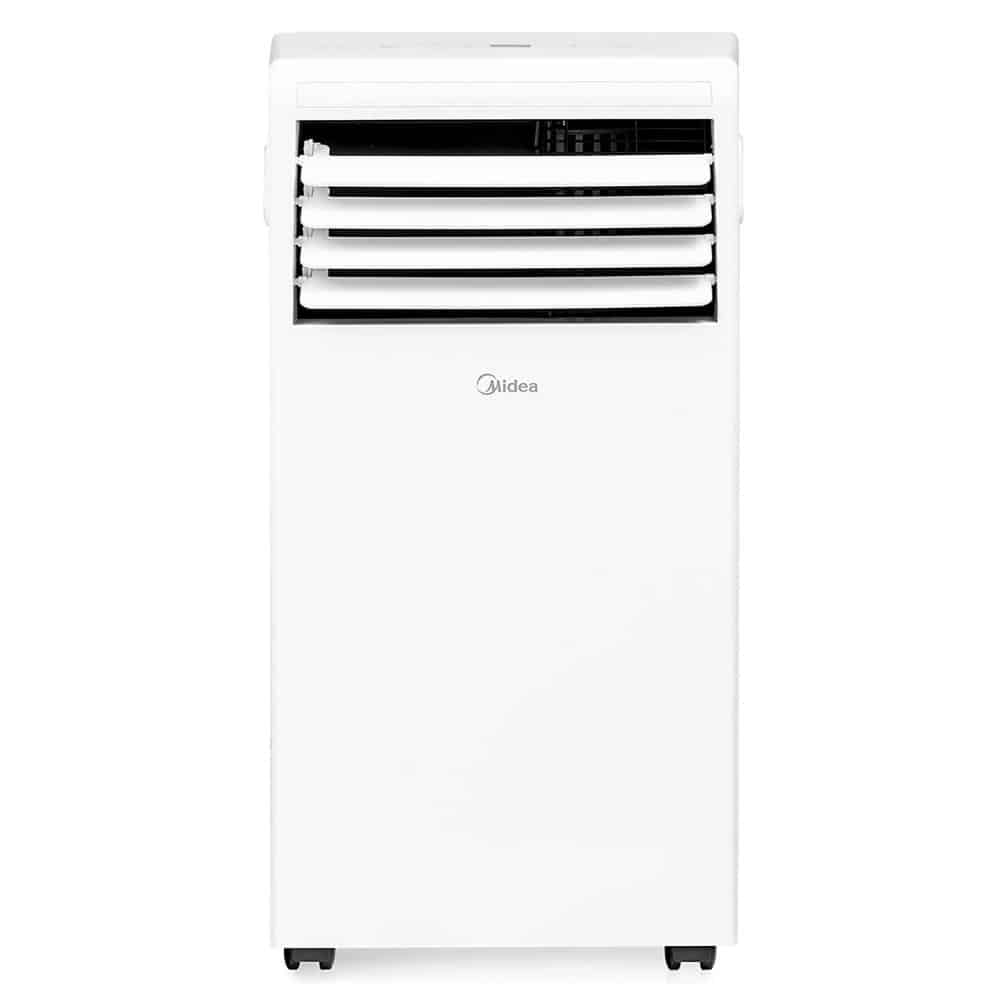 Power: 10,000 BTU ASHRAE (6,000 BTU DOE)
Coverage area: up to 150 square feet
Additional features: dehumidifier
Midea Portable Air Conditioner offers 6,000 BTU DOE, which is suitable for spaces up to 150 square feet. It can cool a space, circulate air with its 3-speed fan, or reduce humidity utilizing the dehumidifier mode. If you're looking to cool a larger space, it also comes in several additional sizes, ranging up to 14,000 BTU.
Whynter ARC-14S 14,000 BTU Dual Hose Portable AC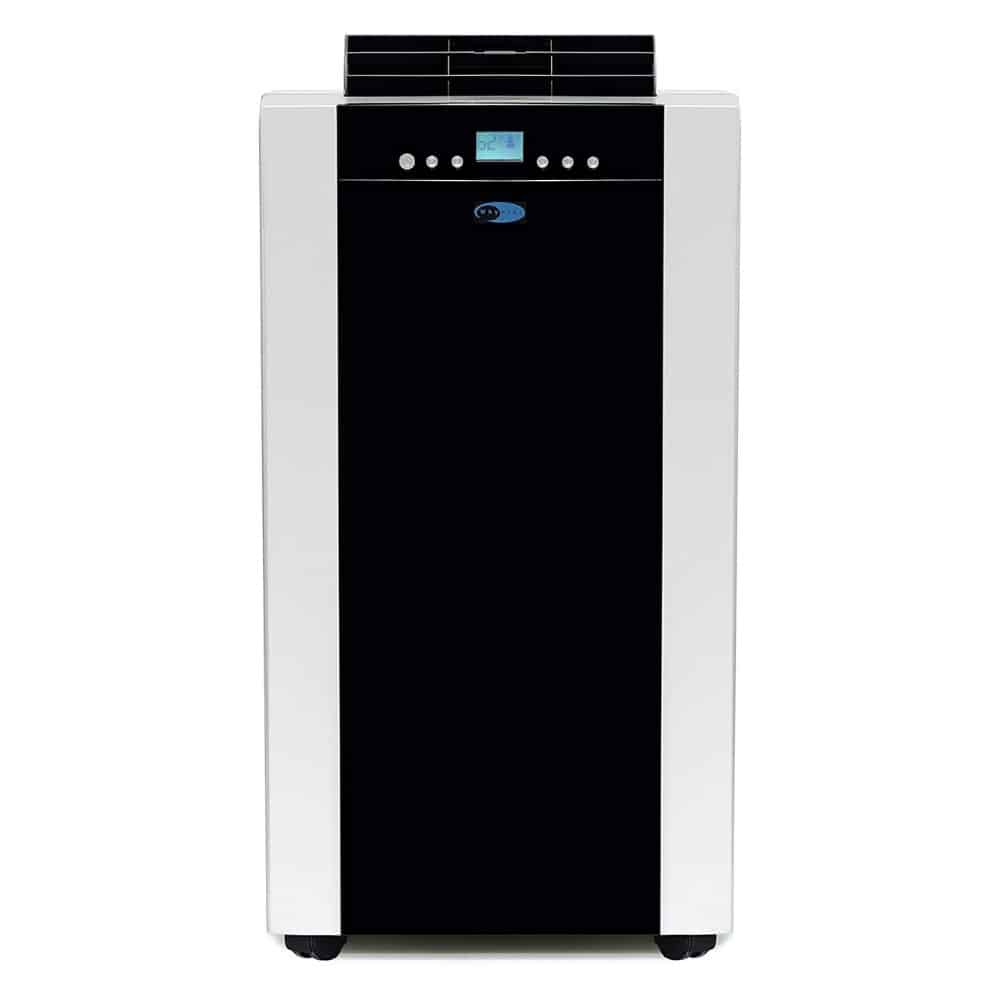 Power: 14,000 BTU ASHRAE (9,500 DOE)
Coverage area: up to 600 square feet
Drainage: automatically recycles moisture but may need drain hose (sold separately)
Noise level: less than 56 dB
Additional features: includes fan and dehumidifier functions
This Whynter portable air conditioner is so powerful; it has a dual hose (intake and exhaust) and can cool down a room faster than other portable units. This model can cool down spaces up to 500 square feet quickly. The dehumidifier option can remove up to 101 pints of moisture from the air in 24 hours.
Portable Air Conditioner – Buying Guide
To find the best portable air conditioner, read through our ten buying tips!
#1 Determine the size of the area you want to cool.
Mobile AC units aren't meant to cool down entire homes or buildings; they're more suitable for spot cooling specific areas or rooms. The first step to choosing the best portable air conditioner for your needs is to determine the square footage of the area you want to cool.
#2 Find out how much cooling power you need.
Air conditioners are sized according to BTUs. The BTU rating describes the unit's power and cooling capacity. The higher the BTU rating, the more powerful the air conditioner. An incorrectly sized portable AC unit will result in inefficient cooling, so choose wisely! Refer to the chart below to find out how many BTUs you'll need.
Portable Air Conditioner Sizing Guide
| | |
| --- | --- |
| Room Size | Recommended BTUs |
| 150 square feet | up to 5,400 BTUs |
| 200 square feet | 6,000 BTUs |
| 340 square feet | 8,000 BTUs |
| 400 square feet | 9,000 BTUs |
| 450 square feet | 10,000 BTUs |
| 550 square feet | 12,000 BTUs |
| 750 square feet | 14,500 BTUs |
| 850 square feet | 16,000 BTUs |
| 1,000 square feet | 18,000 BTUs |
| 1,400 square feet | 24,000 BTUs |
| 1,520 square feet | 28,500 BTUs |
| 1,600 square feet | 32,000 BTUs |

#3 Add or subtract BTUs if needed.
The above chart estimates BTUs based on average room conditions in a moderate climate. Some exceptions may also apply, and if they do, you'll need to add or subtract BTUs as necessary.
Add the BTU amount by 10% for two- story homes or especially sunny areas
Reduce the BTUs by 10% for shaded areas
Add 600 BTUs for each additional person over two persons in a room
Add 4,000 BTUs if you're cooling a kitchen
#4 Consider your environment's overall climate.
If you live in an especially hot or arid climate, a mobile room air conditioner spanning less than 20° may not be sufficient. Look for temperature increments, and be sure that the unit you choose can be incremented in notches of 1° to 2°. This allows for greater precision and prevents electricity waste.
#5 Look for an auto-evaporative system.
One thing to consider is an air conditioner's cooling technology. Most modern ACs use auto-evaporative systems that recycle moisture collected during the cooling process to provide more efficient cooling. This type of system will also reduce the amount of condensate collected in the unit's tank. Our best portable air conditioners all have auto-evaporative cooling systems.
#6. Pay attention to venting requirements
All portable air conditioners need to be vented out of a window, drop ceiling or wall. Most units will come with installation directions and window kits for venting. When choosing a portable air conditioner and if venting through a window, make sure the window you intend to install the vent on matches the type of window covered by the kit.
#7. Think about noise levels.
Many modern room air conditioners are relatively quiet, but if you are concerned about noise levels, be sure to pay attention to decibel ratings. The higher the decibel, the louder the unit is. So if you're planning to use your air conditioner in your bedroom at night, try to find one that's quieter.
#8. Look at the EER rating.
EER stands for Energy Efficiency Ratio and this is another number that's commonly used in the portable air conditioning industry. High EER ratings are favorable because this means the unit costs less to operate. The best portable ACs have EERs over 10, and the higher the EER, the more the air conditioner will cost. If a model doesn't have its EER listed, you can calculate this number by dividing the unit's BTUs by its wattage.
#9 Look for Additional Features
Many portable air conditioners offer even more versatility with both cooling and heating functions. sSome models include built-in dehumidifiers as well. If you want to get the most bang for your buck, look for a model that can heat and cool and use it for year-round thermal comfort. Keep in mind that additional functions will result in a higher price tag, though.
#10 Don't just buy the cheapest model you can find.
Although it's always good to comparison shop, the best portable air conditioner may not always been the cheapest one (or the most expensive). Take the time to read product reviews so you can be sure the product you buy will live up to your needs. If you need more help making a choice, call our cooling experts – we'll be happy to guide you through the process!
Final Though
There are many companies making portable air conditioners now, under various brand names. This is obviously because they are becoming much more popular, and manufacturers want to take advantage of that fact. While new to the market compared to, say, ductless AC units, they do not really represent new technology but rather a new way of applying old technology. This should be comforting. Because they work quite well, the public is discovering them as a viable option for room air conditioning.
So how does one choose between all the options? The best portable air conditioner for one room will not be the best for another, so we can't proclaim "this one is best of all." But there is the best fit for your need.
There are several other brands out there as well, so many choices are available. But you only want one: the best portable air conditioner for you! So avoid units inadequately powered for the intended use, those devoid of convenience features, and those that seem overpriced. At the end of the day, the best portable air conditioner is reasonably priced, powerful enough to do the job, reliable, easy to use, and keeps your room comfortable year-round.
Portable Air Conditioners FAQ