Choosing the best air conditioner system from the range of brands and models available can be daunting. Taking a little time upfront to get some expert opinion about an air conditioning system will save you time and money. This page gives a handy Air Conditioner buying guide to help you make an informed purchasing decision.
When preparing to buy a new central AC system, two of the most important decisions you need to make are:
Choosing the right local HVAC contractor to size the equipment, design the system, and control the quality of the installation.
Choosing the right equipment with the efficiency rating and features to fit the specifics of your situation.
Networx helps you find the perfect company or contractor for your central air conditioning needs. Use them to get the best quotes from companies that serve your area. Click Here for Free Quotes
HVAC contractors sometimes offer several air conditioner brands and models to choose from. Equipment brands will not likely impact your satisfaction nearly as much as the right contractor that installed the system. However, since some homeowners have experience or preferences on brands, we provide a handy worksheet to help compare the best central air conditioner brands and their main features.
Why Central Air Conditioner?
In most cases, it will be the most cost-effective to install a central air conditioner when your home is being built. Even if an existing home doesn't have a central AC system, as long as it already has ductwork and a central heating system, retrofitting air conditioning can be relatively straightforward and cheap. Older homes that do not have a central heating system will involve greater cost and complexity since ductwork must be added.
Whether you are building a new home or doing a major renovation on an older home, a Central Air Conditioning system is a major component and provides a very good return on investment for the homeowner, improving the overall comfort and resale value of the home.
How Central Air Conditioner Works
The fundamental concept behind any air conditioning system relies upon the law of thermal dynamics, which states that if hot and cold spaces are separated by a "medium," the transfer through the medium is from hot to cold.
Heat follows cold, so a central air conditioner draws warm, humid air across fin tubes on the evaporator coil. This causes the air to condense. Moisture is collected in a pan below the coil and drained off, helping reduce humidity inside the living space.
The coil must be continually cooled, which is the function of the compressor and condenser coil in the outdoor unit; hot air is returned from the air handler to the compressor. The compressor pressurizes liquid/gas refrigerant, heating it to a gaseous state and sending it to the adjacent condenser coil. It is cooled and returned to the evaporator unit indoors.
This repeated cycle of removing warm air from inside the house to outside and pumping in cooler air is what makes the temperature inside the living space more comfortable on a hot day! The amount of energy needed to cool your home is an important factor in determining the overall cost of operating your central air conditioner.
The Best Air Conditioner by Brands
While many other central air conditioner brands exist, we have provided basic dealers on the most prominent American HVAC manufacturers below:
Trane
Norwegian immigrant James Trane founded his company in Wisconsin in 1885 with the invention of the innovative, low-pressure Trane Vapor Heating System. Nearly 100 years later, Trane acquired the air conditioning unit of General Electric to become a leading supplier in the industry.
Innovation continues to drive Trane, which now operates as a unit of Ingersoll Rand, offering systems under the Trane and American Standard brands. Promoting the trend to combine air purity and comfort, Trane offers whole-house systems designed to remove almost 90 percent of the particles and allergens from the air inside a home's living space!
Trane AC Models: 11
Highest SEER rating: 24.6
Average Cost to Install: $4,500 to $12,500
Warranty: All models have a minimum ten-year warranty on all parts.
Our pick of the best Air Conditioner from Trane: Trane XR16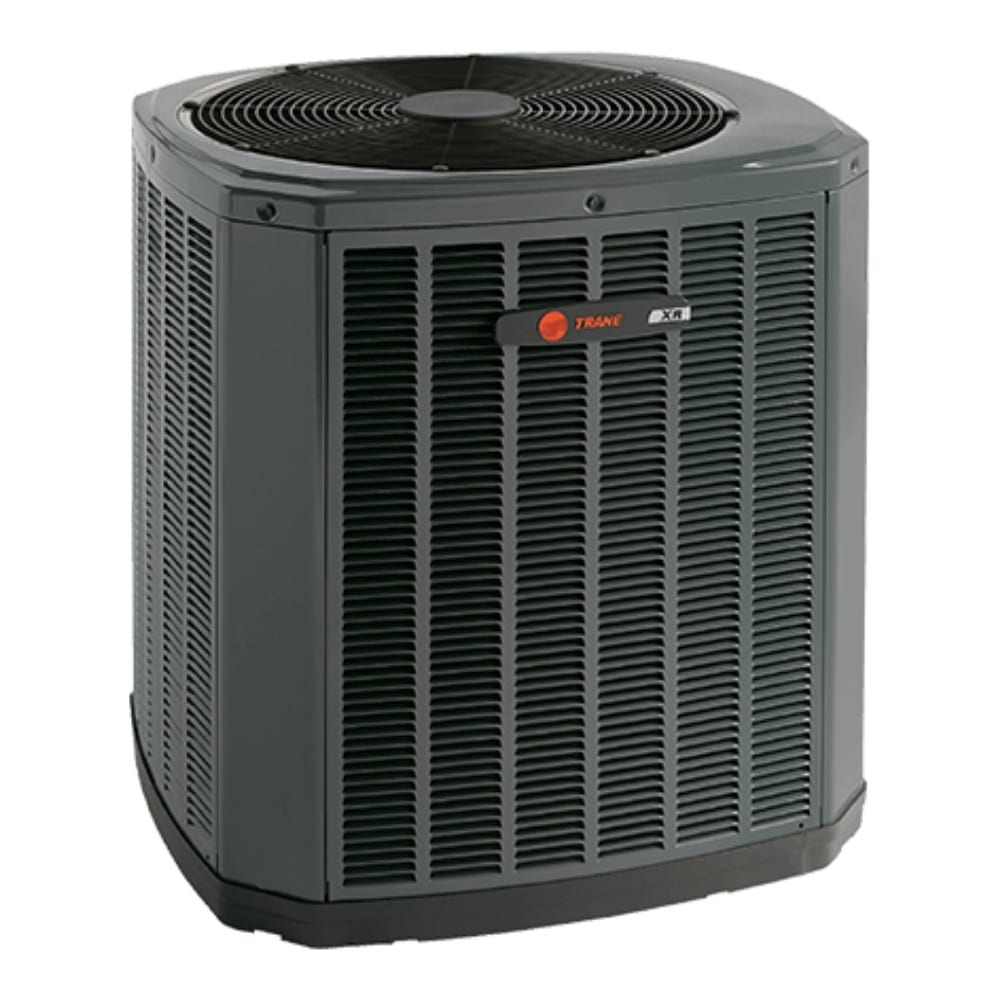 The Trane XR16 has a SEER rating of up to 17, providing energy-efficient cooling for your home. This Energy Star qualified unit offers up to 54% in energy savings and operates on a single stage cooling system. The installed cost for this Trane unit typically runs between $6,500 and $10,500.
Carrier and Bryant
Both are owned by United Technologies Corporation. Carrier and Bryant are probably the most widely recognized brands in the United States and the largest manufacturer worldwide. Willis Haviland Carrier is credited with inventing the modern air conditioner in 1902, launching Carrier as a premier manufacturer in the industry.
Charles Bryant followed Carrier, founding Bryant in 1904. UTC offers hundreds of products between these two brands, including air conditioning systems, heat pumps, furnaces, boilers, duct-free systems, ventilators, controls, thermostats, humidifiers, air purifiers, etc.
Carrier and Bryant home comfort systems include multiple product lines within both brands to meet almost any home central air conditioning system needs.
Carrier AC Models: 16
Top SEER rating: 26
Average Cost to Install: $4,500 to $8,500
Warranty: 10-year parts limited warranty and five-year parts and compressor.
Our pick of the best Air Conditioner from Carrier: Carrier Infinity 26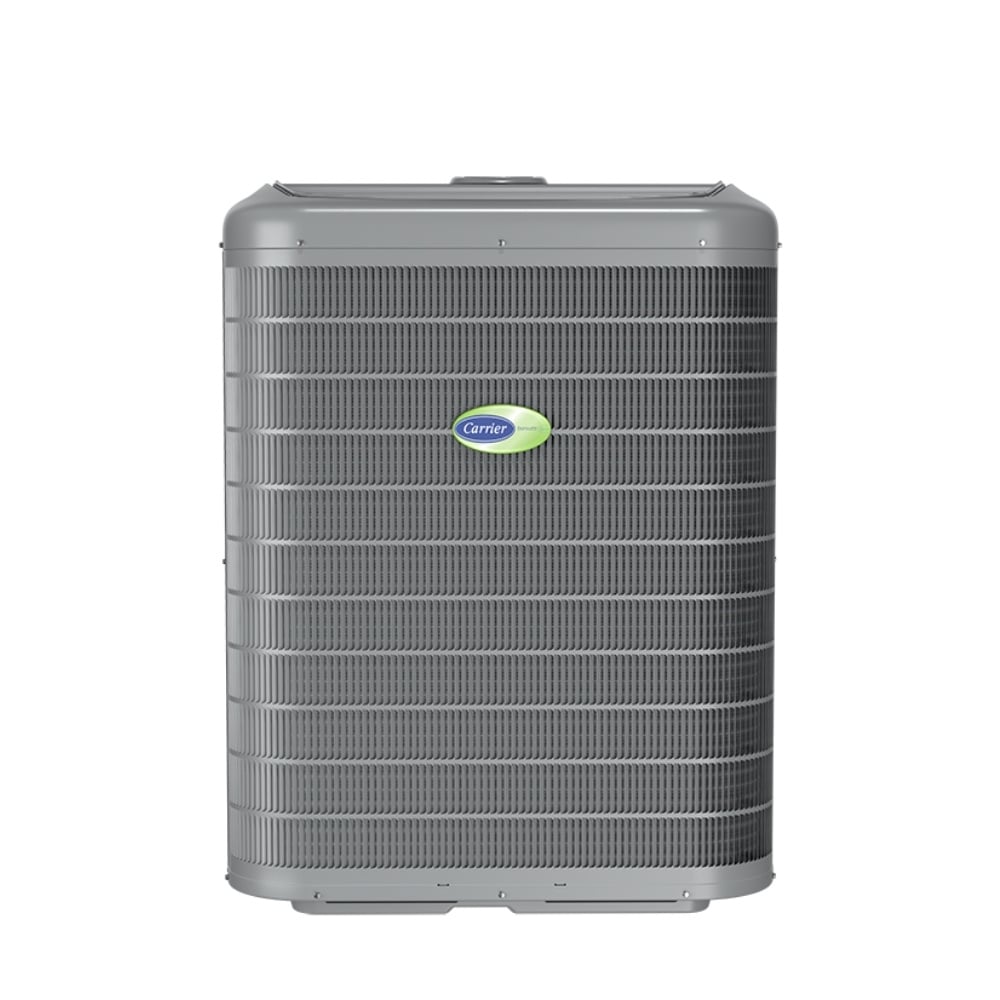 Carrier Infinity 26 Air Conditioner with Silencer System II operates at a shockingly subdued 51 decibels (dB). This is the highest efficiency and most advanced air conditioner with up to 26 SEER for premium energy savings with extremely quiet performance and premium comfort
Goodman
In business since 1982, Goodman Manufacturing is known as a low-cost provider of central air conditioning systems. Founded by ex-air conditioning contractor Harold Goodman, the company focuses on providing affordable, reliable cooling and heating products backed by industry-leading product warranties.
In 2012, Daikin purchased Goodman, and since then the quality noticeably improved. Goodman has always offered low prices and strong warranty service.
Goodman AC Models: 5
Top SEER rating: 26
Average Cost to Install: $3,000 to $4,500
Warranty: Lifetime compressor warranty on some units and 10 years.
Our pick of the best Air Conditioner from Goodman: Goodman GSX14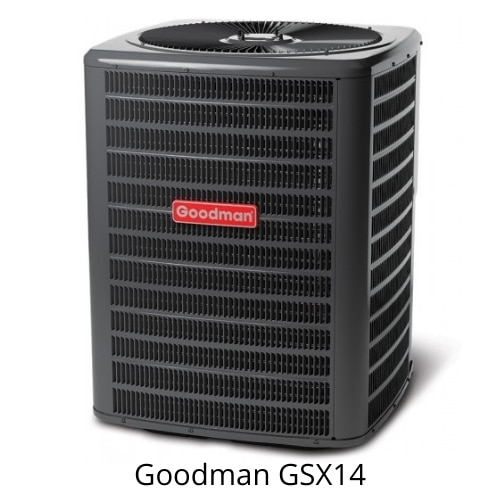 GSX14 is Energy-Efficient Air Conditioner with up to 15 SEER, meaning that the unit can cover up a medium-sized home in an ideal temperature. I love this air conditioner because it always consistently smooth, quiet and cools right away.
Lennox
Founded in 1895 in Iowa by Dave Lennox, who invented the world's first riveted-steel furnace, Lennox Industries continues to make some of the most efficient air conditioning systems on the market, with over 60 leading-edge products and a network of over 6,000 dealers.
Today, Lennox's claim to fame is having introduced the first SEER 26 air conditioning system, pushing the efficiency envelope to new limits!
Lennox AC Models: 11
Top SEER rating: 26
Average Cost to Install: $3,000 to $7,500
Warranty: 10-year compressor and 5-year covered component warranties.
Our pick of the best Air Conditioner from Lennox: Dave Lennox Signature Collection SL18XC1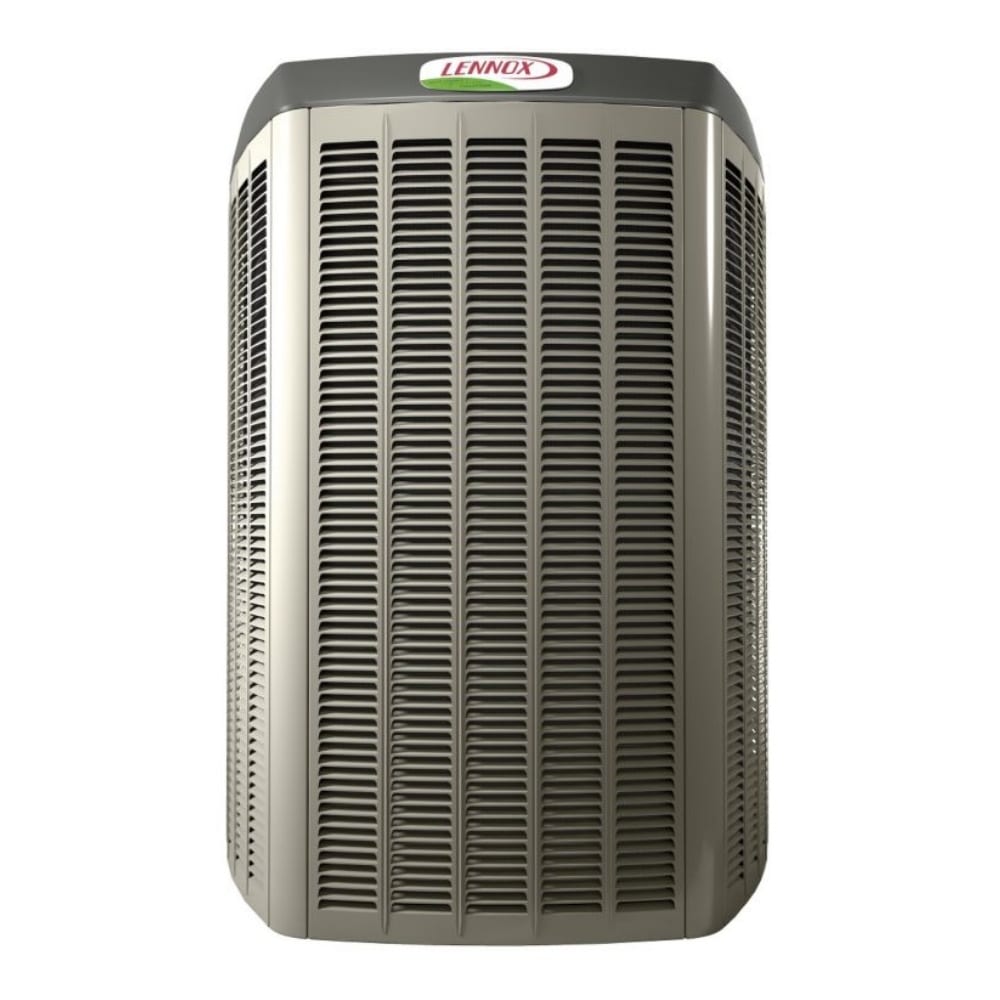 The SL18XC1 is equipped with all the same capabilities and features as the other models in the Dave Lennox Signature Collection, but it has a more standard single-stage compressor. This unit features the Lennox Quantum coil, which is an aluminum-alloy coil specifically designed to resist corrosion.
York, Luxaire, and Coleman
Johnson Controls Company owns these York, Luxaire and Coleman air conditioner brands, offering a complete lineup of home air conditioning products and a large network of distributors and dealers. A storied history led to these three brands coming under the ownership of Johnson Controls, which offers a complete product lineup that competes against the other two major American manufacturers; Trane and UTC.
York AC Models: 11
Top SEER rating: 21
Average Cost to Install: $3,000 to $5,500
Warranty: 10 years parts and lifetime compressor warranty
Our pick of the best Air Conditioner from York: Affinity YXV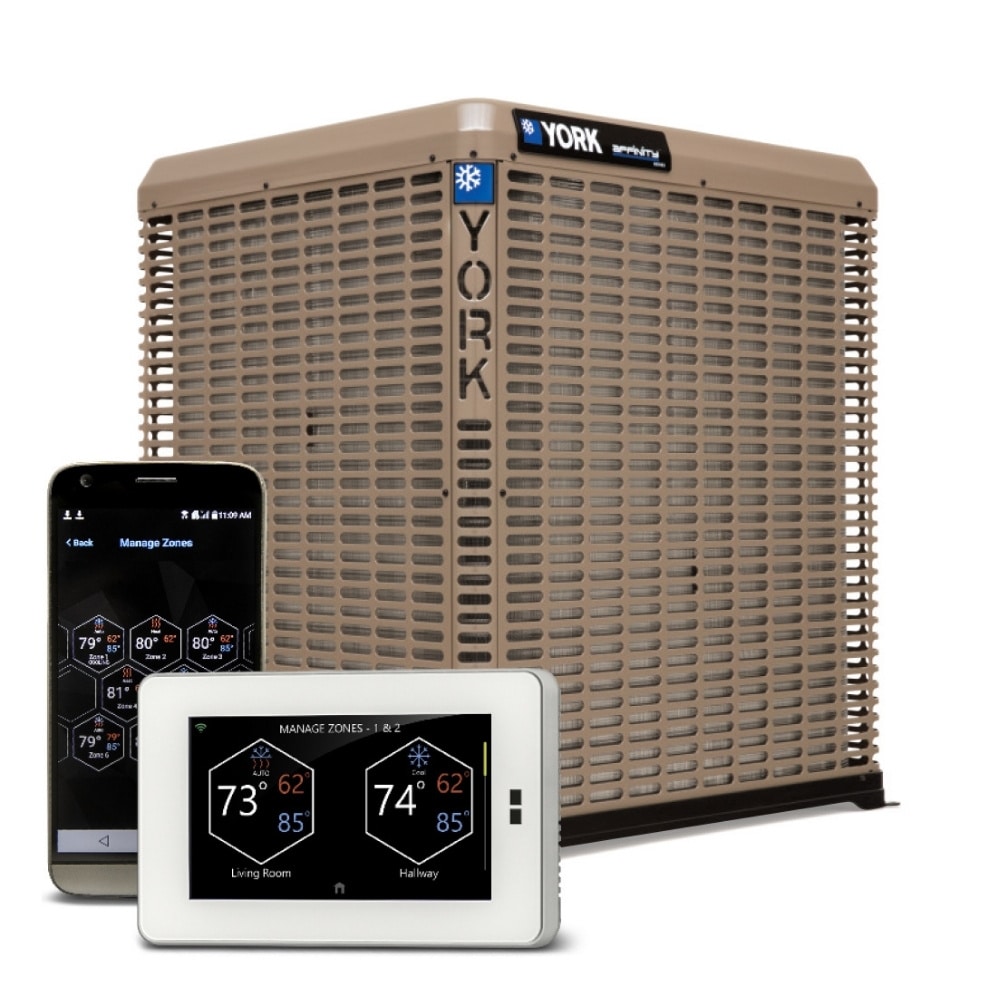 The Affinity YXV is York's premium offering. This variable-speed air conditioner is ENERGY STAR certified, has a SEER of 20, and is designed for quiet operation. It also won gold at the 2017 Dealer Design Awards, and is compatible with the Climate Set technology, is equipped with the QuietDrive system, and comes with Charge Assurance for fast installation and maintenance.
Central Air Conditioner Buying Guide – Things to Consider
Choosing the best central air conditioner can be such a nuisance if you do not understand what things you must consider. It's important to understand how central air works, which manufacturers and brands to consider, and how to get the highest quality installation services at the best value.
When shopping for a home A/C system, there are three main things to consider when shopping for a home A/C system; cooling capacity, efficiency, and service life.
Price
Of course, the upfront cost of a central a/c system includes the air conditioning components, the ductwork, contractor labor, and building permits, which can run from as little as about $3,000 to over $7,000. To replace an existing system could cost less than $3,000 if the ductwork, wiring, and other non-system components are operable and do not require replacement.
| Brand | Price Range |
| --- | --- |
| Lennox | $4000 – $7500+ |
| Carrier | $4000 – $7500+ |
| Trane | $4000 – $7500+ |
| American Standard | $3500 – $5800 |
| Ruud | $3750 – $5750 |
| Rheem | $3700 – $5700 |
| Bryant | $3600 – $5600 |
| Goodman | $2800 – $4800 |
| Keeprite | $2800 – $4800 |
| York | $2800 – $4800 |
| Amana | $3000 – $5000 |
| Armstrong | $3000 – $5500 |
| ComfortMaker | $3000 – $5500 |
| Coleman | $3250 – $5500 |
| Heil | $3250 – $5500 |
| Luxaire | $3250 – $5500 |
| Payne | $3250 – $5500 |
| Tempstar | $3250 – $5500 |
| Napoleon | $3500 – $6000 |
| Daikin | $3500 – $6000 |
The more important is, determining the ongoing cost of operating and maintaining the system. As a result of the National Energy Conservation Policy, new regulations were introduced in the United States in 1990 to establish minimum energy efficiency standards for heating and cooling equipment. This has helped enhance efficiency dramatically from the systems made fifteen or twenty years ago!
The rating given to new central air conditioner condenser units is known as the Seasonal Energy Efficiency Rating (SEER), which is determined by dividing the cooling capacity of an air conditioner by the electrical input needed to operate the unit. The lowest SEER now allowed for new units is now 13. The highest-rated systems currently available are SEER 20. These ratings have improved dramatically in the last ten years and will continue to improve even further.
Higher efficiency is achieved primarily by using more efficient, multi-speed compressors and increasing the size of the condenser coil and fin tubes. Additionally, new units use R4-10A refrigerant instead of the ozone-depleting CFC R22 refrigerant (Freon), making them more environmentally friendly.
System Capacity and Efficiency
A licensed and experienced HVAC contractor should be able to size and specify the equipment best suited to your home. If your air conditioner system is too small, it will work too hard. If it's too large, it may cycle on and off too frequently, reducing efficiency and the ability to reduce humidity inside the home.
It takes years of experience to know how to properly size and specify a central air conditioning system, so leave it to a pro. Consult several reputable HVAC contractors to compare their specifications, opinions, and recommendations before making a final decision.
Deciding how much efficiency you need is a matter of personal economics, comfort level, and environmental concerns. You may or may not save enough on a SEER 17 or higher system to offset the higher installation costs versus the lower ongoing costs of operating a system with a lower SEER.
With rising energy costs, the economics are shifting, so the additional $200 or $300 it costs to increase your system from one SEER to the next might easily pay off over the system's service life. Especially if you live in a hot climate that frequently needs air conditioning!
Warranty
The other important factor is the warranty terms; paying more upfront could save you money. Proper installation may be more important to get the maximum service life than the system components, so be sure your HVAC contractor is trained and certified by the manufacturer whose equipment is being installed. Also, consider purchasing an extended warranty or maintenance contract on your central air conditioning system.
Homeowners Tips
Here are some air conditioner buying tips you'll want to look for in order to save time and energy.
When buying a new HVAC system, the most important decision is selecting the right local company to install and service the system.
The brand names are confusing and somewhat misleading since the big three manufacturers (UTC, Trane, and Johnson) control a large portion of today's market. Seek advice from others and look at features, ratings, and warranty terms to make the right selection. Shop around and get multiple quotes once you know which brand and equipment specifications you want; with labor, equipment, and other factors, you can find a wide variance in the prices quoted by local HVAC companies!
Correct sizing is critical; again, you want a system that is neither too large nor too small for your home. If you have a home with more than two levels, you may need multiple, smaller air handlers to increase efficiency versus going with one larger unit.
The three primary considerations in calculating system load are local climate, area to cool, and your home's envelope, which is the interface between the home and the outside world. Within these three categories, many factors affect your air conditioning system's "load" and "optimal" size and specifications.
Pay attention to the efficiency ratings when purchasing air conditioning system components; know the SEER and AFUE (Annual Fuel Utilization Efficiency) in order to estimate and compare your ongoing operating costs.
Make a list of "must-have" and "nice to have" features when pricing systems; this way, ask each prospective contractor to provide low and high estimates before deciding how much cash you want to invest!
Ask about special financing, incentives, and rebates and let your contractor know you are shopping around; if you don't insist on the best price and value, you won't get it. As in many businesses, the supplier who most values your business will demonstrate it through the service, price, and satisfaction delivered!
When upgrading or replacing an existing central air conditioner (especially if the furnace does not need to be replaced), ask several contractors to evaluate which components need to be replaced and which of the existing components could be reused to cut down the total cost. Matching system components correctly is very important in this case. Rebates may also be available, so be sure to ask.
Consider purchasing an annual maintenance agreement; you want to have the A/C side of the system inspected in the spring, and the heating side checked in the fall.
Be sure to schedule maintenance during these off-peak times of the year to avoid problems when you need your system the most.
Final Thought
Deciding which central air conditioner is right for you is a difficult task, but it is a very important task that should be done carefully. The wrong decision can cost you money and comfort. We hope this buying guide will help you find the best air conditioner for you.