The Carrier Infinity 26 air conditioner with Greenspeed Intelligence is one of their most high-efficiency air conditioners ever made with some of the most advanced technology not just to Carrier but on the entire market. With ratings up to 26 SEER, quiet operation, and high home comfort, it is quickly becoming one of the top choices in the air conditioner industry.
While the upfront cost to install the Infinity 26 air conditioner may be higher than other units, the cost savings, comfort, and efficiency, in the long run, will quickly make up for it.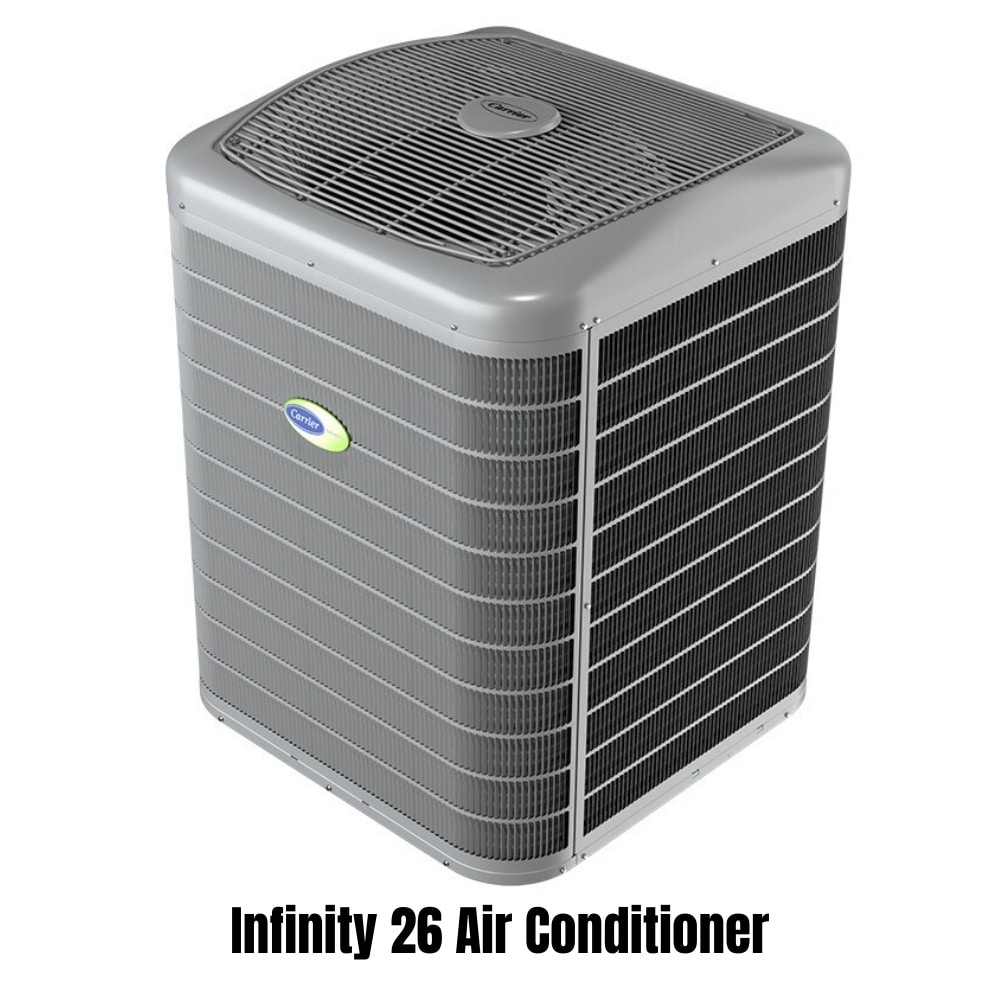 Carrier Infinity 26 Top Features
Here are the top features carries by Carrier Infinity 26 Air Conditioner:
Efficiency: ENERGY STAR® certified
SEER: Up to 26
EER: Up to 16.5
Compressor Type: Variable-speed
Sound Performance: Extremely Quiet
Sound Level (As Low As): 51 decibels
Silencer System II Design: Yes
Compressor Sound Blanket: Yes
Efficiency
The Infinity 26 carries a SEER rating of up to 26, which is among the highest in the entire industry, alongside an EER rating of up to 16.5. SEER (Seasonal Energy Efficiency Ratio) measures the ratio of the cooling output of an air conditioning unit divided by the energy input which the unit utilizes. The higher the SEER rating, the more efficient the unit is. EER, or energy efficiency rating, is another way to measure efficiency, which looks at the cooling capacity to power input ratio. 
Similar to SEER, the higher the EER rating, the more efficient the unit.
The Infinity 26's SEER rating can be up to 26; however, less efficient models are available. 
Depending on where you live and the price of electricity, it may make sense to opt for a less efficient unit to save on upfront costs, as the higher the SEER rating, the more expensive the upfront cost of the unit.
Compressor & Sound Performance
Depending on where your air conditioning unit is placed, you may need to be conscious of the sound it makes from the fan, compressor, and other components. The Infinity 26 utilizes a variable speed compressor, which can run in more than one mode. Many less expensive AC units have a single-speed compressor which means they are either on or off. The Infinity 26 can operate at more than one speed, improving efficiency and reducing sound output.
The manufacturer rated the unit as being "Extremely Quiet," making it ideal for placement near your house or neighbors. The unit operates at sounds as low as 51 decibels and includes Carrier's Silencer System II design alongside a compressor sound blanket to help keep the unit operating as quiet as possible.
Humidity Control
Do you live in a humid climate like Florida? If so, Carrier's Infinity 26 unit has industry-leading humidity control, removing up to 400% more moisture than a standard AC unit.
This is important as no matter how cool the air is from your air conditioner if it is still humid, it will still feel incredibly hot inside your house. By removing additional moisture, the unit can work less hard at cooling and leave your entire house feeling cooler than it really is.
Product Dimensions & Requirements
Like most air conditioning units, the Infinity 26 air conditioner requires 208-230V power input at 20 amps. It is available in capacities ranging from 2 tons to 5-ton units, making it an ideal choice for large and small rooms. 
The unit stands at 47.1875 inches tall and is 35 inches wide in both directions. The maximum cooling pipe length for the unit is 250 feet long at 0.375-inch diameter piping.
Price & Warranty Information
Carrier protects the Infinity 26 air conditioner with 10-year limited parts warranty and 10-year limited compressor warranty, which are industry-leading warranty options showing the company is confident in the reliability of the product. Just make sure you register the unit within 90 days of installation.
Carrier Infinity 26 air conditioner price may vary according to size, location, taxes rate, and dealer's revenue margin. The average cost is around $4,500-$7,750. Carrier air conditioning units are expensive but are well built and known to last for years.
In order to get the best Carrier air conditioner price, contact your local HVAC contractor that sell and install the unit. If you live around South Florida, the best one to look for is All Year Cooling. Established in 1973; the company has over 350,000 satisfied customers & counting! Their goal is to provide the consumer with the best overall value on new air conditioner installations, maintenance, and repairs.
Choosing a good HVAC contractor to install a new Carrier air conditioner can be crucial because proper installation and maintenance are needed for the unit to operate at maximum efficiency.
Conclusion
Carrier is a superior brand alongside competitors like Goodman and Trane, and the Infinity 26 unit is raising the bar.  
The Carrier Infinity 26 is moving the industry with a leading efficiency rating, improved humidity control, quiet operation, all within a standard unit footprint size. If you live in a warm, humid climate and have high electric prices, this unit could be an ideal choice for your cooling needs.