Coleman Air Conditioner is established for high-quality products and top rated warranties. Coleman is sister brand to York that owned by Johnson Controls, one of the oldest and HVAC companies in the US. This article will provide in depth reviews on the Coleman Air Conditioners, as well as a selection of their features models, prices, and warranty information.
Established in 1900, W.C. Coleman in the beginning only offered lanterns and camp stoves. The company entered the HVAC industry in 1958 when it started developing units for mobile homes. Evcon Industries later acquired Coleman HVAC and in 1996 Evcon was acquired by a Johnson Controls Company. Since 1999, the UPG of York markets the Heating and Air Conditioning products exclusively under the Coleman name.
Coleman makes ductless and split-type air conditioners models. Coleman split-type air conditioners models has 2 different series: LX and Echelon. Read on, I will explain what each model's features.
Top Features
Coleman Central Air Conditioiner provides high efficiency and a lot of features for all models. Their AC products has efficiency rating from 14 SEER to 20 SEER for the Echelon series. Whether you are looking for a top of the line AC unit or one that is low SEER cost-effective, Coleman has an unit that suits you. All Coleman air conditioners use R-410A refrigerant.
There are 3 significant features point out from the Coleman brand:
WhisperDrive™ comfort system is the trademarked technology incorporated within Coleman. It's designed to hold the noise the air conditioner generate. With this feature, Coleman AC units create about 55 decibels of noise, which makes Coleman the third quietest Air Conditioner behind American Standard and Trane. WhisperDrive™ system provides a swept-wing fan, quieter ECM motor and also a sound enclosure to keep the noise from reverberating.
Climate Connect™ – This feature gives three different temperature options when the unit is installed within a home. The home owner can set the temperatue to dry, humid and/or normal. The proper settings will improves the Coleman Air Conditioner performance.
Charge View™ – This feature built-in touch screen can immediately display the system's overall condition. Home owner can easily diagnose and recognise if the Coleman air conditioner has problems.
Coleman air conditioners is the best choice for those who wants to save money on energy bills. Their products are durable and built to last a long time, built with powder-painted steel and slotted inlet coil guards that protect the interior AC components from any damages.
Coleman AC Models
Below are Coleman air conditioners models and series to choose.
Echelon Series
Echelon™ Series of air conditioners by Coleman featuring up tp 20 SEER rating and exceptional build quality. This series is for those who want the best Coleman can offer, as these units come with many innovative technologies such as Charge View™, WhisperDrive™, Climate Connect™, and more.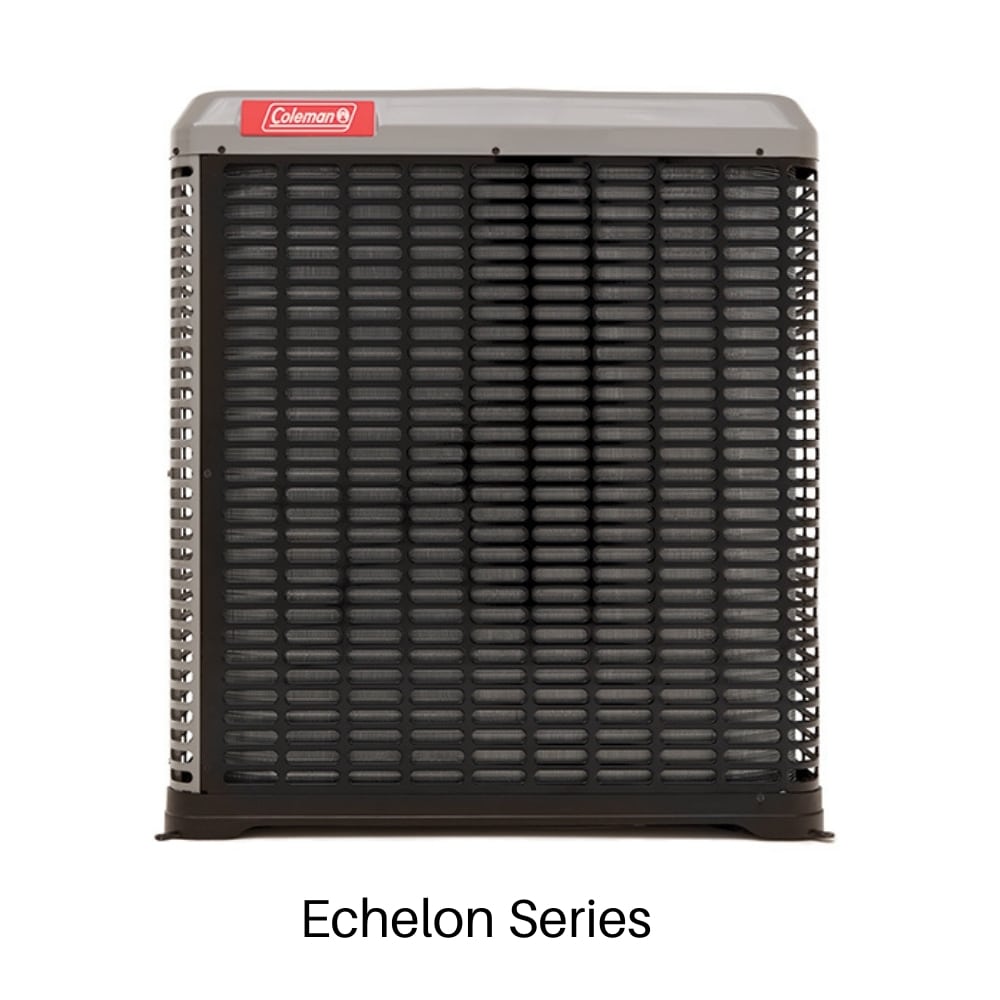 The Coleman Echelon series includes the Coleman Echelon AC21, AC8B and AC6B.
LX Series
These are the standard units of Coleman Air Conditioner, come with 13-17 SEER, an exceptional build quality and durability. The LX series isn't as feature intensive as the units in Echelon, but they are still a power to figure with.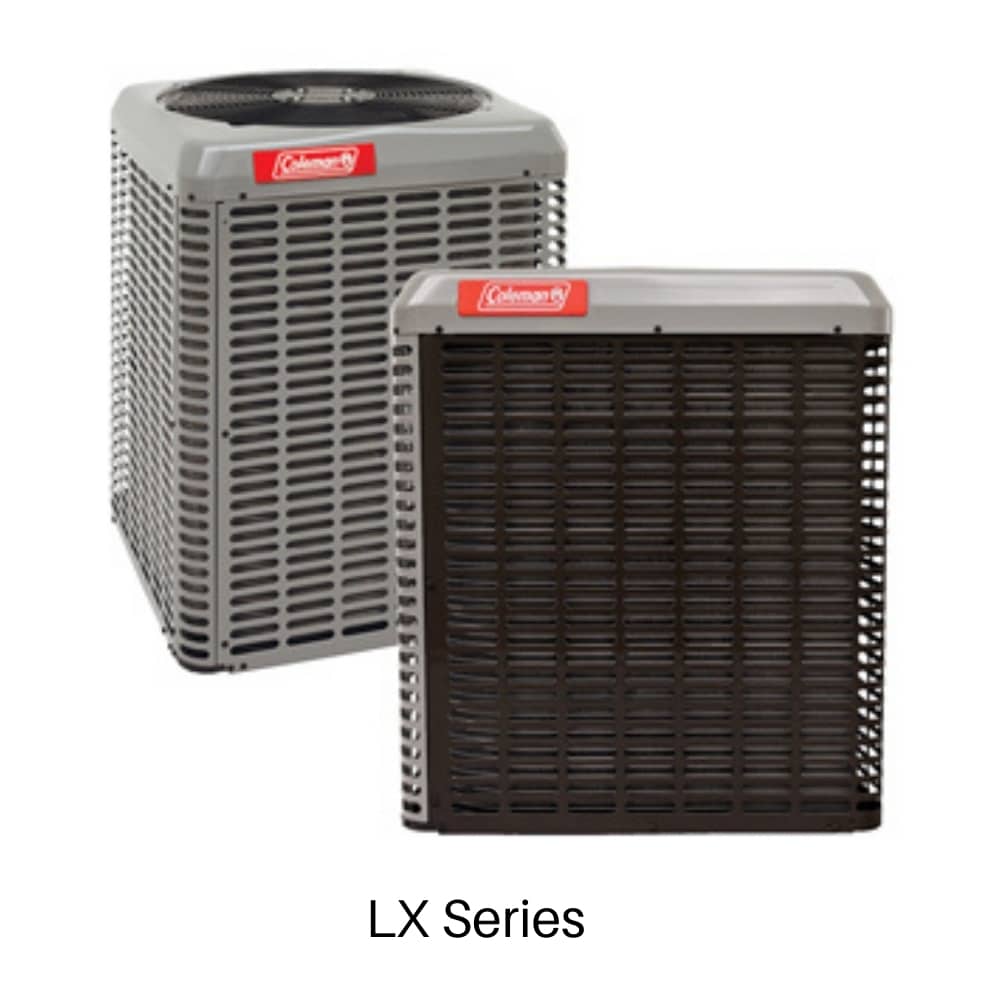 The Coleman LX series includes the Coleman LX CC17, CC7, TW4, TC4, TF4 TCHD, TCHE and TC3.
Coleman Air Conditioner Price
It's difficult to give an exact Coleman air conditioner price. AC Price is affected by not only the model you choose, but also several factors. Like where you live, installation complications and deals or promotions.
The below prices include a range of sizes for each model from 1.5 ton to 5.0 ton Coleman ACs.
| Models | System Only | System Installed |
| --- | --- | --- |
| Echelon AC21 | $2,785 – $3,400 | $4,000 – $5,400 |
| Echelon AC8B | $1,675 – $3,100 | $2,875 – $5,100 |
| Echelon AC6B | $1,600 – $3,050 | $2,800 – $5,050 |
| LX CC7 | $1,500 – $2,875 | $2,750 – $4,875 |
| LX TW4 | $1,250 – $2,600 | $2,400 – $4,600 |
| TCJF | $1,200 – $2,750 | $2,465 – $4,750 |
| TCHD/TCHE | $1,000 – $2,350 | $2,250 – $4,350 |
Coleman Air Conditioner Warranty Information
Coleman offers a standard warranty for their air conditioner units, with ten-year compressor and parts limited warranty. Coleman warranty requires you to register your product after the installation.
Coleman Echelon™ Series air conditioner include a limited lifetime warranty on the compressor, a limited 10-year parts protection warranty, as well as a limited 90-day labour warranty. Coleman LX Series models receive either a limited lifetime or 10-year warranty on the compressor, a limited 10-year parts protection warranty, as well as a limited 90-day labour warranty.
Coleman Air Conditioner Reviews
Coleman Air Conditoners is a good choice for many home owners. Coleman makes HVAC systems for residential that range in separate models, sizes and efficiency. If installed properly, Coleman AC are durable, cost-effective and good cooling option that require little maintenance or extra cost.
The Coleman Echelon AC21 series has good performance and good cunsumer reviews altogether. These units offer 20 SEER efficiency and a lifetime limited compressor warranty.
The only issue with Coleman air conditioner is in their MicroChannel coils in the condensing units on Coleman LX models. These are compact coils that provide more surface space in a compact unit. In order to avoid any problems with your new Coleman air conditioner, you should look for trained and experienced contractors that know the ins and outs of installing or upgrading your HVAC system.