Goodman offers a variety of warranties on their HVAC products. The length and terms of the warranty will vary depending on the product and the purchase date. To find out more about your Goodman warranty, you can either contact Goodman customer service or use the Goodman warranty lookup website.
How to Find Your Goodman Warranty Information
Goodman Warranty Lookup, Registration and details information can be found by visiting their official website and enter the unit's serial number. You can also ask the HVAC contractor who installed the air conditioner to assist you with the warranty information.
Goodman HVAC unit's require registration with them to track the warranties. Registration is also required to get the extra additional warranty benefits.
Warranty Registration
Most HVAC manufacturers including Goodman, require homeowner to register their Air Conditioner, Furnace and/or Heat Pump in order to get the extra years of their warranty. If you did not register your unit after 60 days of installation, you may have voided the additional extent warranty coverage.
10-Year Unit Replacement Limited Warranty, Lifetime Compressor Limited Warranty (good for as long as you own your home) and 10-Year Parts Limited Warranty. Online registration must be completed within 60 days of installation.

Goodman Limited Warranty
Registration can be done online by visiting their website. The process can be done either by the homeowner or the installing dealer.
Visit: https://www.goodmanmfg.com/product-registration
They may ask the several information including:
Homeowner name
Homeowner address
Contact number
Email address
Installation date
Model and serial numbers
Contractor's name
Contractor's phone number
If you did not register you unit within 60 days of installation, your Goodman Air Conditioner comes with a 5-year parts limited warranty only.
Goodman Warranty Express
Goodman Warranty Express claims must be entered within 45 days from the date of repair.
Parts credits are paid from HVAC directly; labor is paid from Goodman to customer by check.
Coil Claims:
Coils that start with 4 letters (i.e. CAPF, CHPF and CAUF) should be entered as a Unit Exchange under the 'Warranty Claim Type' at the beginning of the claim.
If there is an extended labor contract on the equipment, the labor box should be checked when filing the Unit Exchange.
When submitting coils with accessory parts, such as TXVs, driers, etc., submit them on a separate claim before claiming the coil exchange.
Coils that start with numbers (i.e. 0130) are entered in the parts section of the claim form.
Lifetime Unit Exchange:

Lifetime Unit Exchanges should be done through HVAC Distributors, NOT through Warranty Express.
To place a claim for a Lifetime Unit Exchange, please contact your inside sales representative.

Parts & Other Items:

Claims for parts and other accessories should be entered on Warranty Express.
Additional help can be found on the Warranty Express Training & User Manual.
How to confirm if your Goodman air conditioner is under warranty?
To find out if your Goodman air conditioner is under warranty, you can either contact Goodman customer service or use the Goodman warranty lookup website.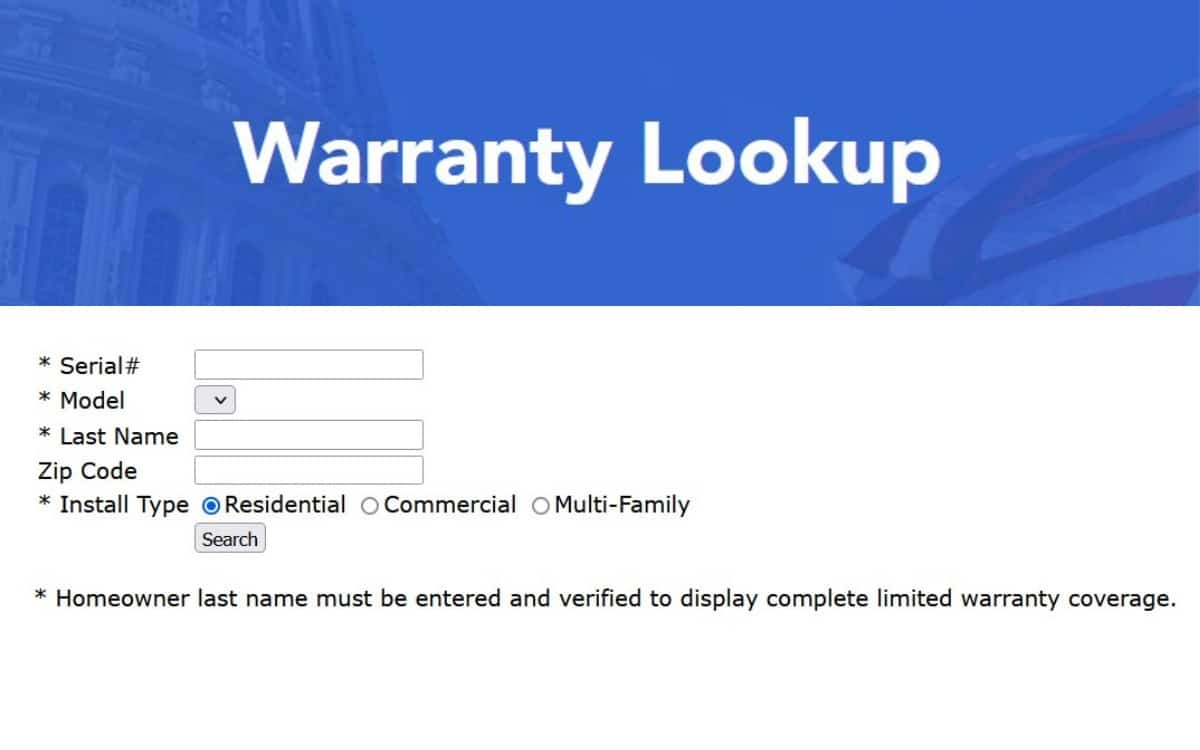 You can lookup your Goodman Air Conditioner Warranty information to confirm if the unit is under warranty or not. Follow these easy steps:
Visit: http://www.goodmanmfg.com/warranty-lookup
Enter your equipment serial #found printed on the unit its self
Select the model of the unit in question, model found printed on the unit its self
Enter your last name
Enter your billing zip code
Select Installation type (residential, commercial or multi-family)
The model and serial number can be found on the data plate of your air conditioner. This is generally found slightly above the refrigerant valves on the back side of the unit. The serial number is a ten digit code that helps Goodman identify the time the unit was produced, as well as the model number and many of the sub-components used on a specific unit.
Detail information about Goodman Serial Number: Click Here
By following these tips, you can ensure that your Goodman air conditioner is covered by warranty and that you get the most out of your investment.
Goodman warranty terms and conditions
In addition to the information listed above, the Goodman warranty lookup website may also provide you with the following information:
The specific components that are covered by the warranty
The conditions under which the warranty is void
The steps to take if you need to file a warranty claim
To receive the lifetime unit replacement on Goodman Air Conditioner that is 16 SEER and above, the outdoor unit must be matched with an indoor coil or air handler.
A registered Goodman unit is valid for the original homeowner. If equipment is transferred to another homeowner, the system reverts back to the original 5-year standard warranty. The extended registered coverage WILL NOT transfer to another owner.
The 6-10 year limited parts warranties are available for single- and multi-family residences, as long as the equipment registration occurs within 60 days of the original registration date.
For specific Goodman warranty lookup and information related, be sure to read your specific Goodman air conditioner model's warranty certificate! You may also get a copy of the Goodman air conditioner warranty from your local HVAC dealer.
If you have any questions about your Goodman warranty, you can contact Goodman customer service. They will be able to help you understand your warranty and file a claim if necessary. I hope this helps!