With so many different ductless mini-split AC brands out there, it does get confusing for homeowners to choose the best one. We receive questions from many homeowners asking which brand to buy. Here we give you a complete guide on choosing the right ductless air conditioner that meets your needs.
When looking to buy a ductless air conditioner for your home, it can be very confusing to know exactly what you need. These questions highlight important factors in finding the best mini split air conditioners.
Do you want to do the whole house or just one room?
Maybe you want to do just a few rooms?
Or even do one room but try to get some flow to other rooms?
Maybe you would put one in every bedroom and one in the lounge but can't afford it, so you think, "can I get one in the lounge and try to get air flow to the rooms somehow"?
Or maybe put one here and one at the other end and use them at once to do half the house?
Can you even achieve all these scenarios?
Choosing the right brands is the best place to start, but how do you know which one is best? These questions highlight an important factor in the purchase and installation of split systems air conditioners. Trusting that they are installed properly is as important, if not more so, than the quality of the unit.
The fact is when buying a split system air conditioner, the best thing you can do is to buy a quality unit from a trusted brand with good backup service and a licenced expert installation too with a technician you can contact for help. It is that simple!
What is a Ductless Air Conditioner?
A ductless air conditioner is another name for a mini-split system. These systems are designed to cool your home efficiently without installing ductwork. Since mini split air conditioners have no ducts, they avoid energy losses associated with ductwork of central forced air AC systems. Duct losses can account for a significant portion of energy consumption, especially if the ducts are in an unconditioned area such as an attic.
A ductless AC has two main components: an outdoor compressor/condenser unit, and one or more indoor air handling units. The indoor units are wall mounted, and as many as four can be connected to a single system, depending on the cooling needs of your home.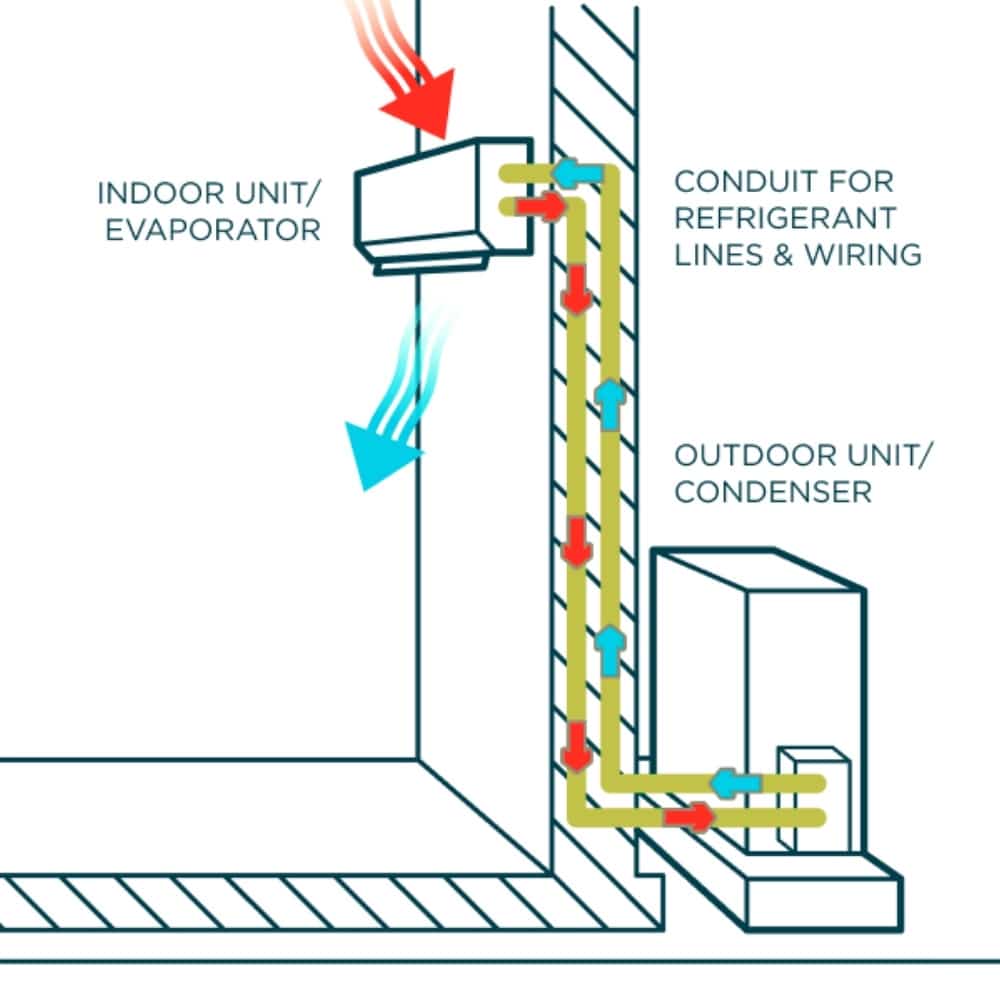 The indoor and outdoor units are connected by a narrow conduit that carries the power cable, refrigerant tubing, suction tubing, and a condensate drain. This conduit runs through small hole drilled in the wall of the building.
Choosing a Ductless Air Conditioner
There're three main factors to consider when choosing a split air conditioner: the number of cooling zones, BTUs, and installation type.
Zone
A ductless air conditioner can have single or multiple zones. A single split system has one indoor and one outdoor unit. If you have more than one area to cool, you can have up to four indoor units with one condenser (outdoor unit). Usually, one unit per room is used but check that the BTUs are enough to cover the square footage of the room.
BTUs (British Thermal Units)
BTUs are units of power, and to calculate the BTU value, you need the square footage of your room. Below is a general guide for BTU capacities for a zone.
9,000 BTU: 300 – 350 square feet
12,000 BTU: 450 – 500 square feet
18,000 BTU: 700 – 750 square feet
24,000 BTU: 950 – 1000 square feet
30,000 BTU: 1200 – 1250 square feet
36,000 BTU: 1450 – 1500 square feet
Installation Type
Mini-split systems offer more flexibility with options for installation compared to other air conditioning systems. There're various options for installation available. The indoor units can be hung on a wall, suspended from a ceiling, concealed inside the ceiling, mounted flush into a drop ceiling, or there are also standing models available.
The most common types of mini-split indoor AC units. It hangs inconspicuously on the wall and mixes with most interior designs. Wall-mounted units offer the best combination of value, efficiency, and flexibility for most applications.
Ceiling Cassette units are mounted within the ceiling, leaving only the grille visible when installation is complete. This type is suitable for any room; it installs easily in suspended ceilings.
Slender, lightweight and attractive; ideal for limited spaces. This model has a sleek modern design and is ideal for any room with limited upper wall space.
Hides above a suspended ceiling or in closet space; delivers air via ducting or suitable ceiling /wall grilles. This ductless mini-split AC model uses minimal ductwork and remains very energy efficient.
Ceiling units are applied only for single-zone split systems. Installing a ductless split air conditioner is less complicated and costly than installing a central air conditioning system, but they have to be installed by a certified HVAC technician.
Best Ductless Mini-Split AC
After in-depth research, feedback, and reviews, here is our list of the best ductless mini-split air conditioner on the market today.
Gree Sapphire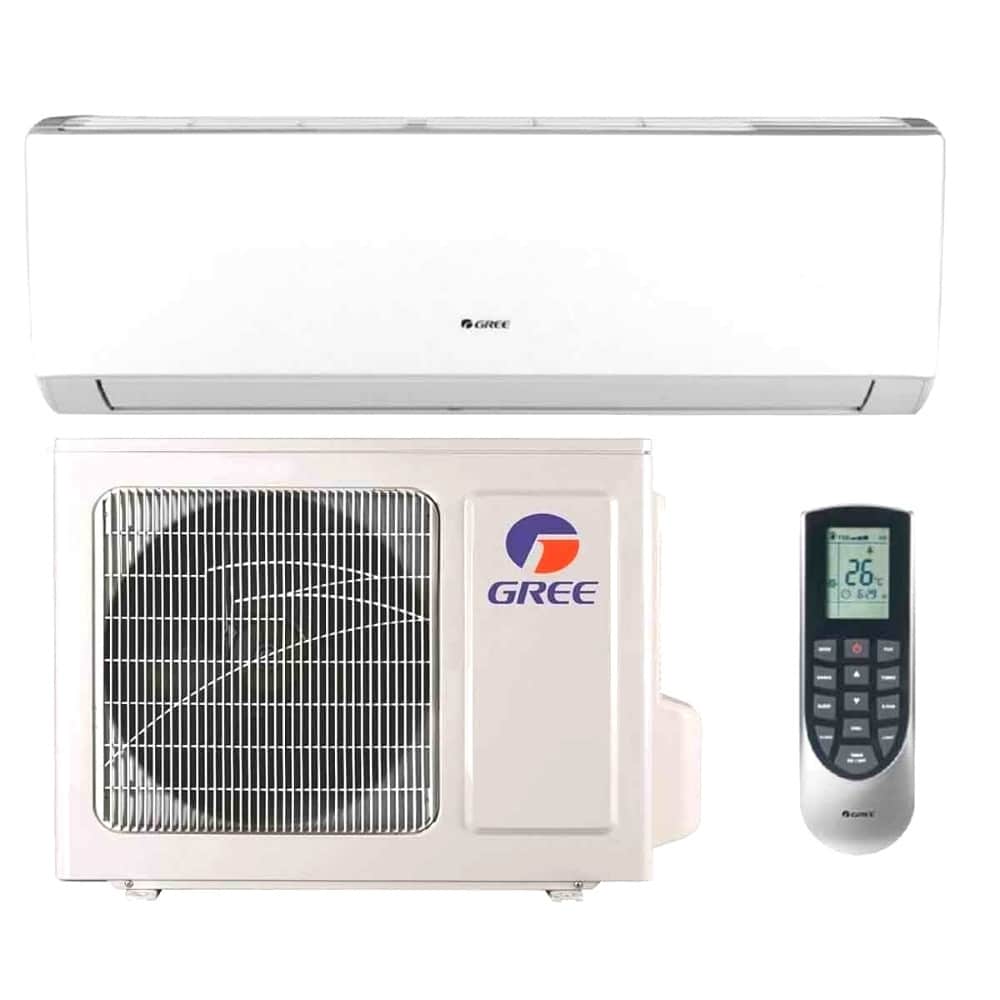 Buy on Amazon
If high efficiency is your preference, the Gree Sapphire is the best mini-split system. With the Sapphire wall mount ductless mini-splits, you can maintain any room comfy without sacrificing aesthetics. The quiet, indistinct design delivers cutting-edge performance with an industry-best energy efficiency of up to 38 SEER rating in cooling and 15 HSPF in heating.
Features:
High efficiency, up to 38 SEER / 15 HSPF
Energy Star®
G10 inverter technology
Intelligent defrost
Self-diagnosis
Simple operation
WiFi included
Ultra heat down to -22°F
Precise airflow control
Multiple fan speeds
Intelligent preheating
Low voltage start-up
Sleek look to blend with your decor
I-Feel function
Privacy lock mode
Sleep function
Timer function
Advanced filter options
Pioneer Diamante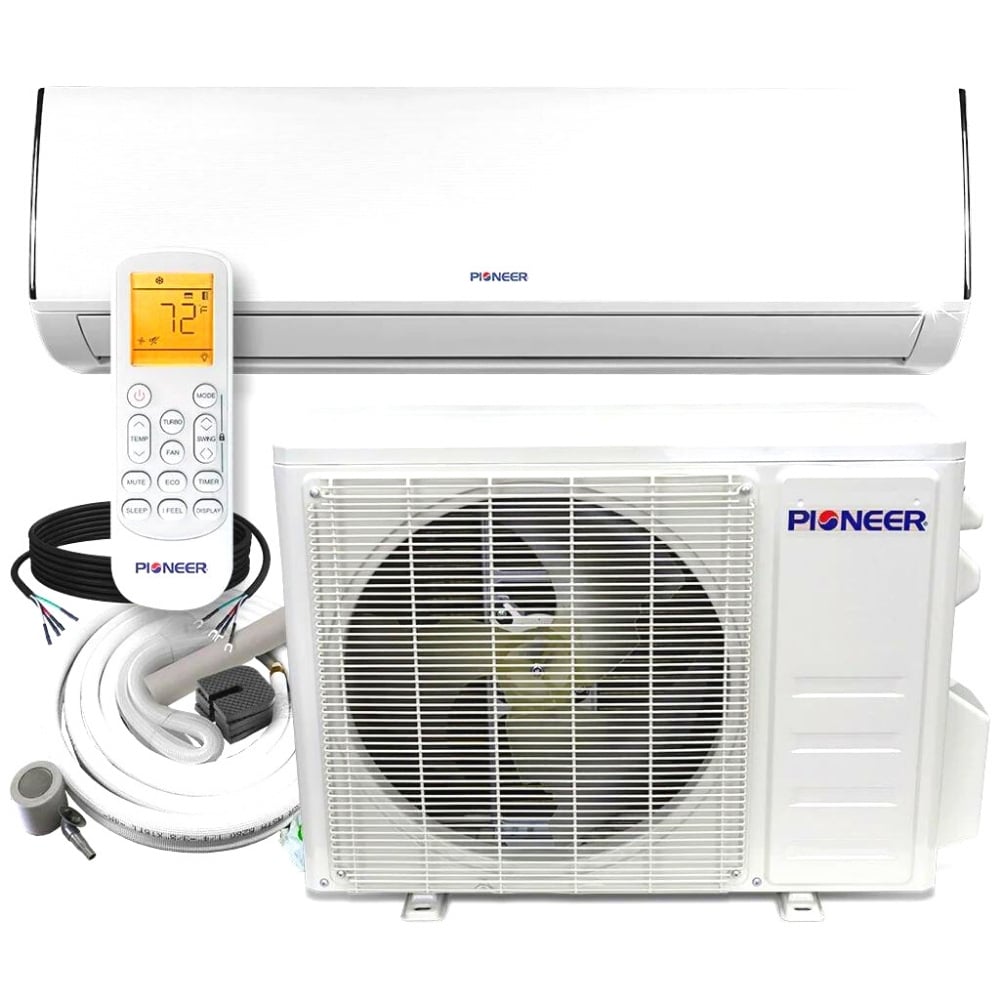 Buy on Amazon
In the category of ductless mini-split air conditioners, the Pioneer Diamante is the best budget for a single-zone unit. The variable-speed inverter technology and high-efficiency 17-23 SEER rating guarantee significant savings from your monthly energy bill. This model has a wide variety of sizes and a beautiful air handler design. Pioneer offers units varying from 9,000 to 36,000 BTU at a lower price than other manufacturers.
Features:
Digital backlit led display on front panel
Ultra high efficiency grooved copper tubes
Auto-restart with memory for power outages
Timer for preset starting and stopping
Removable flip open style front panel cover
Enhanced louvered hydrophilic aluminum fins
Latest design attractive acrylic flat panel
Designed for standard wall hung installation
Washable return air filter cartridges
Self learning time-demand defrost logic
Lcd screen infrared electronic control
Auto changeover, dry and fan only modes
Full abs plastic casing for indoor units
Digital motor speed control system
Anti mildew treatment on blower wheels
Internal noise and vibration isolation
Ultra galvanized sheet metal parts
Internal overload protection for motors
Highest grade components for long life expectancy
Full operating charge of refrigerant (R410A)
Senville Leto Series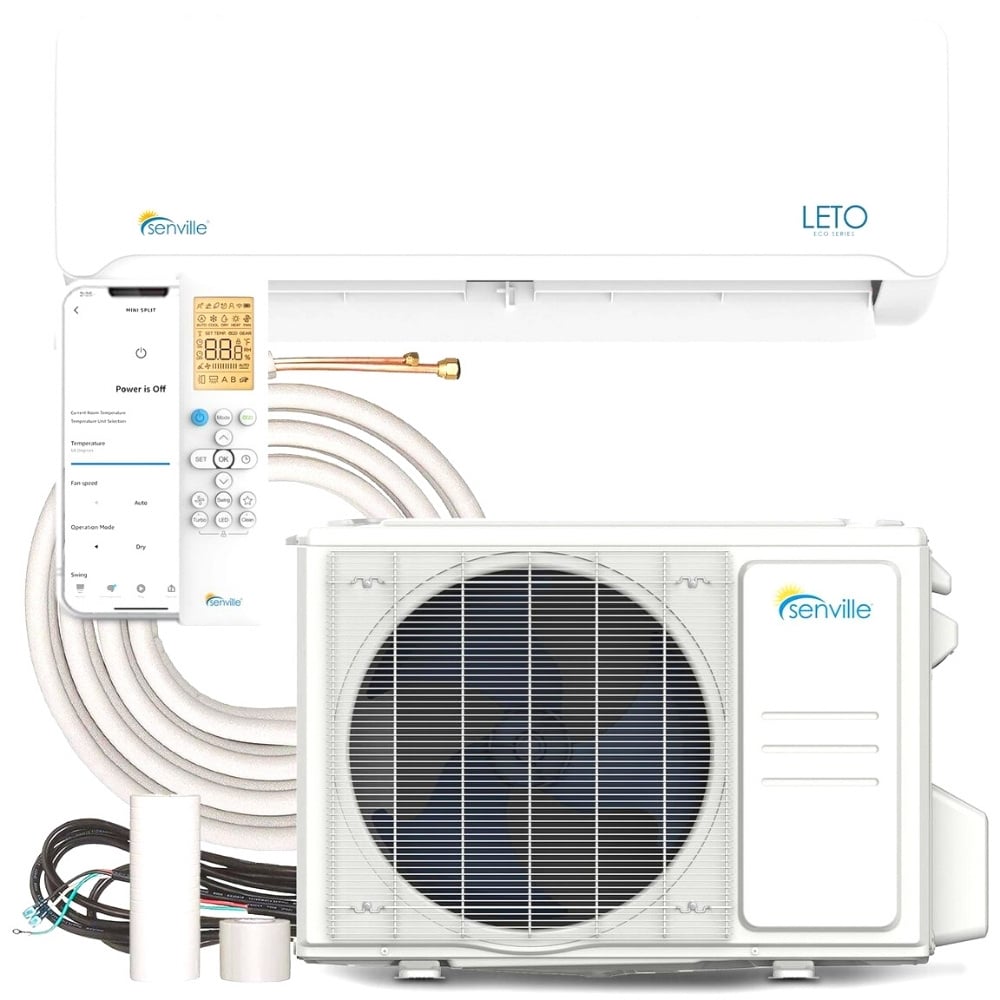 Buy on Amazon
For people that are the best quiet ductless AC, this one is a perfect choice. This Senville ductless mini split air conditioner comes in a number of sizes, ranging from 9,000 – 30,000 BTU, with 120- and 230-volt models. It also works with the Alexa app.
Features:
18 SEER High-Efficiency Air Conditioner & Heater
With Built-In Heat Pump (Up to -15C / 5F)
DC Inverter Technology for Minimal Energy Consumption (Up to 48% Savings per Year)
Built-In De-humidification Function, Fan, and Turbo Functions for Complete Climate Control
Recommended for rooms sized 1000-1250 sq. ft
Other Product We Love
Here is another top-selling ductless mini-split AC available in our list of favorites.
Ductless AC Q&A
Why would you choose a ductless air conditioner?
In the older ones, are actually impossible to install central air conditioning, making a ductless air conditioner the perfect choice. They also tend to perform better than a box window AC unit, both in supplying more cool air and in doing so with less energy noise. Of course, a ductless air conditioner is also a good deal more expensive than a box unit, but it is also much less unsightly. And both a box unit and a ductless air conditioner are generally limited to the room in which they are installed and will have difficulty cooling multiple rooms or floors.
Where can you find a ductless air conditioner?
The easiest place is still online, and HVAC companies also specialize in installing the units. Many of the big-box retailers will offer the right ductless air conditioner for your needs and also provide the installation service. Of course, like any home appliance, shop around for the best deal and make sure that your ductless air conditioner is covered by an appropriate warranty. Hopefully, a ductless air conditioner is just the solution you need to get you through these humid summer months.
Final Though
If you are reading this now, then you are one of the smart consumers doing your research, so we hope we have given you a bit more valuable info in your search for the best ductless mini-split air conditioning.