Bosch may be best known for its home appliances; however, Bosch also offers several types of air conditioners, which we will be reviewing today. These include inverter ducted split (IDS) family and mini-split system air conditioners. As always, we spent a lot of time researching them before giving these Bosch air conditioner reviews.
If you know someone who has a Bosch air conditioner, you probably know that they love how well it works. Don't forget that I've been an HVAC technician for more than 30 years, so I know a lot about these machines.
Why Choose Bosch Air Conditioner
There are many good reasons to upgrade to a Bosch air conditioner, especially if you live in a place where you need air conditioning all year long.
The Bosch Air Conditioner is Extremely Quiet
One of the quietest air-to-air systems on the market is the Bosch Inverter Ducted Split system. Using silent blade technology, sound-isolating mounts, and putting the condensing section outside, the system can make as little noise as 56 dBA outside, which is much less than any other standard system on the market.
For comparison, Lennox XP25 operates as low as 58dB, and Trane XV20i operates as low as 57dB.
Inverter Technology
Modulating inverter technology only sends in as much hot or cold air as is needed to keep the room at the temperature you want. The Bosch Inverter Ducted Split system can give you the most comfort for the least amount of money. It has a SEER rating of 18 and an HSPF rating of 9.5.
Consistent Room Temperature
Traditional air conditioner/heat pump systems take a long time to reach the temperature set by the homeowner. However, the faster compressor speed of Bosch's inverter technology makes heating and cooling your home faster, smoother, and more efficient. Inverter-driven heat pumps can self-adjust so that the room temperature stays the same even when it's below freezing outside.
Premium Connected HVAC Solution
The IDS Premium Connected is an interactive Internet of Things (IoT) platform. It has wireless connectivity and an app for warranty registration, installation, and troubleshooting. Among its connected parts are:
Remote Monitoring. Even if a unit doesn't have a communicating thermostat, contractors and homeowners can still check on its data.
Bosch EasyAir App. Contractors can easily get the information they need to install, fix problems, and register warranties on-site.
Backed by a Great Warranty
With the Bosch residential limited warranty, you can rest easy knowing that parts will be covered for up to 10 years and gateway connectivity components for up to 2 years. This standard offer includes all of the parts that were in the heat pump system when it was made. All other components or parts bought from Bosch and put in place in the field come with a 1-year warranty on the parts.
Bosch Air Conditioner Models
Let's take a look at the best type of Bosch air conditioner unit you can get.
Bosch Inverter Ducted Split (IDS) Family
The Bosch Inverter Ducted Split Family gives you the most efficient comfort by letting you change the compressor's capacity instead of just turning it on or off. This cuts down on operating costs and saves you money.
This high-efficiency, strong, and quiet Inverter Ducted Split system air conditioner and heat pumps come in four sizes, with capacities ranging from 2 to 5 tons, so you can choose the right one for your needs.
With better control of humidity and higher efficiency, the Bosch IDS Family gives you the most comfort with the least amount of energy use. The smart parts of the system work with the thermostat to automatically adjust to your preferences, and noise-reducing parts keep the equipment quiet, so you don't have to worry about it.
IDS Ligh 15 SEER System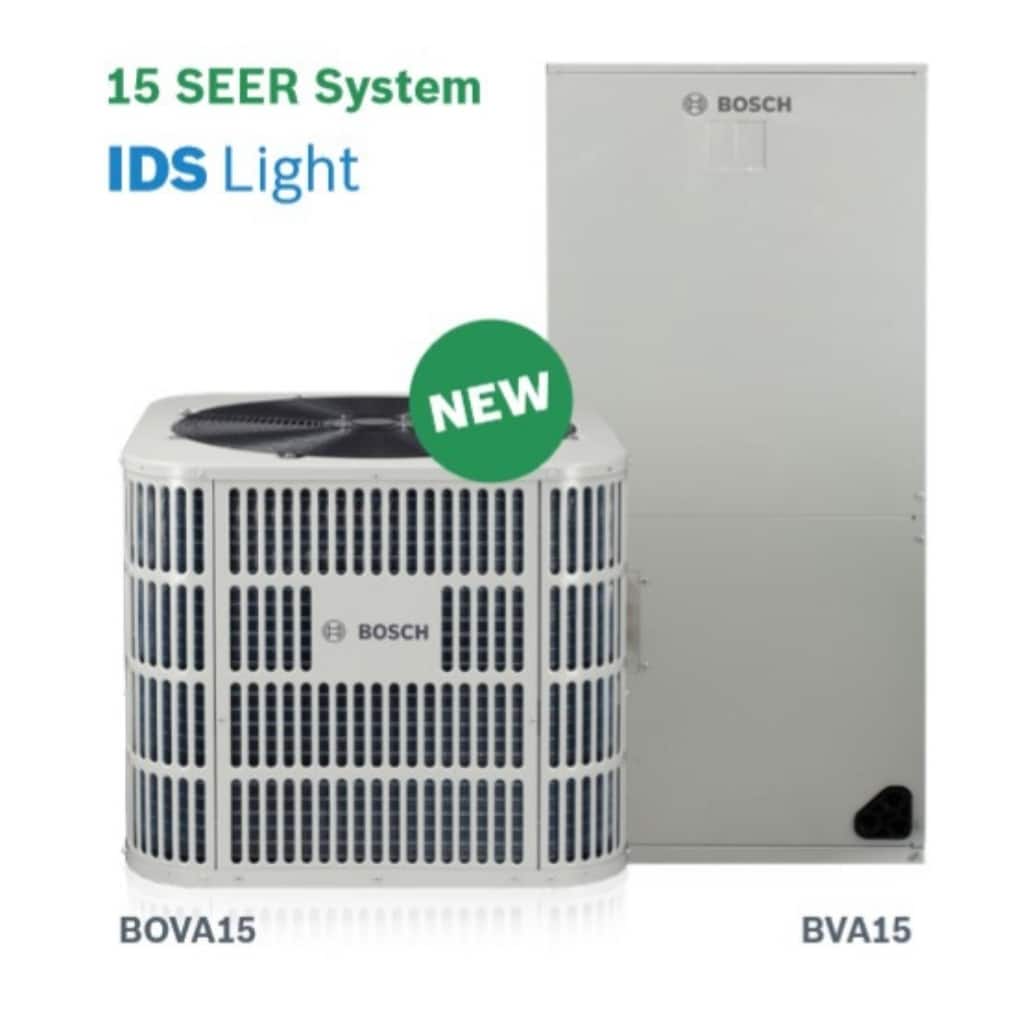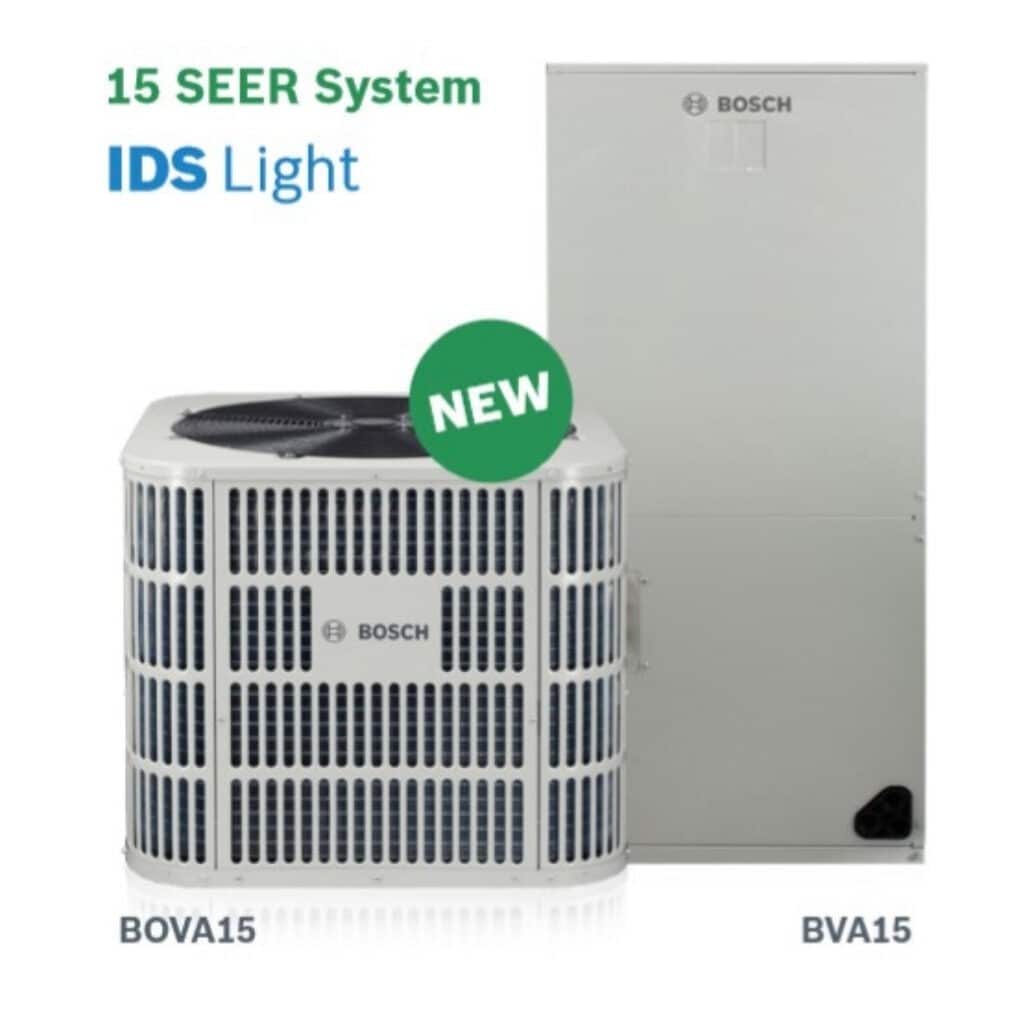 The first 15-SEER Inverter condenser on the market.
With IDS Light, you get the comfort of our inverter system at a price point you'll love!
This system combines the standard efficiency BOVA15 outdoor unit with our BVA15 fixed-speed air handler.
IDS Plus 18 SEER System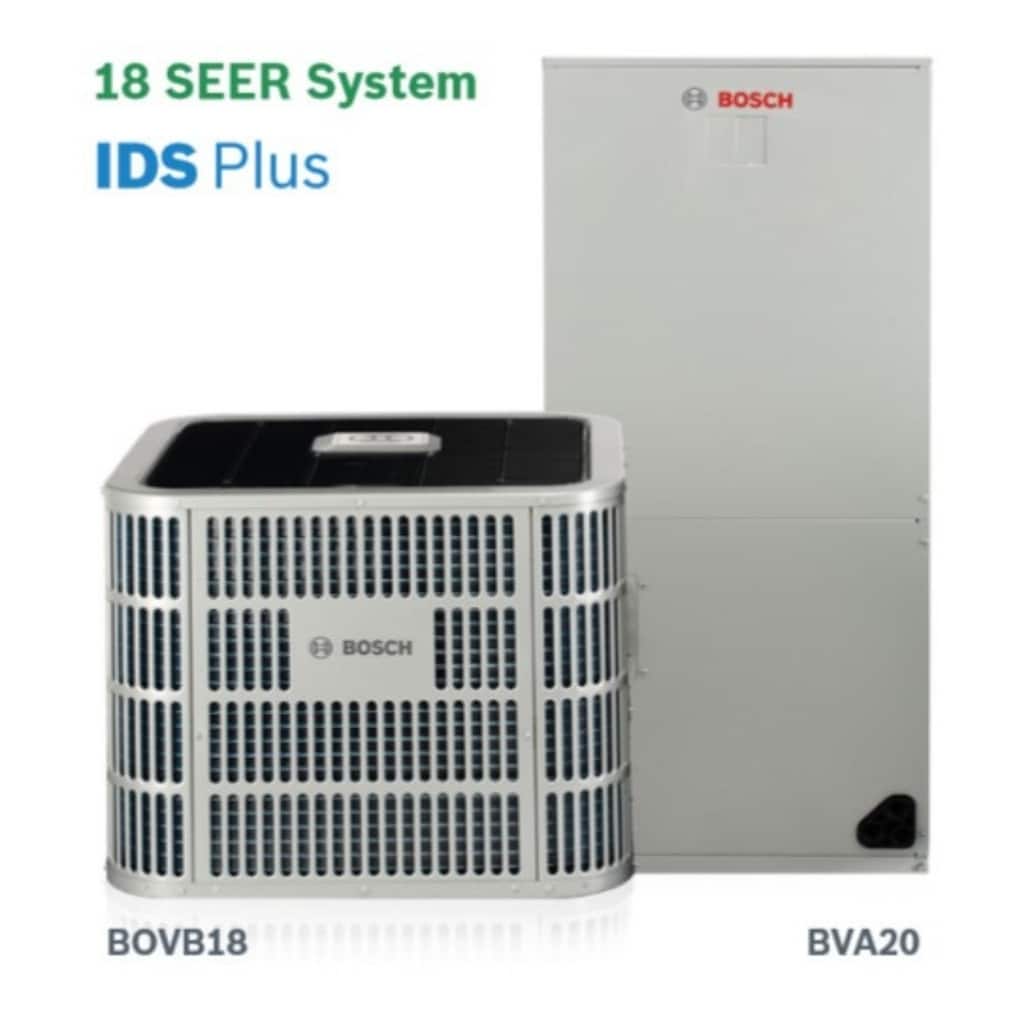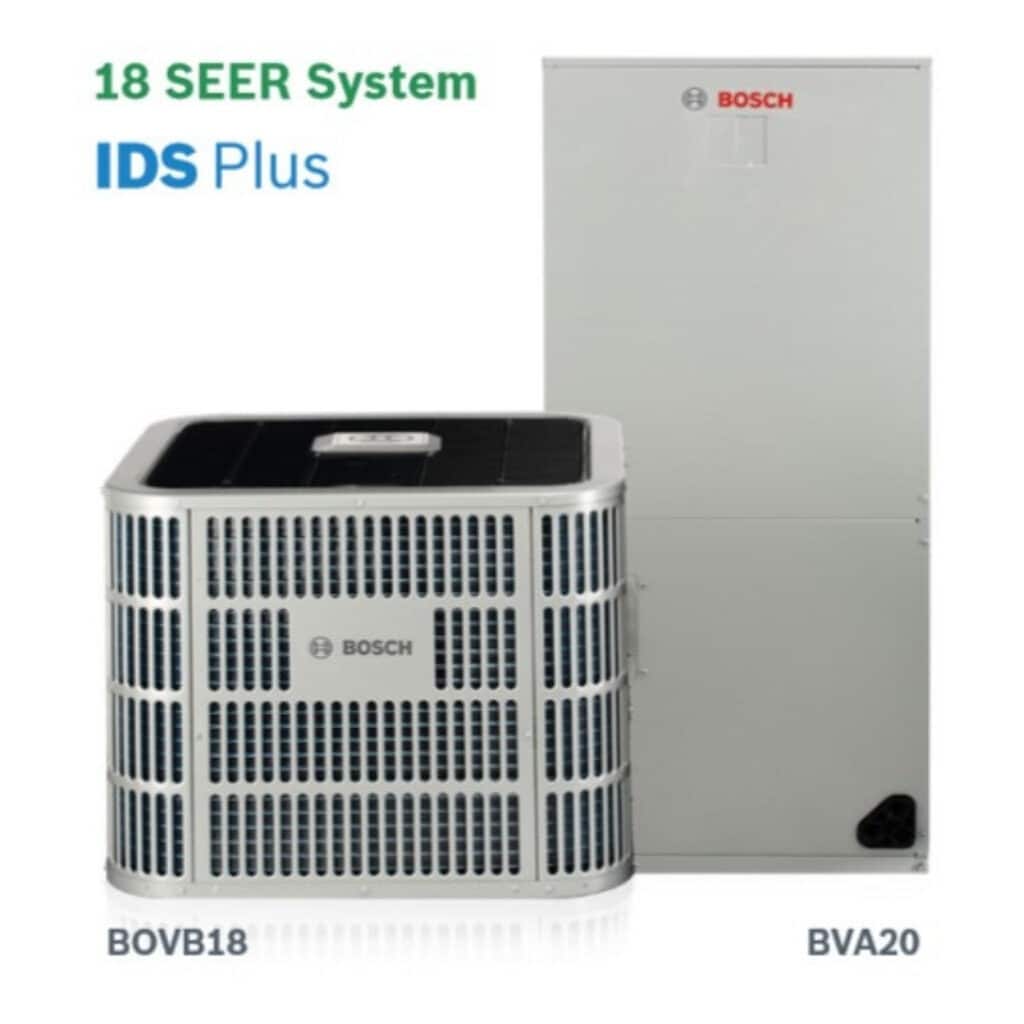 The most popular system, the IDS Plus, provides the perfect balance of efficiency and comfort without breaking the bank.
This system combines the efficient and reliable BOVB18 outdoor unit with our exceptional BVA20 two-stage constant torque ECM style air handler.
IDS Premium 20 SEER System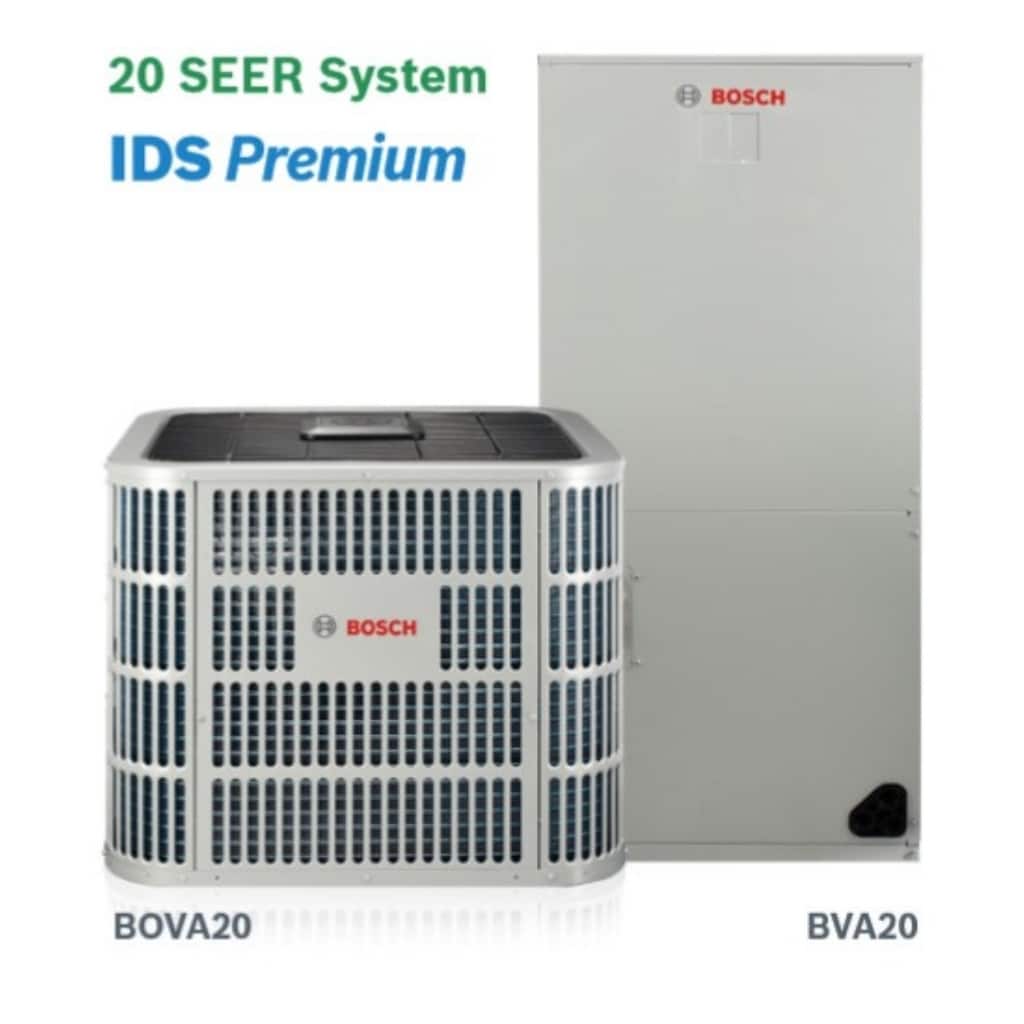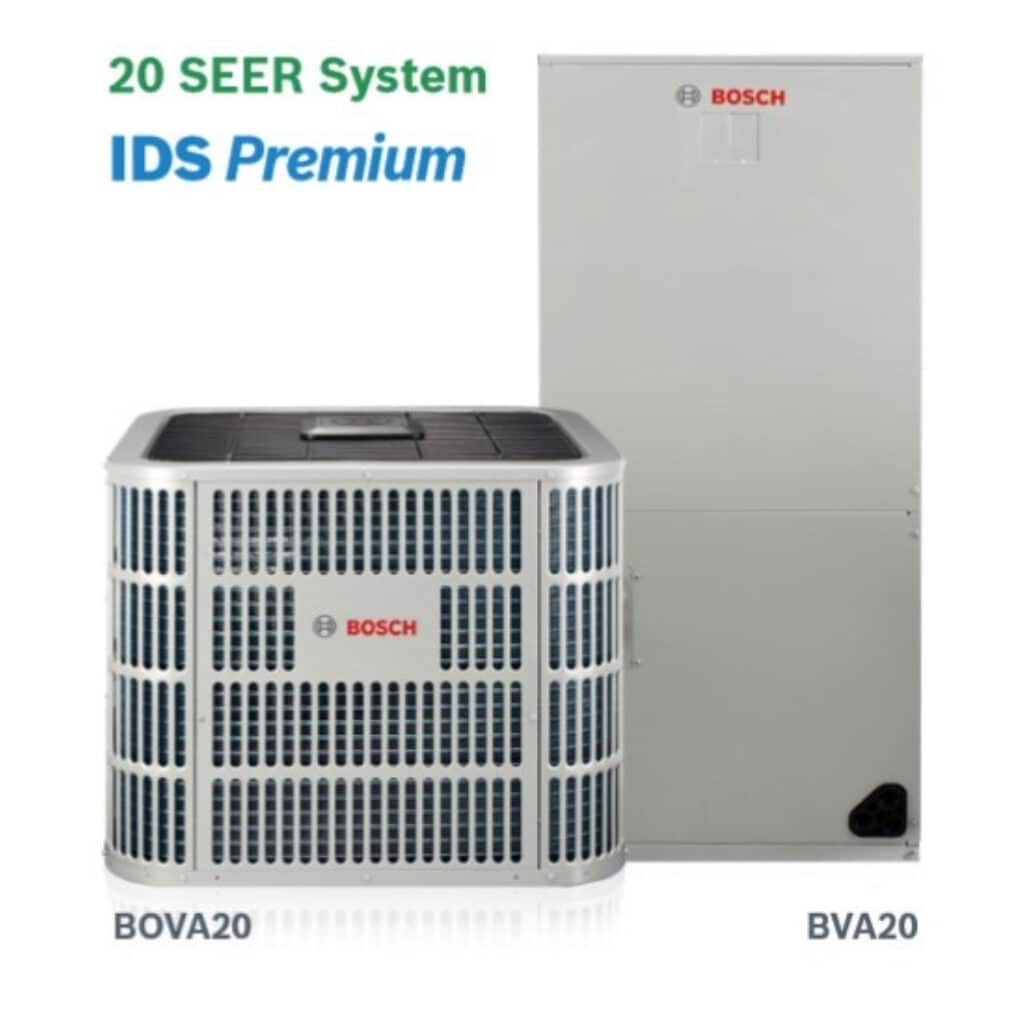 Qualify for maximum energy rebates and save the most on energy costs with our highest efficiency offering: IDS Premium.
This system combines the top-tier BOVA20 outdoor unit with an exceptional BVA20 two-stage constant torque ECM style air handler.
IDS Premium Connected 20 SEER System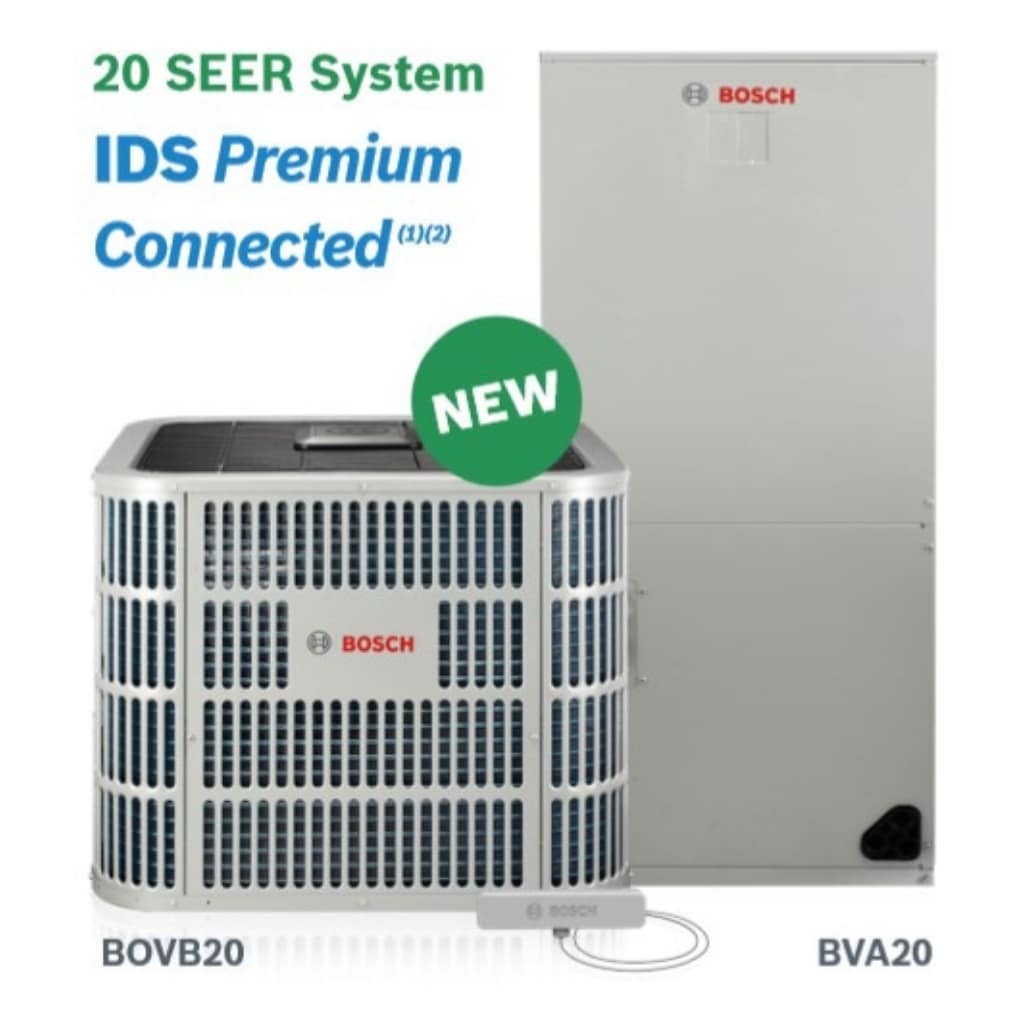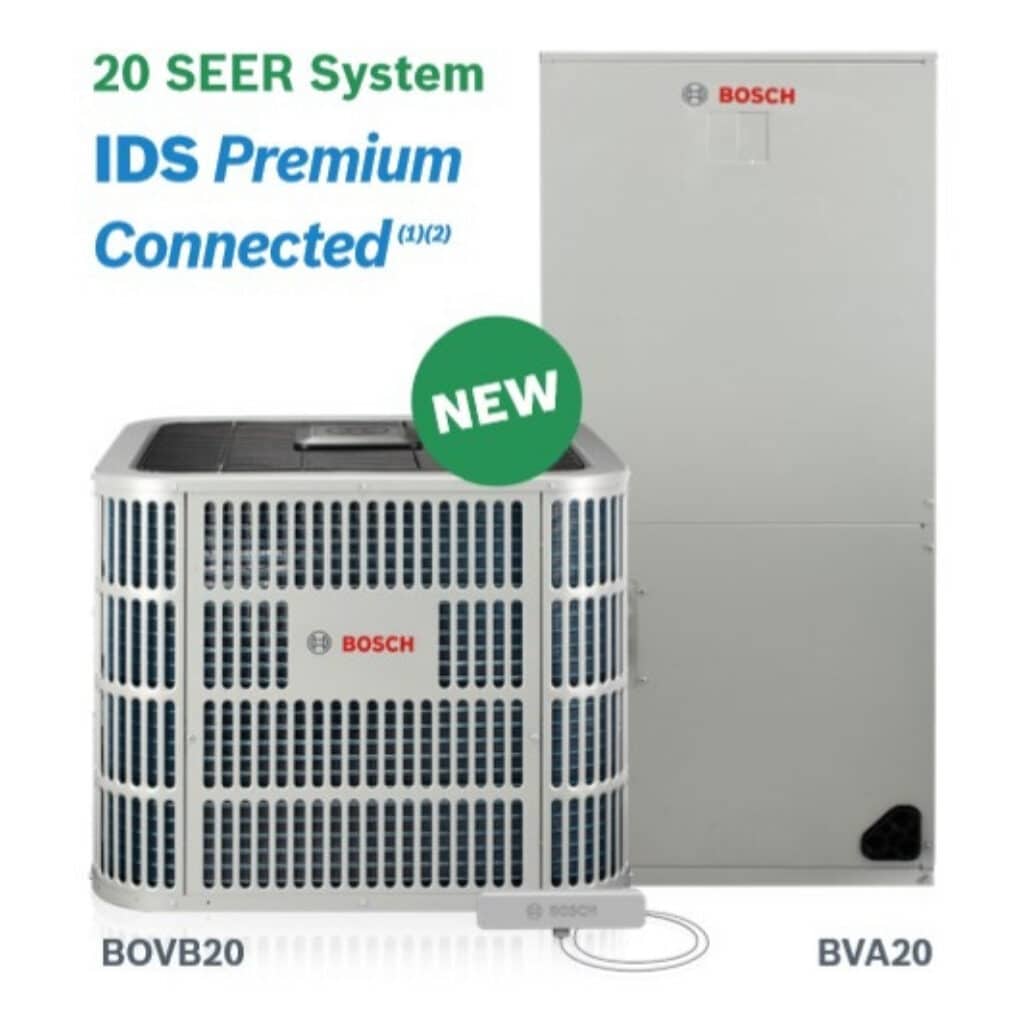 Provides the same premium 20-plus SEER energy efficiency.
Features wireless connectivity.
The Bosch EasyAir app enables in-app product registration, simplifies installation and troubleshooting, and allows remote monitoring of energy usage as well as critical alerts.
Bosch Mini-splits
The Bosch mini-split series is made for single rooms and living areas. This system provides on-demand comfort that uses less energy and is flexible, easy to install, and simple to keep up. This Bosch HVAC system is the best on the market.
Bosch Climate 5000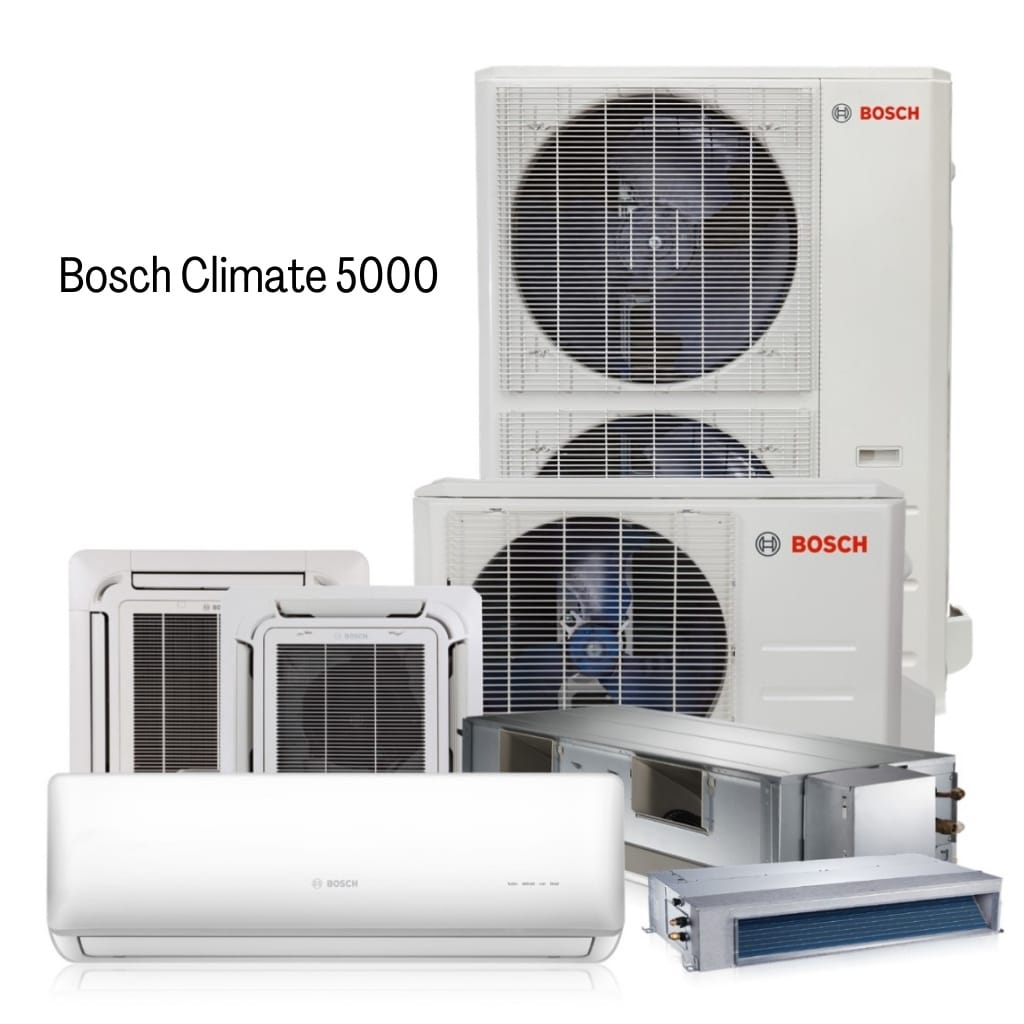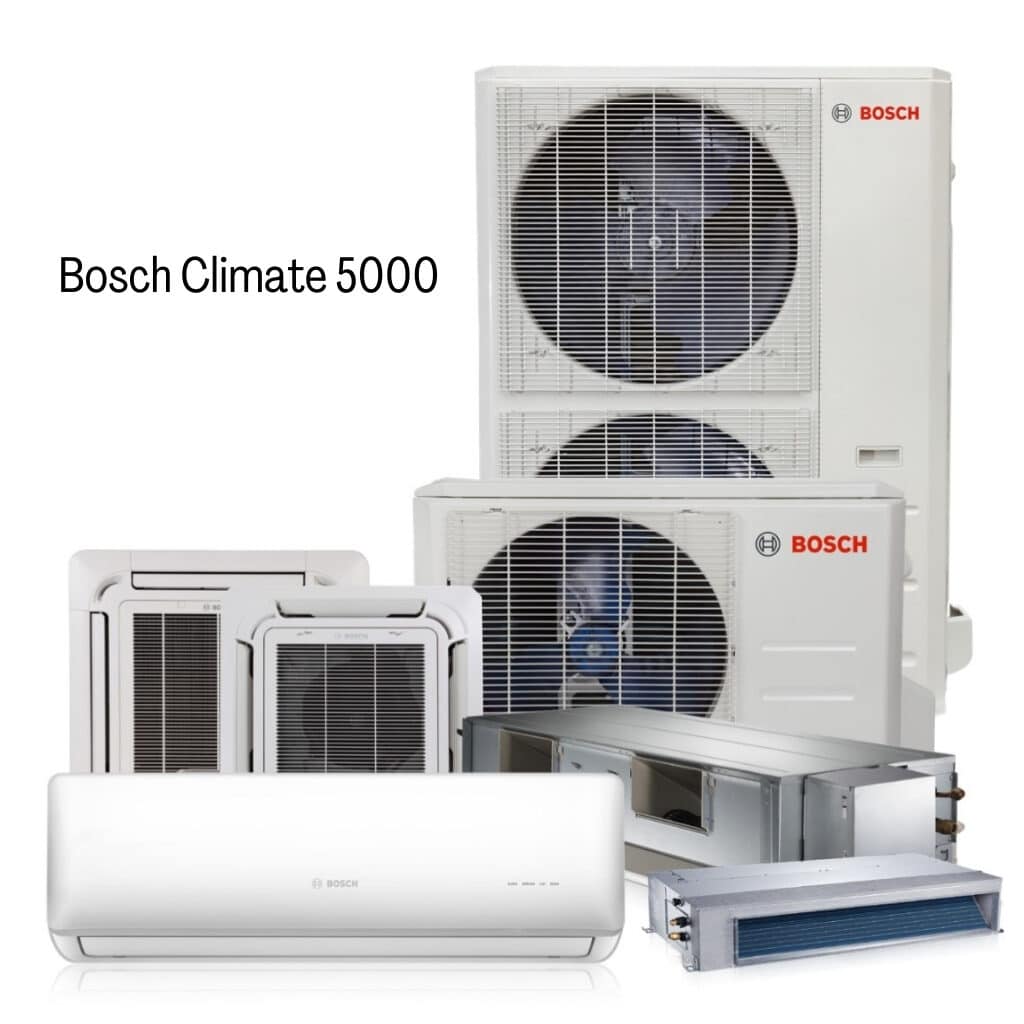 Installation, maintenance, and cleaning are all easy with the Bosch Climate 5000 Ductless Series. When service times are shorter, and quality is high, you spend less money and get more comfort and peace of mind. The Climate 5000 System uses a mix of energy-efficient technologies to get up to a 25 SEER rating. This means that it uses less electricity and your electric bill goes down.
100% heating capacity between -5ºF and 5ºF, depending on system configuration
No additional accessory is needed for Low Ambient Cooling operation down to 22ºF with MAX Performance System (Maximum 107% Cooling capacity at -22ºF)
Whisper-quiet operation: ODU as low as 55.5 dB, IDU as low as 20 dB(2)
Wired wall thermostat, 24V Interface for use with 24V thermostat
Factory-installed base pan heater for all ODU models
Built-in condensate pump for Cassette & Ducted IDUs
10-year compressor & 5-year parts residential warranty
Compatible with the Bosch Connected Control (BCC) Wi-Fi Thermostat family
Bosch History
In Stuttgart, Germany, in 1886, Robert Bosch started the "Workshop for Precision Mechanics and Electrical Engineering." This is how the company that works all over the world today got started. From the beginning, the company has been driven to make new exciting technologies and cares about helping people. Buderus Boilers and other HVAC brands that use the Bosch name are now owned by a branch of the Bosch Group.
Final Thought
Overall, Bosch air conditioner has something for everyone. Bosch makes home comfort great with quality engineering, quiet operation, and an unbeatable warranty. Their reliable inverter air conditioner and/or heat pumps keep homeowners comfortable by letting them control the temperature and humidity in their homes with great accuracy. This system has an inverter drive that changes the speed of the compressor to make the room as comfortable as possible while keeping noise levels low and using the right amount of energy.
You can choose Bosch air conditioner from various features, sizes, and looks, depending on what you want and need. However, if you're looking for other brands, we've made an air conditioner comparison guide for all major brands available.