Lennox XP25 Heat Pump is one of the most efficient and quietest Central AC available in 2021! This heat pump has up to 23.5 SEER rating and HSPF up to 10.2, making it a powerful heating system that will perform very well in any climate. The XP25 is a flagship model, part of the Lennox Signature collection. In this article, we'll cover the details features and benefits of the Lennox XP25 heat pump.
All of Lennox's heat pumps are ENERGY STAR® rated, featuring excellent SEER (Seasonal Energy Efficiency Ratio) and HSPF (Heating Seasonal Performance Factor) ratings. The company offers a variety of efficient, reliable, and quiet heat pumps.
There are three series of Lennox heat pumps: Merit, Elite and Dave Lennox Signature Collection. Lennox XP25 is the most favorite and worth considering if you decide to spend more to get the high level of comfort and efficiency.
Lennox XP25 Heat Pump Features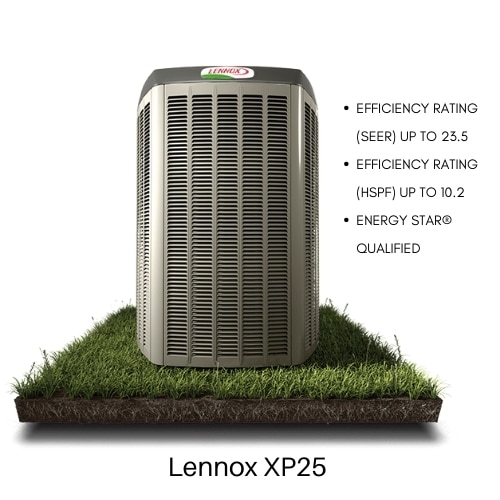 Efficiency
The Lennox XP25 is rated at up to 23.5 SEER (Seasonal Energy Efficiency Ratio), which is the highest of any central heat pump on the market. This means it is expected to have the lowest energy costs when it comes to cooling.
By comparison, most other manufacturer's top heat pump models have a SEER of between 20 and 21, making this Lennox heat pump about 10-15% more efficient. Since SEER is directly proportional to the amount of heat an air conditioner will remove from your home for each watt of electricity used. 
However, the HSPF (Heating Seasonal Performance Factor) is not as impressive at a maximum of 10.2 (for the best rated indoor/outdoor unit combination). Some of the other major manufacturer's now have models with HSPFs as high as 11, and Carrier's Greenspeed system is rated at up to 13 HSFP.
The HSPF is similar to the SEER rating, except it is for heating instead of cooling. Both ratings are provided by the impartial Air Conditioning, Heating, and Refrigeration Institute. 
This means that if energy efficiency is your main consideration, the XP25 will be your best choice if you live in a warm climate, but for colder climates other heat pumps will be superior. Lennox XP25 is still a fairly competent cold weather heat pump though, being able to produce over half of its maximum heating output at only 5F (-15C).
You should search the AHRI Directory to see the SEER and HSPF ratings for any specific unit combination (heat pump indoor unit + outdoor unit + furnace or air handler) you are considering installing.
Noise
Lennox claims the XP25 has a noise level as low as 58 dB. By comparison, the quietest central heat pump available, Carrier Infinity 24, can be as low as 51 dB. But unlike the efficiency numbers, the noise numbers are tested by the manufacturers, and as such may not be directly comparable.
Any HVAC professional who listens to the XP25 (assuming a quality installation) should be able to tell it's one of the quietest systems on the market.
Operation
Being a variable speed heat pump, Lennox XP25 is able to precisely match its output to your home's energy needs. This consistent operation will result in more even temperatures across your home.
Dimensions
As efficiencies have been increasing over the years, units have tended to become larger, to the point that many homeowners may consider them to be eyesores.
Fortunately Lennox has stopped increasing sizes with their latest units. The outdoor unit measures 39.5 inches deep, 35.5 inches wide, and 37 inches tall for the 2 and 3-ton units. The 4 and 5-ton units have the same width and depth but are 10 inches taller.
Lennox XP25 Price & Warranty
Lennox XP25 heat pump price below is a 3 ton unit with programmable thermostat include.
| Model | System Only | System Installed |
| --- | --- | --- |
| Lennox XP25 | $5,650 | $14,160 |
The XP25 comes with a 10 year warranty on the compressor as well as most other components. This is the same as the top models for every other manufacturer (except for Daikin, who offers a 12 year warranty). It's important to note that warranties require regular maintenance to remain valid.
Conclusion
Right now, gas prices are too low to justify ultra high efficient heat pumps from a financial standpoint. But if you're willing to pay a premium to be more environmentally friendly and get a quiet, smooth-running system, the Lennox XP25 heat pump may be for you, especially if you live in a warmer climate.