Ruud, an associate of the prestigious Rheem brand, delivers a range of heat pumps that combine quality with affordability effortlessly. While Rheem and Ruud share the same parent company, Paloma, their product lines echo a similar dedication to technical advancement.
Rheem has solidified its reputation for durable products and state-of-the-art innovation by competing on the same platform with household names like Lennox, Goodman, Concord, and Amana. In comparison, Ruud's HVAC offerings are often perceived as a cost-effective alternative to Rheem without compromising quality.
A Glimpse into Ruud's Legacy
Tracing its roots back to Edwin Ruud, an immigrant from Norway, Ruud paved its way into the American landscape by pioneering the first automatic water heater in 1889. Fast forward to the 1950s, the company ventured into heating and air conditioning appliances.
The 1960s saw Ruud joining forces with Rheem, another powerhouse in the HVAC industry. Despite this merger, the Ruud brand held its identity and has since been produced alongside Rheem in the Fort Smith, Arkansas plant. Their journey reached a new milestone in 1988 when Paloma Industries added Rheem and Ruud to its portfolio.
Today, Ruud HVAC products are a testament to value for money. While they might not surpass the benchmarks of giants like Trane or Carrier, Ruud offers a competitive edge with attractive pricing and commendable efficiency.
Ruud Heat Pump Features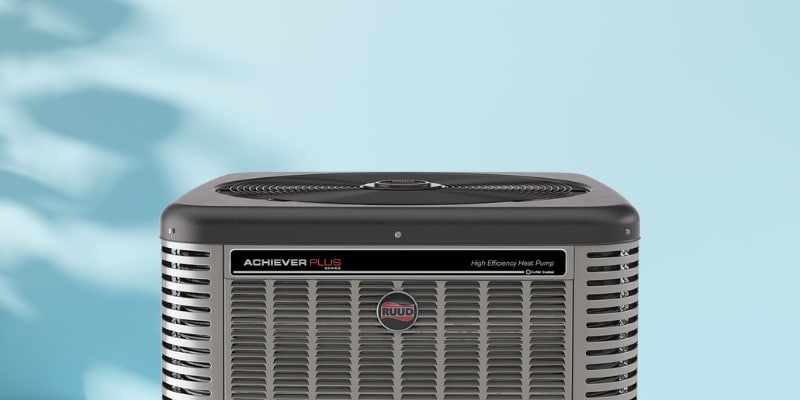 Ruud has evolved, leveraging the extensive capabilities of Rheem's manufacturing prowess. The heat pump range from Ruud is now packed with features that make it a top contender in the market.
Scroll Compressors
The majority of Ruud HVACs are powered by scroll compressors. These not only enhance efficiency but also promise longevity. Their unique ability to utilize residual system pressure prolongs their lifespan, ensuring your compressor remains robust.
Variable-Speed Technology
Elevate your experience with Ruud's Variable Speed Heat Pumps. Enjoy cooling efficiencies up to 54% superior and heating efficiencies that soar up to 58% higher. Thanks to the inverter-driven technology, users experience precise temperature control. Plus, it can provide effective heating even when temperatures drop to 7°F.
PlusOne
Simplify maintenance with this 15-inch wide access point. Designed for quick coil cleaning and cabinet reassembly, it's a feature that showcases Ruud's commitment to user-friendly design.
EcoNet
Stay connected with the EcoNet system. Whether at home or on the go, this smart thermostat keeps you informed with crucial alerts while allowing remote adjustments via WiFi.
10-Year Unit Replacement Warranty
Experience peace of mind with Ruud's robust warranty offerings on the Ultra and Achiever Plus Series. This commitment mirrors the confidence that industry leaders have in their products.
Ruud Heat Pumps: Models
Ruud, a prominent name in the HVAC industry, has tailored its heat pump lineup to cater to diverse needs and preferences. Ruud offers cooling capacities from 18,000 BTU (1.5 tons) to a whopping 60,000 BTU (5 tons), ensuring a solution for everyone.
Let's dive into the intricacies of the four main series they offer, ranging in efficiency from a commendable 14 SEER to a high-end 20 SEER.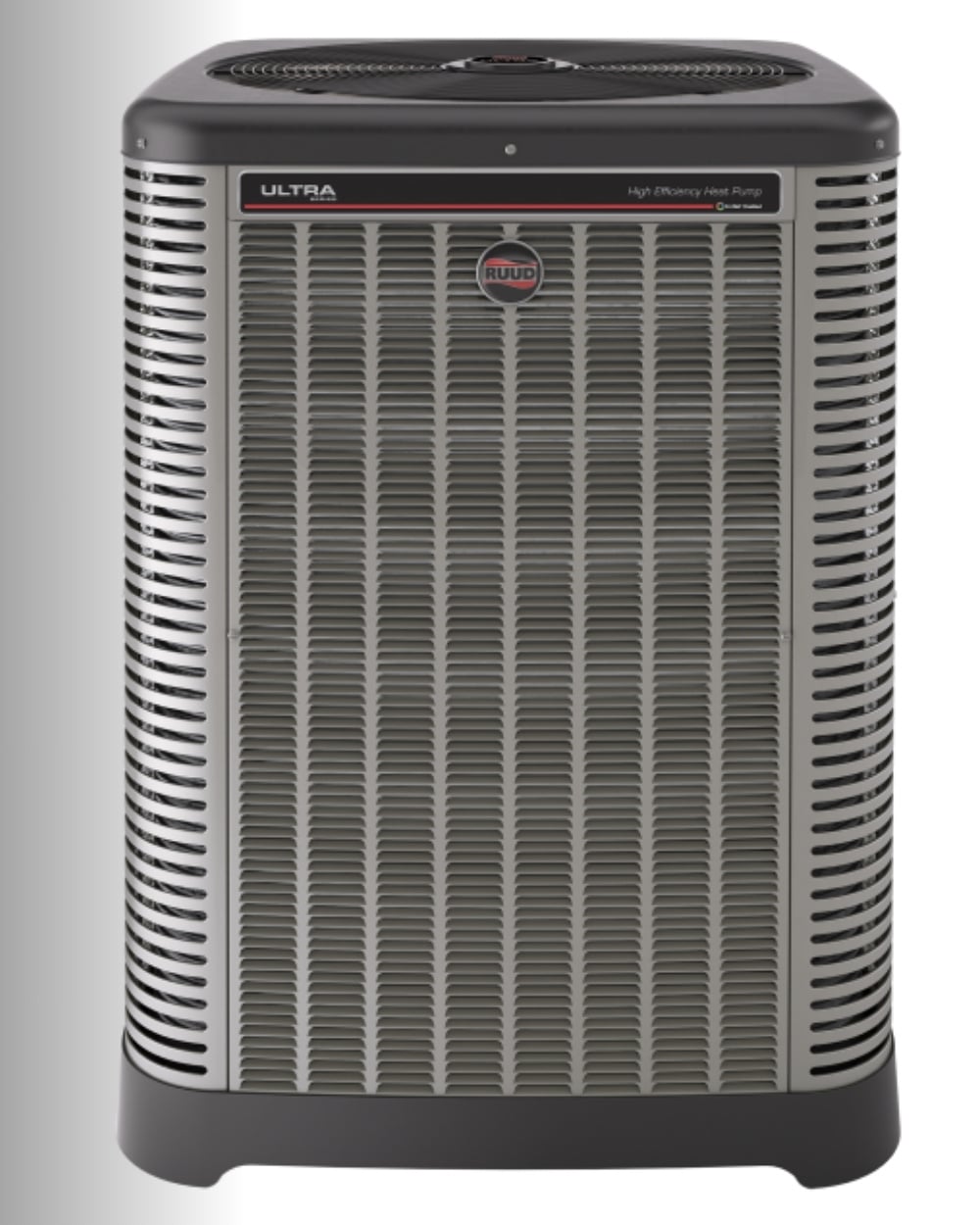 The Ultra Series
UP20

Inverter-Driven Variable Speed Compressor
Stellar Cooling and Heating Efficiencies: Up to 20 SEER and 11.5 HSPF – Energy Star certified
EcoNet connectivity for smart controls and adjustments
Comprehensive Warranty: 10-Year on Parts and a 10-Year Conditional Unit Replacement
The Achiever Plus Series
UP17

Employs a Three-Stage Compressor
Boasts an 18.5 SEER and 9.5 HSPF – another Energy Star standout
Seamless integration with EcoNet
Warranty: Ensuring peace of mind with a 10-year Parts and 10-year Conditional Unit Replacement cover

UP**AZ

Features a Variable Speed Inverter-Driven Rotary Compressor
Achieves an impressive 19 SEER and 10.7 HSPF – Energy Star certified
Warranty: A solid 10-year Parts coverage
The Achiever Series
UP16

Incorporates a Two-Stage Compressor
Efficiency credentials: 16 SEER and 9.0 HSPF – with Energy Star certification
Sports a composite basepan that's immune to corrosion and minimizes vibration
Warranty: Comprehensive 10-year Parts coverage

RP15

Utilizes a Single-Stage Compressor
Efficiency markers at 15 SEER and 9 HSPF – Energy Star certified
Warranty: Reassuring 10-year Parts coverage

RP14 & RP14F

RP14F is crafted to achieve 14 SEER with Coil, which is ideal for the dual fuel market. Compatible with PSC Air Handlers matchups
Employs a Single-Stage Compressor
Efficiency is marked at 14.5 SEER and 8.5 HSPF for the RP14F, while the RP14 stands at 14 SEER and 9 HSPF.
Warranty: Reliable 10-year Parts coverage for both models

WP14A & WP14F

Harnesses a Single-Stage Compressor
Both models achieve an efficiency of 14 SEER and 8.5 HSPF.
Warranty: 5-year Parts coverage for both models
Ruud's diversified range of heat pumps underscores its commitment to innovation and customer satisfaction. Regardless of the series you opt for, you're guaranteed the quality, performance, and durability that the Ruud brand is renowned for.
Ruud Heat Pump Price
The cost of Ruud heat pumps varies depending on the model. Costs can range from the more affordable RP14 model, which costs between $5,000 and $7,500, up to the premium UP20 model, which can set you back between $9,500 and $12,500. However, the long-term return on investment, coupled with lower operating costs, makes Ruud heat pumps a wise investment.
How to Get the Best Ruud Heat Pump Prices?
When considering the purchase of a Ruud heat pump, it's crucial to ensure you're getting the best value for your money. Prices can vary based on several factors, including regional differences, installation complexities, current promotions, and more.
Here's some advice for securing the best deal on a Ruud heat pump:
Research and Compare: Start by researching online to get a general idea of the average prices for the Ruud model you're interested in. However, remember that these prices may not always include installation costs.
Get Multiple Quotes: Always solicit quotes from multiple HVAC contractors. This helps you get a sense of the market rate and gives you bargaining leverage. Don't be afraid to negotiate the price. If you've received a lower quote from another contractor, mention it. Some contractors might be willing to match or even beat a competitor's price.
Ask About Promotions: Occasionally, manufacturers or local dealers offer promotions, rebates, or discounts. It's worth asking about any ongoing promotions when you get your quote.
Consider Seasonality: Sometimes, HVAC contractors offer discounts during their off-peak seasons. If you're not in a rush, consider planning your purchase during these times.
Understand the Full Cost: Make sure the quote you receive includes all potential costs – equipment, installation, any necessary modifications to your home, warranties, and service agreements.
Lastly, remember that while price is a significant factor, it shouldn't be the only one. The quality of installation, the reputation of the contractor, warranty terms, and the heat pump's efficiency will all impact your investment's long-term value. Investing a bit more upfront can often result in long-term savings and fewer headaches down the road.
Final Thoughts
In a market inundated with so many good heat pump choices, Ruud stands out. Whether for new homes, renovations, or large-scale projects, Ruud remains a favored choice for those who prioritize affordability without compromising on quality. With a lineage of innovative features and a legacy of trust, Ruud HVAC systems ensure that comfort is never out of reach.
Ruud heat pumps bring together quality, efficiency, and affordability. While they may not reach the lofty heights of Trane or Carrier, they offer an excellent mid-range option for those who want solid performance without breaking the bank.
So, if you're looking for a reliable, efficient, and reasonably priced heat pump, you can't go wrong with Ruud. Just remember to compare quotes from multiple contractors, consider any seasonal discounts, and, most importantly, understand the full costs involved to ensure you're getting the best possible deal.