Though a smart thermostat is a new invention in our modern age, it is now no longer a strange product. A smart thermostat allows you to automatically set up the home temperature from any other smart device, saving you money and hassle. Below you'll find reviews of the best smart thermostats, so, whatever your budget, there is one here for you.
If you want to have a smart home, you must consider installing it in your home. You may hear your friends or neighbours use this device, but you still need to think of it before purchasing. Here are some points to help you know more about using a smart thermostat.
If you don't have the latest smart thermostat installed, you are truly missing some awesome features. Some of the coolest features the newest thermostat technology offers:
The ability to control your AC thermostat from near or far by using your smartphone, computer, or tablet.
The ability to automatically control your temperature based on current energy rates to save money.
The ability to see how your air conditioner is performing in real-time allows you to pinpoint problems faster than ever before.
And that's not all! The best part is that you don't have to upgrade your entire HVAC system to enjoy all that the latest smart thermostats benefits.
Best Smart Thermostats – Expert Reviews
Here are some of the best smart thermostat options with the highest customer ratings on the market.
Nest Learning Thermostat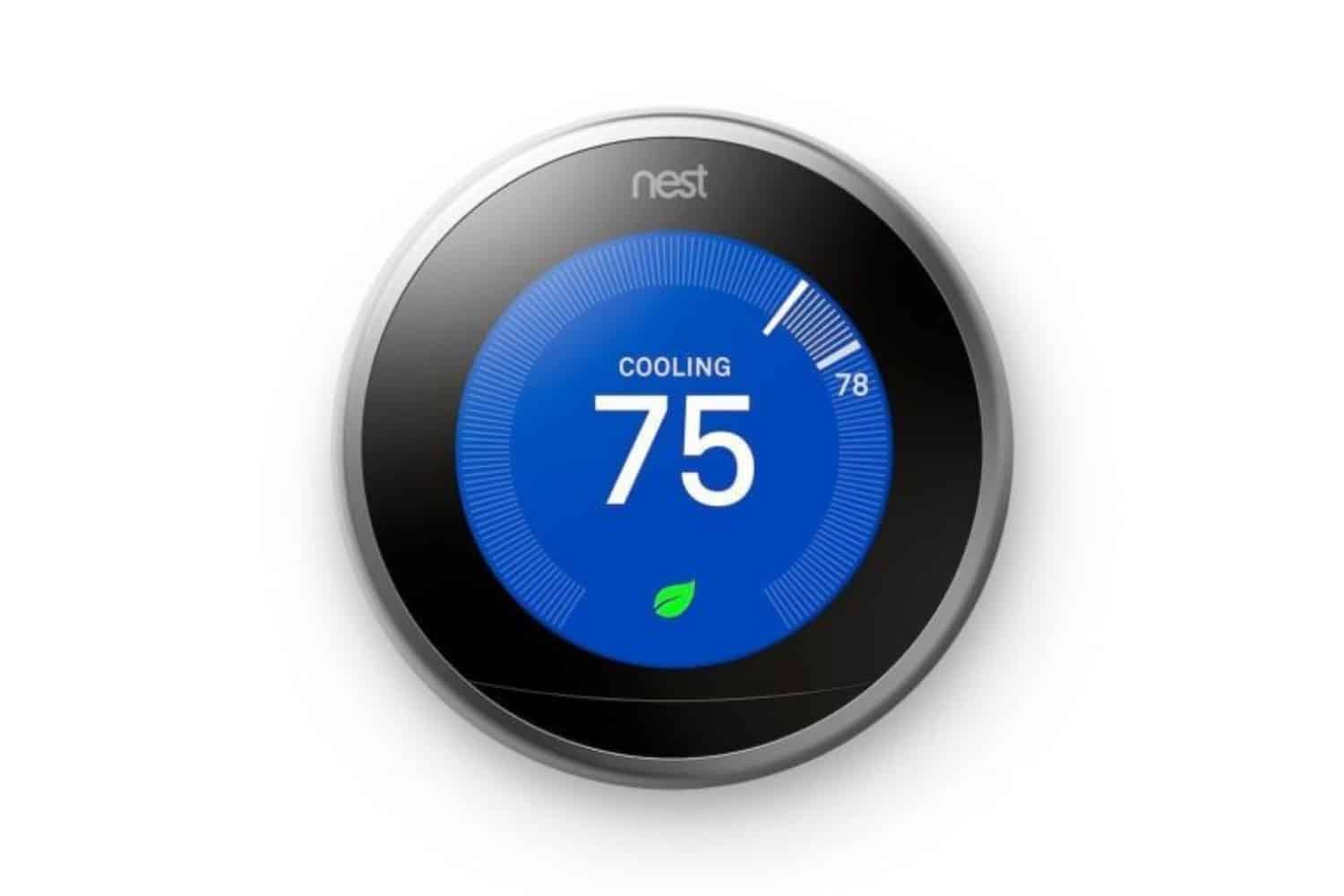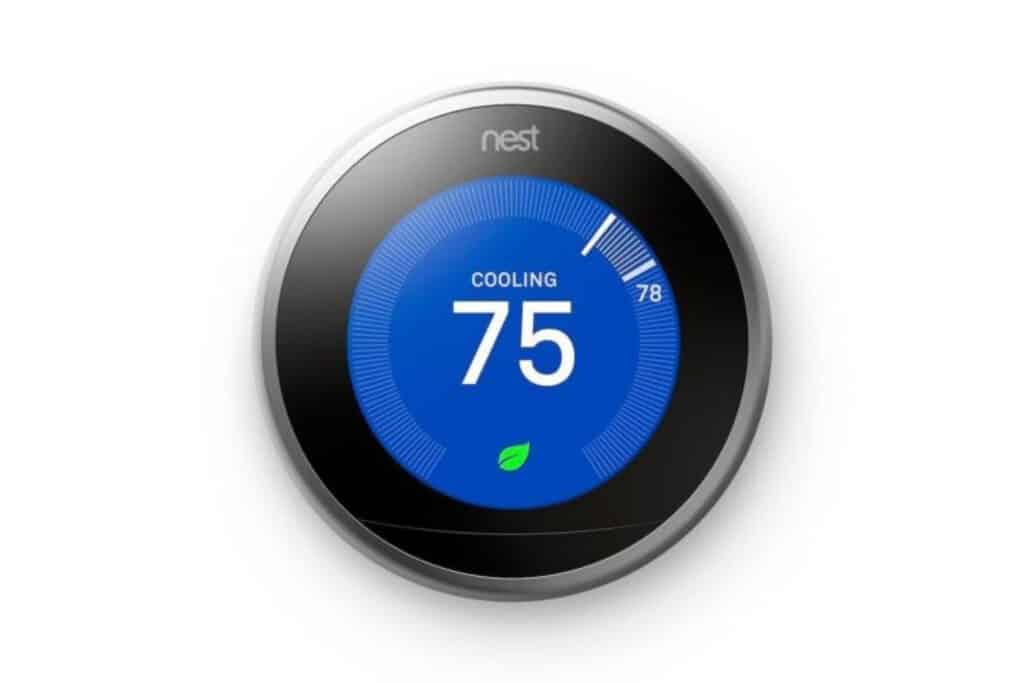 Compatibility: Amazon Alexa, Google Home, SmartThings
Connectivity: Wi-Fi, Wireless Interconnect, Bluetooth Low Energy
Sensors: 10 temperature sensors, indoor humidity, proximity, near-field activity, far-field activity, ambient light
Fed up with adjusting your thermostat every time you leave your home? The Nest Learning thermostat rids you of this headache as it automatically learns your schedule and programs itself accordingly. Moreover, you can remotely make changes and adjustments using your phone, laptop or computer or with Alexa for voice control.
The Nest Thermostat is compatible with 95% of the 24V heating and cooling systems around, so compatibility is not a matter to worry about. It programs itself to save energy when you are away and works remotely using a Wi-Fi connection with internet access. With its' Far Sight feature, the thermostat even lights up when it sees you entering the room and shows you the temperature and time from across the room.
Pros:
Beautiful design
Creates a schedule based on patterns
Monitors temperature in multiple zones
Easy to install
Cons:
Doesn't work with Apple HomeKit
Ecobee SmartThermostat with Voice Control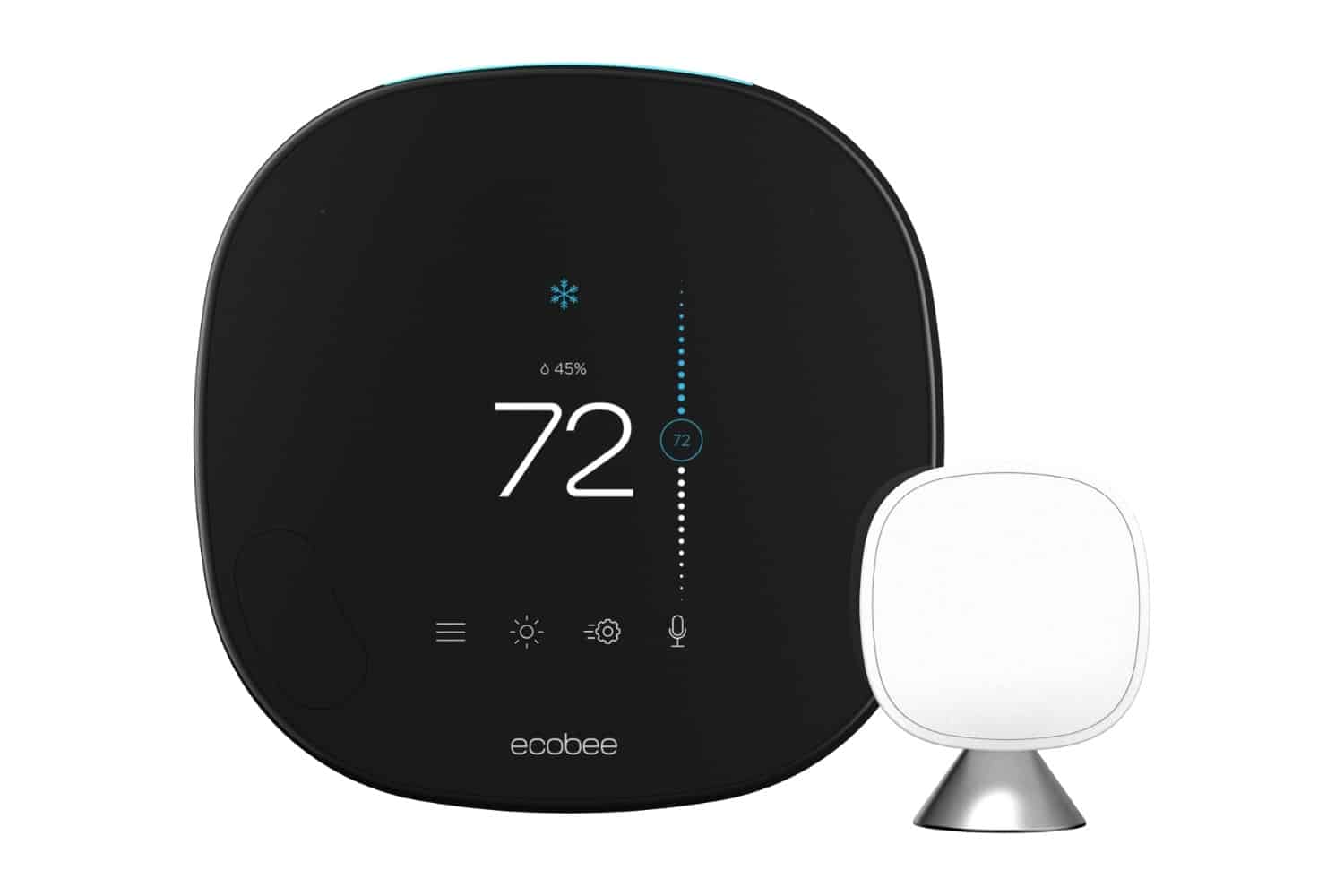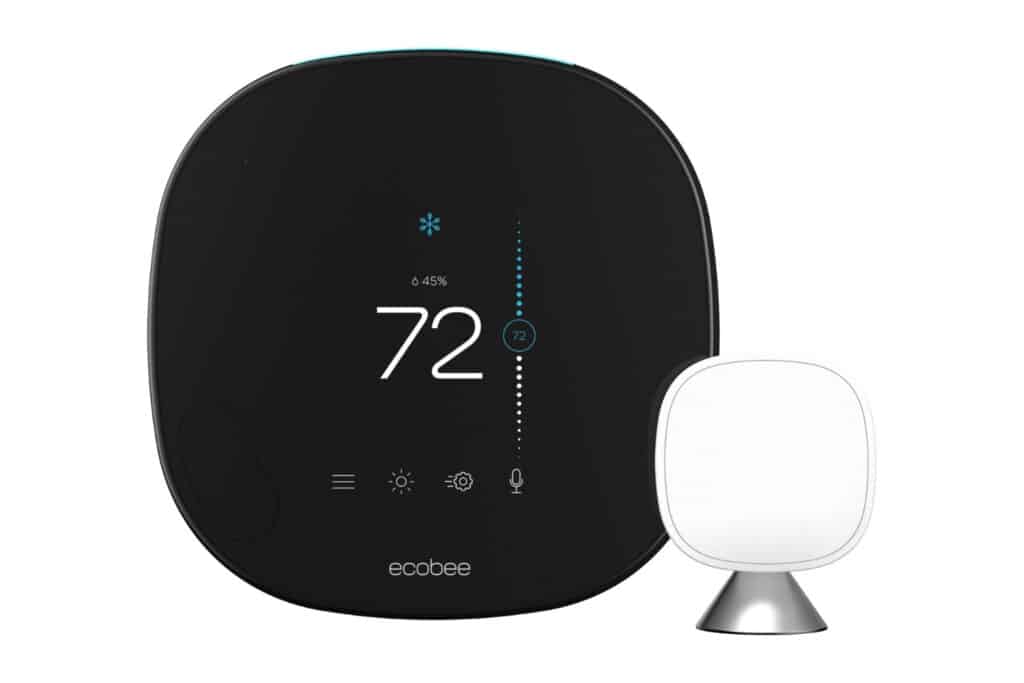 Compatibility: Amazon Alexa, Apple HomeKit, Google Home, SmartThings
Connectivity: Wi-Fi, Bluetooth Low Energy
Sensors: temperature, humidity, proximity, ambient light
The Ecobee SmartThermostat with Voice Control is a step above other programmable thermostats. While other thermostats only read the temperature of a single room to make it comfortable, this Wi-Fi programmable thermostat works with additional sensors to measure a room's occupancy and temperature.
While you receive one free remote sensor with your thermostat, you can fit and use as many as 32 sensors. The more sensors you use, the smarter your Ecobee becomes at delivering comfort.
The Ecobee SmartThermostat is the first home kit enabled smart thermostat wherein you can control it using your Apple HomeKit, Google Home and SmartThings. It also works with Amazon Alexa to intuitively turn on your heating or cooling equipment to lower your energy bills. As the Ecobee is hardwired and doesn't rely on a battery to charge itself, you are always assured your home is as warm or cool as you want it when you return home!
Pros:
Compatible with SmartSensor
Energy Star certified
Built-in Alexa and Siri
Compatible with Smart home systems
Cons:
Honeywell Wi-Fi Thermostat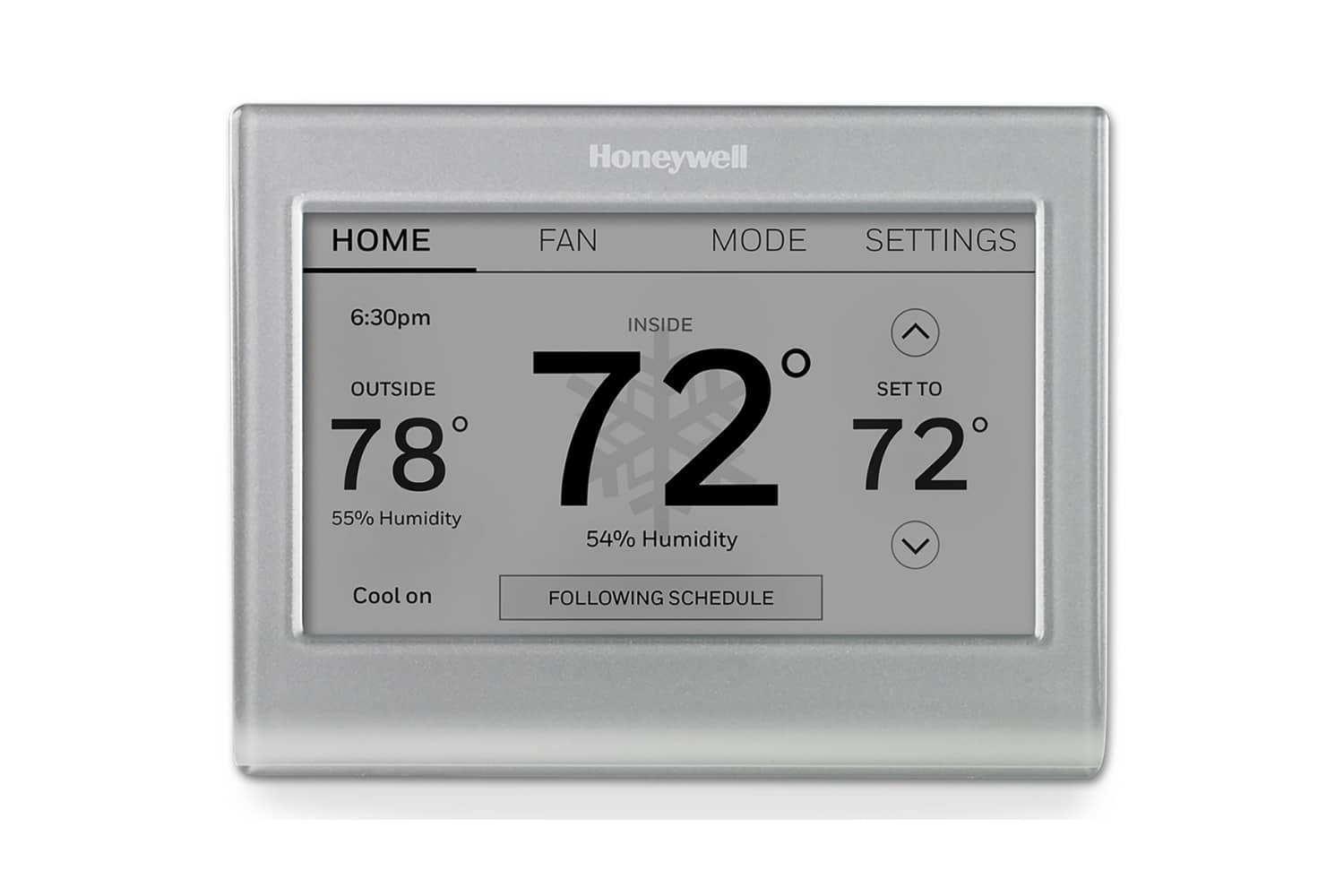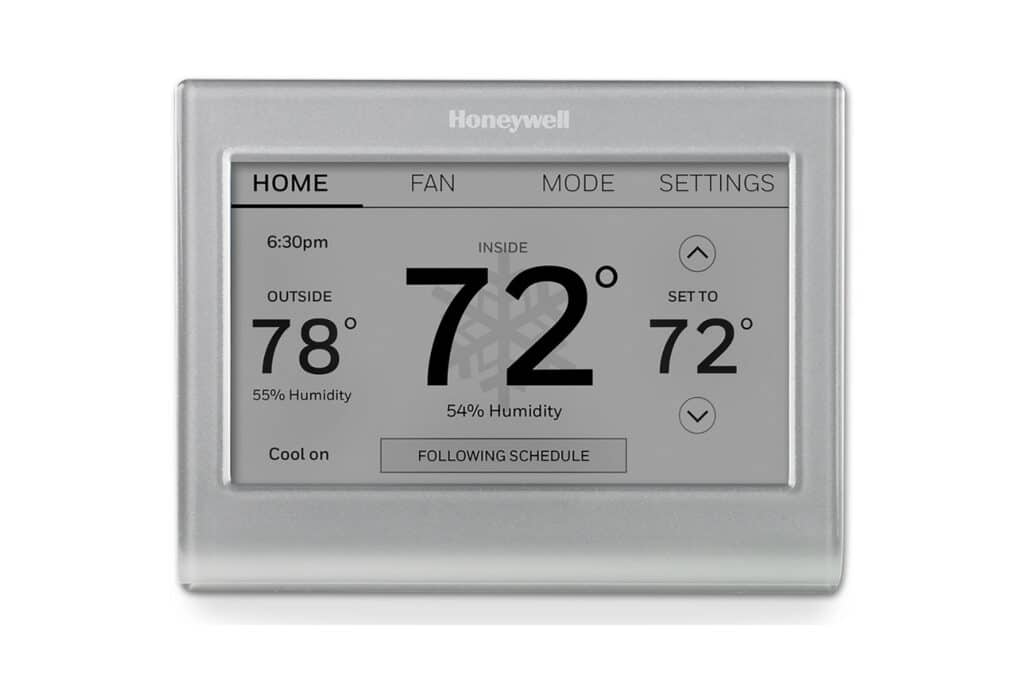 Compatibility: Amazon Alexa, Apple HomeKit
Connectivity: Wi-Fi, Bluetooth Low Energy
Sensors: temperature, humidity, proximity, ambient light
You can set the thermostat's colour to match your interiors and decor while its touch screen displays both the indoor temperature and humidity levels. The Honeywell programmable thermostat comes with advanced locking features with password options for smart security and convenience.
It automatically determines if your home needs cooling or heating for maximum comfort and makes the necessary changes. The thermostat gives intelligent alerts like filter change reminders, loss and restored internet connections and high/low temperature notifications. Programming options are pretty flexible; choose programs based on your office or home schedule or based on the utility company's peak rate pricing.
Pros:
Smart room sensor
Location-based geofencing
Compatible with voice assistants
Cons:
Does not include a SmartSensor
Amazon Smart Thermostat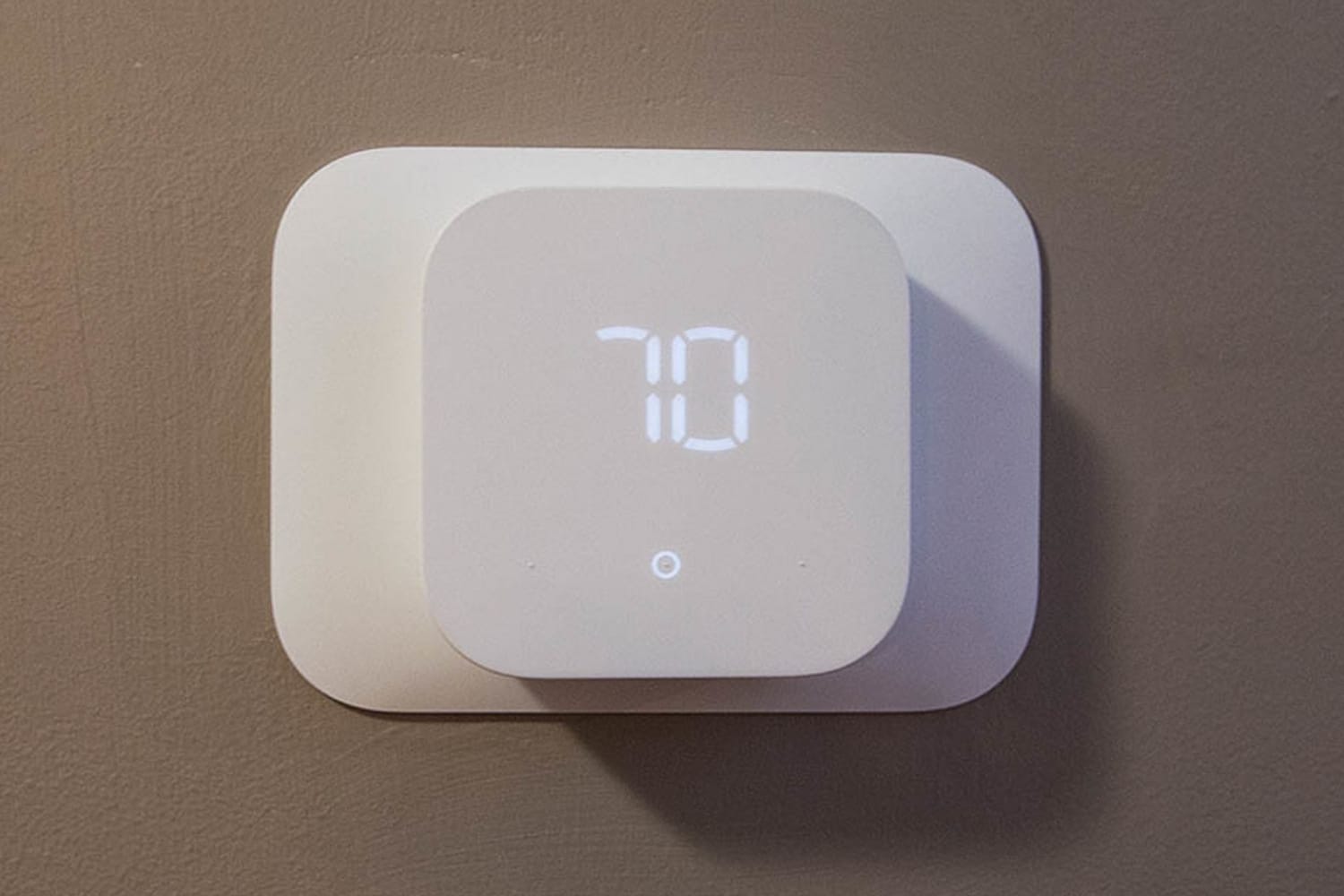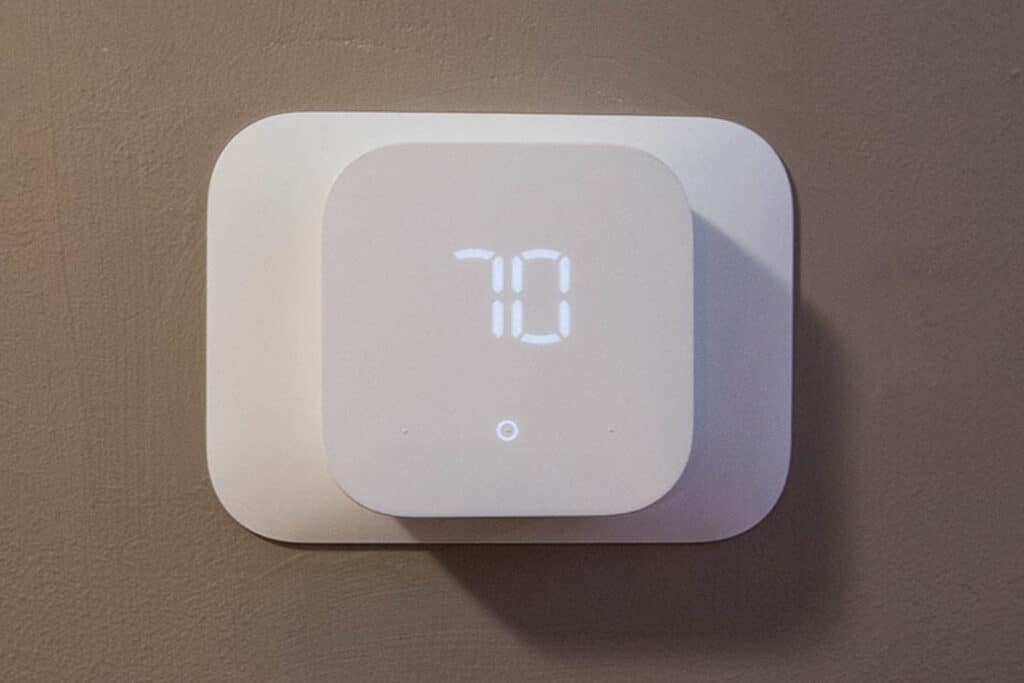 Connectivity: Wi-Fi
Sensors: temperature, humidity
Amazon Smart Thermostat is the perfect choice if you're on a budget and live in an Alexa household. The Amazon Smart Thermostat delivers excellent performance for its low price. It consistently kept our home at a comfortable temperature throughout roughly six weeks of use.
Pros:
Most affordable smart thermostat on the market
Simple to use
Alexa Hunches adjust heating for you
Cons:
Alexa isn't built-in
No zonal
Mysa Smart Thermostat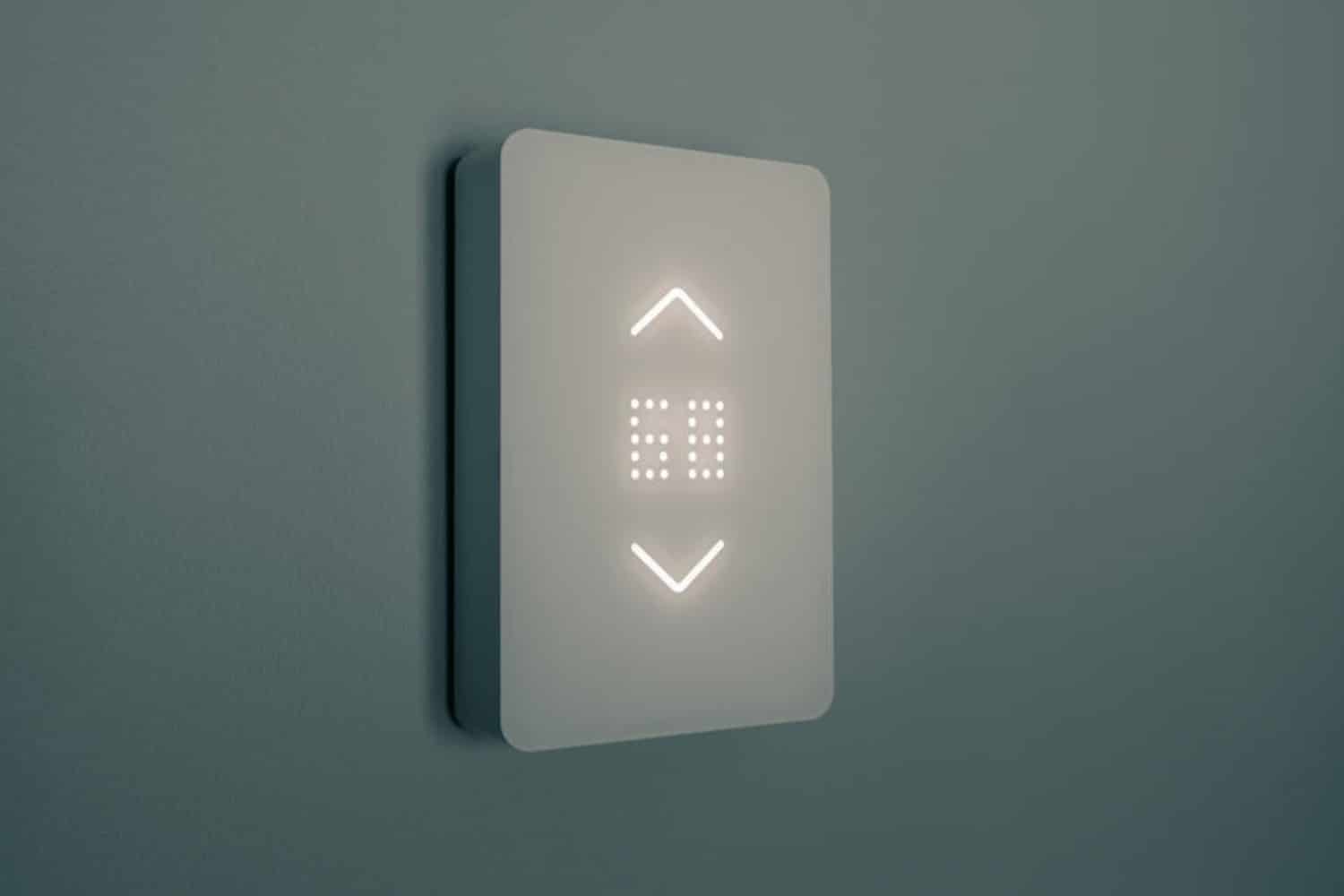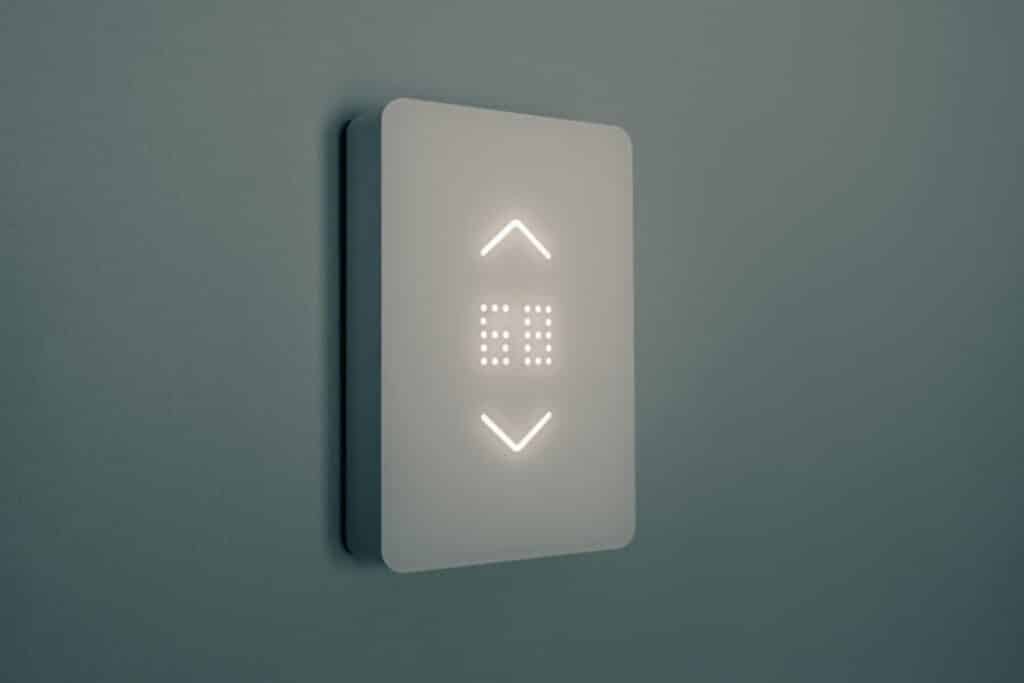 Compatibility: IFTTT, Google Assistant, SmartThings, Amazon Alexa, HomeKit
Connectivity: Wi-Fi, NFC
The only thermostat that is compatible with an electric baseboard heater. The Mysa Smart Thermostat is easy to install. Average homeowners are capable of doing a DIY installation, and the app makes it easy to use.
Pros:
Install quickly
Location-based geofencing
Compatible with voice assistants and Apple HomeKit
Cons:
Not compatible with 12 to 24V
Smart Thermostat Buying Guide
How to choose the best smart thermostat for your home? There are a number of factors you will need to consider to choose the one that fits your need.
Ease of use and installation
It's always better to buy a smart thermostat you find easy to use and set up. No point in investing in a unit where you need to resort to the manual each time you have to change the settings.
Regarding its installation, most thermostats are easily installed just by attaching your heating or cooling system with two low-voltage wires.
Preferably install the thermostat on an interior wall away from vents and other heat and draft sources which may affect the temperature readings. However, it's better to call the professionals if you plan to do more than a simple replacement.
You have to choose a thermostat which relates to the type of heating or cooling it works with. While single and two-stage are the two most common options, you also have three-stage support for heating purposes. This means that multiple stage furnaces have more than a level of heat output for additional efficiency and operation.
There's usually one heating and cooling system to work with multiple stages, but some thermostat models work with as many as 4 heat and 3 cool functions. Some models with the main heating source which doesn't support two-stage heating let you set an auxiliary heat source like a second stage.
This means if your system comprises air conditioning, a hot air system and baseboard heat, then it's a 'two heat and one cool' system where the baseboard may be the first stage and the hot air system, the second stage. As backup heat is considered to be an additional heat source, you will need a thermostat supporting three heat sources and one cool in the above mentioned case.
You need to choose your thermostat based on your thermostat needs, which are best evaluated based on your living situation like the regularity of your schedule, your climate and if you are regularly out of the home.
Smart thermostats needn't be programmed for basic needs; you just have to press a heat or cool button and select your desired temperature. This is best for those who are home most of the time and who don't mind waiting to reach the desired temperature.
Then there are complex models befitting any schedule you may have. Some let you set the same program through the week with an option for something different at weekends, and others even let you set four different temperatures throughout a day or different programs for each day of the week.
Practically all programmable thermostats today emphasize saving energy, mainly because they know your schedule. There are more advanced models which report how much energy you use and how you can use your system better. While this additional feature may cost some money, it is worth investing in.
Smart thermostats should preferably be wireless as they provide you with more freedom to adjust your HVAC when not at home. However, if this is the case, you need a Wi-Fi connection to install the thermostat and when you want to connect to and change system settings.
Additional Features to look out for
Different smart thermostat models have different features. Take a look at the various features available so that you know what to look out for a while choosing your thermostat.
These thermostats automatically switch between heating and cooling and are a handy feature on warm days and cooler nights.
An adjustable cycle helps as it prevents frequent on-off cycling for heating and cooling systems. With an advanced recovery setting, it's possible to start heating or cooling anytime required so that your home is at a preferred temperature when you reach it.
Intuitive controls and bold prompts
It's possible to avoid energy-wasting mistakes with its intuitive controls and large temperature and time readouts. For example, a bold 'hold' prompt reminds you that you are overriding the energy-saving mode for added comfort.
The touch screens of most models today replace the older version buttons and knobs. Programming and reading the display in the dark is made easy with the thermostat's large backlit display. You are also informed of an activated heating or air-conditioning system through a clear system-status display.
Smart programmable thermostats come with convenient additional features like a reminder for changing the AC or furnace filter based on elapsed time, and a memory-saving feature where all programs made are saved in case of a power outage.
Types of Thermostats
Thermostats are no longer only rounded; they now have brighter displays with exact settings to ensure optimal heating and cooling pleasure. The programmable versions come in two main types; those with and without remote access.
Thermostats with remote access let you control your thermostat remotely using your iPhone, Android or Windows Smartphone or computer. They have numerous sensors monitoring the different temperatures in different parts of the house and can even tell and make adjustments in occupied rooms. There are also some apps which can be used with these thermostats to collate your energy usage data to customize your heating and cooling schedule.
Its benefit is that it's energy-efficient, convenient and offers better control of your HVAC system for reduced carbon footprint and energy bills. However, they are a bit expensive, and not all of them work with your home's HVAC system.
Thermostats which don't offer remote access have to be manually set along with your HVAC unit's heating and cooling cycle. Most of these thermostats are programmable with a digital interface called digital programmable thermostats and offer an option of automatically scheduling your house's temperature based on time.
These thermostats are cost-effective and offer various temperature points to set for different days of the week. However, they are not as accurate or site-specific as thermostats with multiple sensors.
How does a smart thermostat save money?
With 50% of your utility bills spent on heating and cooling your home, installing a thermostat can save you lots of money. As you know, programmable thermostats let you program your heating and cooling schedule and once programmed, the basic thermostat takes care of your heating and cooling.
In other words, it switches on and switches up, down or off as required at the time you set it for. The more complex models reduce energy consumption by offering more flexibility to further reduce your utility bills.
There are thermostats you can access from the office to change settings in case you won't return and be able to go home at the programmed time. Some models even let you change the system settings to adapt to local weather or humidity levels from your laptop or desktop.
There are also some models which tell you how much energy you consume and analyze elements like local weather conditions, your building size and the amount of activity in it to enhance your energy consumption.
So regarding the amount of money the thermostat can save you, it depends on the unit, as the more advanced its technology, the more you can save. Of course, even the basic programmable thermostats can help save as much as 15% of your energy bills, while the more intricate ones can save you anywhere up to 20% and more.
The savings, in fact, override the amount spent on most programmable thermostats! For example, if you presently pay $2000 for your utilities, a 20% savings mean you save about $300-$400, which is more than the unit's price. So installing a smart thermostat proves beneficial as it pays for itself in no time.
Conclusion
Best overall: Google Nest Learning Thermostat
Best voice integrations: Ecobee SmartThermostat with Voice Control
Best for Multiple Zones: Honeywell Wi-Fi Thermostat
Best budget: Amazon Smart Thermostat
Best with baseboard heaters: Mysa Smart Thermostat
Now you know what you should look out for in a smart thermostat and why you should buy one, you will definitely feel like you need to buy one for your home or office. But when you venture to buy one, you find so many types and brands in the market; you don't know which is the best smart thermostat to buy.
So to help you out, we gave you the best smart thermostat reviews and buying guide to learn the pros and cons of some of the more popular devices on the market.