Trane Heat Pumps really are one of the most efficient and cost effective heating and cooling solutions for homes. They are one of the most highly rated by consumers. The main feature that make them such as favorites is that heat pumps from Trane offer high efficiency and quiet.
The Trane heat pumps have some of the highest SEER ratings in HVAC industry between 14 and 20. Although there may be products with a slightly higher SEER rating, no one is as quiet as a Trane. Trane heat pumps are relatively quiet, ranging from 54 decibels on the low end with the top of the line models to 76 decibels with the lower end models.
It is necessary to consider several factors and features before purchasing a new heat pump for your homes. The most important aspect is obviously the ability, that is measured by SEER and HSFP ratings. After that you will need to consider the size. Size does matter because it affects greatly to the heat pump price.
Why Trane?
Well since you have made the decision to purchase a heat pump rather than a furnace and air conditioning unit, now the only question is what kind you go with. This is a very big investment for your family so make sure you make the right one. I personally would suggest trane heat pumps.
There are many reasons to choose trane heat pumps mainly because they do not just make one type. They actually manufacture 4 completely different types of heat pumps for every situation. They have on hand the standard efficiency, high efficiency, super efficiency and the ultra efficiency models.
All four of these trane heat pumps offer different upgrades. There may be one better than the last, and possibly one more appealing than the last. Either way you base you judgment on these units they all offer energy efficiency and will ultimately lower your monthly heating and cooling costs.
For instance with the ultra efficiency model you may have a bit of a quieter motor than with the standard efficiency models. Just for the fact that it has a multi–stage fan motor that adjusts speed automatically to provide maximum comfort and use out of your unit.
The great thing about trane heat pumps are the fact that whether you need service day or night, weekend or holiday there is always someone you can contact. They have Trane Comfort Specialists that are working 24/7. So when you really need them they are there for you.
There is a warranty program suitable for really any budget and is offered on every heat pump they manufacture. In case it needs the coils cleaned or maybe just a general service, it can be done with ease.
A huge point to remember with any Trane heat pump review you read online is this. If it is a glowing review, then wow, that means a lot to the customer and the provider. But the ones that seem very negative regarding service or parts may be due to the fact those customers did not take advantage of the warranty and may be a bit angry at the extra costs due to this.
Trane Heat Pump Features
The technical terms and features of heat pumps can feel like a foreign language. Even if you begin to understand them, how do you know what features are right for your home? Honestly, your best resource for a thorough understanding of the latest equipment and what your home needs is your local HVAC specialist. However, there are a few basics you should know.
Energy Efficiency
Heat pumps actually heat your home in the winter and cool your home in summer. Because of this, heat pumps are rated for their energy usage in two ways: HSPF for heating and SEER for cooling.
Heating Seasonal Performance Factor (HSPF), is the ratio for the efficiency of heat pumps.
Seasonal Energy Efficiency Ratio (SEER), measures the energy efficiency of air conditioners. These usually range from 13-22. A higher rating means better efficiency. Greater energy efficiency can translate into lower monthly energy costs.
HSPF > 8 is considered high efficiency.
Higher SEER rating = better efficiency.
Sound Level
When space is limited or in cities with strict noise standards, having a quiet running heat pump is a priority. In heat pumps, moving parts like fans and cabinet insulation can reduce noise levels. Many units are rated with a Nominal Sound Level, the average sound level in decibels. The higher the number, the louder the unit.
For example:
40 = A library
70 = A vacuum cleaner at 10 ft.
43 = Our quietest heating and cooling systems
Value
When we say best value, that doesn't mean it's the lowest price. Trane Heat Pump define value by identifying the heat pump that delivers a high efficiency rating and includes many of our industry leading innovations, but is more affordable than our most advanced units. In short, a quality product that won't break your budget.
Warranties
Trane covers their heat pump products with three types of warranties: Base Limited Warranty, Registered Limited Warranty, and Optional Extended Warranty. Trane warranty range from 1 to 20 years. You can get a Registered Limited Warranty if you register for your new product within 60 days. Trane also offers an Optional Extended Warranty. All these warranty options definitely take Trane way ahead of their competition in the heat pump industry.
Features
Every Trane matched system is packed with high-quality components. Each helps ensure that time after time, your unit will provide total comfort your family can rely on. The Trane heat pump feature includes:
ComfortLink™ II Communicating Capability and Unique Refrigerant Cooled Inverter Drive
Climatuff™ Variable Speed Compressor
Compressor Sound Insulator
All-aluminum Spine Fin™ coil
WeatherGaurd™ II Top
DuraTuff™ Rustproof Basepan
Integrated Fan System
Simplified Two-Wire Connection
Full-sided Louvered Panels
Powder-Paint Finish
WeatherGaurd™ Fasteners
Recognized as the Most Efficient of ENERGY STAR in 2019
What's The Best Trane Heat Pump Models?
We've identified Trane heat pump that performs the best in 3 main categories: energy efficiency, quiet operation and value. We'll explain what those categories mean and explain how Trane heat pumps perform so you can make the choice for you and your family.
TRANE XV20I The Most Efficient Heat Pump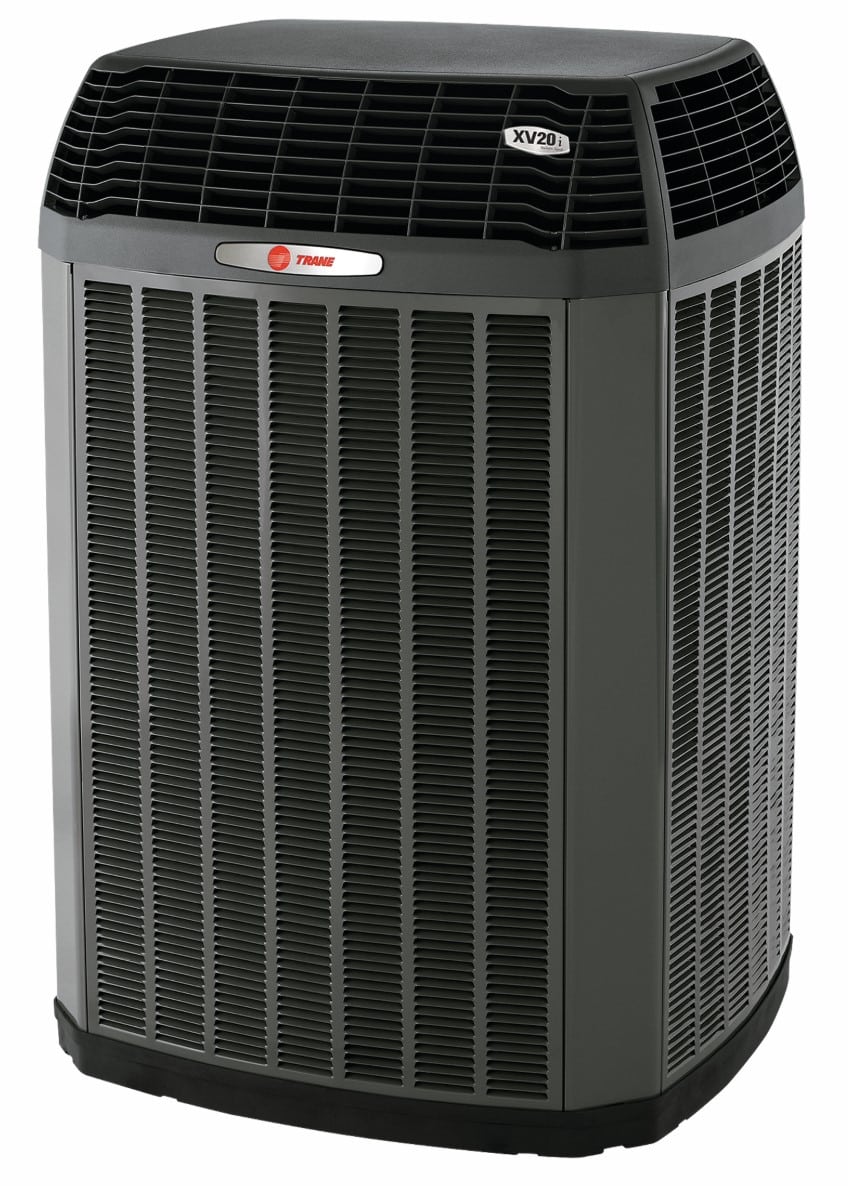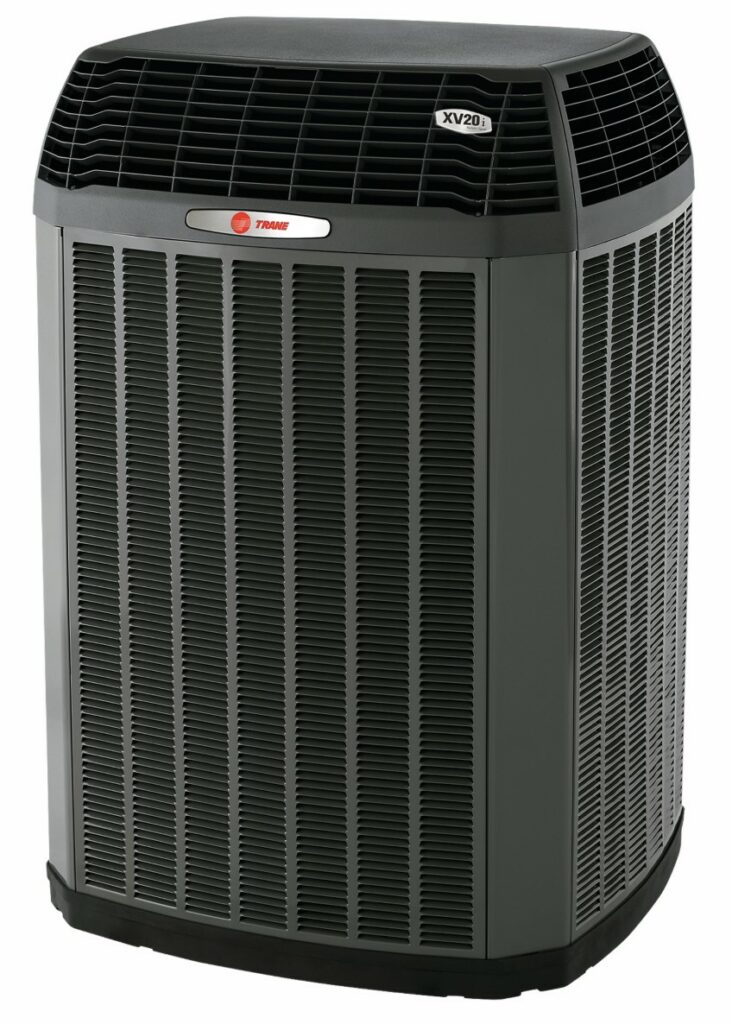 Trane XV20i Variable Speed Features:
Up to 20 SEER and high efficiency Heating Seasonal Performance Factor of 10
TruComfort™ variable speed system includes 750 stages of comfort for maximum comfort and highest efficiency
Runs on lower speed for longer periods of time to provide the lowest cost per minute
Quiet running fan measured at 4 dB below competitor's minimum
Trane XV20i Variable Speed Heat Pump has the highest efficiency rating of all trane heat pumps products with a SEER rating of 20 and an HSPF of 10. With that level of energy efficiency, you can possibly save an average of over $500 each year in energy bills.

The XV20i features with Energy Star Qualified and includes patented TruComfort™ variable-speed system and integrated communicating technology to keep your home at an optimal temperature and avoid spikes that lead to increased energy consumption. This heat pump offers everything you want in a heating and cooling system, from powerful performance to quiet functioning.
TRANE XV19 Low Profile The Quitest Heat Pump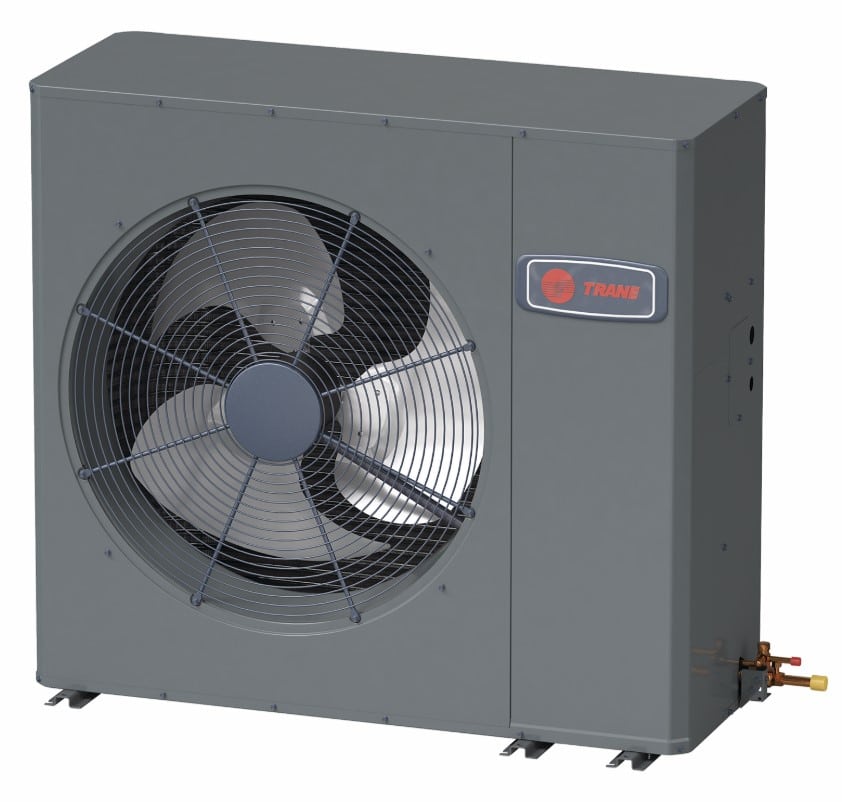 Trane XV19 Variable Speed Features:
SEER rating up to 19.5 and high efficiency Heating Seasonal Performance Factor of up to 12
Ultra quiet performance with sound levels of 43 to 57 dBA
TruComfort™ variable speed system provides 500-700 comfort stages for maximum efficiency
Quiet performance and small footprint is perfect for cities and space-challenged spaces
Trane XV19 Variable Speed low profile heat pump checks in with sound levels starting as low as 43 dBA. It includes innovative sound insulators and a unique integrated fan system with a leading edge swept fan design to reduce noise levels.

The XV19 is also Energy Star Qualified with a SEER rating up to 19.5 and an HSPF of up to 12 – making it a great combination of energy efficiency and quiet operation.
TRANE XR15 The Best Value Heat Pump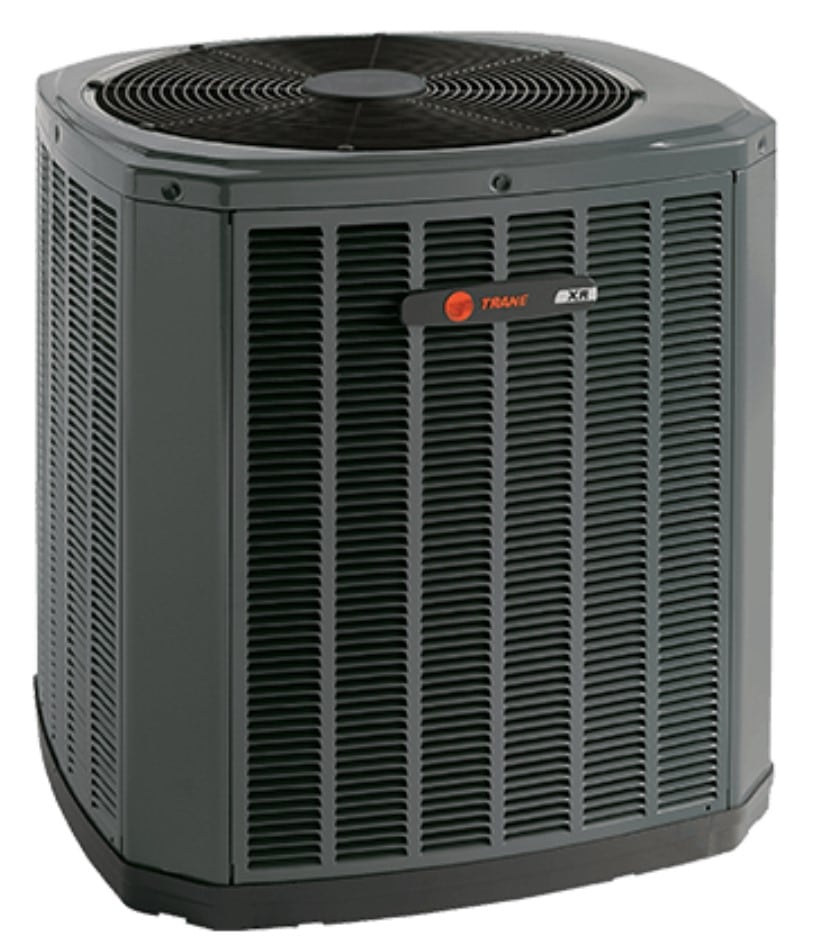 Trane XR15 Heat Pump Features:
SEER rating of up to 16 and high efficiency Heating Seasonal Performance Factor of up to 9.50
Tested materials and components for dependable performance
Fully compatible with Trane CleanEffects™ Air Cleaner advanced whole home air cleaner
A smart solution to your home heating and cooling needs, the XR15 is an excellent blend of efficiency and value.

Trane XR15 is the best choice for best value heat pump because of its high efficiency ratings and more affordable price point. With high-efficiency SEER rating of 16 and a high-efficiency HSPF of 9.50, you can expect to see noticeable energy savings when you replace an older, less efficient unit.
The XR heat pump Series are the lower tier in Trane heat pump lines.
Trane Heat Pump Price
Trane heat pump price will vary from each models. Your cost will depend on where you live, your home size and how it's constructed.
To get an accurate sense of Trane heat pump prices, the best thing you can do is to call directly to a local HVAC dealer. They will calculate the heat pump price and find the one that matches your needs.
Price by Models
| | | |
| --- | --- | --- |
| Trane Models | System Only | System Installed |
| Trane XV20i | $4,740 | $12,500 |
| Trane XV19 | $4,270 | $11,950 |
| Trane XV18 | $3,845 | $11,300 |
| Trane XL19i | $3,650 | $10,870 |
| Trane XL18i | $3,750 | $10,000 |
| Trane XR17 | $3,290 | $9,350 |
| Trane XR16 Low Profile | $3,050 | $9,020 |
| Trane XL16i or XR16 | $2,960 | $8,400 |
| Trane XB16 | $2,890 | $8,690 |
| Trane XR15 | $2,850 | $8,470 |
| Trane XL15i | $2,760 | $8,390 |
| Trane XR14 | $2,450 | $7,205 |
| Trane XR13 or XB13 | $2,185 | $6,950 |
Conclusion
Just make sure when investigating trane heat pumps you try and find people who already have them installed and talk to them. Bounce your questions off of them and get their personal feedback. It may serve as very beneficial to you.
But what I can say is that I have had trane heat pumps in my home and recently had them installed in my mother's home as well and we are both satisfied customers. And plan on being long term customers.
That's a price information and buying guide of Trane Heat Pumps to help you make the right product decision. Trane HVAC products are known for their high quality. Like most other heat pump brands they only function well when installed properly. ALWAYS find a good technician to handle the Trane heat pump installation.