With a legacy spanning almost 150 years, the York brand stands as a testament to HVAC engineering and innovation. In 2005, the globally renowned Fortune Global 500 company Johnson Controls acquired York, propelling it to new heights. Today, York heat pumps seamlessly integrate under the Johnson Controls umbrella alongside Coleman and Luxaire, sharing excellence in all but name.
This definitive York heat pump buying guide is your compass through the diverse range of models, their efficiency ratings, prices, features, and potential advantages. We delve into the pros and cons of York, enabling you to make informed comparisons as you navigate the landscape of heat pump choices.
York Heat Pump Features
York introduces a range of heat pumps encompassing efficiency levels spanning from 13 SEER 7.7 HSPF to 20 SEER 11 HSPF. A pivotal aspect to consider while contemplating a York heat pump purchase is the depth of inquiry. Whether opting for York or any other brand, approaching this major investment with meticulous scrutiny is paramount. Inquiries should encompass the brand's identity, product specifics, and most importantly, the caliber of the installation contractor.
Recent times have witnessed York's dedication to enhancing premium models through an array of compressor and control upgrades. These advancements contribute to heightened efficiency in the premium category.
A myriad of distinctive features graces York heat pumps, including:
York Climate Set: An innovation tailored to diverse climates, York Climate Set empowers you with adjustable settings. Particularly showcased in the Affinity Series, this innovation allows fine-tuning to match varying climates. For instance, in humid regions, elongated, lower-capacity cycles effectively extract excess summer humidity. This adaptability empowers technicians to calibrate Affinity heat pumps to normal, dry, or humid settings.
LX YHM Heat Pump: Operating at an efficiency of 16 SEER/9 HSPF, the LX YHM model takes center stage as a variable-capacity solution within the mid-level efficiency range. Distinguishing itself from conventional models, this heat pump offers an enticing balance between cost-effectiveness and the unparalleled climate control facilitated by a variable-capacity compressor system.
QuietDrive Technology: A hallmark of the Affinity Series, York's QuietDrive technology ushers in an era of discreet performance. Crafted with fans sporting angled wings, this innovation ensures quieter operation. Furthermore, the composite base pan supersedes steel, effectively diminishing vibration-related noise.
York Heat Pump Models
York's product spectrum boasts the prestigious Affinity™ series, highlighted by a two-stage compressor, underpinning its two-stage operation capability. As the industry gravitates towards modulating compressors for premium systems, York's innovative journey is unfolding. Though not yet ventured into modulating compressors, York's reputation remains steadfast. Field-tested and proven, York equipment mirrors the caliber of its competitors, yielding impeccable functionality and performance.
This comprehensive York heat pump review encompasses not only the Affinity™ series but also the York LX models. A comprehensive comparison index alongside the Affinity™ table aids in decoding the offerings of the economic LX line, each tailored for varying efficiency tiers.
Affinity series
The York Affinity series of heat pumps introduces a new level of efficiency and convenience, offering exceptional features such as the QuietDrive system for whisper-quiet operation. Designed with excellence in mind, these models cater to those seeking superior performance and enhanced capabilities.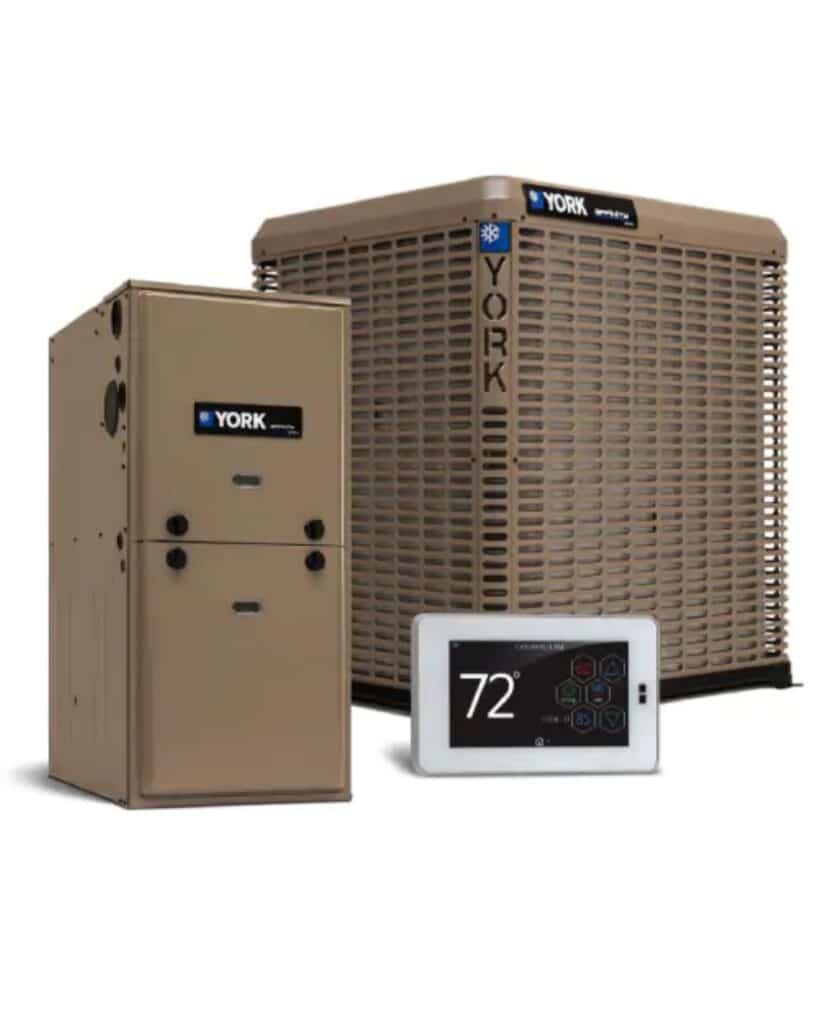 Advantages of the Affinity Series Heat Pumps:
Unmatched Comfort: Elevating comfort to the next level, the Affinity series offers outstanding efficiency that ensures consistent and cozy experiences with your heat pump.
Whisper-Quiet Efficiency: Powered by the QuietDrive system, these heat pumps provide unparalleled quietness while simultaneously reducing energy costs and delivering optimal comfort.
User-Friendly Operation: The advanced HX Touch-Screen display allows effortless adjustment between various comfort and operational settings for both heating and cooling, ensuring exceptional results.
Reliability and Durability: These heat pumps require minimal maintenance throughout the year, boasting weather-resistant properties and dependable defrost operations that establish their unwavering reliability.
Affinity Series Models:
YZV Series
With a remarkable efficiency rating of 20 SEER and 11 HSPF, the YZV series exemplifies dependability and superior performance. Suitable for larger spaces requiring efficient heating and cooling capacity, this model features a QuietDrive system that ensures a serene environment while maintaining exceptional efficiency and consistency. The ClimateSet feature further enhances accuracy in cooling and heating, adapting to external temperatures seamlessly. The durable automotive powder paint construction guarantees resistance to corrosion and rust, making installation a breeze.
YZH Series
The YZH heat pump offers an impressive efficiency rating of 18 SEER and 10 HSPF, making it an excellent choice for medium-sized spaces. With a two-stage compressor and the QuietDrive system, it delivers consistent and efficient performance without sacrificing tranquility. The automotive-grade paint on the exterior ensures long-lasting protection against wear and corrosion, making it a durable solution for years to come.
YZF Series
Compact yet efficient, the YZF series boasts exceptional efficiency and performance for smaller rooms and spaces. With a focus on efficiency and cost reduction, this heat pump offers over 20 years of reliable climate control performance. The QuietDrive system guarantees quiet operation, while the resilient construction and powder paint finish protects against corrosion and other potential damage.
LX Series
The LX series presents compact and efficient versions of York's heat pumps, optimizing energy consumption while providing reliable heating and cooling solutions.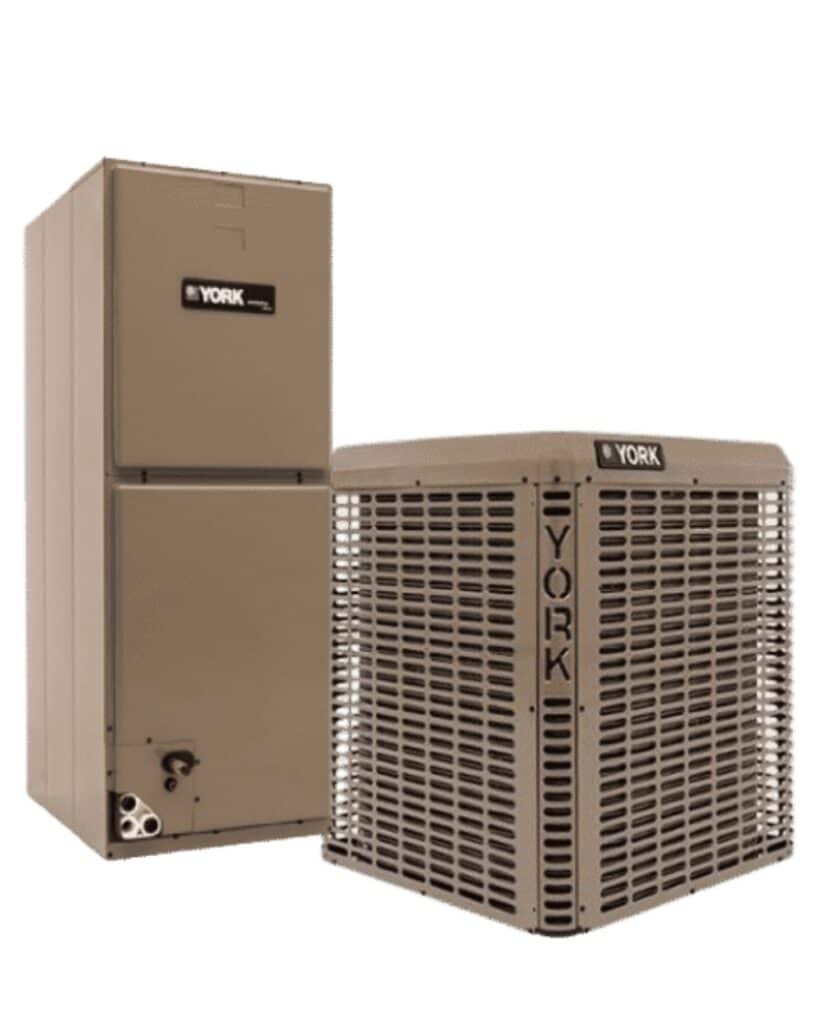 Features of the LX series include:
Space-Saving Design: The LX series features smaller devices that deliver exceptional performance while leaving a minimal footprint.
Energy Efficiency and Comfort: Despite their size, these systems incorporate high-quality compressor technology that enhances energy savings without compromising comfort.
Superior Construction: The LX series is known for its remarkable build quality, including low-pressure switches that ensure consistent operation.
LX Series Models:
YHM Series
With an efficiency rating of 16 SEER and 9 HSPF, the YHM series offers substantial cost reduction without sacrificing performance. The Inverter-Driven Modulating Technology ensures quiet operation, while the dual-fuel coils and tube-in-fin coil design enhance defrost efficiency and overall reliability.
YHE Series
The YHE series boasts a 14 SEER efficiency rating and an 8.2 HSPF grade, making it a prime choice for energy-efficient performance. Available in single or three-phase models, it guarantees outstanding comfort and reliability. The tube-in-fin coil design optimizes defrosting efficiency and water-shedding capabilities.
YHJF Series
Designed for smaller spaces, the YHJF model offers solid performance and efficiency. This compact heat pump guarantees consistent results for over a decade, thanks to its durable powder paint finish and resilient construction.
The Affinity series presents an array of heat pumps designed to elevate comfort, efficiency, and reliability. From the exceptional features of the YZV, YZH, and YZF models to the space-friendly design and energy efficiency of the LX series, these heat pumps cater to diverse preferences and requirements.
Whether you're seeking superior performance, quiet operation, or compact solutions, the Affinity and LX series deliver unmatched quality and dependability for years to come.
York Heat Pump Price
Here's an overview of the York heat pump models along with their average price ranges:
| Model | Efficiency (SEER / HSPF) | Average Price Range |
| --- | --- | --- |
| Affinity™ YZV Series | 20 SEER / 11 HSPF | $3,500 – $6,000 |
| LX YHM Series | 16 SEER / 9 HSPF | $2,800 – $4,500 |
| LX YHZ Series | 18 SEER / 10 HSPF | $3,000 – $5,000 |
| LX YZF Series | Varies | $2,500 – $4,000 |
Please note that these price ranges are approximate and can vary based on factors such as the size of your home, the specific Yorks' model you choose, additional features or options, installation costs, and regional variations. It's recommended to obtain quotes from HVAC professionals in your area to get a more accurate estimate for your specific needs.
Final Verdict
In the realm of York heat pumps and its array of products, a noteworthy observation emerges – detailed technical information about heat pump features may not always be readily available. However, York's legacy of quality is firmly etched in the industry's fabric. As you embark on your journey to embrace York's offerings, a proactive stance becomes imperative.
The key to unlocking a well-informed decision rests in the art of inquiry. Engage in candid conversations, posing a plethora of questions to illuminate the intricacies of York's heat pump solutions. The hallmark of a successful investment lies in gathering specific information that aids you in making a discerning choice tailored to your unique needs.
York's reputation for delivering quality products serves as a solid foundation upon which to build your heating and cooling aspirations. By delving deep and soliciting comprehensive insights, you stand poised to make an astute decision that aligns with your heating and cooling goals. As you traverse the landscape of York heat pump reviews, your proactive engagement will undoubtedly pave the way to a seamless and rewarding heat pump acquisition.