When Bosch introduced its split system heat pumps to the market a few years ago, it immediately caught the attention of contractors and homeowners alike. The reason for this swift recognition lies in Bosch's longstanding reputation as a global leader in technological innovation. This article delves into a comprehensive review of Bosch heat pumps, shedding light on their features, benefits, and pricing.
Bosch: A Legacy of Technological Innovation
With its origins dating back to Robert Bosch's establishment of the "Workshop for Precision Mechanics and Electrical Engineering" in Stuttgart, Germany in 1886, Bosch has consistently maintained its position as a trailblazer in technological advancement.
Today, Bosch's technological leadership extends across a range of commercial and residential sectors. The company operates in consumer goods, energy and building technology, industrial technology, and mobility solutions, serving as a top-tier global supplier of technology and services.
With affiliates spanning over 42 countries, Bosch achieved impressive sales of 78.7 billion euros in 2021.
In the realm of HVAC, Bosch's subsidiary Worcester Bosch, acquired in 1996, takes center stage. This sector of the business focuses on producing boilers and other heating products for both residential and commercial use, solidifying Bosch's presence as a reputable player in the HVAC market.
Exploring Bosch Heat Pump Features
Bosch's commitment to cutting-edge technology is vividly reflected in its residential split system heat pumps. A closer examination of these key features sets Bosch apart from its competitors in the heat pump industry.
Inverter Heat Pump Compressor
Bosch's adoption of Mitsubishi's inverter-driven compressors underscores their dedication to utilizing top-of-the-line components. Known as Inverter Ducted Split Systems (IDS), these compressors, showcased in the IDS 1.0 and IDS 2.0 versions, operate with a Mitsubishi compressor.
This compressor, powered by 230V alternating current, employs inversion to convert AC voltage into DC power, enabling modulation and variable speed operation. This versatility empowers the compressor to function between 25% and 100% of its maximum speed, ensuring precise temperature control and optimal efficiency.
Standard and Dual Fuel Operation for Diverse Climates
Bosch caters to varying climate needs by offering standard split systems for moderate to hot climates, as well as dual fuel systems for subfreezing temperatures.
The latter combines a Bosch gas furnace with the heat pump, providing a seamless transition between heating methods based on outside temperatures. This dual-fuel approach ensures consistent and efficient heating performance even in extreme weather conditions.
Enhanced Climate Control with Paired Split Systems
For homeowners considering a full split system replacement, Bosch offers a range of furnace and air handler options. These options maximize efficiency and climate control.
Notably, the IDS 2.0 system boasts ECM blower motors with variable efficiency, ensuring effective air distribution while minimizing energy consumption.
Advantages of All-Aluminum Coils and 10-speed ECM Fan
Bosch employs all-aluminum coils, safeguarding against corrosion-related issues. The inclusion of a 10-speed ECM fan in the Bosch BOVA2.0 heat pump optimizes heat dispersion while operating quietly and efficiently.
Bosch Heat Pump Prices and Models
Bosch's commitment to affordability is evident in its pricing. Leveraging the dependable Mitsubishi inverter-driven compressor, Bosch offers competitive heat pump prices.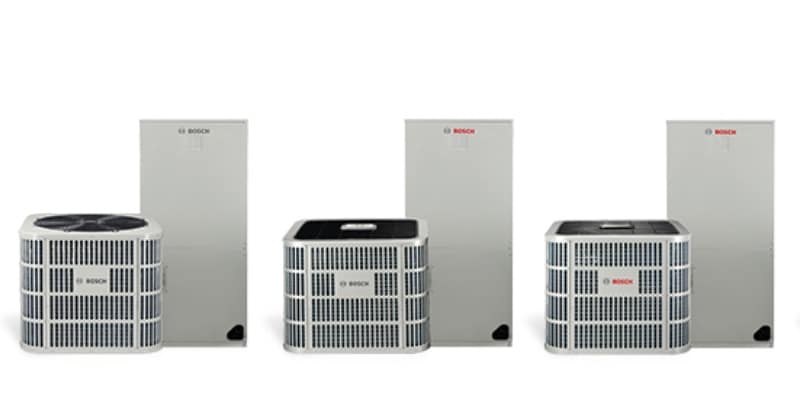 | Model | Unit Price | Installed Price |
| --- | --- | --- |
| BOVA 1.0 | $4,000 | $9,000 |
| BOVA 2.0 | $7,500 | $12,000 |
On average, the cost to install new Bosch heat pump system hovers between $7,500 and $12,000 for the smallest available heat pump size. It's important to note that this estimate serves as a baseline, subject to variation based on factors like the model you choose, the sizes, and an array of additional considerations.
Drawbacks and Considerations
While Bosch offers two sizes of heat pump condensing units, it's crucial to align the heat pump's capacity with your home's specific heating and cooling requirements. Expert Bosch dealers ensure that blower motors in air handlers and furnaces are appropriately sized for optimal performance.
Bosch's warranties, while standard, reflect the industry norm with 10-year general parts coverage. The company's global leadership and dedication to quality shine through its range of residential heat pumps. As you explore Bosch's diverse offerings, keep in mind factors like climate, home size, and specific heating needs to select the ideal heat pump model for your unique requirements.
My Personal Bosch Heat Pump Review
I am delighted to provide my wholehearted endorsement of Bosch, a brand that has not only earned my enthusiastic approval but also convinced me to choose it for my own mother's heating and cooling systems. My commitment to her well-being, coupled with the fact that it's my personal investment, underscores my insistence on nothing but the finest. This dedication extends to my annual "Best Of Heat Pump" rankings, where Bosch has claimed the top spot as the Best Value Variable Speed Heat Pump.
My experience with Bosch has left an indelible impression, leading me to give it my utmost approval. In fact, I am so confident in its performance that I have made the decision to replace my own mother's existing systems with Bosch. When it comes to my mother's comfort and well-being, no compromises are acceptable.
Every year, I curate a list of the best products across various categories, and Bosch has consistently stood out as the unrivaled choice for the Best Value Variable Speed Heat Pump. This distinction isn't one that I take lightly – it's a testament to Bosch's dedication to quality, innovation, and efficiency.
Looking ahead, my confidence in Bosch remains unwavering. As a homeowner and a professional in the field, I understand the significance of making well-informed decisions, and Bosch has proven time and again to be the pinnacle of value and performance.
Bosch has secured its place as my top choice, earning not only my endorsement but also my investment for my own family's comfort. The accolade of being the Best Value Variable Speed Heat Pump for consecutive years reflects Bosch's commitment to excellence, efficiency, and affordability. With Bosch, I am confident in my decision and look forward to a future of reliable and superior heating and cooling solutions.