Find out the tonnage or size of York HVAC system is very important and detrimental to the proper operational status of entire system. York has lots of different sizes and models under their company logo. If you need to lookup the nominal capacity, it would be great to know how to decode the York model number.
York model number consist of several important information associated with the unit. If you need to know the York air conditioner size or tonnage, lookup the model number. If you need to know the SEER rating of your York unit, lookup the model number. York model number nomenclature also explain about compressor stage, refrigerant used, voltage and more.
York Model Number Location
The York model and serial number can be found on the data plate of your unit. This is generally located slightly above the unit on the back side of the condenser unit.
You can also find the York model number by looking in the user's manuals or any other book that came after installation.
How to Decode York Model Number
Model numbers is usually made up of numbers or a combination of letters and numbers. Your York model number tag may look similar to the sample model number lookup shown below: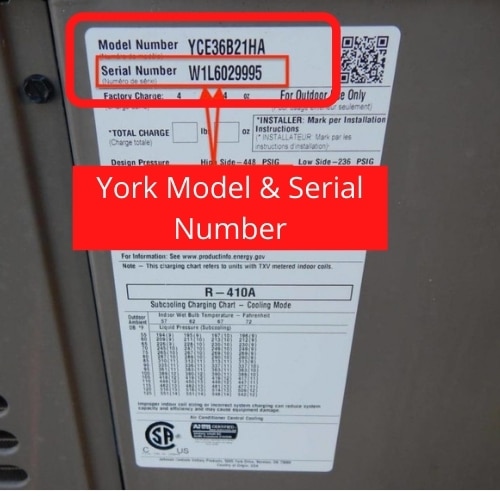 York Latitude & LX Model Number Nomenclature
Model Number Example: T C G D 36 S 2 1 S 1 A
T = Brand
C = Type (C is AC and H is Heat Pump)
G = Series Chassis
D = SEER rating
36 = Tonnage
S = Compressor (Single Stage)
2 = Refrigerant (R22)
1 = Voltage (Single Phase)
S = Fit
1 = Generation
A = Style Change
York Affinity Model Number Nomenclature
Model Number Example: C Z E 036 1 1 HW A
C = Type (C for AC, Y for Heat Pump)
Z = Refrigerant (Z = R410a , M = R22)
E = SEER rating ( B = 13 SEER, E = 15 SEER, H = 18 SEER)
036 = Tonnage
1 = Voltage
1 = Generation
HW = Product Description
A = Style Change
Other York Model Number Example
#YZE03611
York YZE, Affinity, 15 SEER, R-410A and 036 is 3 Tons
#E4FD042S06A
042 is 3.5 ton 10 SEER up to 8.5 HSPF R22 Heat Pump
#ZF048N10A2AAA
048 is 4 tons
How to Determine York Tonnage From Model Numbers
First of all the size of York Air Conditioner unit is called a ton or tonnage. A recap of tonnage is Tonnage; The unit of measure used in air conditioning to describe the cooling capacity of ac system. One ton of cooling is based on the amount of heat needed to melt one ton (2000 lbs.) of ice in a 24 hour period. One ton of cooling is equal to 12,000 Btu/hr.
The number to remember is 12,000 BTU's or more simply 12. If 12,000 BTU's is equal to 1 (one) ton of AC then 18,000 is equal to 1.5 tons and 24,000 is equal to 2 tons and so on.
| | |
| --- | --- |
| BTU | Tonnage |
| 18,000 | 1,5 Tons |
| 24,000 | 2 Tons |
| 30,000 | 2,5 Tons |
| 36,000 | 3 Tons |
| 42,000 | 3,5 Tons |
| 48,000 | 4 Tons |
| 60,000 | 5 Tons |
To determine York AC size from model number is looking the two or three digits number in the model number nomenclature, like showing above.
If you have any issues with finding your York model number or determining what its size, don't hesitate to contact the professionals technicians. They will help you get the information you need and make sure you get the perfect solution for your system.