Tankless water heaters also called on-demand water heaters, provide hot water only as it is needed. Read on to learn more about the tankless technology and get our buying guide on choosing the best tankless water heater for your needs.
Traditional storage water heaters produce standby energy losses that cost you money. We do not leave our homes heated while vacationing. We only heat our homes when there is a demand for heat. That is a tankless water heater, used only when there is a demand for hot water.
How Do Tankless Water Heaters Work?
Tankless water heaters heat water directly without the use of a storage tank. Therefore, they avoid the standby heat losses associated with storage water heaters.
When a hot water tap is turned on, cold water travels through a pipe into the unit. In an electric tankless water heater, an electric element heats the water. In a gas-fired tankless water heater, a gas burner heats the water.
As a result, tankless water heaters deliver a constant hot water supply. You don't need to wait for a storage tank to fill up with enough hot water.
Typically, tankless water heaters provide hot water at a rate of 2 – 5 gallons (7.6 – 15.2 liters) per minute. Ordinarily, gas-fired tankless water heaters will produce higher flow rates than electric tankless water heaters.
However, some smaller tankless water heaters cannot supply enough hot water for simultaneous, multiple uses in large households. For example, taking a shower and running the dishwasher simultaneously can stretch a tankless water heater to its limit.
To overcome this problem, you can install a "whole house" type tankless water heater or install two or more tankless water heaters connected in parallel for simultaneous hot water demands.
You can also install separate tankless water heaters for appliances—such as a clothes washer or dishwater—that use a lot of hot water in your home.
Other applications for tankless water heaters include the following:
Remote BBQ or outdoor sink
Poolhouse or pool shower
Remote bathrooms or hot tubs
To serve as a booster, eliminating long pipe runs for solar water heating systems, dishwashers, and sanitation.
For homes that use 41 gallons or less of hot water daily, tankless water heaters can be 24% – 34% more energy-efficient than conventional storage-tank water heaters. They can be 8% – 14% more energy efficient for homes that use a lot of hot water, around 86 gallons per day. You can achieve an even greater energy savings of 27% – 50% if you install a tankless water heater at each hot water outlet.
Best Tankless Water Heater
Here are our picks for the 3 best tankless water heaters in 2022.
Rheem 18kw Tankless Electric Water Heater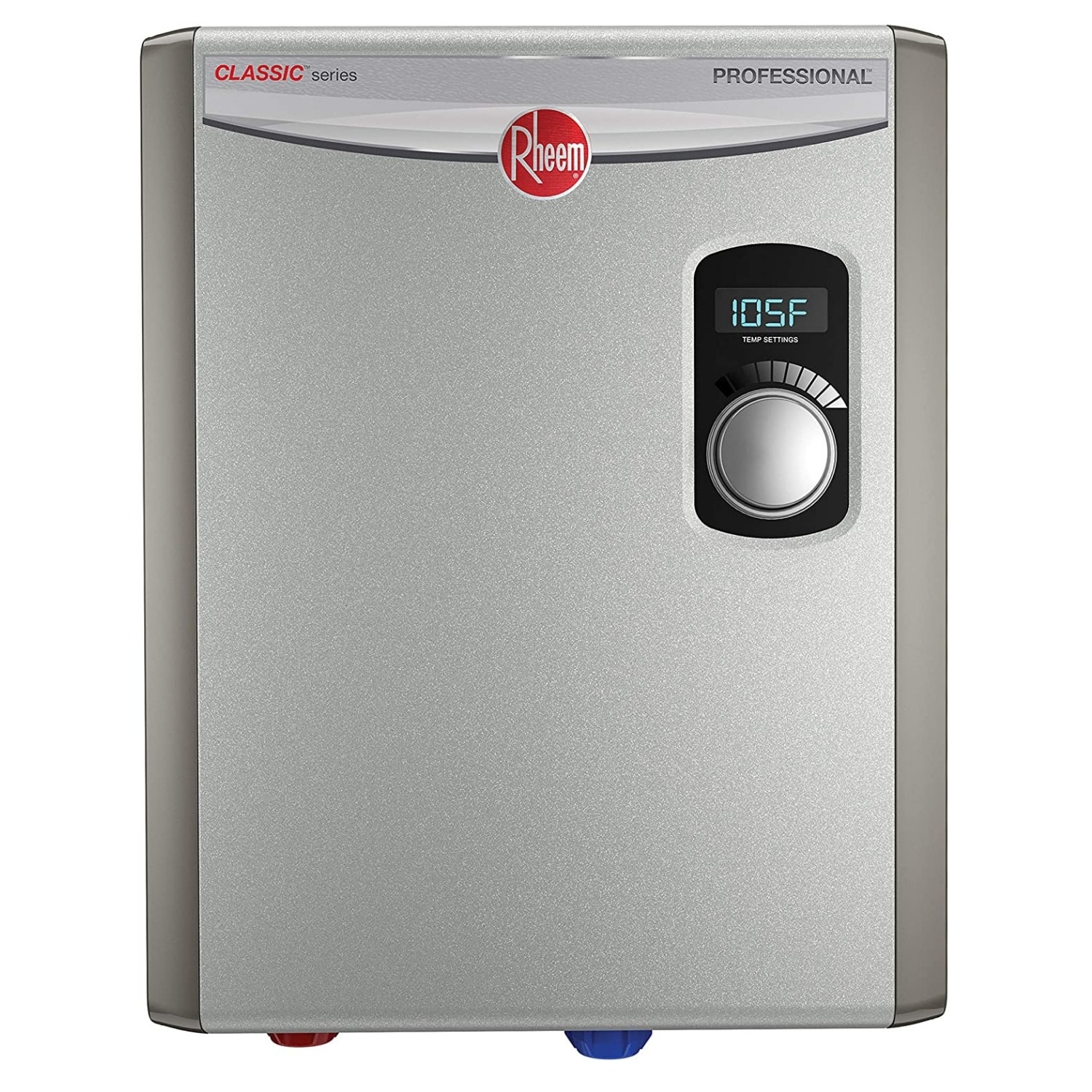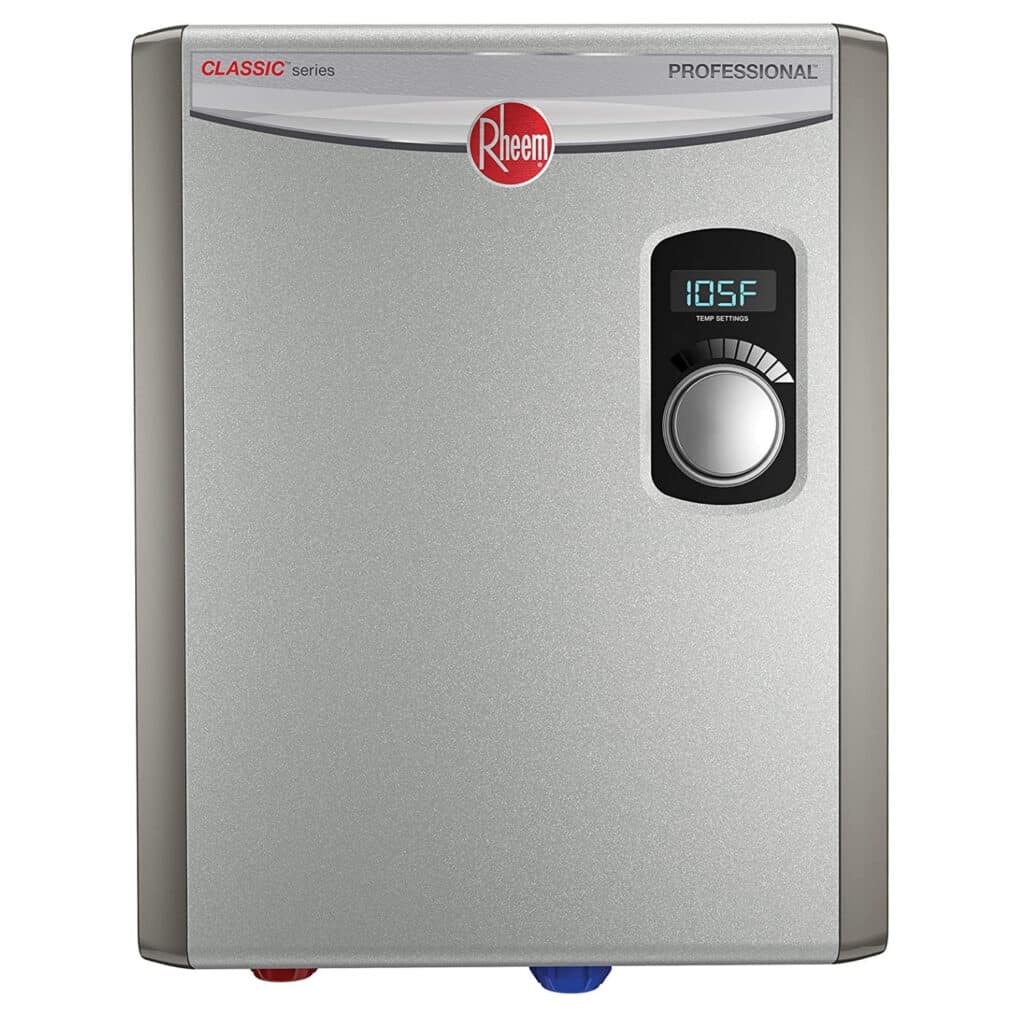 It's the best tankless electric water heater on the market today. Rheem's 18kW Tankless Electric Water Heater can produce up to 4.4 gallons of hot water per minute. Rheem has been a hot water industry leader for nearly 100 years and stands behind their products with a five-year warranty on heating components and one year on other parts.
Pros
Trusted company name
High-efficiency rating
Cons
High electrical demand
Requires two circuit breakers
Rinnai RU160iN Water Heater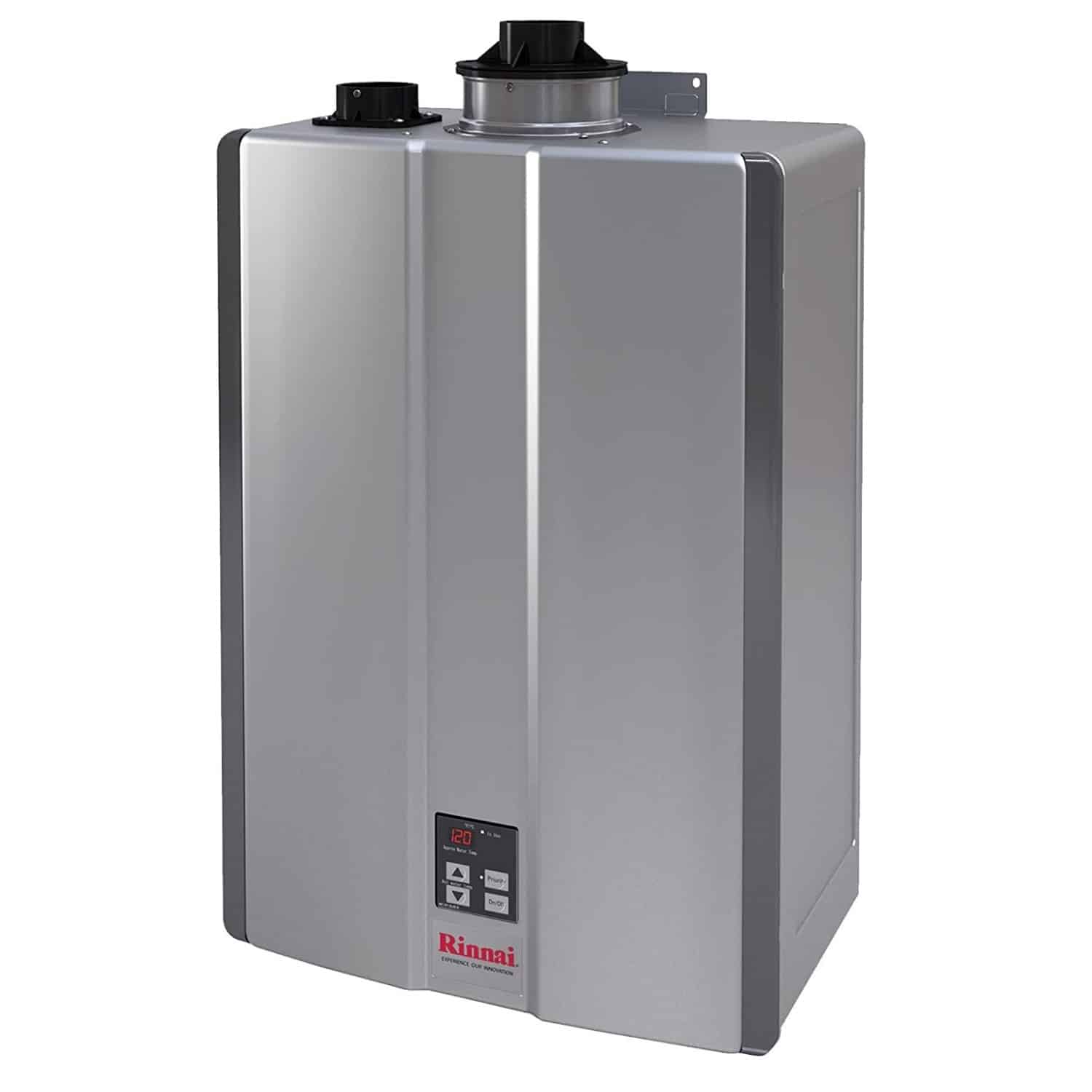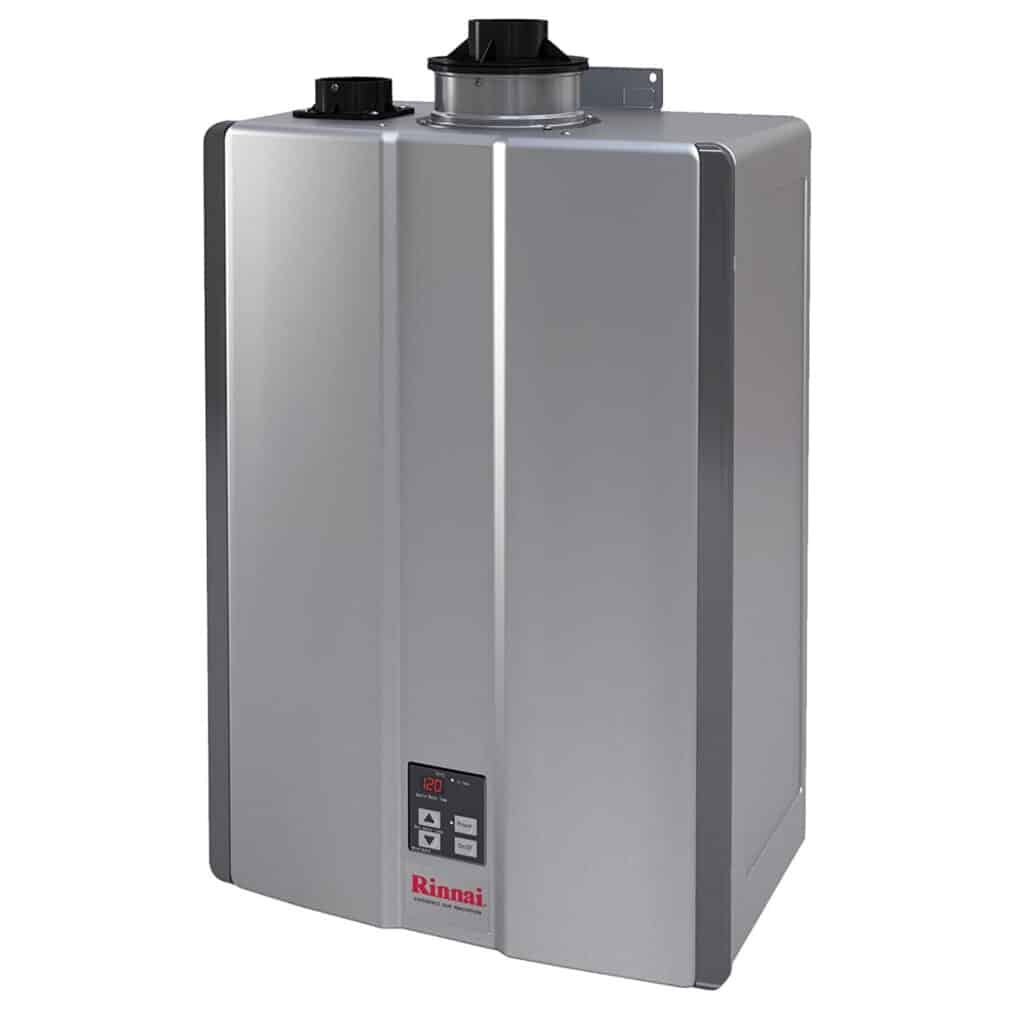 An excellent, cost-effective option for four households, the RU130iN is Energy Star certified. It can cost as little as $140 per year to run. The RU130iN is part of Rinnai's RU line that operates with natural gas.
Rinnai claims a 100-year commitment to quality. This shows in its warranty: 15 years on heating components, five years on parts, and one year on labor is among the best warranties of the products in our review.
Pros
Excellent warranty
Trusted name
Cons
High hot water volume
Somewhat low-efficiency rating
EcoSmart ECO 27 Tankless Water Heater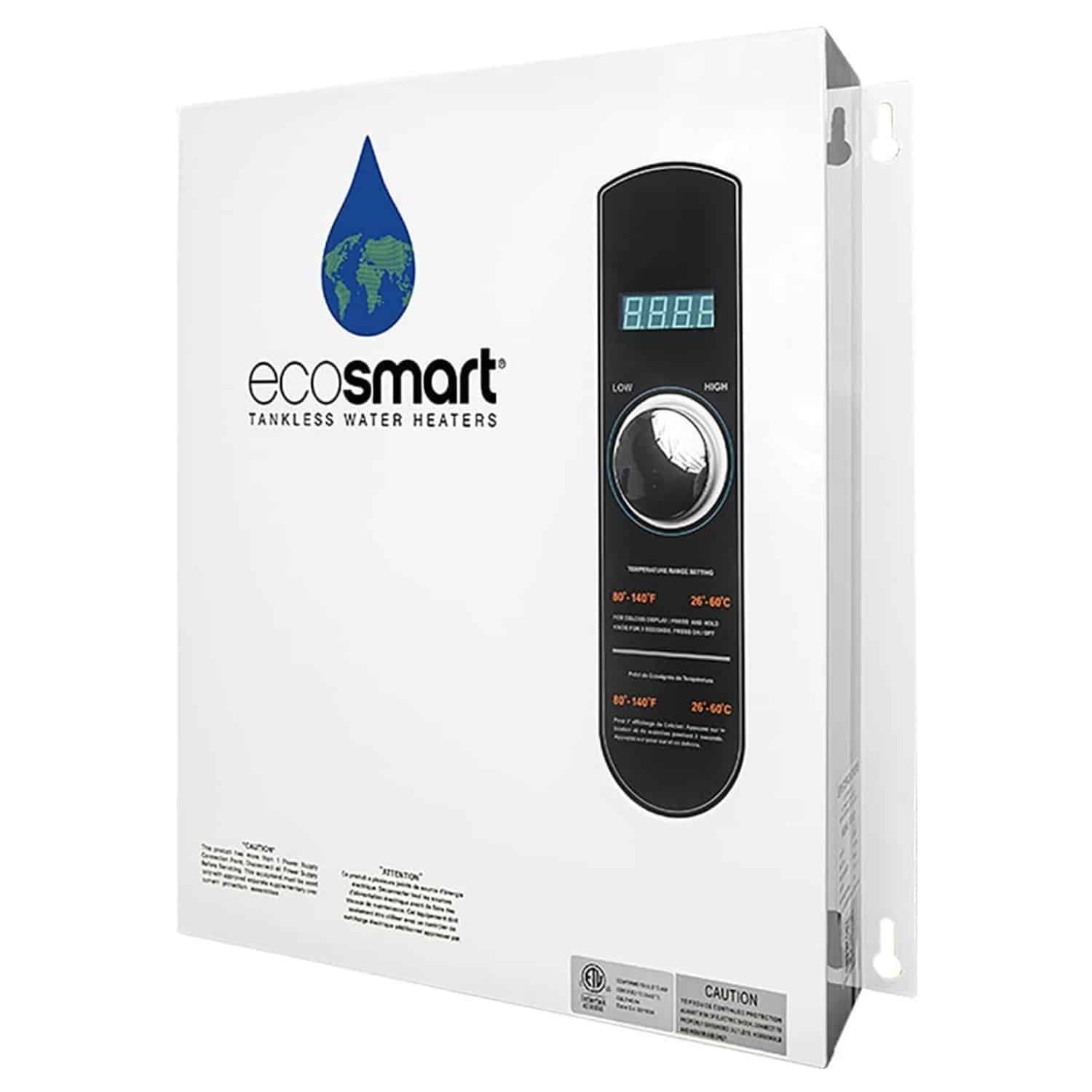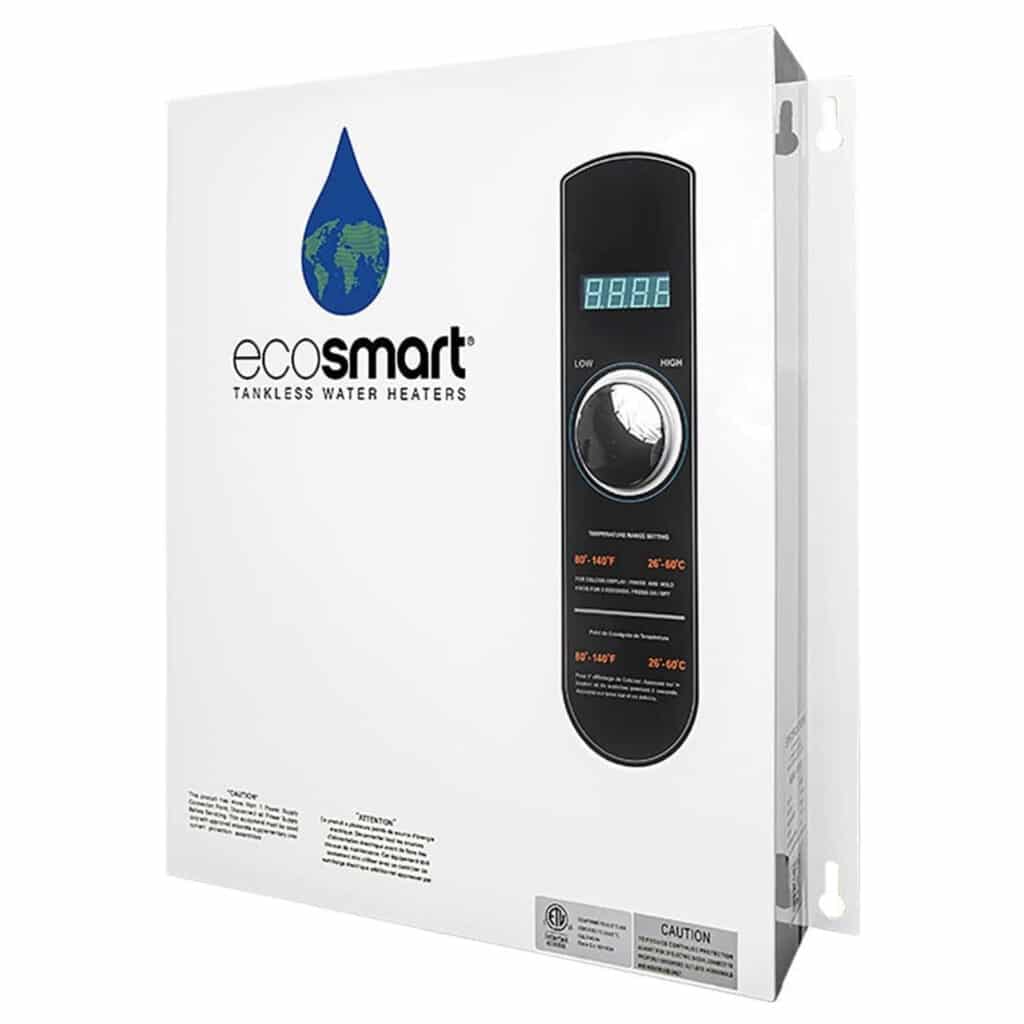 The EcoSmart Eco 28 is powerful enough to heat up to 6.5 GPM of hot water per minute using 27kW of electricity. Powerful enough for a family of four or five at its peak. EcoSmart shows its confidence by offering a lifetime limited warranty.
Pros
Lifetime warranty
Lower price than competitors
Cons
Potential low gallons per minute
Three electrical breakers required
Tankless Water Heater Buying Guide
Before buying a tankless water heater, consider the following:
Fuel Type
Size
Features
Fuel Type
The first thing that you'll need to decide when selecting a tankless water heater is the fuel source. You will need to select between an Electric or a Gas-Fired tankless water heater. Gas and electric tankless water heaters are both excellent choices.
If you plan to purchase an electric tankless water heater, consider the Electrical Requirements:
Voltage
Many retailers sell units that will accommodate 110V, 120V, 208V, 220V, 240V, and 277V.
Amperage
Different Electric tankless water heaters will have various requirements in amp draw. You will want to ensure that you can support the electrical demands of your Electric tankless water heater.
Circuit Breaker
You must ensure that you have a circuit or circuits that will support your Electric tankless water heater. It may be necessary to put your Electric tankless water heater on its own circuit.
If you plan to purchase a gas tankless water heater, consider the gas type and venting requirements.
You will first need to identify whether your gas type is Natural Gas or Propane. You must examine your current gas line to ensure that it will meet the requirements of your new gas tankless water heater. The requirements of the tankless water heater may exceed that of your existing tank-style water heater.
Next, you will need to consider venting requirements for your specific installation scenario. When purchasing the gas venting accessories for your Gas-Fired tankless water heater, there are a few important things to keep in mind.
Be sure that you purchase Category III stainless steel (UL1738 certified) venting for your gas tankless water heater. Type B venting accessories are not acceptable. Also, be sure to check the local building code to ensure that your specific needs will be completely met.
Additionally, many tankless water heater manufacturers offer gas venting kits. It is recommended that customers evaluate their specific installation needs to ensure that they will be getting all of the necessary gas venting accessories.
Depending on where you will be installing the tankless water heater, a pre-made kit will probably not meet your needs.
Ensure that you measure out the vent route, consider where the discharge will go through the wall or ceiling, consider the necessary clearances, consider ample air access for combustion, and then buy the appropriate gas venting pieces.
Direct vent gas tankless water heaters bring in fresh air from outside for combustion and vent the flue gas using a blower.
Note: Gas tankless water heaters may still require a minimal electrical connection. Be sure to review installation requirements for the units you are considering for purchase.
Size
When deciding which tankless water heater to purchase, you will also need to consider where you will need hot water. There are several sizes of tankless water heaters on the market.
Are you looking for a unit that will heat the water at one bathroom sink (single point application), an entire bathroom (multipoint application), or an entire house, apartment, or condo (whole house application)?
It is important to recognize the number of fixtures that will require hot water. Each fixture will have its own demands.
The critical number to consider with a tankless heater is temperature and flow rate. The flow rate is especially important since tankless water heaters will generate a temperature rise based on the flow rate demanded.
Next, you should look at your ambient incoming water temperature. If you live in a cold climate, like New York, your incoming water temperature will likely be much lower than if you live in a warm climate.
Your best bet is to find out how much temperature rise you will need for your hot water to reach the desired heat.
Suppose the ambient incoming water temperature for your shower is 65°F. In that case, you are using a 2.0 GPM shower.
You want to raise that temperature to 115°F, and you will want to look for a tankless water heater that will provide at least a 50°F temperature rise at 2.0 GPM (115°F – 65°F = 50°F).
However, suppose you anticipate additional simultaneous demand, such as the hot water from a sink being used while someone is showering. In that case, you will need to add the sink's GPM to the shower's GPM to determine your overall GPM demand and then find the temperature rise necessary to meet your overall needs.
Features
You may have a specific feature in mind for your tankless water heater. Here are a few examples of the different models and their functionality for a specific application:
Single Point Application
A single point application is where only one fixture will require an Electric tankless water heater. Here are some examples of Single Point Electric tankless water heaters.
Flow Controlled
The Flow Controlled range of water heaters is ideally suited to serve two points, like two sinks, in close proximity.
Thermostatic
The Thermostatic tankless water heater serves as a booster for temperature loss from long pipe runs, dishwashers, and sanitation. Thermostatic units are good for applications where precise temperature control is essential, such as schools, hospitals, and laboratories.
Whole House Indoor Use
Larger Whole House units are designed to serve an entire house, apartment, condo, or cabin, where multiple-use points will exist.
Whole House Outdoor Use
Larger Whole House units are designed to serve an entire house, apartment, condo, or cabin, where multiple-use points will exist.
Maintenance
Proper installation and maintenance of your tankless water heater can optimize its energy efficiency. Tankless water heaters have a life expectancy of more than 20 years. They also have easily replaceable parts that extend their life by many more years. In contrast, storage water heaters last 10 – 15 years.
Conclusion
Proper installation depends on many factors. These factors include climate and local building code requirements. You should have a qualified, licensed plumbing and heating contractor install your tankless water heater.
Periodic water heater maintenance can significantly extend your water heater's life and minimize loss of efficiency. Read your owner's manual for specific maintenance recommendations.