Choosing the best garage heater that's right for you requires some intended research. Here, we've made it easier for you to determine the best one across various categories. Read on for our reviews and buying guide on how to determine which garage heater may best suit your needs.
Your garage may be one of the few places utilized for a number of reasons beyond just parking your vehicle. To maintain an optimum environment, you'll find a garage heater a very useful investment.
During summers, natural warmth keeps temperatures at comfortable levels, but in the winter, some additional arrangements are needed to retain warmth. While most people can forego heating their garage in the winter, many homeowners enjoy using their garage space as a workshop, a studio, or a lounge. For those of us who'd like to keep our garage a useable space, there's the added option of investing in a garage heater.
However, not all garage heaters are the same. Before purchasing one, take a moment to browse through some recommended garage heaters below and see which one best suits your needs.
Types of Garage Heater
There are several different heaters available that have been created specifically to heat your garage in a safe and effective manner. One of the first decisions you will have to make when purchasing a garage heater is deciding what type of heating source you will use.
Electric Garage Heaters
Probably the most popular and easiest way to heat your garage is by using an electric garage heater. There are many powerful models available, and they are all easy to install and use. One downside, however, might be the noise from the fan on these units, although low-noise units are available.
Standard garage heaters are designed to heat about 500 square feet. Electric garage heaters are the most common as well as the easiest units to run. You will need to ensure that you have enough power to run the heater without throwing the breaker. As long as you have at least a 100 amp service, you should be fine. Just keep an eye out for the power specs before buying any unit.
Electric garage heaters should always be unplugged from the outlet when not in use. While these units are incredibly easy to operate and warm up in any garage, they should also be used responsibly and safely.
Propane Garage Heaters
Propane, natural gas, hot water, infrared, and electric garage heaters are the most common garage heater types available, with each having certain advantages and disadvantages. Like its natural gas counterpart, propane heaters need to be located near an exterior wall for venting.
If you don't have natural gas service, these units might be a good alternative because their operating costs are similarly low, and they can be powered by a portable propane or liquid petroleum (LP) tank.
However, propane generates carbon monoxide, soot, and moisture as it burns, so correct installation is imperative.
An advantage of using propane to heat your garage can be the cost when propane prices are low. Some disadvantages, however, will be the frequent need to refill your propane canister or tank, and if propane costs rise, you may end up paying more than you anticipated.
Natural gas also can be a very affordable way to heat your garage, although special care needs to be taken to make sure the garage is vented properly if you choose to use natural gas. You will also have to make sure there is a natural gas pipeline available in the area. Hot water garage heaters are very nice because they do not rely on any type of flammable fuel. You must have a boiler, however, in order to use one of these models.
Radiant Heaters
Instead of warming the air, radiant heating warms objects and people in the same way the sun does, with heat simply radiating off a hot source material. The heat can warm you quickly, like walking in and out of sunlight, but requires you to be near the heat source or within its heat path to feel the benefits.
Radiant garage heaters usually do not have any sort of blowing fan; the heat radiates outwards off the heating elements. Using propane for your radiant garage heater is great because propane is a highly concentrated source that can hold around 1,000 gallons of fuel. Moreover, being a smokeless heater, it becomes an ideal choice to be used indoors, like in a garage.
Radiant heaters are also very convenient as they help in saving fuel consumption by heating only certain areas as opposed to an enclosed space. Thus keeping the heater on for a long duration to heat up the entire garage space may not be required, and thus efficient utilization of propane fuel takes place, making them ideal garage heaters.
Best Garage Heaters
When looking for the best garage heater, think about certain factors such as the size of the area you're heating, energy consumption, and mounting requirements. We've reviewed many garage heaters for efficiency and have compiled a list of some of our best electric garage heaters below.
Best Overal: Mr. Heater Big Maxx Propane Unit Heater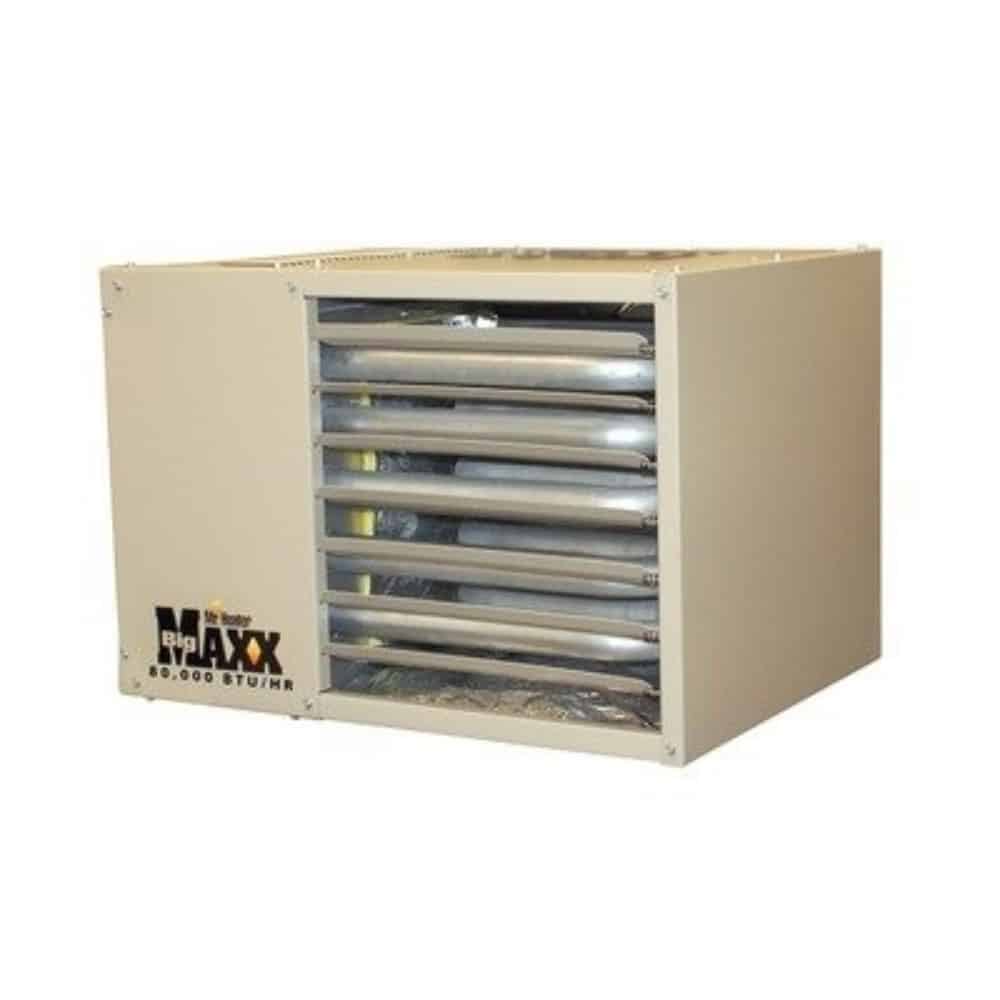 Mr.Heater has a good reputation as a top-quality garage heater manufacturer. If you are looking to turn your garage into a work space you can use all year-round, Mr Heater is a safe quiet and reliable heat source.
These heaters only require 115-volt electric power and can be vented vertically or horizontally. This 80,000 BTUs propane unit heater can heat up to 2,000 square feet of room. Roughly a 4-car garage with a workspace.
Pros
Excellent quality
Conversion kit for liquid propane included
Cons
Thermostat sold separately
Overkill for most garages
Best Value: Comfort Zone PowerGear CZ285 1500 Watt Portable Ceramic Heater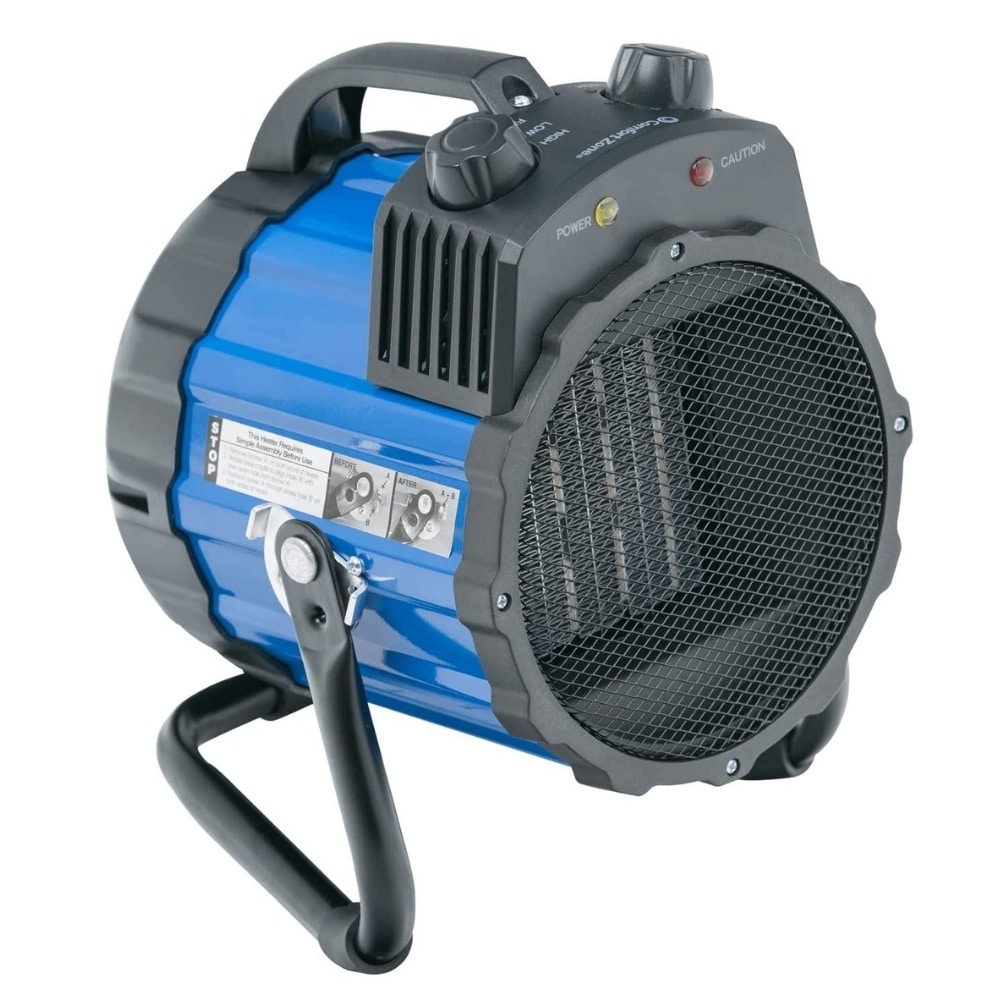 This Comfort Zone CZ285 Heater ensures that heat is distributed evenly throughout your garage. The Fan forced heating disperses the heat widely to warm the entire space and eliminate lingering cold spots. It has advanced safety system includes an overheat protection sensor that prevents the unit from getting too hot, stay-cool housing and a safety tip-over switch that cuts power if your heater is accidentally knocked over.
Pros
Lightweight and Portable
Adjustable Thermostat
Safety features
Cons
Fairly short power cord
Only cover a small space
Best for Large Garage: King KB2415-1-B2-ECO 15000 Watt Garage Heater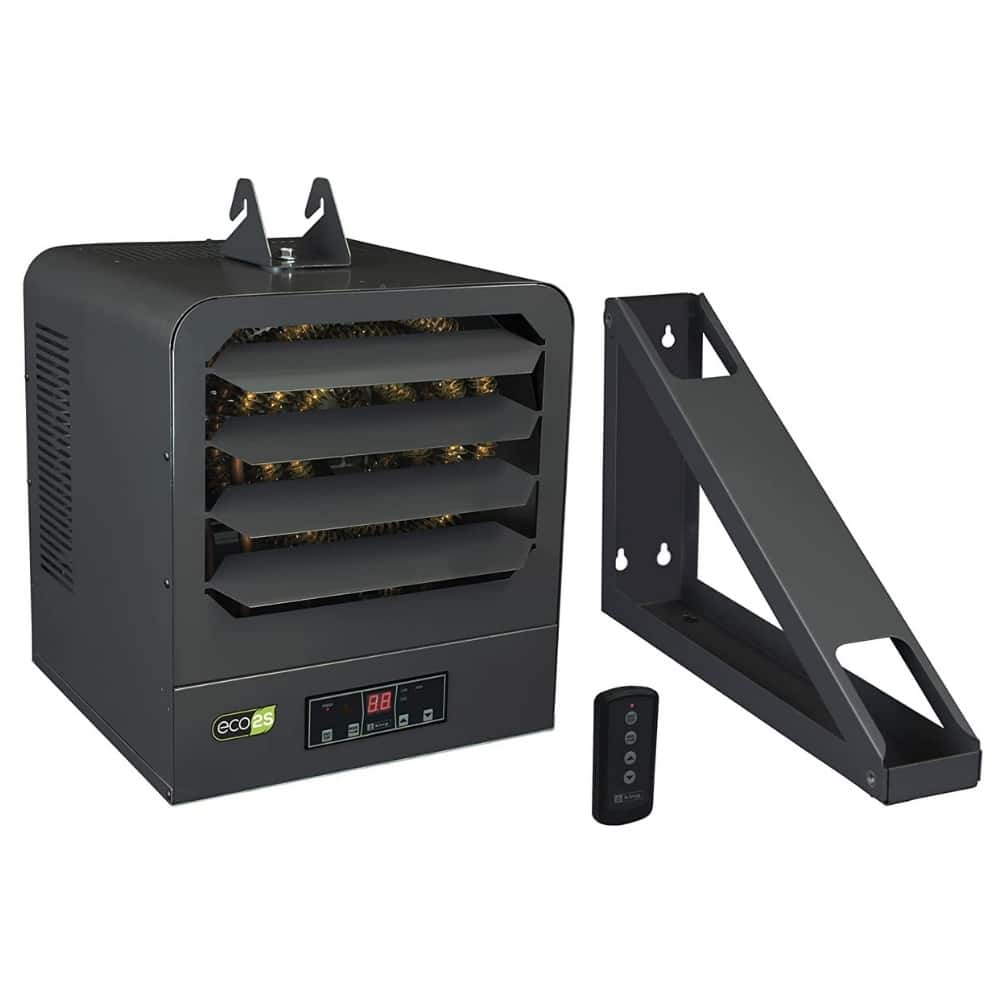 If you're looking to heat a large garage, such as a three and/or four-car garage, this powerful electric heater from King is a solid choice. This heater delivers a whopping 15,000 watts of power and is capable of heating a 1,500 square feet garage.
The installation needs a reliable 240-volt electric power with its own circuit breaker. The King KB2415-1-B2-ECO has several handy features, including two-stage heating and a built-in fan delay to disperse heat. It also comes with a universal mounting bracket and remote control.
Pros
Energy-efficient
Powerful heater
Adjustable thermostat
Cons
Expensive
Requires a dedicated 240-volt
Best for Small Spaces: Dr. Heater DR966 Hardwired 6,000 Watt Electric Garage Heater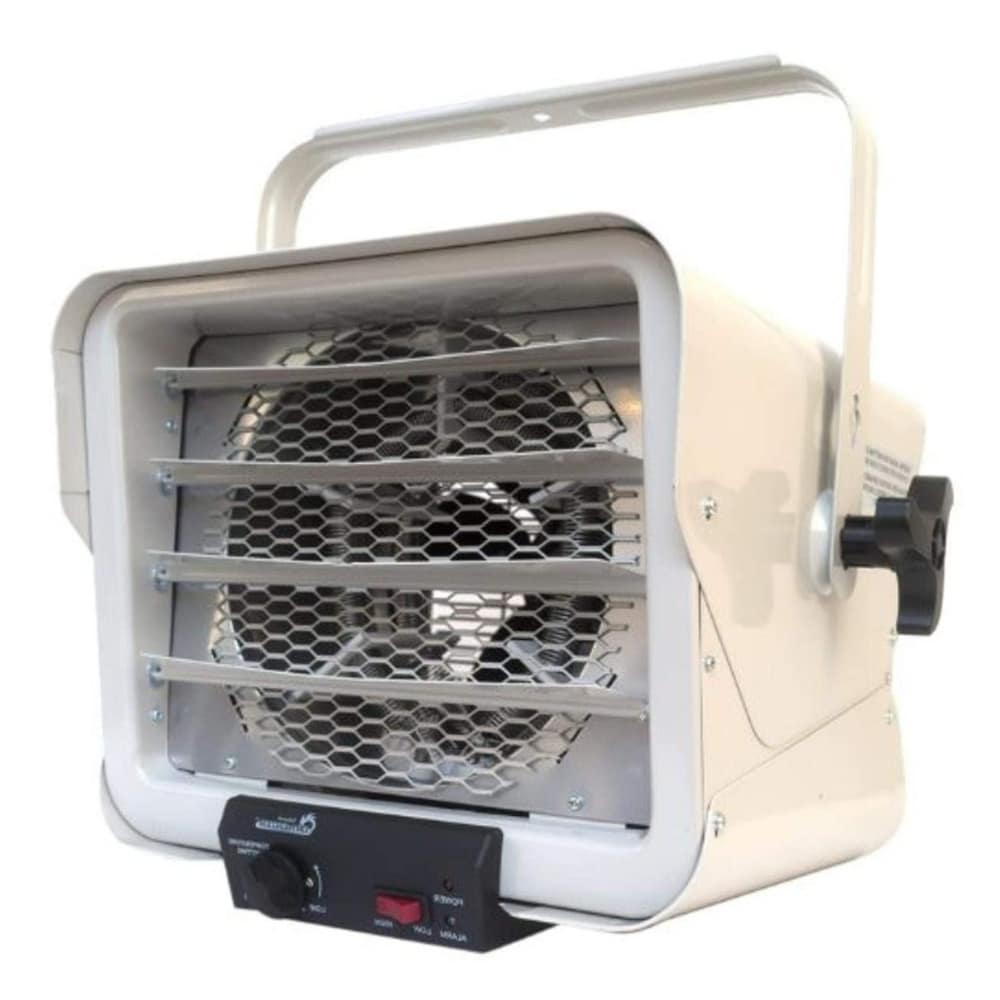 If you have a small garage with a 600 square feet, Dr. Heater DR966 is the best option available. With a heating output of up to 6,000 watts, this must be hardwired to a 240-volt electric power. The unit is equipped with a handle and measures 14.5 x 14.5 x 13 inches, so you can easily move it around.
Quiet operation
Simple to operate
Limited capacity
Runs on electricity which is costly
Best Selling Garage Heater: Portable Electric Space Heater with 3 Heat Settings, 1500w Ceramic Heater Fan with Thermostat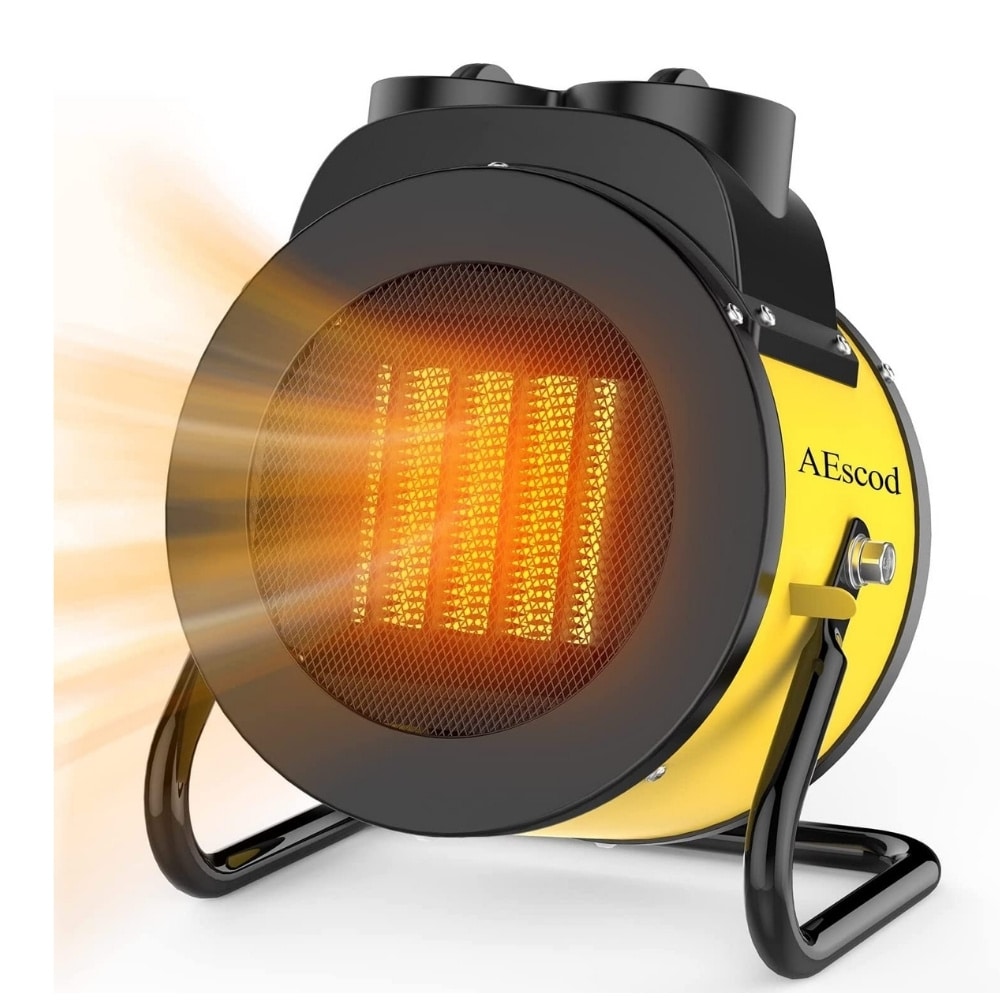 Design with PTC ceramic heating tech and high speed fan, send evenly heated streams of hot air into your room efficiently. It has 3 modes for choosing; High Heat (1500W), Low Heat (750W),and Natural Wind. Simply turn the switch to the heat setting you desire and enjoy comforting heat. This electric heater built-in high-temperature protection feature which will shut the heater off automatically when the heater overheat.
Easy to Use
Convenient Carry Handle
Safe Room Heater
Best selling on Amazon
Garage Heater Buying Guide
Take a few minutes to learn our buying guide about some of the most important considerations before choosing the best heater for the garage. There are also essential features that can help keep you safe while enjoying the garage heater.
Heating Source
In terms of which type of garage heater is the best, there are Electric, Propane, and Natural Gas Garage Heaters that are available on the market. Each has its own pros and cons. Depending on the needs and the basic functions you want from the heater, making a choice is easy.
Safety
These days, a variety of heaters are available. Among them, radiant propane heaters are widespread and used by a number of American households for various uses. Yet there is a major safety issue that must be addressed before purchasing any type of propane heater.
Since your garage may have a collection of many inflammable materials like kerosene, petrol, paint, wood, papers, etc., high temperatures make them vulnerable to contributing to fires.
Also, in the case of a propane radiant heater, it must have a controlled flame that does not affect things placed nearby. You always want to be cautious in using any type of heater in the garage. Be sure to keep gas cans and other flammables away from the heater.
Garage heating systems are optimized to provide powerful heat in poorly insulated or uninsulated garages or workshops. Most of the garage heaters require either a 20 or 30 amp circuit on a 240V line and can heat up to 500 square feet.
Electric garage heaters are proven to be a safer choice for garages and workshops than propane heaters. There is no risk of carbon monoxide poisoning with an electric shop heater, and the chances of fire or burn injury are greatly reduced because there is no flame or pilot light.
Size
To choose the best electric garage heater, measure the space you need to heat and then look at the wattage listed for the heater you want to buy. 1000 watts will effectively heat 100 square feet. So a 4000-watt heater will keep 400 square feet warm.
Extra Features
Look for a garage heating system that offers a fan only feature too, so you can keep the space cooler in the summertime. You want to enjoy your garage all year long and doing so might requiring some form of cooling as well as heating.
Choose garage heater that combines radiant heating with fan-forced technology that warms your immediate area quickly and quietly then spreads it around the room effectively. Also select a heating system that can be wall or ceiling mounted, so you can feel the warmth and keep it out of the way. This keeps floor space free and eliminates any accidental tipping.
Common features to look for are:
Heat settings to meet the conditions of the room
Fan only function for simple air circulation
Automatic shut off to prevent overheating
Thermostat control that turns the motor on/off for efficiency
Tip over safety just in case the fan is accidentally knowcked over
Wall or ceiling mount options to keep the heater out of the way
Final Thought
Usually central heating systems aren't connected to the garage because they aren't insulated enough to retain the heat. So if you want to spend a little time in your garage without freezing, add a garage heater to your decor. There are a lot of heating options for you to choose from. All are effective and will not only decorate your garage but turn it into a much warmer place.
Deciding on the best garage heater isn't quite easy. Garages are essentially like a cave to the owners of the house, and there are more than a few purposes that they can serve. Given the choice of options, choosing the garage heater needs a few careful considerations. If you have any questions about choosing the right heater for garage use, please drop your comment below, and we will be happy to help.