When it comes to choosing the best gas furnace there is one area where all consumers must pay close attention – energy efficiency! Gas furnaces depended upon to heat an entire home during periods of cold weather. During this article we are going to share a few of our top tips when buying a new furnace.
Choosing the best gas furnace is crucial to keeping your home comfortable, even on the extrem weather. Gas is the most common heating fuel and this article will explain what you need to consider when choosing a new gas furnace for your home.
What Makes the Best Gas Furnace?
Contrary to the beliefs of many people, furnaces are not all made equal. In fact there are numerous different types and models of furnaces that you could buy, which all function slightly differently and may produce a different end result when installed at your property.
Size
The furnace's size and capacity must fit your home heating needs. A furnace that's too small won't keep your house warm during cold weather. A furnace that's too big will cycle on and off more frequently.
To be sure of correct sizing and a proper installation, choose a qualified HVAC contractor who will take the time to calculate your heating needs according to an industry standard. A qualified and experienced contractor will ensure that the gas furnace you select is the proper size for your heating needs. And will also ensure that your system will installed properly.
| Home Size | BTU |
| --- | --- |
| 1,200 sq. ft | 50,000 BTU |
| 1,200 to 1,500 sq. ft | 55,000 BTU |
| 1,500 to 1,800 sq. ft | 60,000 BTU |
| 1,800 to 2,500 sq. ft | 70,000 BTU |
| 2,500 to 3,500 sq. ft | 90,000 to 100,000 BTU |
Energy Efficiency
The other step in choosing for the best gas furnace is to look for a model than has the EPA/DOE Energy Star. When you see the registered trademark Energy Star you can be sure that it is more efficient than other models. Therefore, anytime you see the Energy Star logo, you can rest assured that you are purchasing the best gas furnace for your home.
A new model of gas furnaces are becoming increasingly energy efficient, which makes them better for the environment. And the most important, it can reduce the utility costs. New modern gas furnaces display an Annual Fuel Utilization Efficiency (AFUE) rating, which is a measure of fuel efficiency. Gas furnaces with higher AFUE ratings typically cost more, but they can reduce the overall cost of heating your home.
Use the zone map to identify efficiency levels and the suggested AFUE rating.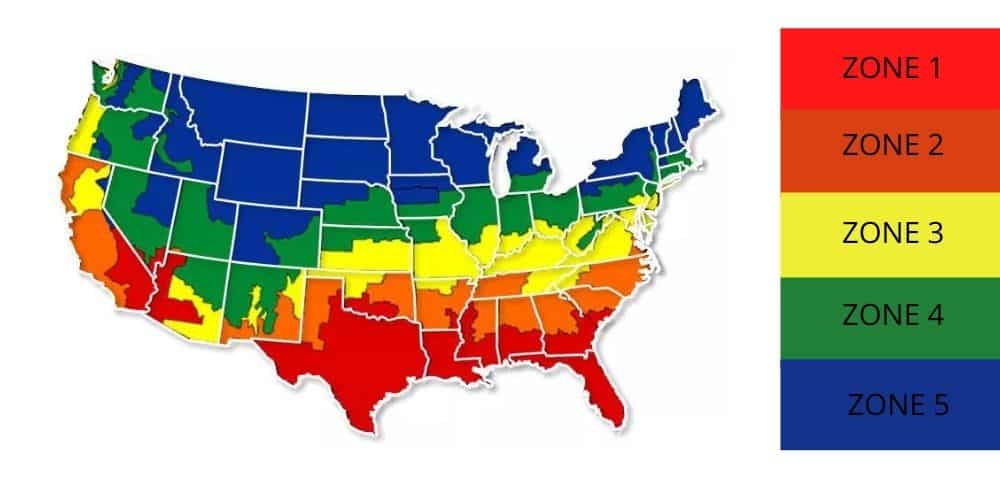 | | |
| --- | --- |
| Zone | AFUE Rating |
| Zone 1 | 80% |
| Zone 2 | 80% and up |
| Zone 3 | 90% and up |
| Zone 4 | 95% and up |
| Zone 5 | 97% and up |
Price
The total price of a new gas furnace depends on the unit itself and installation costs. Gas furnaces are generally more expensive to than electric furnaces.
| Brands | Gas Furnace Price |
| --- | --- |
| Amana | $1,750 |
| American Standard | $2,250 |
| Bryant | $2,250 |
| Carrier | $2,500 |
| Coleman | $1,900 |
| Daikin | $2,000 |
| Day & Night | $1,750 |
| Goodman | $1,750 |
| Lennox | $2,500 |
| Rheem | $2,250 |
| Ruud | $2,250 |
| Trane | $2,500 |
| York | $1,900 |
In the gas furnace price table above, we compare the gas furnace with these parameters: 90% AFUE, and 70,000-75,000 BTU size.
Features
Variable Speed – A variable speed motor is another feature when looking for the best furnace. Since rather than operating continuously, it adapts to your needs and allows the furnace to produce just the right amount of heat to keep you and your family warm. Variable speed furnaces are also known to help manage the humidity level in your property, which can help to prevent a range of problems.
Two-Stage Furnaces – If it's consistent temperatures that you're looking for, you can't go wrong with a two stage furnace. Single stage furnaces can cause temperature fluctuations in your home, where as the double furnace system that two-stage furnaces utilize offers much more control over the heat that is emitted.
Low Noise Levels – A new furnace is something you are going to have to live with for a considerable amount of time, which is why you should choose a quieter furnace.
Programmable Thermostat – To use your heating system even more efficiently, a programmable thermostat is another feature to look out. This feature allows you to program your home's heating according to your own schedule to ensure your system won't be used for a second longer than it really has to be.
Warranties
The other factor to look is the length of the warranties. It's not all about the product itself when shopping for a new furnace; you also need to carefully assess the length of the warranty that is included.
A good benchmark is to look for a model that has a warranty that covers the heat exchanger for 20 years (the most expensive part to replace) and everything else for 5-10 years.
The Best Gas Furnace by Brands
The following list shows the highest-rated gas furnaces based on the average of consumer satisfaction ratings. They all operate at above a 90% AFUE when properly installed, and promise the most value for your home heating budget.
Trane Gas Furnace
Trane gas furnaces have a reputation for quality and ENERGY STAR® certified. The company offers different gas furnaces models with efficiency ratings from 80% AFUE to 97.3% AFUE.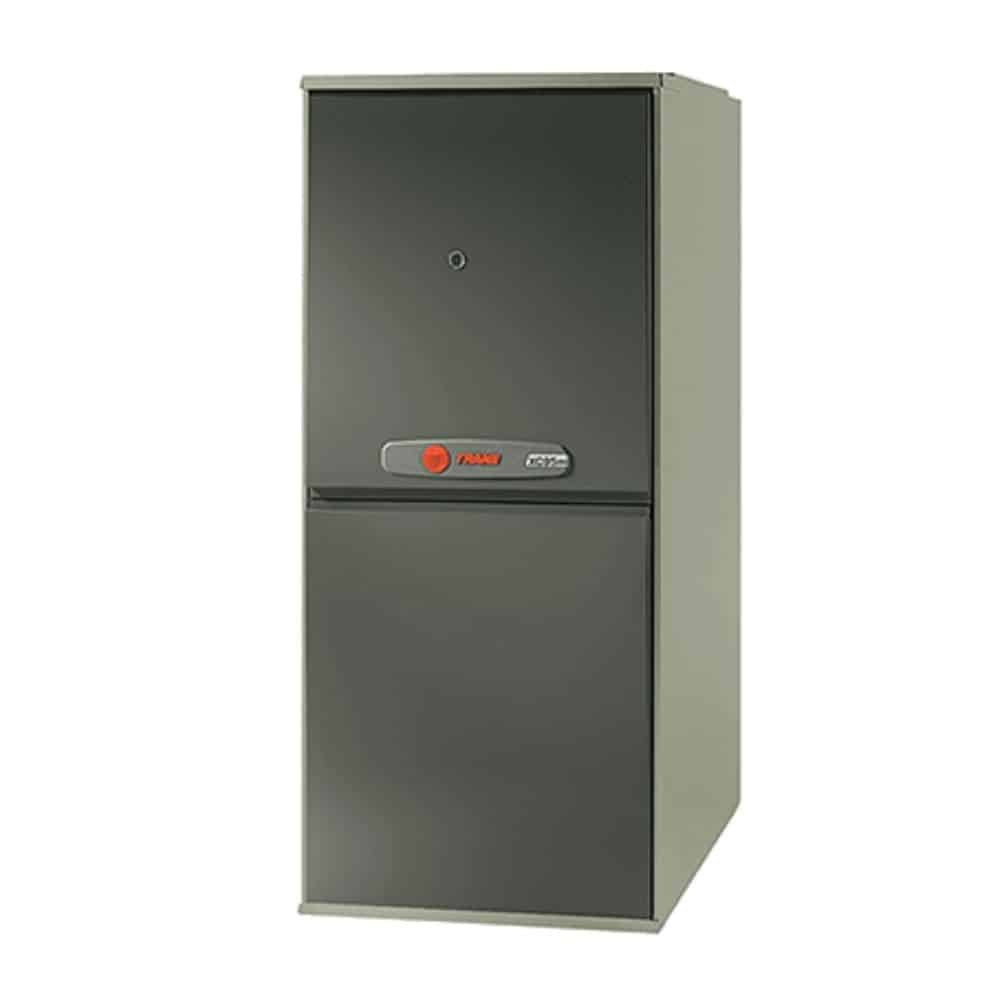 Some of the best Trane gas furnace models are:
Trane XC95M – The XC95M gas furnace has the highest AFUE rating up-to 97,3%. This models has many top features and most efficient furnace from trane.
Trane S9V2-VS – The S9V2-VS is Energy Star Qualified gas furnace model with an AFUE rating of 97%. The S9V2-VS featured with Vortica II blower and a heavy steel insulated cabinet to help it run quietly. This is the quietest gas furnace from Trane.
Trane XB90 – This the Best Value Furnace with a 92% AFUE rating.
Trane Gas Furnace Features
ComfortLink™ II communicating capability that enables your system to automatically charge, configure and calibrate
Variable-speed blower motor that results in even, comfortable heating
Heavy gauge, two-tone powder-painted cabinet
Increased dehumidification with Comfort-R™
Warranties: With Trane, you have a choice of three different warranties, depending on how much you want to pay and how much coverage you desire. More on Trane warranty: Click Here
Pros
It's hard to find a more energy-efficient gas furnace available, and if you choose the Optimal Extended Warranty from Trane, you will truly be satisfied and long-time customer.
Cons
As this is one of the best furnaces available from Trane, you will be paying more than you would for the average furnace.
Goodman Gas Furnace
Goodman gas furnace is the option for homeowners looking for economical furnace. The company offer variety gas furnace models at affordable price. However, Goodman products have a solid high-quality and high-efficiency furnaces and offer the best warranties.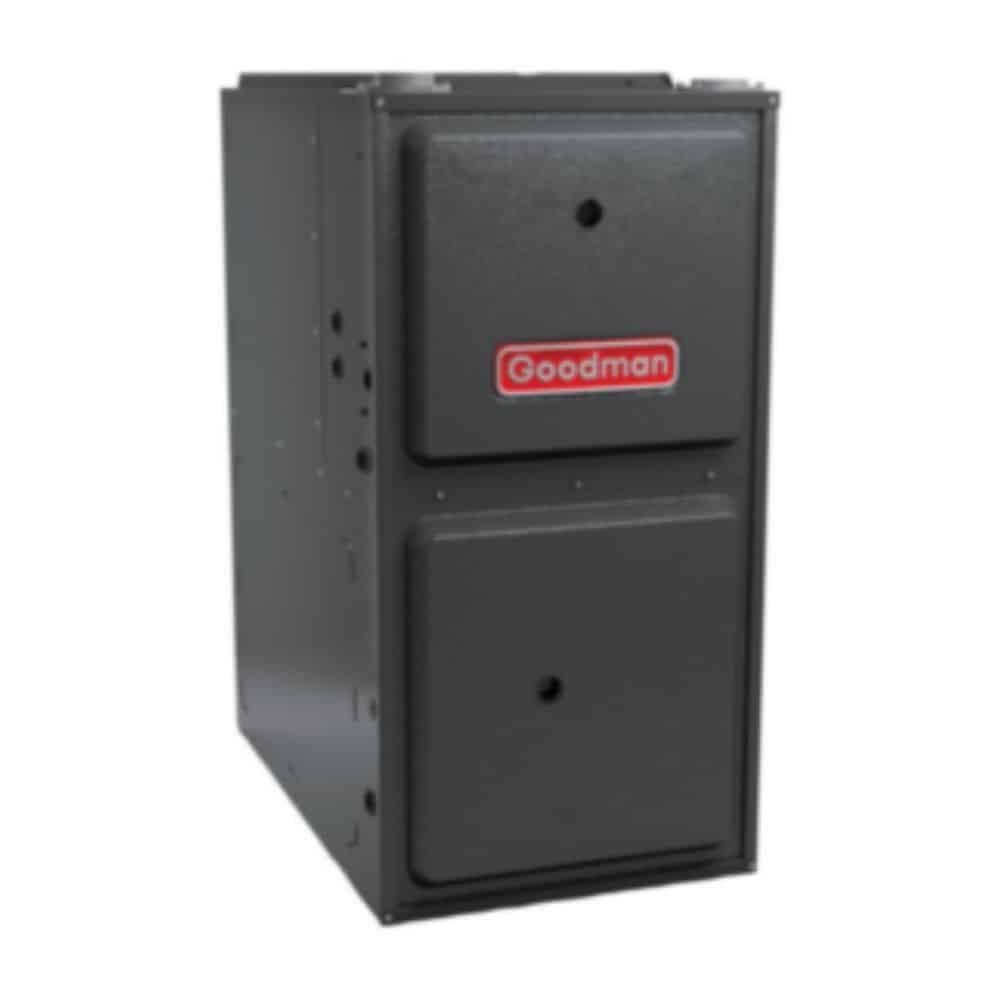 Some of the best Goodman gas furnace models are:
GMVM97 – Modulating, Variable-Speed ECM Gas Furnace Up to 98% AFUE
GCVM97 – Modulating, Variable-Speed ECM Gas Furnace Up to 98% AFUE
GMVC96 – Two-Stage, Variable-Speed ECM Gas Furnace Up to 96% AFUE
GCVC96 – Two-Stage, Variable-Speed ECM Gas Furnace Up to 96% AFUE
GCSS96 – Single-Stage Multi-Speed Gas Furnace Up to 96% AFUE
Goodman Gas Furnace Features
Integrated communicating ComfortBridge™ Technology
Commissioning and diagnostics via onboard Bluetooth
Heavy-duty aluminized-steel tubular heat exchanger
Stainless-steel secondary heat exchanger
Self-calibrating modulating gas valve auto-configured for each installation
Warranties: The heat exchangers comes with a Lifetime Limited Warranty and a 10-Year Limited Parts Warranty on all functional parts.
Pros
Goodman is known for its more affordable pricing, yet still delivers incredible efficiency gas furnace, so you save money upfront and in the long run.
Cons
While this system is sturdy and reliable, other brands mentioned on this list are more well-known for their quality.
Lennox Gas Furnace
The Lennox brand has provided high quality gas furnace products for over a century. They offers 3 series in the line of gas furnace (Merit, Elite and Dave Lennox Signature Collection).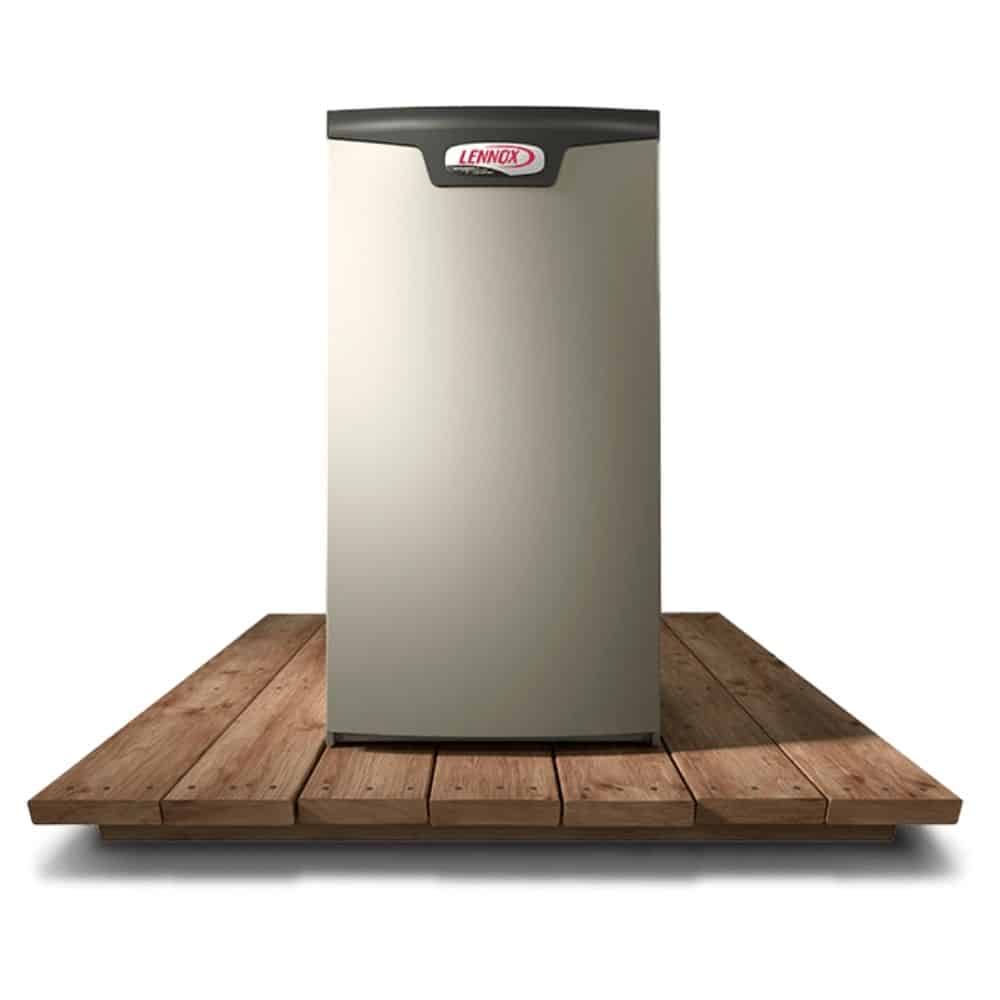 Some of the best Lennox gas furnace models are:
SLP99V – Variable-capacity Gas Furnace. The Quietest And Most Efficient furnace from Dave Lennox Signature series.
EL296V – Variable-speed, Two-stage Gas Furnace. High-efficiency, Variable-speed Gas Furnace from Lennox Elite series.
ML196E – Single-stage, 96% fuel-efficient gas furnace with Power Saver™ constant-torque motor design. This from Lennox Merit series.
Lennox Gas Frunace Features:
Ranging as low as the Canadian minimum of 92% AFUE and as high as 98.7%AFUE in energy efficiency.
Broad range of ENERGY STAR rated models and units.
Power Saver™ : the most advanced state if the art Variable Speed brushless DC ECM motor (33% more efficient than a conventional furnace motor)
SilentComfort™ Technology, (furnaces are averagely 50% quieter than competitor furnaces)
I-COMFORT technology enables complete remote access and supervision of the system and is able to send notices to your contactor and technician directly. Capable of self diagnosis, wifi enabled, touch screen thermostat and many more options.
Pros
Available in upflow, downflow and horizontal configurations
Cons
Expensive
Rare parts
Warranty, 5 years on parts for their mid models
Rheem Gas Furnace
Rheem gas furnaces also offer excellent performance, high-efficiency and the best warranty coverage (limited lifetime warranties). The other brands mention above, usually 20-year limited warranties.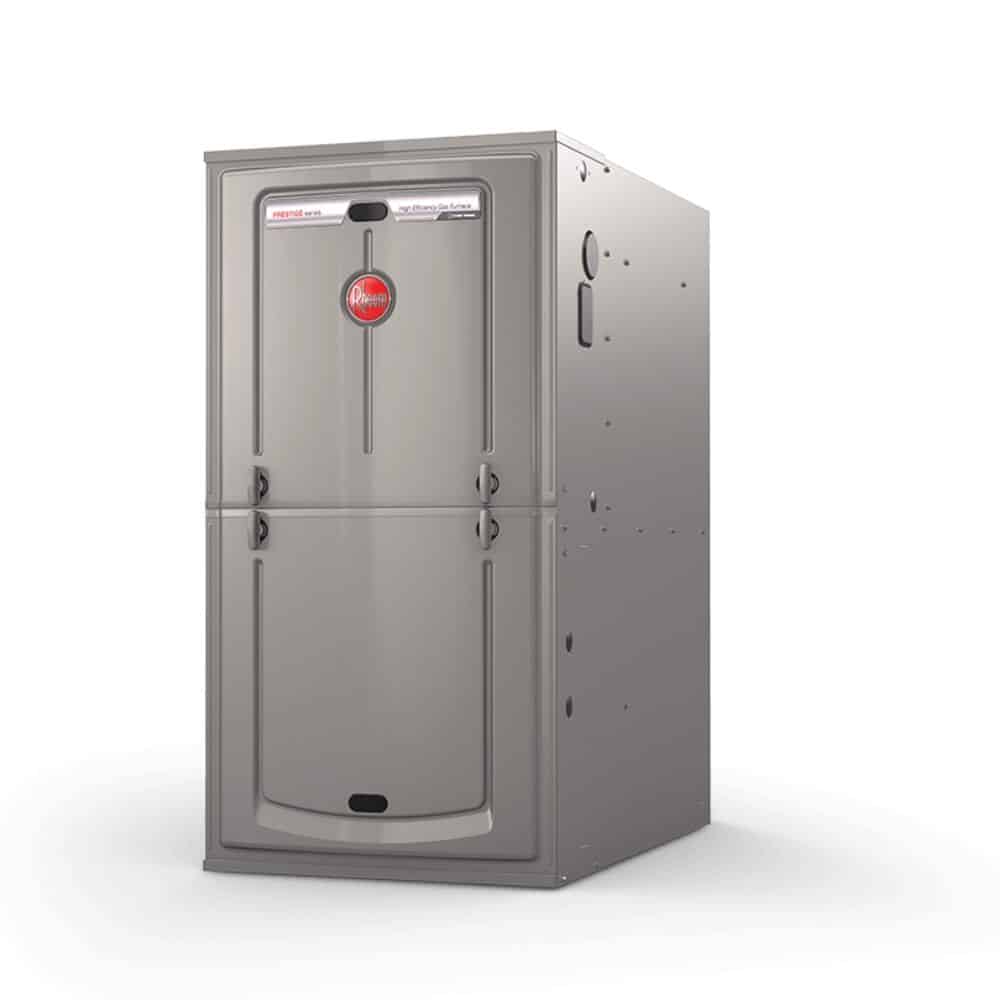 Some of the best Lennox gas furnace models are:
Rheem Prestige Series R98V – Modulation, Upflow Gas Furnace
Classic Plus Series R96T – Up to 96% AFUE Constant Torque ECM Motor Multi Position
Classic Series R92P – Up to 92% AFUE
Rheem Gas Furnace Features:
PlusOne™ Diagnostics 7-Segment LED all units
PlusOne™ Ignition System – DSI for reliability and longevity
PlusOne™ Water Management System with patented Blocked Drain
Sensor
Heat exchanger is removable for improved serviceability
Warranties: Conditional parts come with a 10-year warranty and the heat exchanges comes with a 20-year warranty.
Pros
Rheem gas furnace is recognized for its easy installation and maintenance, saving you in the short and long-term on installation and repair costs.
Cons
While up to 92% AFUE performance is impressive, there are much more energy-efficient gas furnaces from both Rheem and other brands mentioned.
Tips for Homeowners
When choosing the best gas furnace, it is imperative to ensure that you pay close attention to the entire heating system. Since you essentially will not be able to judge the efficiency of the system until it is installed, it is imperative to choose one from a company that is reputable. And make certain that you trust the contractor who installs the furnace for you. You can compare ratings with groups such as consumer reports.
Checking customer reviews can assist you find the best furnace brands for your home or office. Look for customer who are located in a home of a similar in a similar weather conditions to yours. Customer Reviews could also give information relating to the furnace's reliability, common problems and standard repair costs.
This is a great way to determine which gas furnace brand has performed the best for your home. However, you should only use this information as a starting point.
When it comes to choosing the best gas furnace for your needs, you'll find that it is more important to work with a trustworthy contractor then to choose a particular brand. You'll also find that it is a wise idea to call several contractors or HVAC experts and compare estimates.
Conclusion
The first things homeowners often consider when looking for the best gas furnace is brand, but there is more important factor; Installation. I'd say the main factor is 60% installation and 40% unit/brand quality. I've seen top of the line systems installed poorly and never work correctly and live a short life. I've seen cheap gas furnace brands installed properly and last much longer.
Buying a new furnace is an important investment and we hope this guide's make it easier for you to make a final decision.
Get FREE local quotes below from contractors who work with the best gas furnace brands near you.