Since 1929, American Standard has provided high-quality heating and cooling products. With one of the highest customer satisfaction ratings in the HVAC industry, American Standard central air conditioners are a good choice for the homeowner who wants a high performing system at an affordable price. From the high-end Platinum 20 series to the durable units in the Silver series, you will get engineering and craftsmanship paired with higher quality air and comfort.
American Standard Premium models offer a strong combination of efficiency, quietness and comfort. Features like rapidly altering fan speeds, lower compressor modulations and ultra-sensitive thermostat technology allow a high-quality air conditioning to give you the best of all three worlds.
Premium models also work best for larger homes because their efficiency means lower bills.
About American Standard Platinum 20 Air Conditioner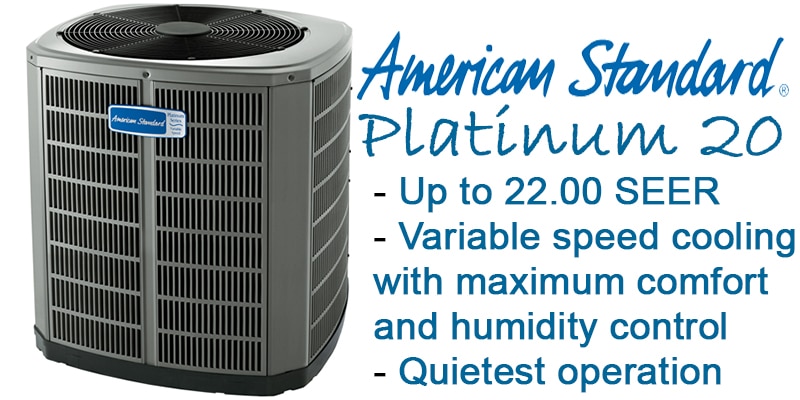 The American Standard AccuComfort Platinum 20 is an Central Air Conditioners unit with an efficiency of up to 22 SEER. With that SEER rating, this A/C system is one of the most efficient multi-stage cooling units on the market.
The compressor sound insulator works to reduce the noise associated with the operation as low as 4 decibels. It also provides consistent temperatures and optimal efficiency. AccuLink communicating control board powers the compressor and controls communication between the system components, and the AccuComfort system can be controlled remotely with a smart gadgets.
The American Standard Platinum 20 AC unit is protected by heavy-duty steel louvered panels with a corrosion-resistant appliance-grade finish and a Durabase basepan which is resistant to cracks, rust and corrosion.
American Standard Platinum 20 Features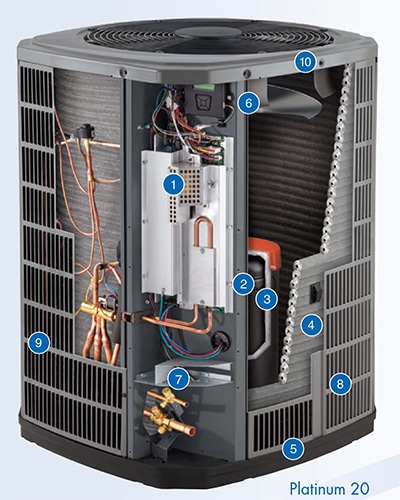 1. AccuLink™ communicating control board
Maintains consistent comfort and efficiency by powering the compressor and controlling communication between all components of the system.
2. Duration™ variable speed compressor
Automatically makes constant, minute adjustments to avoid temperature swings in your home and maintain consistent comfort and optimal efficiency.
3. Compressor sound insulator
Reduces operating noise for a quieter home environment.
4. All-aluminum Spine Fin™ coil
An exclusive design makes it extremely efficient at transferring heat, and highly resistant to corrosion.
5. Durabase™ basepan
Built to resist cracks, rust and corrosion.
6. Variable-speed fan motor
Adjusts speed based on cooling and heating requirements for high efficiency and quieter operation.
7. Simplified two-wire connection
Offers easier installation, reducing the need for structural modifications.
8. Heavy-duty steel louvered panels
Protect the coil from dirt and damage while still providing substantial airflow.
9. Appliance-grade finish
Durable powder-painted louvers resist rust and corrosion, eliminate sharp edges and provide years of lasting protection.
10. SermaGuard™ rust-resistant screws
For corrosion resistance and longer life SermaGuard screws are Zinc-coated.
American Standard Platinum 20 Benefits
Maximize your home comfort with this AccuComfort ™ variable-speed air conditioner that works smarter to lower the operating cost.
Experience this AccuComfort ™ unit that has a wider operating range to allow the system to remain operating when the competition's products are cycling on and off.
Get the comfort you set with AccuComfort ™ technology that is consistent with a ½ degree in 1/10th of 1% increments.
Experience the technology inside this central A/C unit that is the quietest at 4dB below the nearest competitor minimum.
Discover the advantage of owning this system available with lower compressor modulation and fan speeds yield amazingly low sound levels and max out the benefits of AccuClean ™ technology.
Get seamless comfort and reduced energy costs with Enhanced Humidity Control.
Receive dependable comfort for years to come with an A/C system that is built with quality materials, innovative features, durable construction and backed by independent American Standard Dealers to ensure your central A/C unit.
Recognized as the Most Efficient of ENERGY STAR in 2019
American Standard Platinum 20 Models
4A7V0024
2
TONNAGE
30" × 41" × 33"
DIMENSIONS
4A7V0036
3
TONNAGE
34" × 41" × 37"
DIMENSIONS
4A7V0048
4
TONNAGE
34" × 41" × 37"
DIMENSIONS
4A7V0060
4A7V0061
5
TONNAGE
34" × 45" × 37"
DIMENSIONS
American Standard Platinum 20 Price
The American Standard Platinum 20 Central Air Conditioners is the highest price among other models. The unit only price for Platinum 20 is US$ 2,400 and US$ 6,500 if it is with the installation.
American Standard Platinum 20 Warranty
For detailed information about American Standard Platinum 20 limited warranty, please refer to your owner's manual.
American Standard Heating & Air Conditioning's Registered Limited Warranty terms on this product include:
12-year limited warranty on compressor.
10-year limited warranty on outdoor coil.
10-year limited warranty on internal functional parts.
If the product is not registered within 60 days of installation American Standard Heating & Air Conditioning's Base Limited Warranty terms will apply.
An option to purchase transferability of your Registered Limited Warranty is available. Visit our Warranty + Registration page for more information.
Optional Extended Warranties available. Extended Warranties can pay for labor and other costs not covered by manufacturer's limited warranty.
Ask your dealer for full warranty information at time of purchase. Warranties are for residential use only, some exclusions may apply.
Beginning May 1, 2009, Registered Limited Warranty terms are available if the product is registered within 60 days of installation. Registration can be completed either online at americanstandardair.com or by calling 800-554-8005.