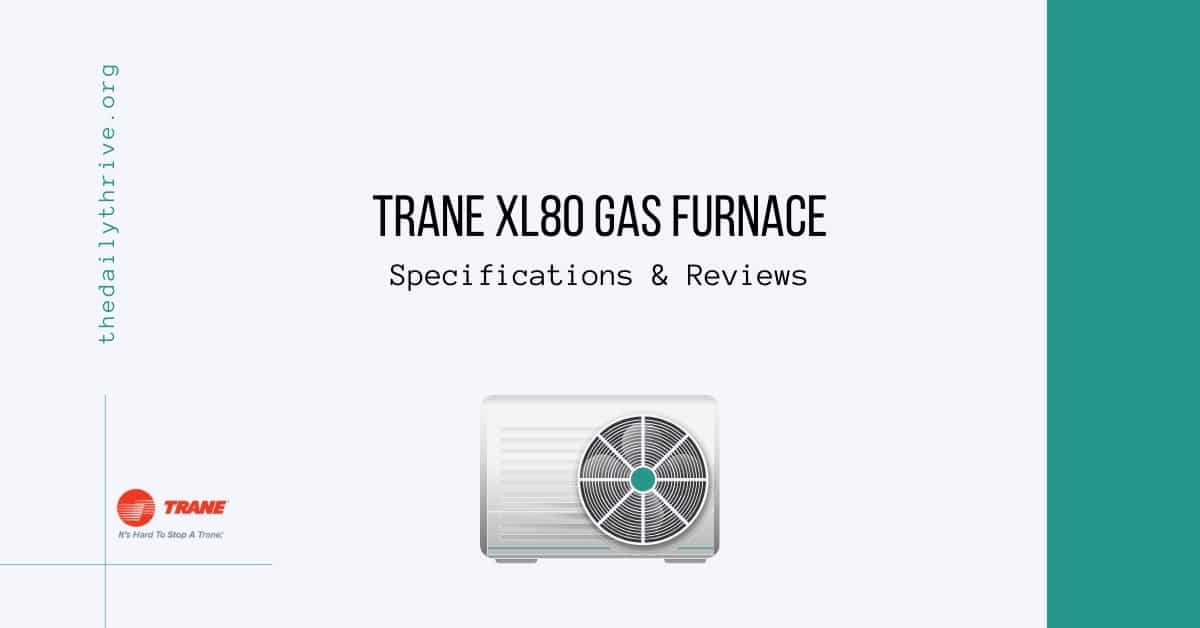 Trane XL80 Gas Furnace is a reliable and economical option to make your home more comfortable in winter season even on the coldest of days. It doesn't matter what the temperature might be outside, the XL80 variable speed gas furnace is designed to provide you with a consistent flow of warm air to keep your family comfortable. The Trane XL80 gas furnace features efficient performance that is rated with up to 80% AFUE.
The two-staged Trane XL80 gas furnace performs at the lowest energy efficient speed most of the time but when you need more heat, it activates its higher warmer stage and helps protect against temperature swings.
Trane XL80 Gas Furnace Overview
The Trane XL80 Furnace is a two-stage heating unit that performs at 80% AFUE rating. Means that 80% of the gas used is converted into heat. Features include an insulated cabinet, washable filter, four-speed blower fan, and a microelectronic controller. The unit is built to provide you with consistent warm air flow in the home. The Trane XL80 gas furnace has two main types:
Two-stage upflow (horizontal furnace)
Two-stage downflow (horizontal furnace)
Trane XL80 Gas Furnace is ideal for installs where venting of a higher efficient furnace is not practical. Being a midrange gas efficiency furnace, it delivers the reliability and comfort levels that come with all Trane Furnace products.
Trane XL80 Gas Furnace Features
Performs At 80 Percent Efficiency
Two-Stage Gas Heat
Direct Vent Upflow/Horizontal Stage1 52,000/Stage2 79,000 Nominal Capacity Output (BTUH)
Four-Speed Blower Motor
Convertible To Horizontal
Microelectronic Controller
Durable Adaptive Silicon Nitride Hot Surface Igniter
Multi-Port In-Shot Burners
One-Piece Heat Exchanger
Prepainted Galvanized Steel Cabinet
Washable Filter
Insulated Cabinet
Green Finish
One of the significant features of the Trane XL80 Gas Furnace is that it provides you with cleaner indoor air. You can add Trane CleanEffects ™ to your system and it will ensure advanced air filtration that will remove pollen, dust, and other unhealthy irritants from the conditioned air. This will make your home healthier and more comfortable.
Materials for all the Trane XL80 components were tested for reliability and long-lasting performance. Trane company offers a 10-year limited warranty on the internal functional parts and a 20-year limited warranty on the heat exchanger.
Trane XL80 Gas Furnace Specifications
Every Trane furnace is packed with high-quality components. Each helps ensure that time after time, your unit will provide total comfort your family can rely on. The XL80 includes:
Four-Speed blower motor
Two-stage gas heat
40″ high cabinet, 28″ depth means it fits almost anywhere
Convertible to horizontal
Microelectronic controller
Heavy steel cabinet
Durable adaptive silicon Nitride hot surface igniter
Multi-port,in-shot burners
One-Piece Heat Exchanger
Prepainted galvanized steel cabinet
Washable filter
Upflow models have hinged blower doors, easy-open door latches, and spring-loaded filter rack
Insulated cabinet
Approximate Dimensions: Height (40″) Width (21″) Depth (28″)
Trane XL80 Gas Furnace Model Numbers
The Trane XL80 is available on the market in a variety of models which usually vary in efficiency and size/capacity.
| | | |
| --- | --- | --- |
| Model Number | AFUE rating | BTUH |
| #TDD2A040A9242A | 80 | 40,000 |
| #TDD2A060A9362A | 80 | 60,000 |
| #TDD2B060A9362A | 80 | 60,000 |
| #TDD2B080A9362A | 80 | 80,000 |
| #TDD2B100A9482A | 80 | 100,000 |
| #TDD2C100A9482A | 80 | 100,000 |
| #TDD2C100A9602A | 80 | 100,000 |
| #TDD2D120A9602A | 80 | 120,000 |
| #TDD2D140A9602A | 80 | 140,000 |
| #TUD2A040A9242A | 80 | 40,000 |
| #TUD2A060A9362A | 80 | 60,000 |
| #TUD2B060A9362A | 80 | 60,000 |
| #TUD2B080A9362A | 80 | 80,000 |
| #TUD2B080A9482A | 80 | 80,000 |
| #TUD2B100A9362A | 80 | 100,000 |
| #TUD2C100A9482A | 80 | 100,000 |
| #TUD2D100A9602A | 80 | 100,000 |
| #TUD2D140A9602A | 80 | 140,000 |
Trane XL80 Gas Furnace Price
The total cost will be influenced by several factors including your home's size, location and installation complexity. Here we're able to provide the average Trane XL80 Gas Furnace price across the U.S. to give you an idea of what to expect.
| | |
| --- | --- |
| Unit Only | System Installed |
| $1,700 | $3,200 |
Trane XL80 Warranty Information
Beginning May 1 2009, Registered Limited Warranty terms are available if the product is registered within 60 days of installation. Registration can be completed either online at Trane.com or by calling 800-554-6413. Trane offers the following warranty on the Trane XL80 gas furnace::
20 Year limited warranty on heat exchanger
5 Year limited warranty on internal functional parts
If the product is not registered within 60 days of installation Trane's Base Limited Warranty terms will apply.
An option to purchase transferability of your Registered Limited Warranty is available. For more information visit: http://www.trane.com/Residential/Trane-Owners/Warranty-Information
Optional Extended Warranties are available. Extended Warranties can pay for labor and other costs not covered by manufacturer's limited warranty.
Ask your dealer for full warranty information at time of purchase. Warranties are for residential use only, some exclusions may apply.
If you are looking out for a new gas furnace for your home then you need to consider Trane xl80 gas furnace. But there are also the newest model of Trane Furnace to consider so you'd better investigate your options carefully before you make a final decision.