Luxaire Furnaces are available in single, two-stage and modulating configurations, some of the models has an AFUE rating as high as 98%. Luxaire offer residential heating and cooling units that meet Energy Star requirements. This information will give you all you need to know Luxaire furnace top models, features, price and warranty available.
Luxaire gas furnaces are well-known within Canadian homeowners, they has great popularity for making excellent HVAC units.
There are 3 different Luxaire furnace series available that will accommodate everyone's need and budget. The Acclimate Series, the LX Series and the Climasure Series.
About Luxaire
Luxaire, York and Coleman are similar brands, they are owned by Johnson Controls. Here is the brief history of Luxaire company:
Back in 1939, the Luxaire (formerly known as C.A. Olsen Manufacturing Company) was founded by Mr. Clarence Olsen, and in 1955 purchased by Westinghouse. Then again puchased by York in 1981.
Today, Luxaire operates under Johnson Controls (UPG) after the company purchased York in 2005. They makes air conditioners, heat pumps, furnaces and other heating and cooling products for its consumers.
Luxaire Furnace Price
For comparison, you may want to lookup an average Luxaire furnace price on average. Why average price? Because the exact price depends on a lots of factors, the size of your home, the installation and the location where you live.
The following is the average price of a Luxaire furnace based on models:
The Acclimate Series: $4,550 to $5,500
The LX Series: $3,750 to $4,550
The Climasure Series: $3,000 to $3,750
Luxaire Furnace Models and Recommendation
Luxaire hfurnaces offer a competitively priced solution for all your needs. Like any other HVAC brands, Luxaire manufactures 3 various levels of furnace models.
The Acclimate Series Gas Furnace – Best from Luxaire
The Acclimate™ Series are premium-level furnaces, these are some of the best Luxaire furnaces. These models has all the advanced features technology offered by Luxaire.
Acclimate™ Series gas furnaces are ENERGY STAR® qualified models that offer at least 15% to 25% higher energy efficiency than standard models. The innovative GeoTrak™ Comfort System creates an operating cycle that works best for you.
Our best choice from Luxaire Aclimate series is LP9C Gas Furnace. The Acclimate™ LP9C is designed to make home comfort more personal than ever before. This is the most premium Luxaire gas furnace. The LP9C features innovative technology that improves performance, provides consistent comfort and optimizes efficiency.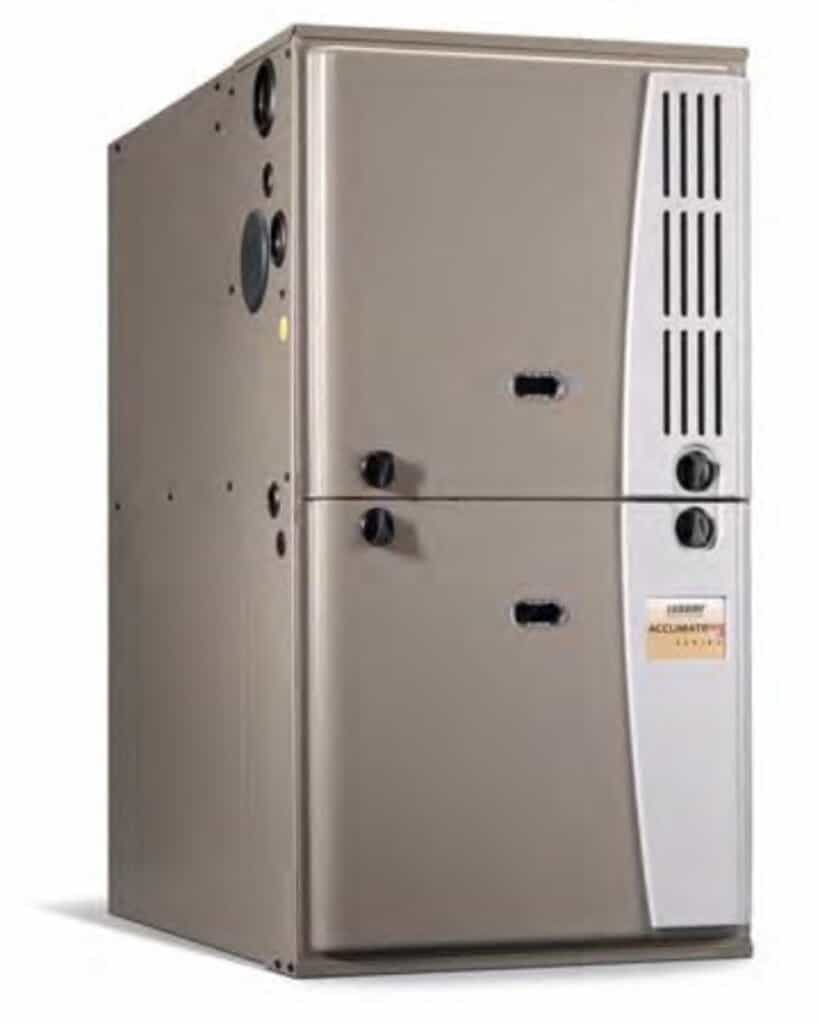 Acclimate™ LP9C Features:
AFUE: 98%
Furnace type: Modulating
Price range: $4,750 to $5,500
Warranties: Lifetime heat exchanger, 10-year parts
Modulating burner design continuously adjusts its heating output in 1% increments to save fuel, while the integrated GeoTrak™ comfort system tailors operation to the needs of your locale
ENERGY STAR® Most Efficient qualifying efficiency up to 98% Annual Fuel Utilization Efficiency
Integrated self-diagnostic control module
Variable-speed ECM fan motor provides quiet, efficient circulation
Unit design engineered for natural gas or propane applications
Integrates with the Hx™3 Communicating Zoning System
The LX Series Gas Furnace – The Better Models
These are the mid-range models from Luxaire. LX Series furnaces fit your needs with select ENERGY STAR® models that reduce your utility bills.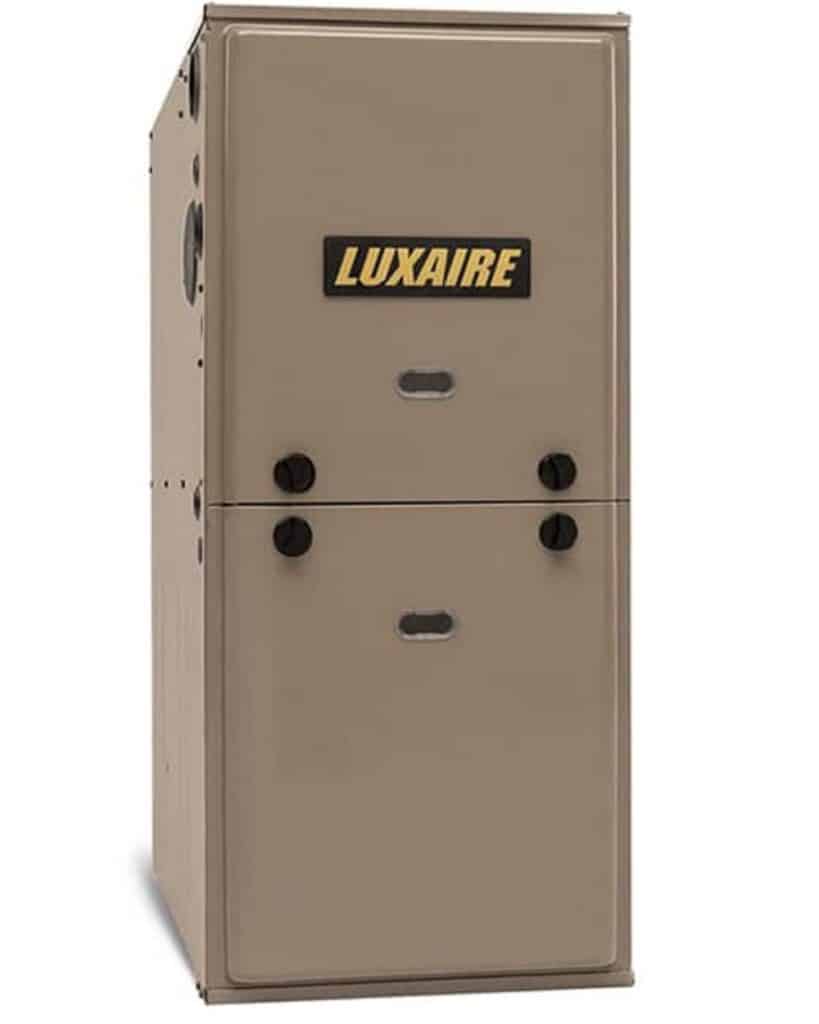 Some models from LX series is TM9V. Luxaire® TM9V Compact Gas Furnaces are designed to improve performance and efficiency. With a two-stage burner and a variable-speed ECM fan motor, this unit can be fine-tuned to your specific climate needs. This is an ideal gas furnace for your home, with hassle-free installation in tight spaces. Designed, engineered and assembled in the United States, Luxaire® LX Series Furnaces use state-of-the-art manufacturing processes to provide world-class quality at competitive prices.
Luxaire® TM9V Features:
AFUE: 96%
Furnace type: Two-Stage
Price range: $4,000 to $4,750
Warranties: Lifetime heat exchanger, 10-year parts
ENERGY STAR® qualifying efficiency of up to 96% AFUE
High-efficiency, variable-speed ECM fan motor provides quiet, effective air circulation, and a compact 33-inch height fits into tight spaces
Integrated self-diagnostic control module
Electronic Hot Surface Ignition saves fuel cost with increased dependability and reliability
Two-stage burner adjusts heat levels to match your comfort level
Unit design engineered for natural gas or propane applications
Integrates with the Hx™3 Communicating Zoning System
24V, 40 VA control transformer and blower relay supplied for add-on cooling
The Climasure Series Gas Furnace – The Basic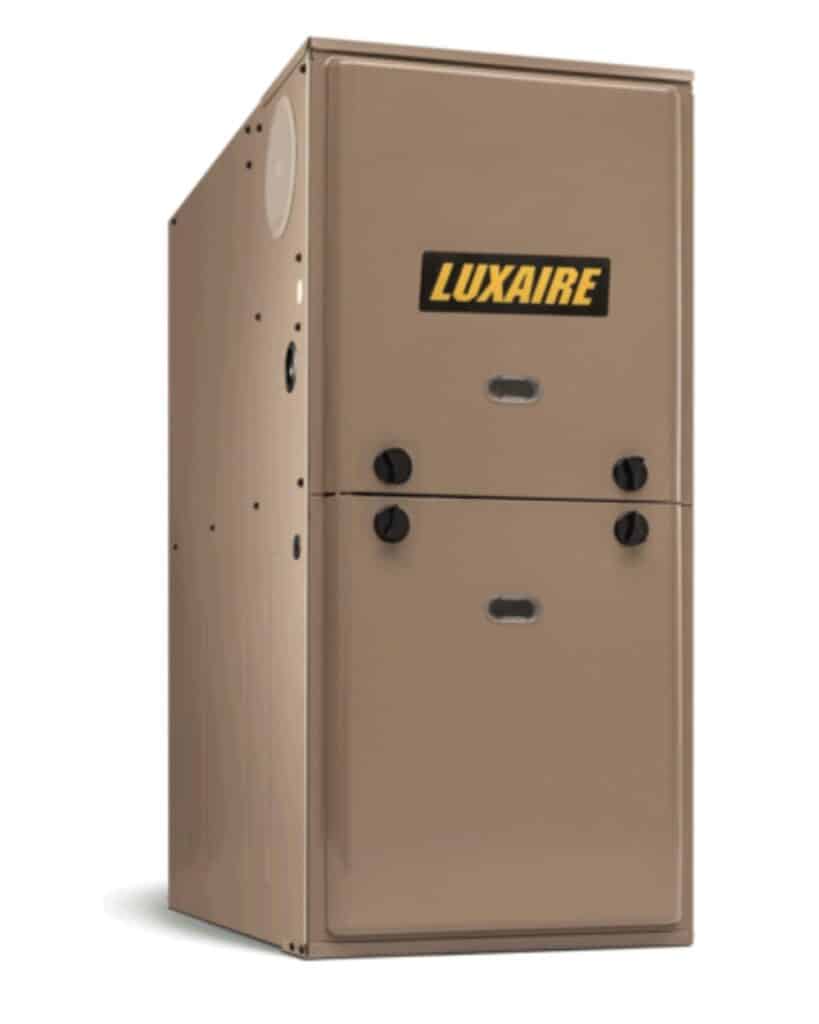 These are the economical models with basic features. Count on the high efficiency of Climasure™ Series gas furnaces to keep you warm in the coldest weather.
Our recommendation for Luxaire Climasure series gas furnace is TG9S. The TG9S Series is the economical Luxaire gas furnace line for providing efficient and quiet home heating. The single-stage heat units in this line offer 95.5 percent AFUE and feature self-cleaning Inshot burners, and a burner box designed to muffle operation noise and ensure low sound levels.
Luxaire Climasure TG9S Features:
AFUE: 95.5%
Furnace type: Single-Stage
Price range: $3,250 to $4,000
Warranties: Lifetime heat exchanger, 10-year parts
Compact 33-inch cabinet easily fits in tight spaces
Solid front door panel construction and folded metal edges improve durability
Advanced heat exchanger simplifies gas flow path and reduces number of parts
Low flame sense indicator ensures safe shutdown in unusual firing conditions
Economical servicing thanks to a design using common serviceable parts
Luxaire Warranties
Luxaire offers their system with one of the best HVAC warranties available. Every Luxaire gas furnace is backed with a lifetime limited warranty on the heat exchanger and a 10-year limited warranty on all other parts.
To get the most warranty, the products must be registered online within 90 days of installation, otherwise the parts warranty reverts to a 5-year limited parts warranty.
What to Look for in a New Furnace
Installing a new furnace (or replacement) and selecting the best option for your home is important. If you decide to choose a Luxaire furnace, consider the following factors before buying.
Size
See our furnace chart below along with the correlating furnace unit size you would need for your home.
| Room Size | BTU | Size |
| --- | --- | --- |
| 1,200 sq. ft | 50,000 BTU | 1.5 to 2 tons |
| 1,200 to 1,500 sq. ft | 55,000 BTU | 2 tons |
| 1,500 to 1,800 sq. ft | 60,000 BTU | 2.5 tons |
| 1,800 to 2,500 sq. ft | 70,000 BTU | 2.5 to 3 tons |
| 2,500 to 3,500 sq. ft | 90,000 to 100,000 BTU | 3.5 to 4 tons |
Efficiency
How efficiently a furnace converts gas into heating energy is reflected in its annual fuel-utilization-efficiency (AFUE) rating. The higher the number, the more heat the furnace can wring from each therm of gas.
Repair or Replace
There are some important factors to consider that will help you decide whether to repair or replace your furnace.
Furnaces typically last 15 to 20 years, if your furnace system is over 15 years old = Replace
If your furnace system is more than 15 years old and requires a costly repair to maintain efficiency = Replace
When The Cost of a Repair Is Over Half the Cost of a Replacement = Replace
Replace your system entirely for major repairs such as a damaged heat exchanger or control module, and replace old systems that need frequent maintenance = Replace
Conclusion
Luxaire is a reliable furnace brand that offers the best furnaces available in the market, especially in North America and Canada. All their products are high quality and ENERGY STAR® qualified.
As always, when it comes to the best furnace, choosing the right HVAC contractor is just as important as choosing the best furnace brands. Compare local quotes from at least 3 different contractors who work with the Luxaire furnace.
We hope this Luxaire gas furnace buying guide along with the details provided can help you decide which system that suit for your home's need.