The Infinity 80 is the flagship line of Carrier's high-efficiency furnace models. This 80% AFUE furnace is built like you'd expect an Infinity product to be built, with the features that will give you the indoor comfort you desire. It's not as expensive as the Infinity 96 or Infinity 98. Still, it has a variable-speed blower and comes with the Infinity thermostat to guarantee precisely balanced temperatures in all seasons, humidity control, and better air filtration.
Carrier Infinity 80 Gas Furnace Features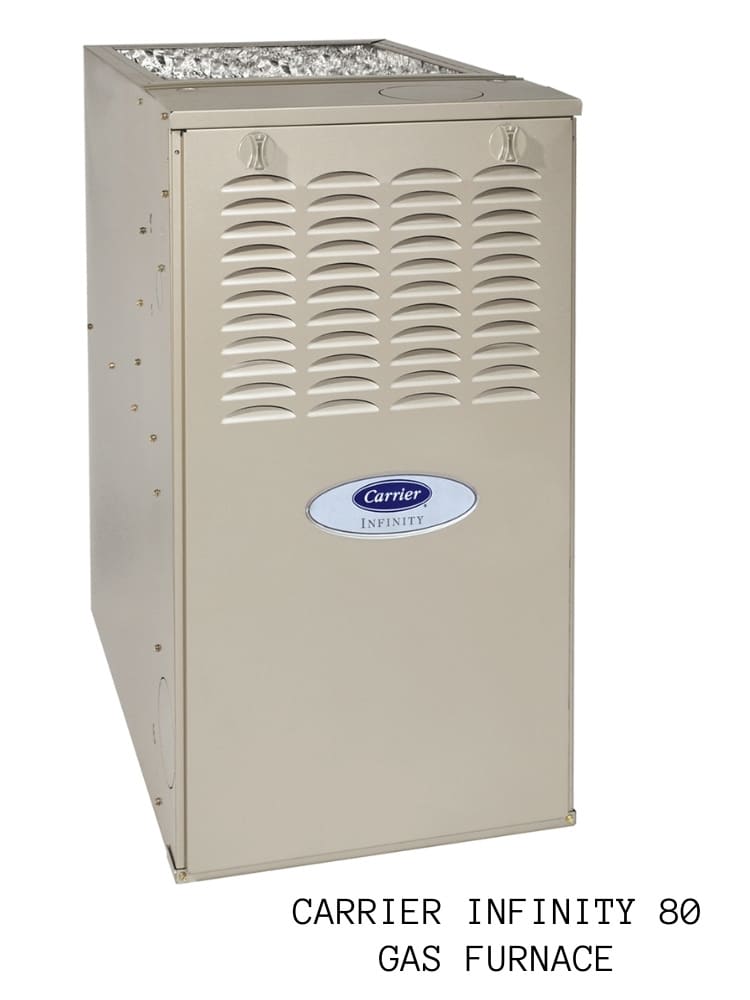 Before we look at the Carrier Infinity 80 gas furnace price, you should know about its primary features so that you can compare this furnace to others you are considering. Here is what it offers:
80% efficiency, which is a good choice in temperate and warm climates.
Comfort Heat technology for balanced heating without temperature fluctuations.
Infinity Control, 2-stage burner, and variable-speed blower for maximizing the comfort of your home.
Extra quiet – variable-speed constant airflow blower distributes heated or cooled air at the lowest possible setting for the majority of the comfort cycle.
Thermidistat and the Ideal Humidity System for optimizing humidity control is an option.
Sturdy galvanized steel cabinet with baked-on urethane/polyester coating.
Models are available from 66,000 Btu to 154,000 Btu for easy sizing to fit your needs.
Carrier's "Super S" heat exchanger with a 20-year limited warranty and10-year limited warranty on all parts.
Carrier Infinity 80 Gas Furnace Price
This furnace is more expensive than most 80% AFUE furnaces because it is built with quality components and offers you the opportunity to precisely control your home's indoor climate. Here are sample gas furnace prices for the Carrier Infinity 80.
| Size | Price |
| --- | --- |
| 70,000 Btu | $1,475 |
| 90,000 Btu | $1,700 |
| 110,000 Btu | $1,875 |
Installation Costs
Various factors will affect the installation cost of the Carrier Infinity 80 gas furnace. It will be higher if an old furnace needs to be removed. Complex or time-consuming installations will cost more while installing the furnace in a new construction project or in a ground-floor utility closet that is easy to access will typically cost less.
This installation will cost slightly more than installation for lesser models due to the Infinity communicating technology. The HVAC professional will take longer to finely tune the furnace and coordinate it with other system components to optimize performance and efficiency.
Depending on how many extra features and how complicated it is required to install the Carrier Infinity 80, expect installation costs in the range of $3,000 to $4,500.
Warranty
To the original owner, our Infinity 80 gas furnaces are covered by 10-year parts and a lifetime heat exchanger limited warranty upon timely registration. The parts limited warranty period is five years if not registered within 90 days of installation except in Jurisdictions where warranty benefits cannot be conditioned upon registration.
In order to get maximum Carrier warranty coverage, the unit must be properly registered within 90 days of original installation. You need the model and serial number to complete the warranty registration.
Conclusion
Depending on what size furnace you need and the relative complexity of the installation in your home, your total cost should be between $4,500 and $6,000 for a new Carrier Infinity 80 gas furnace. That does not include ductwork replacement if needed, an indoor coil for central air conditioning, or running gas line or vent pipe.
For your money, you'll get one of the highest-rated 80% gas furnaces on the market and one that will deliver outstanding indoor comfort throughout the year.