This is the series of carrier air conditioner model numbers (where to find, type and how to decode). We've also have a carrier product literature, brochures, manuals, and more documents available.
Each carrier air conditioner is identified by a series of a numbers and/or letters that are designed to easily identifies the characteristic of the units. The one that is interested in are the carrier model number nomenclature. From these multiple-character numbers we can determine the size or tonnage of the system.
Carrier Model Number Location
Finding the model number off of your Carrier air conditioner can be very simple if you have a new unit. Start by looking the model number in your owner's manual book or any other paperwork that came with your unit.
Be careful, as this sometimes can result in incorrect parts. Most often the user's manual/guide is produced to include several different Carrier AC models.
If you don't happen to have them handy, you'll also find the Carrier model number printed right on the unit. The model number is generally found slightly on the back of your unit.
The step in finding your Carrier HVAC model number is to locate the rating plate. The rating plate is typically located on the outside of your system, near the compressor. It is a metal or plastic plate with a sticker that contains the model number, serial number, and other information about your system.
Once you have located the rating plate, you should be able to find your model number by looking for a series of letters and numbers. The model number is typically located at the top of the rating plate, but it may also be located on the side or bottom of the plate.
It'll look something like the image below: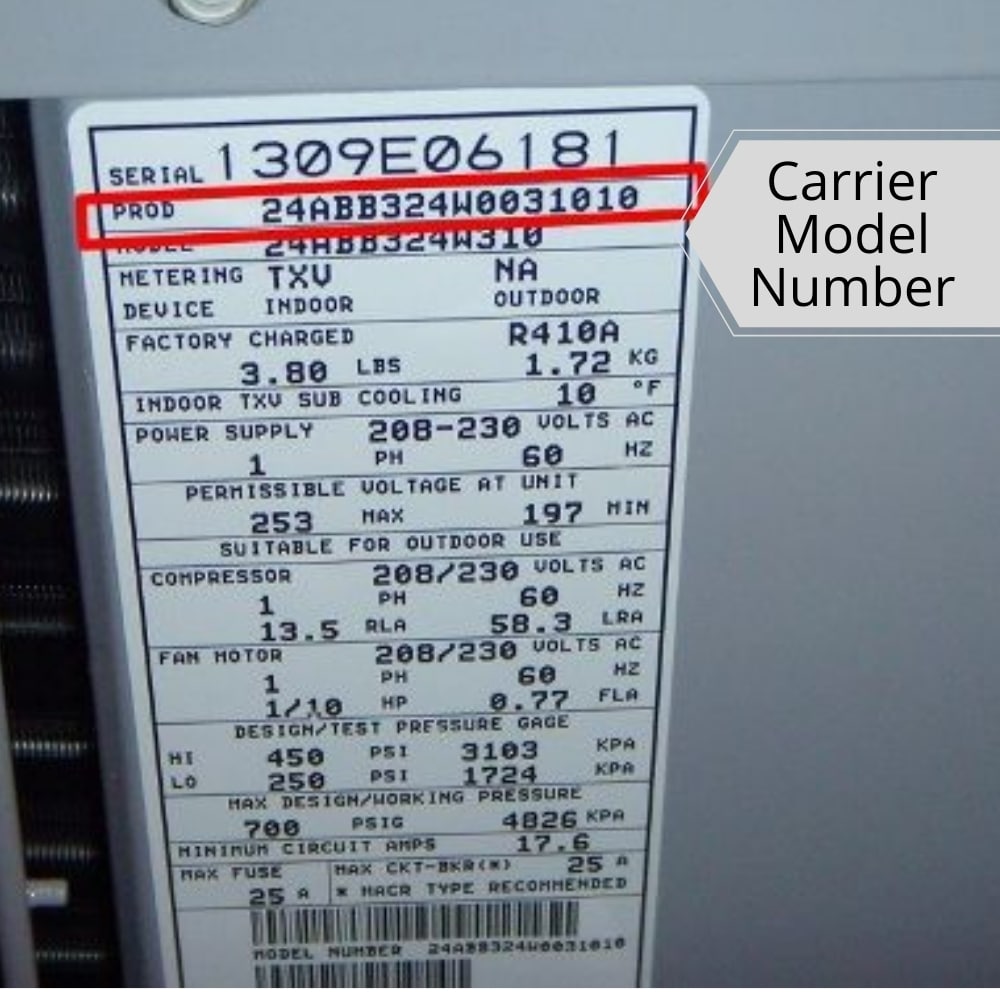 If your heat pump is geothermal, the model number information should be easily found on the front of the unit.
For Carrier furnace, the model number is listed on a rating plate inside the furnace. Remove the furnace front door then look at the upper-left side of the unit.
Just like any other air conditioner manufacturer, Carrier made their model and serial number easy to find. If you have difficulty finding your model number, you can contact Carrier customer support for help. They will be able to look up your model number based on your system's serial number.
How to Decode Carrier Model Number
When it comes to Carrier model number breakdown, you must be very careful. Carrier has many common style of model and/or serial number. Take a look at our example below:
24ACA336xxx
24ABB330A00300
38TH030310
38HKS014-121
The main purpose of the Carrier model number lookup is to know the size or tonnage of the air conditioner systems. Tonnage is a measure of BTU's in 12,000 BTU increments. A ton of air conditioning equals 12,000 BTU. Residential air conditioners usually range from 1.5 to 5 tons (or, 18,000 – 60,000 BTUh).
Here's a rundown of the range you will encounter:
18 = 1.5 tons
24 = 2 tons
30 - 2.5 tons
36 = 3 tons
42 = 3.5 tons
48 = 4 tons
60 = 5 tons
These are all reflected in the model numbers.
Model Number #38HKS014-121
38 = Air Cooled Condensing Unit
HKS = Model
014 = Nominal Size (in this case 14000 Btuh)
1 = Voltage Code
21 = Manufacturing codes
Model Number #38EZA048310 is a Carrier 48,000 BTU or 4 ton system
Those are some examples of Carrier HVAC model number nomenclature and how to read or decode it.
How to Use Your Carrier HVAC Model Number
Once you know how to read your Carrier HVAC model number, you can use it to get more information about your system and to troubleshoot problems.
Use your model number to find information about your system on Carrier's website. Carrier publishes a wealth of information about its products online, including specifications, warranty information, and troubleshooting tips. You can usually find this information by searching for your model number on Carrier's website.
Contact Carrier customer support for help. If you have a problem with your Carrier HVAC system, you can contact Carrier customer support for help. They will be able to look up your model number and provide you with troubleshooting tips or help you schedule a service call.
Final Words
Carrier is one the most recognized brand in air conditioning and one of the largest manufacturers of residential and commercial HVAC system equipment. With a proven history of success and innovation in the HVAC industry, Carrier is a premium brand that offers many high-efficiency air conditioners. They also offer in many range of size and tonnage.
You can also find all information associated to Carrier model and serial number through their official website. Simply enter the 4 to 6 digits of your air conditioner model number, and they will give you a list of links to all the documents associated with it.
If you need to troubleshoot some problems regarding your Carrier Air Conditioner system, it always helps to know the model number. When your system has more complex issue, don't hesitate to contact the HVAC professionals. They will help you get the information you need and make sure you get the perfect part for your system.
Carrier model number lookup above also applies to Bryant and Payne as well. Still unable to find or to decode Carrier air conditioner model numbers? Just drop your comment below and we will be happy to help you.