The Carrier Weathermaker 9200 Ultra High-Efficiency gas furnace is truly a triumph of technology in home heating. A revolutionary design employs 2 heat exchangers to squeeze out the maximum amount of heat from the fuel consumed. Unfortunately, the Carrier Weathermaker 9200 does not manufacture again; the last listing of the product is from 2001.
The Weathermaker 9200 is so efficient, with a 90+ AFUE rating. Over 90% of the heat-induced during combustion is captured and supplied inside your home. That is more than a 33% increase in heating efficiency over traditional furnaces.
These are among the most energy-efficient gas furnaces you can get today. Carrier Weathermaker 9200 also are among the safest and most dependable gas furnaces. It uses an automatic ignition system instead of a pilot flame that stays on continuously.
With only minimal care, Weathermaker 9200 will deliver many years of money-saving home comfort and enjoyment. Spend just a few minutes with this post on the specific features of the Carrier Weathermaker 9200 gas furnace.
Carrier Weathermaker 9200 Features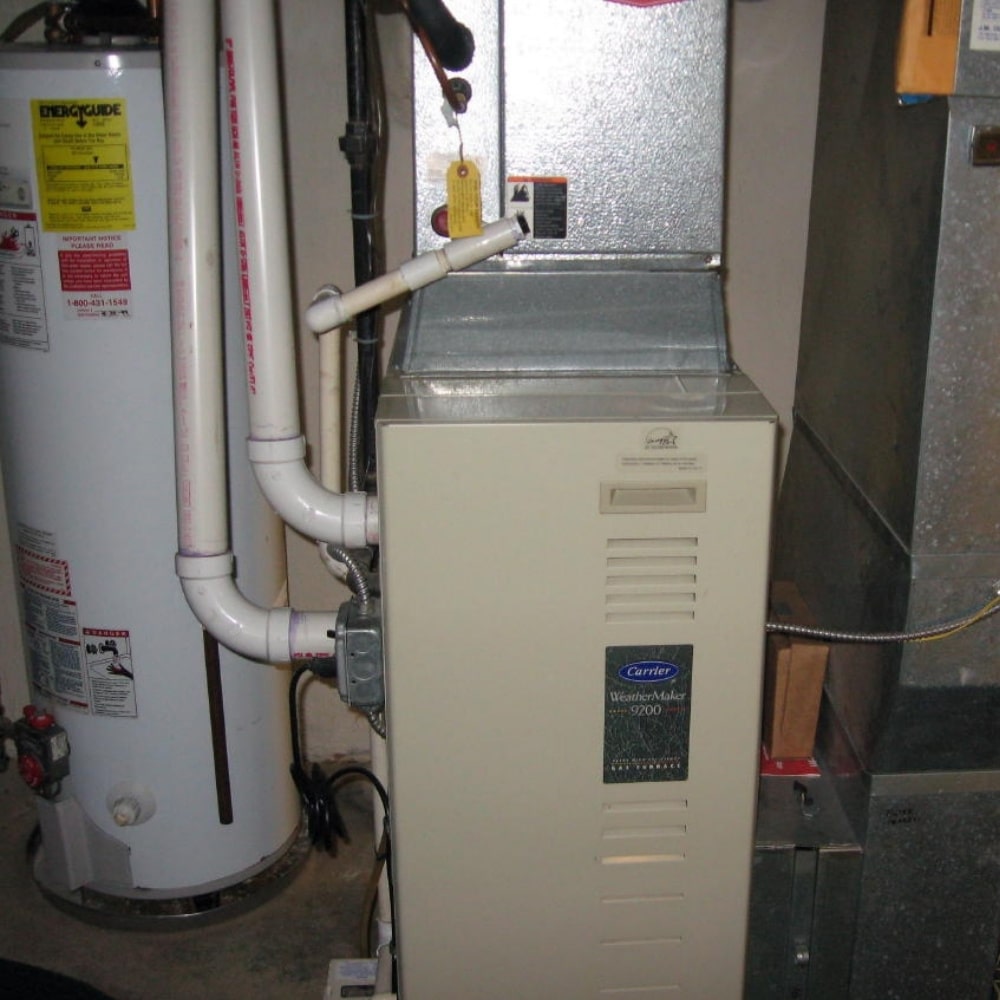 The Carrier Weathermaker 9200 uses the patented S-shaped 4-pass heat exchanger, a soft mount 2-speed inducer assembly, and a 2-stage slow-opening gas valve to minimize sound level. The Super S heat exchanger provides better heat transfer while enabling the making of a compact furnace. This provides more room in a closet, utility room, and short basement installations.
The heat exchanger in Weathermaker 9200 is constructed of aluminized steel and is backed by a 20-year Limited Warranty. This Carrier gas furnace models provides the widest range of heating capacities available.
Carrier Weathermaker 9200 Parts
Combustion-air intake connection to ensure contaminant-free air (right or left side).
A burner sight glass for viewing burner flame.
Burner assembly (inside). Operates with energy-saving in-shot burners and hot surface ignitor for safe, dependable heating.
Redundant gas valve. Safe, efficient. Features 1 gas control with 2 internal shut-off valves.
Vent outlet. Uses PVC pipe to carry vent gases from the furnace's combustion system (right or left side).
Inducer motor. Pulls hot flue gases through the heat exchangers, maintaining negative pressure for added safety.
Blower access panel safety interlock switch.
Air filter and retainer.
Condensate drain connection. Collects moisture condensed from burned gases for disposal into the home drain system.
Heavy-duty blower. Circulates air across the heat exchangers to transfer heat into the home.
A secondary condensing heat exchanger (inside).
Wrings out more heat through condensation.
Constructed with Polypropylene-laminated steel to ensure durability.
A primary serpentine heat exchanger (inside).
Stretches fuel dollars with the S-shaped heat-flow design. Solid construction of corrosion-resistant aluminized steel means reliability.
Control center.
3-amp fuse provides electrical and component protection.
Light-emitting diode (LED) on the control center. Code lights are for diagnosing furnace operation and service requirements.
Pressure switch(s) ensure adequate flow of flue products through the furnace and out vent system.
Rollout switch (manual reset button) to prevent overtemperature.
Junction box for 115-v electrical power supply.
Transformer (24v) behind control center provides low-voltage power to furnace control center and thermostat.
Limit switch (manual reset)
Furnace Filters For The Carrier Weathermaker 9200
Never operate your unit without a furnace filter in place. Doing so may damage the furnace blower motor. An accumulation of dust and lint on Carrier Weathermaker 9200 internal parts can cause a loss of efficiency.
Below is the air filter used in Weathermaker 9200:
| | |
| --- | --- |
| Furnace Chasing Width | Filter Size |
| 17-1/2″ | 16x25x1 |
| 21″ | 20x25x1 |
| 24-1/2″ | 16x25x1 |
Troubleshooting and Maintenance
With proper maintenance, your Carrier furnace will operate economically and dependably. If your Carrier gas furnace is not operating or not performing properly, you may save the expense of a service call by checking a few things yourself before calling for service.
Below are some instructions for basic gas furnace maintenance, which can easily be followed.
How To Start Up A Carrier 9200 Weathermaker Furnace?
Instead of a continuously burning pilot flame that wastes valuable energy, your furnace uses an automatic, hot surface ignition system to light the burners each time the thermo- stat turns on your furnace.
Steps for starting your Weathermaker 9200 gas furnace:
Set your room thermostat to the lowest temperature setting.
Close the external manual gas valve.
Turn off the electrical supply to the furnace.
Remove the furnace access door.
Turn the control knob on the gas valve to the OFF position and wait 5 minutes. Then smell for gas, including near the floor. If you smell gas, STOP! Follow operating instructions on the furnace access door.
After waiting 5 minutes, turn the control knob on the gas valve to the ON position.
Replace furnace access door.
Turn on the electrical supply to the furnace and wait 1 minute.
Open the external manual gas valve.
Set the room thermostat to a temperature slightly above room temperature. This will automatically signal the furnace to start.
When the furnace receives the start signal, the hot sur- face ignitor at the main burners is automatically heated for 15 to 20 sec. When the microprocessor control verifies that there is sufficient heat to ignite, the gas valve permits gas to flow to the main burners. After ignition and a time delay of about 35 sec, your blower will start at low speed until the control makes the necessary adjustments to operate the blower at either the low- or high-fire speed.
Set your thermostat to the temperature that satisfies your comfort requirements.
Clean the Furnace Filter
A dirty filter will cause a loss of airflow in your duct system. When excessive loss of airflow occurs, the furnace may cycle on the safety controls. If this condition is left unattended, the furnace will eventually lockout. It is recommended that the furnace filter be checked every 3 or 4 weeks and cleaned if necessary.
Check the Combustion Area And Vent System
Visually inspect the combustion area and vent system before each heating season. Make sure that all PVC pipes leading into the combustion area and vent are free from any cracks and sags.
Also, check the combustion-air intake and vent pipes on the outside of your home for blockage.
When dirt, soot, scale, or rust is allowed to build up, your furnace can suffer a loss of efficiency and perform improperly. Accumulations on the main burners can result in firing out of the normal sequence. This delayed ignition creates an alarmingly loud sound.
Insufficient Airflow in Carrier Weathermaker 9200
Check for dirty air filter(s).
Check for blocked return-air or supply-air grilles throughout your home. Ensure they are open and unobstructed.
If the problem still exists, call your dealer for service.
Carrier Weathermaker 9200 Furnace Fails To Operate
Follow this checklist to fix the Carrier Weathermaker 9200 problems, advancing to the next step only if the furnace fails to start.
Check the thermostat for proper temperature. Is the thermostat set above room temperature? Is the thermostat switch on HEAT?
Check fuses and circuit breakers. Is the electrical supply on?
Is the manual shut-off valve in the gas supply pipe in an open position?
Carrier Weathermaker 9200 gas furnace has an LED operation and fault code display to aid the installer, service technician, or homeowner while installing or servicing the unit. The LED code can be seen by removing the access door and viewing the LED(s) through the viewport in the blower access panel.
To decipher the meaning of the error code and suggested action, the following cross-reference can be used: Carrier Furnace Codes.
Final Thought
In my honest review, the Carrier WeatherMaker 9200 gas furnace is easily installed. Many features make this furnace the easy choice for replacement.
We also have a Carrier Weathermaker 9200 manual pdf and part diagram to learn the operation and the small part of maintenance that you can download to your local computer.