Rheem Classic 90 Plus High-efficiency Gas Furnace offer efficient and comfortable home heating system. It is line of upflow gas furnace models that are designed for utility rooms, closets or alcoves. Rheem classic 90 plus high efficiency gas furnace are designed for easy installation and certified by CSA.
This Rheem furnace series is favorite along homeowners who experience a very long and cold winter seasons. Rheem classic 90 plus is an efficient gas furnace that can eliminate high utility bills as well as producing the perfect home heating solution for your family. The 90+ percent efficiency (AFUE) rating from this furnace achieves using dual aluminized steel heat exchangers.
Rheem Classic 90 Plus Features
The furnace runs on approximately 70% quite often until the need for increased heat is detected, it will run in 100% capacity. Rheem Classic 90 Plus feature gives furnace efficiency improvement by allowing the system to constantly run at a lower stage.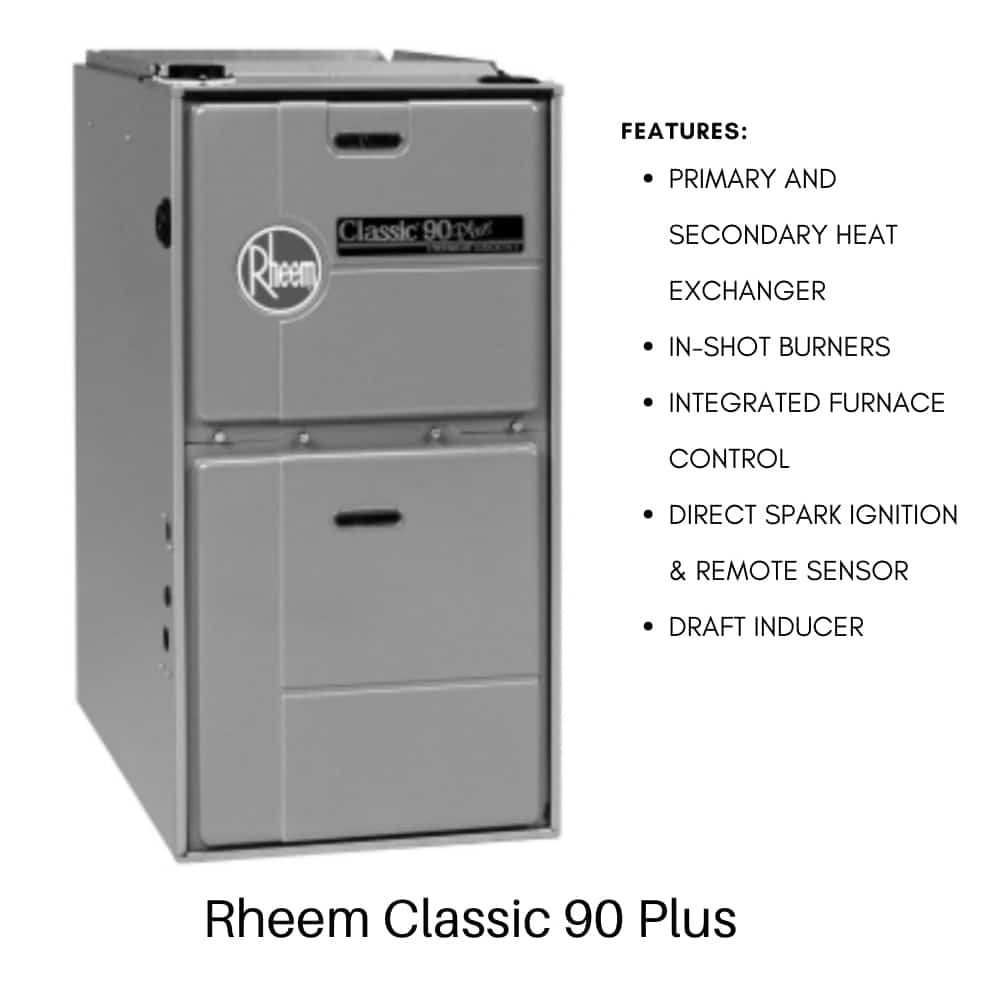 Heat exchanger is constructed of all stainless steel for maximum corrosion resistance and thermal fatigue reliability.
Low profile "34 inch" design is lighter and easier to handle and leaves room for optional accessories.
Left or right side gas, electric, and condensate drainage connections on upflow models.
Integrated control board manages all operational functions and provides hook-ups for humidifier and electronicair cleaner.
An insulated blower compartment, a slow opening gas valve and a specially designed inducer system make it one of the quietest furnaces on the market today.
Pre-paint galvanized steel cabinet.
Molded permanent filters.
Optional indoor or outdoor combustion air. In addition, combustion air may be piped to either the top or side of the cabinet on all upflow models. A special molded fitting is provided to ease installation.
Transformer and control fuse protection.
Solid bottom is standard.
Control board diagnostics.
A variety of cooling coils and plenums designed to use with the Rheem Classic 90 Plus gas furnaces are available as optional accessories for air conditioning models.
Classic 90 Plus Models
The Rheem Classic 90 Plus offer a different models range in efficiency and capacity.
| | | |
| --- | --- | --- |
| Classic 90 Plus Models | AFUE | BTUs per Hour |
| RGRA-04EMAES | 93.5 | 45,000 |
| RGRA-06EMAES | 92.5 | 60,000 |
| RGRA-09EZAJS | 93.5 | 90,000 |
| RGRA-10EZAJS | 92 | 105,000 |
| RGRA-12ERAJS | 93.5 | 120,000 |
| RGRB-07EMAES / RGRB-07EYBGS | 92.8 | 75,000 |
| RGTA-04EMAES | 92 | 45,000 |
| RGTA-06EMAES | 92.4 | 60,000 |
| RGTA-07EMAES / RGTA-07EYBGS | 92 | 75,000 |
| RGTA-09EZAJS | 92.4 | 90,000 |
| RGTA-10EZAJS | 92 | 105,000 |
| RGTA-12ERAJS | 92.1 | 120,000 |
Rheem Classic 90 Plus Price
The price for Rheem Classic 90 Plus furnace is a little bit expensive but provides everything you expected for. The lower energy bills and a very comfortable home heating system.
The 45,000 Btu Rheem Classic 90 Plus gas furnace price is $1,150 and for the 120,000 Btu is $2,100. The price is for unit only.
Classic 90 Plus Warranty
Rheem offers a limited lifetime warranty on most furnace models on this Classic 90 Plus series. A 5 year parts warranty for all other components. To get the full warranty benefits, you must register the Rheem gas furnace after installation.
Rheem Classic 90 Plus Gas Furnace Reviews
Rheem offers gas furnace systems which have been credited for being a high quality HVAC system. There are plenty of benefits Rheem Classic 90 Plus is one of the top furnace available if you want efficient and quite performance. Rheem gas furnaces are built to stand with alot of features and best design. If you are planning to install a new gas furnace system in your home, would be very good to consider this Rheem Classic 90 Plus High Efficiency Gas Furnace. If it's installed by a qualified HVAC contractor and keep it maintained, You will enjoy 20 years of more of confort.