When it comes to choosing the best furnace, Lennox has been a household name for as long as I can remember. But are these furnaces the right fit for your home? That's what we're here to talk about. I'll walk you through what makes Lennox stand out, what to watch out for, and all the details that other reviews might cover. Let's dive into the world of Lennox furnace reviews.
This legacy began in 1895 with Dave Lennox's invention of the first riveted steel furnace, marking the dawn of a new era in HVAC solutions. Headquartered in Texas, Lennox has sustained its reputation by delivering energy-efficient and sophisticated home heating and cooling systems.
For over a century, Lennox has been at the forefront of innovation, mastering the art of crafting some of the most energy-efficient heating solutions on the market. Beyond their acclaimed furnaces, Lennox's catalog boasts a broad array of air conditioners, heat pumps, boilers, garage heaters, air handlers, thermostats, and indoor air quality systems. This extensive repertoire reflects the company's dedication to enhancing home comfort and air quality for a global clientele.
Key Features of Lennox Furnaces
Let's kick things off with what makes Lennox, well, Lennox.
Energy efficiency is the game's name these days, and Lennox gas furnaces pack a punch in this arena. We're talking about furnaces that have AFUE ratings (that's Annual Fuel Utilization Efficiency for you newbies) that can hit the 98,7% mark. This means that 98 cents of every dollar you spend goes to heating your home — talk about getting your money's worth!
But efficiency isn't their only claim to fame. Lennox has been pioneering some pretty nifty tech in their units. You've got to know the features that'll make the cut.
Here's the lowdown on what makes Lennox gas furnaces worth your dime.
Modulating Function
What a modulating furnace does – conducting heat with a precision akin to a symphony. It's the star player behind those jaw-dropping efficiencies of 98%. If you've nestled into your home and the winters are as regular as your morning coffee, investing in a modulating function is a smart play. It's not just about the immediate cozy feel; it's about a long-term commitment to efficiency and comfort.
iComfort Smart Thermostat
The iComfort Smart Thermostat series from Lennox stands at the forefront of climate control technology, offering a trio of devices tailored to various heating systems.
The S30 is engineered for seamless integration with the Signature series. It is equipped with features like advanced diagnostics and adaptive scheduling. The E30 offers smart compatibility with Elite series units and beyond, providing flexibility and remote adjustments. The M30 iComfort Smart Thermostat rounds out the lineup, designed for the Merit series, and comes with geofencing capabilities for intuitive energy savings.
Each thermostat in the iComfort lineup is Wi-Fi enabled, capable of learning and adapting to your lifestyle, thus optimizing your home's heating schedule and enabling control from afar, contributing to reduced energy expenditure.
Power Saver™ technology
Lennox's Power Saver™ technology is embodied in their constant torque motors, a hallmark of energy-efficient performance. These motors are a step beyond conventional ones, offering variable speeds for consistent heating and improved humidity control, all while running more quietly. This translates to a home that's not only more comfortable but also echoes Lennox's dedication to energy conservation and advanced HVAC technology.
Duralok Plus Heat Exchanger
The heart of your gas furnace is its heat exchanger, and Lennox isn't playing games here. They've dropped in the Duralok Plus, made from their proprietary ArmorTuf steel. It's a beast in the energy efficiency arena. It has a reputation for reliability that's as solid as your grandad's old watch.
SureLight Ignitor
This little spark of genius (pun intended) gives your Lennox furnace longevity and reliability. With a Silicon nitride construction, Lennox stands by the SureLight as a long-lasting champion, warding off common furnace ailments. Sure, it's a common pitch—every brand loves to toot their own horn—but Lennox's track record gives this claim more credibility.
So there you have it. Lennox furnaces are like that well-rounded athlete who's good at every game—efficient, reliable, and even a little green. Whether these features make sense for you is a matter of personal circumstance, preference, and, of course, how long you plan on enjoying the home you're in. But with Lennox, it seems the sun could literally be your limit!
Lennox Furnace Models
When you're in the market for a gas furnace, Lennox has a lineup that's like a menu at your favorite diner – something for everyone. Here's the lowdown on what you're choosing from:
Basic – Merit Series
At the starting block, we have the Merit Series. Think of this as your sturdy, reliable sedan. It won't turn heads with flashy features, but it'll get you where you need to go, efficiency-wise. You're looking at single-stage and two-stage furnaces with AFUEs (Annual Fuel Utilization Efficiency) of 93 or 96 percent.
And for my Canadian friends, eh? You're in luck because these high-efficiency units meet the 95% AFUE standard set by your chilly climes.
Every single high-efficiency model in the Merit line wears an ENERGY STAR® badge. There's one that could easily fist-bump some mid-range Elite models thanks to its similar efficiency chops. But – and it's a big but – the Merit series only offers a 20-year heat exchanger warranty, so that's your compromise.
Design-wise, they're snugger than a bug with tightly sealed blower compartments, secondary heat exchangers keeping the warm air in, heavy-duty build quality, and the Lennox special sauce – the Duralok Plus heat exchanger. And if you're into saving the planet and your pennies, you'll love that they're dual-fuel ready.
Some of these Merit models can even flirt with Lennox's iComfort M30 smart thermostat, giving you the power to unleash additional features.
The best model from Lennox Merit Series:
ML296V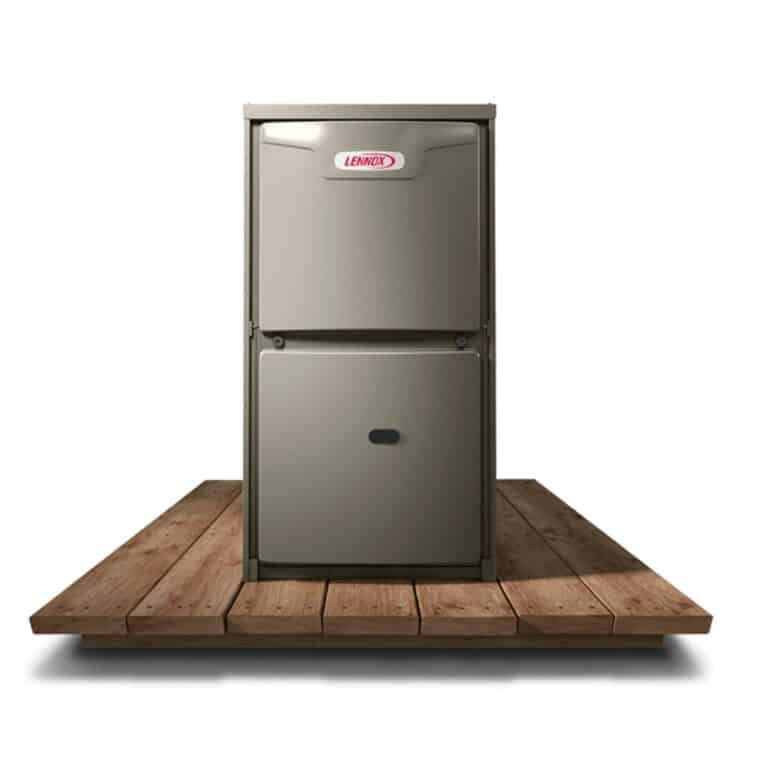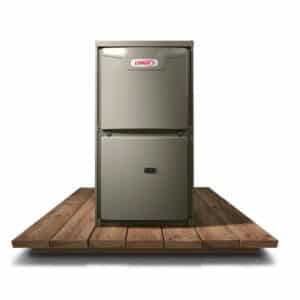 The ML296V from the Merit series offers a 96 percent AFUE rating with a two-stage burner and a variable-speed blower, representing a cost-effective option for those who want high efficiency on a budget.
AFUE: 96 percent
Burner type: Two-stage
Blower type: Variable-speed
ENERGY STAR rated? Yes
ML196E
For homeowners looking for an affordable and efficient furnace, the ML196E, with its 96 percent AFUE rating, single-stage burner, and constant torque blower motor, is a smart pick.
AFUE: 96 percent
Burner type: Single-stage
Blower type: Constant torque
ENERGY STAR rated? Yes
ML193E
The ML193E is the most economical choice in the Lennox lineup, offering a reliable single-stage burner and a constant torque blower motor, with an AFUE of 93 percent for those in less demanding climates.
AFUE: 93 percent
Burner type: Single-stage
Blower type: Constant torque
ENERGY STAR rated? No
Better – Elite Series
Step up to the Elite Series, and you've just upgraded your vehicle to a sports car – with better performance and more charisma. The Elite gang includes single- and two-stage performers, mostly boasting the Lennox Power Saver motor, while one struts around with a variable-speed fan for that just-right airflow.
With AFUEs of 95 to 96 percent, all Elite models are ENERGY STAR MVPs. And for the environmentally conscious, there's even a model that's a step ahead in the green race with ultra-low nitrogen oxide emissions.
Now, these Elite machines ask for more of your hard-earned cash than the Merit models. Why? Well, they return the love with a lifetime warranty on the heat exchanger. They share the Merit's good looks and features like the Duralok Plus heat exchanger, insulation secrets, and quiet operation.
Got a taste for high-tech? The Elite furnaces get cozy with the iComfort E30 smart thermostat, which offers intelligent features.
The best models from Lennox Elite Series:
EL296V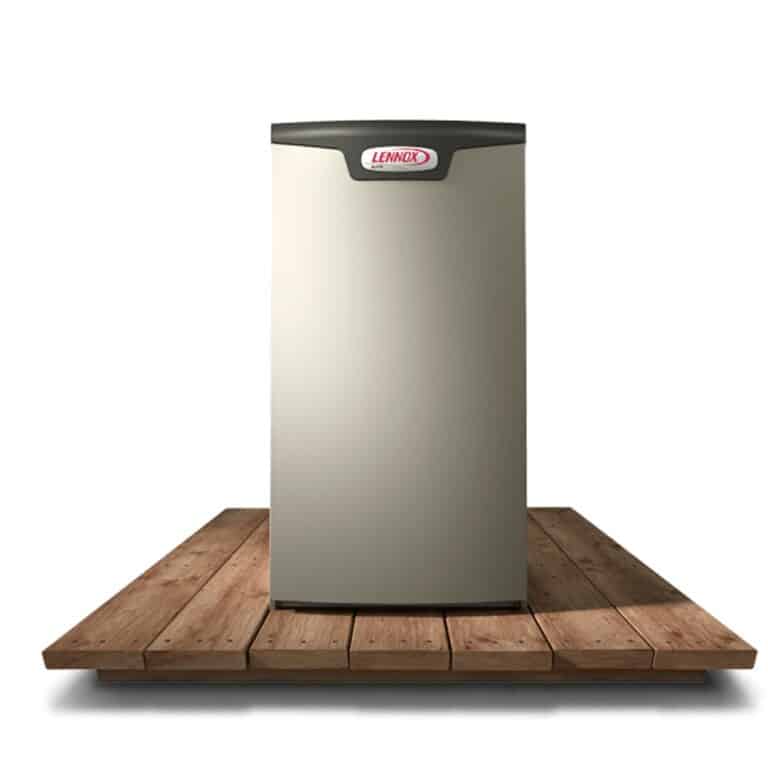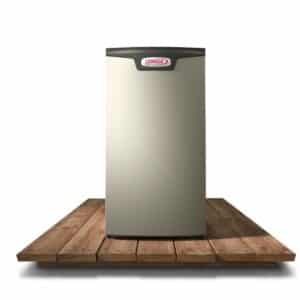 The Lennox Elite EL296V combines a high AFUE rating of 96 percent with a two-stage burner and a variable-speed blower to deliver efficient and consistent heating. This furnace is an excellent choice for homeowners seeking a balance between advanced features and energy savings.
AFUE: 96 percent
Burner type: Two-stage
Blower type: Variable-speed
ENERGY STAR rated? Yes
EL296E
The EL296E from the Elite series prioritizes energy efficiency with a 96 percent AFUE rating. The two-stage heating coupled with a constant torque blower motor provides reliable performance and steady heat distribution.
AFUE: 96 percent
Burner type: Two-stage
Blower type: Constant torque
ENERGY STAR rated? Yes
EL196E
Featuring a single-stage burner and a constant torque blower motor, the EL196E offers an AFUE of 96 percent. This model is designed for those who want the benefits of a high-efficiency system without the complexities of a modulating furnace.
AFUE: 96 percent
Burner type: Single-stage
Blower type: Constant torque
ENERGY STAR rated? Yes
EL195NE
With an emphasis on low emissions, the EL195NE has an AFUE of 95 percent and operates with a single-stage burner. It's a solid choice for environmentally conscious consumers looking for a reliable and efficient heating solution.
AFUE: 95 percent
Burner type: Single-stage
Blower type: Constant torque
ENERGY STAR rated? Yes
Best – Dave Lennox Signature Collection
And then, there's the crème de la crème, the Dave Lennox Signature Collection. This is the luxury yacht of furnaces.
Housing both a two-stage and a modulating juggernaut, these furnaces know how to work a room – or your entire house – with variable-speed finesse and AFUE ratings that hit a whopping 97.5 to 99 percent. They're practically ninjas, with operations so silent you'll wonder if they're even there.
The star player, with a jaw-dropping 99 percent efficiency, is not only a wizard of warmth but also as quiet as a whisper. These are the high rollers, the showstoppers, packed with all the Lennox signature features.
These Signature models demand a premium, but they don't pull ahead in the warranty race compared to the Elite series. And tech-wise? They're best buds with the iComfort S30, Lennox's ultimate smart thermostat companion.
The best model from the Dave Lennox Signature Collection series:
SLP99V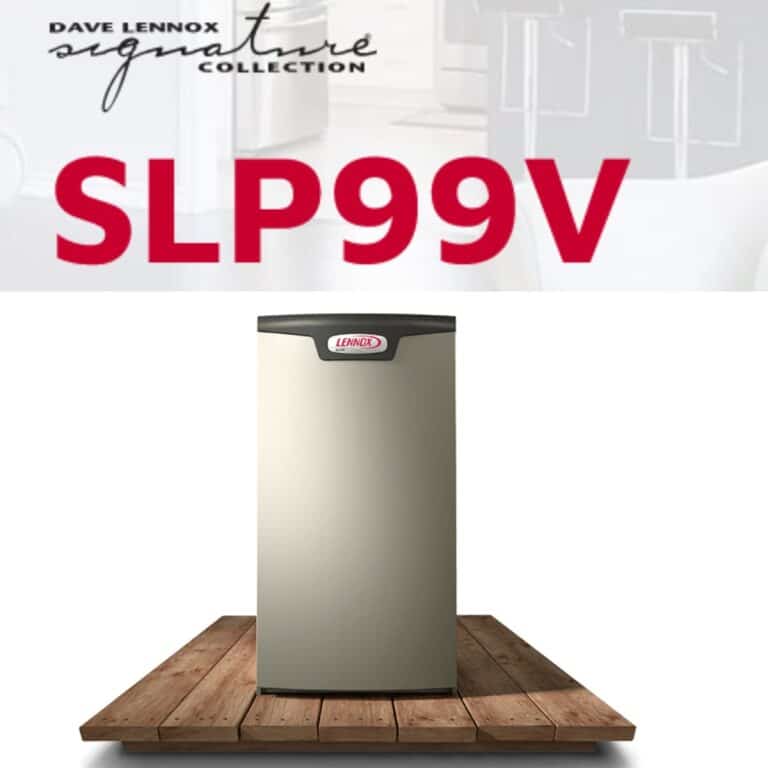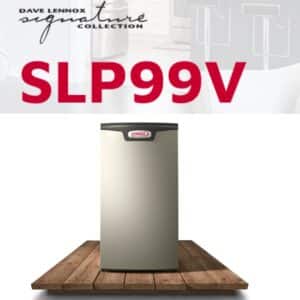 The Dave Lennox Signature Collection SLP99V is renowned for its exceptional energy efficiency, boasting the highest AFUE rating on the market at 99 percent. This ENERGY STAR Most Efficient 2021 certified furnace is also acclaimed for its quiet operation. The modulating function and variable-capacity gas furnace ensure consistent heating and air distribution. Its compatibility with the iComfort S30 smart thermostat enables advanced control features.
AFUE: 99 percent
Furnace type: Modulating
Blower type: Variable-speed
ENERGY STAR® rated? Yes
SL297NV
The SL297NV, another high-efficiency model from the Dave Lennox Signature Collection, offers a near-perfect AFUE rating of 97.5 percent. It has a two-stage burner and a variable-speed blower, contributing to efficient fuel use and precise temperature control. The unit is designed to reduce greenhouse gas emissions, making it an environmentally friendly option for heating.
AFUE: 97.5 percent
Burner type: Two-stage
Blower type: Variable-speed
ENERGY STAR rated? Yes
How Much Does Lennox Cost?
Lennox gas furnace costs between $3,250 and $9,500 for total installation. These figures aren't static and can be swayed by many factors that tip the scales of your investment.
What could influence the cost? Picture the landscape of offers and rebates: manufacturers may put out enticing promotions, or perhaps a rebate lurks around the corner from your local government or utility company. Each of these potential savings could bring down your out-of-pocket expenses.
Let's not overlook the geographical price variations for labor and installation, the specific Lennox model you have your eye on, the square footage of your abode, and the tier of the furnace that captures your interest. Each aspect intricately weaves into the final price tag.
Lennox Furnace Prices by Model
For a more granular view, let's break down Lennox's furnace prices by their series:
Entry-level Merit series models might have you spending anywhere from $3,250 to $4,900. This tier is for those who seek efficiency without the frills.
Mid-range Elite series models hover from $4,750 to $6,500, blending elevated performance with moderate pricing.
The Dave Lennox Signature Collection commands a price ranging from $6,250 to $9,500, reflecting the premium features and exceptional quality.
Remember, the higher the series, the more features and extended warranties you can expect. It's about balancing your immediate budget with the long-term benefits of efficiency, comfort, and peace of mind. Investing in a Lennox furnace is not merely a purchase—it's a warm embrace for your home's future.
Consumer Reviews and Testimonials
Real talk — what are folks saying about their Lennox furnaces?
It's a mixed bag, honestly. Dive into the reviews, and you'll find raving fans who'd shout their love for Lennox from the rooftops. They'll gab about how their furnace is quieter than a mouse and more reliable than an old hound. But no product is perfect, right? Some have gripes about reliability and the cost of repairs.
Lennox Furnace Pros
Lennox stands out for a century-old legacy of quality, particularly in their Dave Lennox Signature Series, known for market-leading efficiency of up to 99 percent AFUE.
The furnaces are built to last, with high-quality materials and proprietary components ensuring durable and consistent performance. High-efficiency models boast ENERGY STAR certification and features like secondary heat exchangers and dual-fuel capabilities.
Lennox gas furnaces range from single-stage to modulating, with quiet operation and energy efficiency central to their design.
Lennox Furnace Cons
Lennox's premium pricing may deter those on a tight budget, with high-end models priced at around $7,000.
Warranties are less competitive, capping at 20 years for heat exchangers and 10 years for parts, lacking the comprehensive coverage offered by some competitors.
Regarding innovation, Lennox trails behind brands like Trane and Goodman, which feature more advanced technologies and communication systems in their furnaces.
Pros
Cons
Signature Series models achieve up to 99% AFUE.
Expensive, with some models costing around $7,000.
Use of excellent materials.
Proprietary components for durability and performance.
Warranties not as competitive, with a maximum of 20-year heat exchanger and 10-year parts.
Secondary heat exchangers.
Dual-fuel capabilities.
ENERGY STAR certification.
Lacks innovative features compared to brands like Carrier and Goodman.
Offers single-stage, two-stage, and modulating furnaces.
Quiet, efficient, reliable operation.
Outpaced by rivals in proprietary technologies and communication systems.
Lennox Warranty and Support
Lennox's warranty coverage varies across their product lines.
For the high-end Dave Lennox Signature Collection, there's a lifetime warranty on the heat exchanger and a 10-year warranty on parts. The Elite series offers a 20-year or limited lifetime heat exchanger warranty and a decade-long warranty on the compressor, with other components covered for five years. The more budget-friendly Merit line provides a 20-year heat exchanger warranty, with a 5-year warranty on the compressor and other components.
Customers have the option to extend these warranties further with Lennox's Extended Limited Warranty, which, however, requires product registration. For Elite and Merit series furnaces, this registration must occur within 60 days post-installation to secure the full warranty benefits; otherwise, the parts warranty drops to five years.
| Product Line | Heat Exchanger Warranty | Parts Warranty | Extended Warranty Option | Registration Requirement |
| --- | --- | --- | --- | --- |
| Dave Lennox Signature | Lifetime | 10 years | Available for additional coverage; registration required for validity. | Must register for full terms. |
| Lennox Elite Series | 20 years or a limited lifetime | 5 years (10 years for compressor) | Available for additional coverage; registration required for validity. | Must register within 60 days for full terms. |
| Merit Series | 20 years | 5 years (5 years for compressor) | Available for additional coverage; registration required for validity. | Reduced to 5 years if not registered. |
Conclusion
So, after sifting through all the details, where do we land with Lennox furnaces? Look, I won't beat around the bush — these are premium furnaces with a price tag to match. But you're getting efficiency that could heat your home without burning through cash, tech features that belong in the 21st century, and support to keep you cozy for years to come.
Would I recommend them? If you've got the budget and you're looking for a long-term relationship with your furnace, absolutely. Remember to do your homework and maintain your unit. You and your Lennox could be happy together for a long time. And don't forget to snuggle up on those cold nights, knowing your trusty furnace keeps the chill at bay.