The Amana model number styles is vary depending on the size and efficiency level. I will give an example of how to decode some styles of the model numbers. I have been simplified to focus on the location of each individual units SEER, tonnage, Efficiency and air flow characteristics.
Manufacturers often code their unit specifications into their model numbers, Amana is an example. In this article, I will explain in detail explanation of the alphanumeric identification code (Model Number Nomenclature) from Amana.
Amana Model Number Location
Finding the model number on your Amana AC units can be vital when repairs or parts are needed, because many parts are model-specific. Model numbers usually appear on a data plate or sticker. Several numbers appear on the tag, including the model number, serial number, tonnage and air flow characteristics.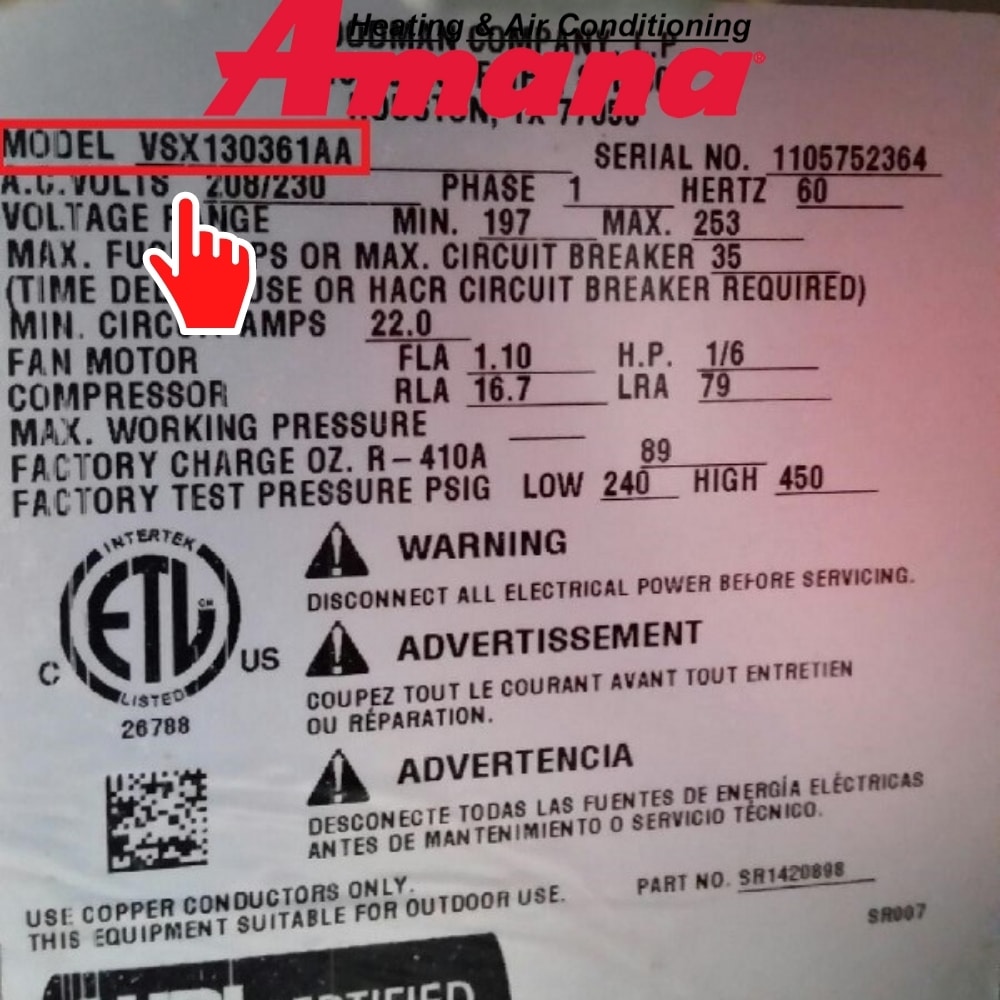 The data plate is located on a side panel behind the front panel of the Amana AC unit. Accessing the data plate will require removal of the front door utilizing tools. The data plate sticker is small, so you may need a flashlight to read the model number.
If you do not feel comfortable performing these tasks, we recommends contacting a local service professional for assistance.
How to Read Amana Model Number
You can determine the nominal tonnage of your Amana HVAC system by examining the model number on the data plate. Amana is manufactured by Goodman and the newer Amana model number format follows the Goodman model number style. The 6th or 7th and 8th digits are usualy indicates the tonnage system.
#ANZ140361AA (Up To 15 SEER Energy-Efficient Amana Heat Pump , 2 – 5 Tons)
#APC1536H41** (Up to 15 SEER High-Efficiency Packaged Amana Air Conditioner , 2 – 5 Tons)
#AMSS960603BN** (High-Efficiency, Single-Stage, Multi-Speed Amana Gas Furnace, 2 – 4 Tons)
#ACNF240516AA (Ceiling-Mount Amana Air Handler , 1½ – 2½ Tons)
To calculate tonnage from Amana model number, divide the BTUs by 12,000, which is the weight of one refrigeration ton. For example, an unit with 48,000 BTUs has a tonnage of 4.
18 = 1.5 tons
24 = 2 tons
30 = 2.5 tons
36 = 3 tons
42 = 3.5 tons
48 = 4 tons
60 = 5 tons
Amana Model Number information is used when signing up for service and for finding the right replacement parts. We hope the above information can help you.