HVAC manufacturers often code their unit specifications into multiple-character model numbers. Goodman air conditioner model number is an example. In this article, I will explain in detail explanation of the alphanumeric identification code (Model Number Nomenclature) from Goodman.
The Goodman Air Conditioner model number styles is vary between models. I will give an example of how to decode some styles of the model number and where it is located.
Location Goodman Air Conditioner Model Number
The Goodman model number can be found on a tag located on the rating plate of your air conditioner or heat pump. Look at a slightly above the refrigerant valves on the back side of the A/C unit as show on the picture below.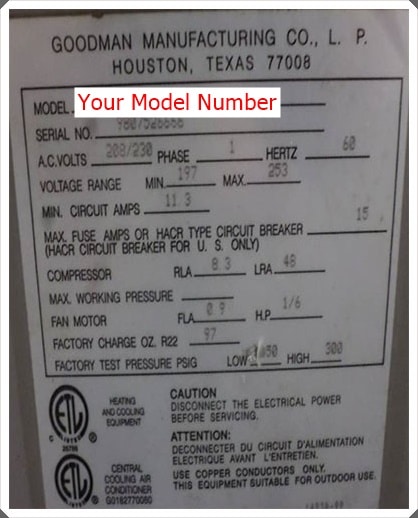 How to Decode Goodman Model Number
Goodman Air Conditioner model number is 12 digit code. The model number includes the nominal cooling capacity in three digits beginning with zero. This three-digit number is the unit's capacity measured in British Thermal Units.
For example, "048" indicates 48,000 BTUs. To calculate tonnage, divide the BTUs by 12,000, which is the weight of one refrigeration ton. For example, an unit with 48,000 BTUs has a tonnage of 4.
Example of Goodman Model Number
DSXC180481AA
D = is for Brand (Goodman)
S = is for Product Category (Split System)
X = is for Unit Type (Condenser R410A)
C = is for Feature (ComfortNet)
18 = is for Efficiency Rating (18 SEER)
048 = is for Nominal Capacity (4 Tons)
1 = is for Electrical
A = is for Major Changes
A = is for Minor Changes
The Goodman Air Conditioner Model Number information is used when signing up for service and for finding the right replacement parts.