RHEEM HVAC model number lookup is used to determine the correct replacement part when needed. A model number consists of several important pieces of information associated with the unit. Read on to know more on how to decode the RHEEM model number, identify the size of the unit, and so on.
RHEEM Model Number Location
You can find the model (and serial) number on a data plate. On the RHEEM furnace, the data plate is located inside the furnace. On the RHEEM air conditioner or heat pump, the model number is printed above the refrigerant valves on the unit's backside.
What size is my RHEEM air conditioner and heat pump?
The size or tonnage is coded into the model number. To identify the tonnage of your RHEEM air conditioner or heat pump, you can read the model number.
Look for those elusive two digits in the model number. The size is usually divided by 24, 36, 42, or 60. This number represents the nominal BTU of the system in thousands.
The number to remember is 12,000 BTU's or, more simply, 12. If 12,000 BTU's is equal to 1 (one) ton of AC, then 18,000 is equal to 1.5 tons, and 24,000 is equal to 2 tons, and so on.
How to read RHEEM furnace model number?
All manufacturers have a similar style for their furnace model numbers. The table below will show the RHEEM furnace model number nomenclature and explain each digit's letters/numbers.
R
Brand
Identifier
R = Rheem
U = Ruud
G
Fuel Type
G = Natural
Gas
T
Condensing
Furnace
Type
T = Downflow/Horizontal
R = Upflow
M = Upflow Modulating
J
Design Series
J = Classic 90
A = Classic 90 Plus
D = Classic 90 Plus Modulating
07
Heating
Input
(kbtu/h)
04 = 45
06 = 60
07 = 75
09 = 90
10 = 105
12 = 120
E
Ignition
Type
E = Electric Ignition
N = Electric Ignition – (Low NOx)
M
Blower
Size
M = 11×7
R = 11×10
Z = 12×11
Y = 12×7
A
Variations
A = Standard
B= Wide Cabinet
C = Single/Multi Zone
E
Cooling
Designation
(CFM)
E = 1100-1300
G = 1500-1700
J = 1900-2100
K = 600-1200
M = 1200-2000
S
Natural Gas
Fuel Code
S = US
B = Canada
RHEEM Model Number Examples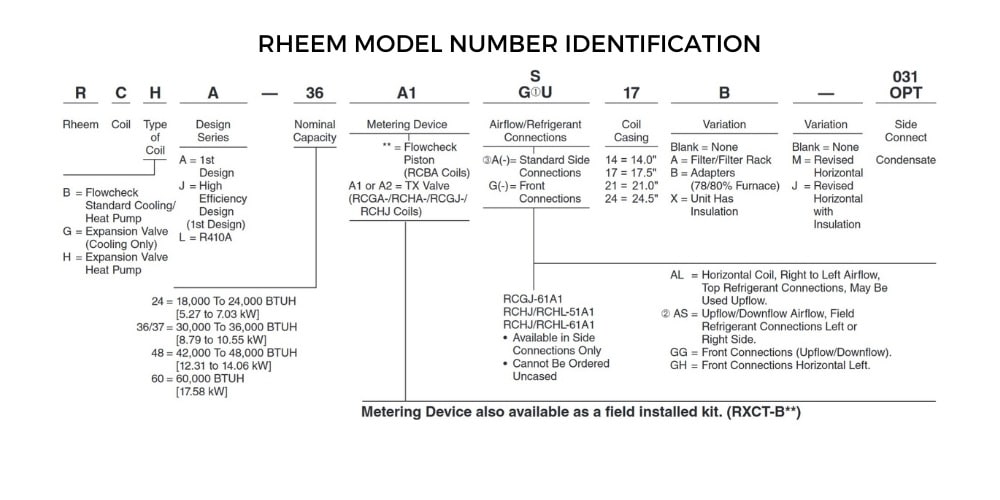 Example Rheem Heat Pump Model Number: RP1848FC1NA
Brands: R = RHEEM
Product Category: P = Heat Pump
Nominal SEER: 18 = 18 SEER rating
Cooling Capacity: 48 = 48,000 BTUh 4 Tons
Revision: F = Revision Or Series
Voltage: C = 208/230-3-60
Type: 1 = Single-stage
Controls: N = Non-Communicating
Revision: A = Revision Or Series
Example Rheem Older Model Number:  RCBA-3765G
R = RHEEM
C = Coil
B = Type of Coil (Flowcheck Standard Cooling/Heat Pump)
A = Design Series
37 = Nominal Capacity (36/37 = 30,000 To 36,000 BTUH)
Conclusion
Knowing the model number of your RHEEM HVAC is important when it comes to servicing and repairing your unit. You will need these numbers in order to find the correct replacement parts.
You can use the above RHEEM model number lookup for RUUD also as the two brands are the same. If you have any issues with finding the RHEEM/RUUD model number or determining the tonnage of your unit, don't hesitate to contact us.