You should have to clean and/or change your Trane XR80 furnace filter regularly to ensure your furnace is working properly and efficiently, as well as to help purify the air in your home. Furnace filters are cheap and easy to replace item with an important functionality. Their original purpose is protecting the blower motor and compressor from dirt.
Many costly frunace repairs could be eliminated with the regular filter changing. If you don't change the filter, lack of airflow through the furnace will cause it to overheat and even shut down.
When it comes to change the Trane XR80 furnace filter, there are many things to think about. But one thing you'll always need to know when you're changing furnace filter is the size of the filter.
Trane XR80 Furnace Filter Size
Finding the right furnace filter for your gas furnace is a bit complicated, but we'll walk you through it. The easiest way to find out what size filter to get for your Trane XR80 gas furnace is to simply remove your current filter and look at its dimensions. These are typically printed on their frame in length x width x height format along one of the sides of your filter.
Which filter you need depends on the model of your furnace, and the size of the furnace cabinet. First, you need to take a look at your Trane XR80 furnace and figure out if it is an upflow or a downflow furnace.
If you have an upflow or a horizontal furnace where the Model Number starts with TUD1, then use the upflow/horizontal options in the following chart. If you have a downflow/horizontal furnace where the model number starts with TDD1, then use the downflow/horizontal options.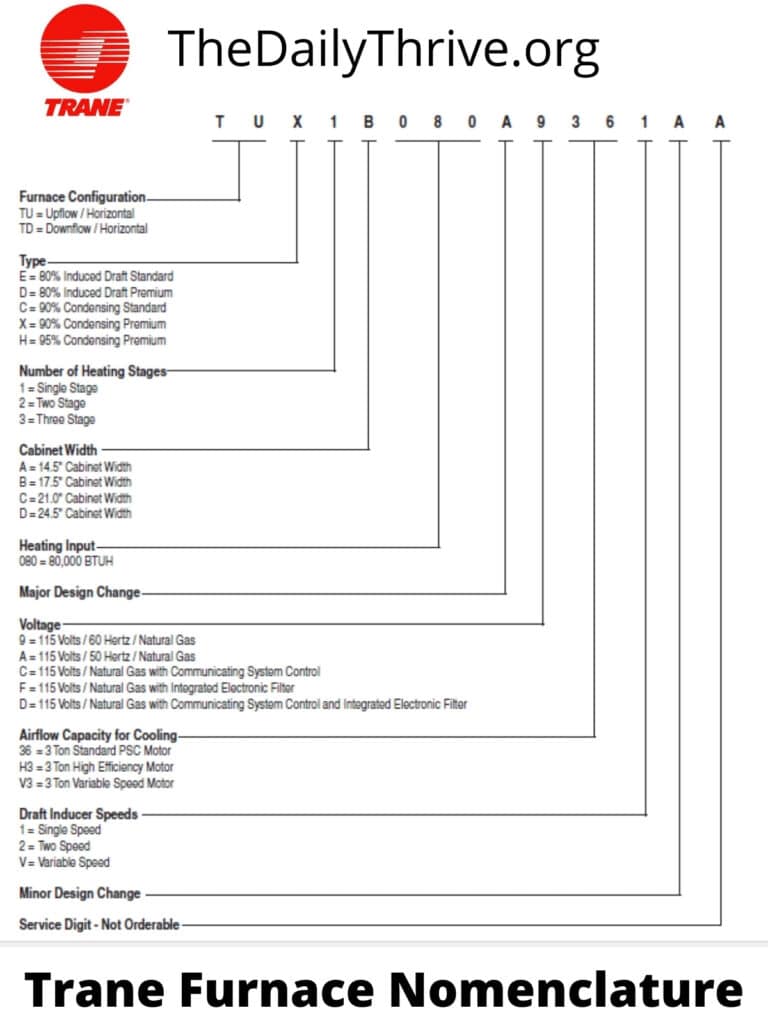 This chart matches the correct filter by air flow configuration and cabinet width.
| | | |
| --- | --- | --- |
| Air Flow Configuration | Cabinet Width | Filter Size(s) |
| Upflow | 14-1/2″ | 14x25x1 (bottom) |
| Upflow | 17-1/2″ | 17x25x1 |
| Upflow | 21″ | 20x25x1 (bottom) |
| Upflow | 24-1/2″ | 24x25x1 (bottom) |
| Upflow | All | 17.5x25x1 (side) |
Trane XR80 Furnace Filter Location
The filter location for the Trane XR80 can be found in different places, yet again depending on air flow configuration.
If your unit is an upflow model then the air filter is found in the bottom and side within the furnace blower compartment. If the unit is a downflow model, then the filter is found outside of the furnace cabinet, typically in the ductwork.
How to Change the Trane XR80 Furnace Filter
After finding the right Trane XR80 furnace filter, then its time change existing one. Replacing a furnace filter is a pretty simple task, once you know what you're doing. This job can be completed in just a few minutes!
Turn Off the Furnace
Locate the filter compartment.
Remove the filter compartment door
Slide out the old filter.
Insert Your New Furnace Filter.
Make sure your filter is going the correct direction and fits tightly inside the filter compartment. If your Trane XR80 Furnace filter is going to the wrong direction, airflow will be restricted and it will harm your entire HVAC System. Keep a record of the date so that you'll know when it's time to clean and/or change the furnace filter again.
For manufacturer's directions for how to properly change the filter on the Trane XR80 single-stage Gas Furnace, always see the manual of your unit. You should clean and/or change your furnace filter according to the schedule recommended by the filter's manufacturer. In most cases, it's best to contact a professional HVAC technician for a proper furnace filter replacement and any other necessary repairs or maintenance.