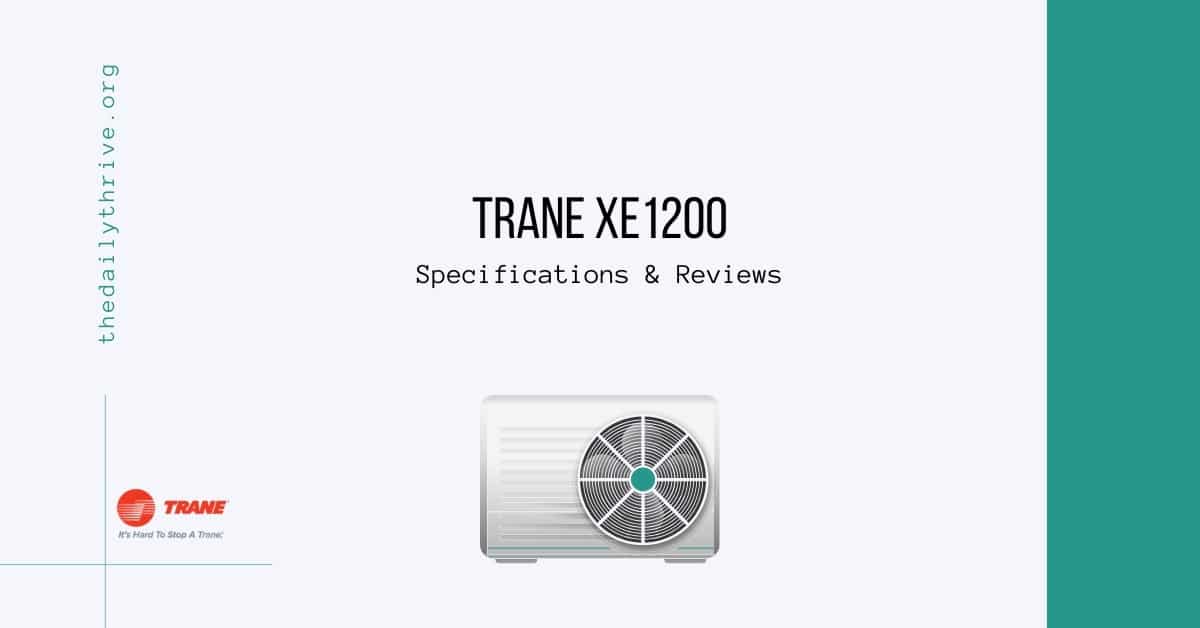 The Trane XE1200 have been around for a while now. The specs to be at the higher end of efficiency back when the minimum legal installation was 12-SEER. That said, and painting with a very broad brush, I would begin to question the wisdom of investing in a large repair bill on a unit that is more than 10-years of age. Consider that many manufacturers are currently allowing 10-years of internal parts warranties on their equipment and therefore, anything that fails in less than 10-years is a premature failure. This article is about Trane XE1200 Specs and Reviews.
The Trane XE 1200 is a discontinued trane air conditioner. It has three-phase heat pump with an efficiency of 12.00 SEER and 8.00 HSPF. This unit has ranged in size from 1.5 to 5 tons and featured a single-stage Climatuff compressor and spine fin aluminum coils. The cabinet was constructed of full-side louvered panels with a baked-on powder paint finish and corrosion-resistant screws.
Trane XE1200 is now 1-SEER below the minimum efficiency rating allowed for new installations. So again, I'd plan on 15+ years but would think twice or three times before investing any significant money in the system once it reaches 10-years. That's IMO and of course, you're free to do as you choose. Just trying to give some reasonable perspective.
Trane XE1200 Specs
Lowers Utility Bills
12.00 SEER Range on TTP Air Conditioner
12.00 SEER Range and 8.00 HSPF on TWP Heat Pump
Lasts a Long Time
Climatuff® Compressor
Full-Side Louvered Panels
Baked-On Powder Paint
Corrosion-Resistant Screws
Torture Tested
Spine FinTM Coils
Trane XE1200 Air Conditioner Diagram
Model
Nominal
Tons
Height
(in.)
Width
(in.)
Depth
(in.)
TTP018C
1.5
29
33
29
TTP024C
2
33
33
29
TTP030D
2.5
41
33
29
TTP036D
3
41
33
29
TTP042D
3.5
37
39
35
TTP048D
4
37
39
35
TTP060E
5
37
39
35
Trane XE1200 Heat Pumps Diagram
Model
Nominal
Tons
Height
(in.)
Width
(in.)
Depth
(in.)
TWP018C
1.5
24
28
25
TWP024C
2
29
33
29
TWP030D
2.5
33
33
29
TWP036C
3
37
39
35
TWP042C
3.5
37
39
35
TWP048C
4
37
39
35
TWP060D
5
37
39
35
Trane XE1200 Warranty
Backed by Trane's Industry Leading Limited Warranty
Ten-Year Limited Warranty on Compressor and Outdoor Coil if installed on or after October 1, 2001 and manufactured on or after January 1, 2000. Earlier installations have Five-Year Compressor and Coil Limited Warranty
Five-Year Limited Warranty on Internal Functional Parts
Five-year Internal Functional Parts Limited Warranty is effective on Units installed after October 1, 2001 and manufactured January 1, 2000 or after. Earlier installations have One-Year Warranty
Optional Extended Warranties Available. Extended Warranties cover Labor, Refrigerant and Other Costs not covered by Manufacturers Limited Warranty
Ask Your Dealer for Full Warranty Information at time of purchase
Potential energy savings of Trane xe1200 may vary depending on your personal lifestyle, system settings, equipment maintenance, local climate, actual construction and installation of equipment and duct system.
Trane XE1200 Consumer Review
I have purchased trane xe 1200 – 4 ton units with variable speed air handler. The compressor just went out on one of the units this week. I'm disappointed since I expected better performance from a Trane based on their reputation. I didn't realize the compressor was on the blink until we got our Jan electric bill. What a surprise. The unit was not shutting off and the heat strips we're on all the time. Not sure whether I'll replace this unit with Trane xe1000. I think it should have lasted more than 7 years especially given the price of the unit.
The unit was easy to install. It looks good, it's quiet and it works. Very pleased with the unit and the service.
With this Trane XE1200 air conditioner, you will enjoy top quality and high-efficiency cooling system all at a affordable price.