Lennox is well known HVAC brand for the manufacture of high quality heat pumps. The company has over 100 years of experience in the HVAC industry. Most of their heat pump models are high quality and offers great efficiency. The Lennox XP21 Heat Pump is the standard for home comfort model from Signature Series that comes highly recommended.
The XP21 unit has been certified by ENERGY STAR® meaning it is high on energy efficiency and has also met all the EPA guidelines. This model is environmentally friendly as it does not emit any of the green house gases. This implies that it meets all the guidelines set by the U.S. Environmental Protection Agency.
This review will tell you everything you need to know about Lennox XP21 Heat Pump.
Lennox XP21 Heat Pump Features
The Lennox XP21 is a 19 SEER, 9.70 HSPF and it has qualified for the Energy Star rating. This is a two stage operation model that s designed with advanced technology ensuring it is able to meets the needs of any individuals when it comes to cooling and heating of the home.
Two-stage cooling means the heat pump has a compressor with two levels of operation: high for hot summer days and low for milder days.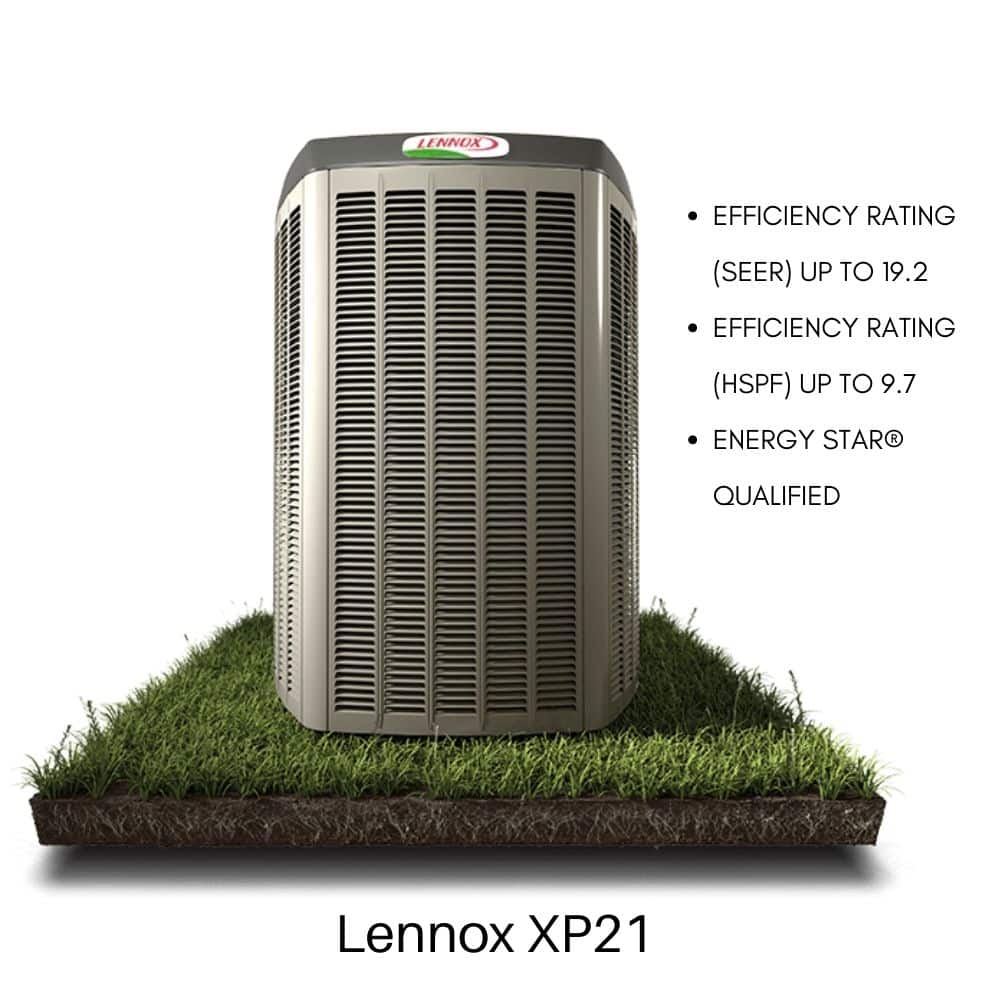 This model is designed to function effectively for a long time and has many energy saving features. It employs the use of the Silent Comfort™ technology enabling it to offer consistent cooling and silent operation further improving the comfort it offers the consumer.
Lennox XP21 heat pump comes with an Outdoor Fan Motor that has Composite Fan Blades ensuring its performance is much higher than those of standard units. Its cabinet has the Smart Hinge™ louvered design which makes repairing and maintenance functions much faster as all internal components can be accessed with ease.
This model has a highly Durable steel cabinet covering internal components and ensuring they cannot be easily damaged physically. This cabinet has a pre-painted textured steel finish that keeps it rust and corrosion free ensuring it lasts for many years.
19 SEER cooling, 9.7 HSPF heating
ENERGY STAR® Qualified
2-stage heating and cooling
Sound Rating As Low As 67 dB
SunSource solar-ready modules
Dual fuel capacity for use with a gas furnace in cold climates
Internal pressure switches regulate compressor for best performance
SilentComfort™ technology for peace, quiet and comfort
Reinforced with a PermaGuard™ cabinet for long-lasting protection against rust and corrosion
SmartHinge™ coil protection for easy coil cleaning
iComfort® enabled for easy control at your fingertips
Dual-fuel compatible with Lennox® furnaces for added cost saving
10-Year Limited Warranty On Compressor And Covered Components
Lennox XP21 Heat Pump Price
Lennox Signature Series XP21 Heat Pump is available in different range of models with different capacities. Lennox guides their prices and as such they are not displayed on the company's website. However online merchants sell this unit at a price that depends on its ton capacity.
The 4 Ton Lennox XP21 Heat Pump with an air handler and iComfort thermostat add-ons costs about $8,000. The installation charges may cost about $1,500. These prices are only indicative and the best way of getting the right price is contacting your local HVAC dealer.
Proper installation is a must for heat pump systems. If you need a Lennox heat pump installed in your home, call certified HVAC professionals to schedule an appointment.
Warranty Info
Lennox offers a highly comprehensive warranty on the XP21 Heat Pump. This model get a 10 Year Lennox Limited Warranty on compressor and covered parts.
Conclusion
Lennox is a trusted brand in HVAC inductry, and their focus on quality products have earned the company a great reputation. Every Lennox heat pump event in their lower series and models are still built with the high quality standard.
The Lennox XP21 heat pump is the most affordable in the Lennox Signature Collection series. This model offers superior heating and cooling capabilities and is high-efficiency so you could save energy bills every month.