An in-depth Bryant furnace review and buying guide. Operating under the trusted umbrella of its parent company, Carrier, Bryant is a household name in the HVAC landscape. Renowned for its robust product lineup, it's a brand many homeowners have come to trust. Some of its models offer more value for money than its competitors. So, let's explore whether a Bryant furnace is the perfect fit for your home.
Why Choose Bryant?
In the crowded HVAC market, Bryant stands tall. Its robust lineup screams durability, reliability, and affordability, making it a top pick for those who want value for their money. The brand nails almost every category: diverse product range, energy efficiency, certifications, reputation, and affordability.
The only area where it slightly trails behind its competitors? Warranty duration!
Check our detailed guide for a comprehensive list of the top HVAC brands.
Distinctive Features of Bryant Furnaces
Bryant has been synonymous with comfort, reliability, and innovation in the HVAC industry for over a century. Bryant furnaces stand out for their durability and performance and many distinctive features that set them apart in a competitive market.
From advanced technological integrations to their unwavering commitment to energy efficiency and environmental responsibility, these features reflect Bryant's dedication to meeting the ever-evolving needs of homeowners and ensuring an optimal indoor environment.
Perfect Heat®️: Experience balanced comfort with even temperatures. This feature lets your furnace tweak temperature outputs based on ongoing and historical data, ensuring consistent warmth.
Fan On Plus™: Customize your cooling. Choose among four different fan speeds for optimal air circulation and comfort. To harness this feature, ensure your furnace is paired with a compatible thermostat.
Hybrid Heat®️: Enjoy the best of both worlds. Opt for a dual-fuel approach by combining your gas furnace with an electric heat pump. Benefit from cost savings as the system automatically chooses the most economical option.
TrueSense™: Forget the guesswork. This feature will remind you when to replace your filter, ensuring peak performance and cleaner air.
SmartEvap™: Achieve optimal humidity. Especially useful in the summer, this feature extracts moisture from the air, offering a more comfortable environment and potential savings.
QuietTech™: Sleep uninterrupted. Advanced technology ensures quiet furnace operations.
PerfectLight: Wave goodbye to the traditional pilot light. Bryant's unique hot surface igniter, PerfectLight, is a more efficient and reliable solution.
Perfect Humidity: Seamlessly control humidity levels using advanced fan speed modulation.
Spotlight on Bryant Furnace Models
Bryant has established its prominence through a diverse range of furnace models tailored to varying needs and budgets. Their models, crafted with meticulous precision, address the requirements of homes of different sizes and climatic conditions.
Whether it's the top-tier Evolution series known for its state-of-the-art technology and excellent efficiency, the balanced and value-rich offerings of the Preferred series, or the dependable and economically priced Legacy series, Bryant caters to a wide audience. Each model carries the Bryant promise of reliability, infused with features that ensure optimal performance, energy savings, and lasting durability.
Evolution™ Gas Furnace
Packed with features, the Evolution series boasts two-stage or modulating units that cater to every heating need. Our top pick from this line is the Evolution™ 98. A powerhouse, it boasts an impressive AFUE rating of 98.3 percent. It integrates with Bryant's features, including humidity control and dirty filter notifications.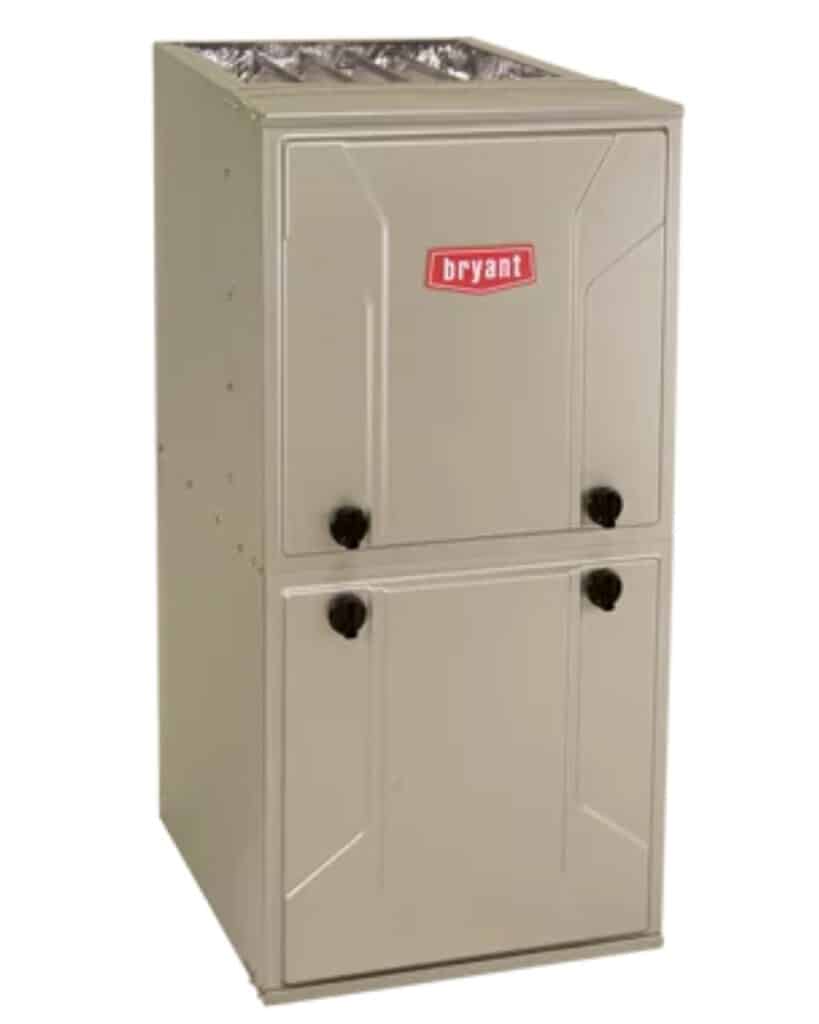 Evolution™ 98 Specifications & Features:
Type: Modulating, variable-speed furnace.
Certification: ENERGY STAR certified.
AFUE Rating: 98.3%.
Efficiency: One of the top market performers in efficiency.
Hybrid Heat Dual Fuel System: Can operate using gas and electricity, allowing homeowners to choose the most cost-effective fuel option.
Secondary Heat Exchanger: Enhances energy-saving capabilities.
Blower Motor: Variable-speed ECM for better energy efficiency and performance.
Gas Modulation: Precise gas modulation ensures optimal furnace performance and fuel use.
Humidity Control: Ensures a comfortable environment inside the home.
Maintenance Reminders: Notifies when the unit requires servicing or maintenance.
Dirty Filter Notifications: Alerts users when the filter needs cleaning or replacement.
Technologies: Boasts a range of additional features proprietary to Bryant.
Preferred™ Series Gas Furnace
These mid-range models don't compromise on quality. We recommend the Preferred™ 96. While budget-friendly, it boasts features typical of high-end models, from humidity control to the secondary heat exchanger.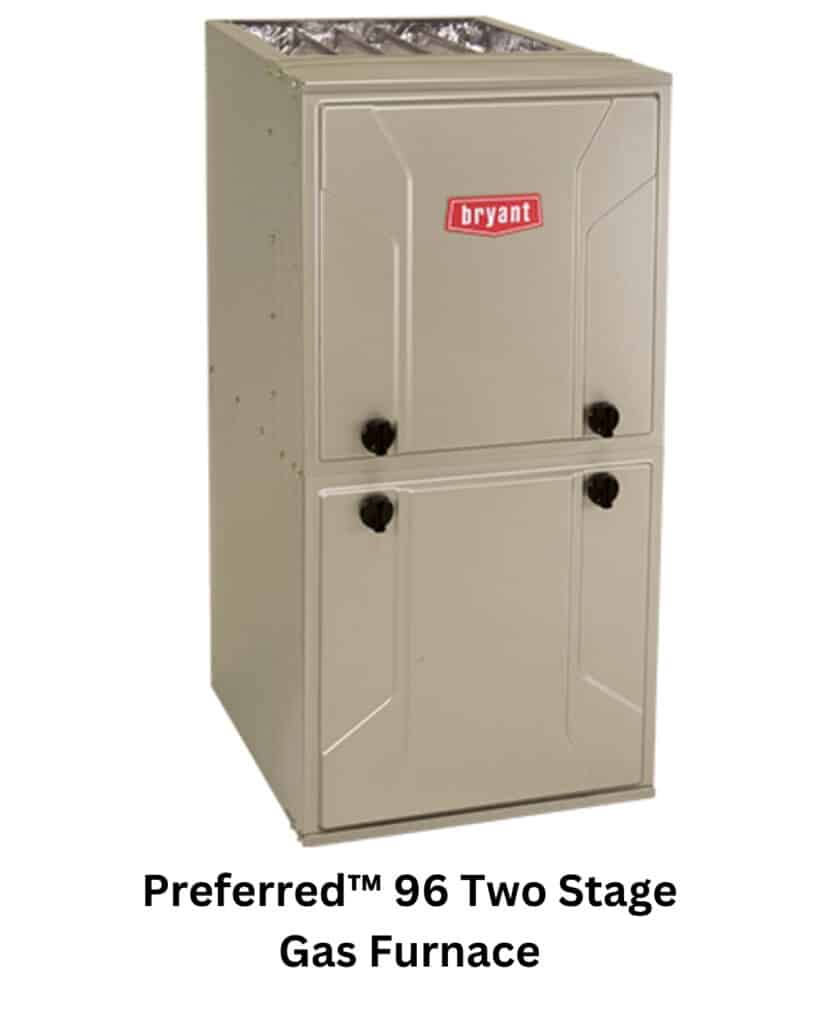 Preferred™ 96 Specifications & Features:
Type: Two-stage, variable-speed furnace.
AFUE Rating: 96.5%.
Certification: ENERGY STAR certified.
Noise Reduction: Insulated cabinet for quieter operations.
Humidity Control: SmartEvap™ technology ensures optimal humidity levels when paired with a compatible system.
Comparison: Mid-range model with comparable features and technologies to top-tier models like the 986T.
Perfect Heat Technology: Offers consistent and efficient heating.
PerfectLight Technology: Eliminates the need for a pilot light, reducing maintenance and enhancing efficiency.
Secondary Heat Exchanger: Boosts energy-saving potential.
Hybrid Heat Capability: Enables dual fuel operation for more flexible and economical heating options.
Legacy™ Line Gas Furnace
Perfect for those on a budget without sacrificing quality. Our favorite is the Legacy 95 Ultra-Low NOx Gas Furnace, which emphasizes environmental friendliness without compromising efficiency.
Legacy 95 Ultra-Low NOx Gas Furnace Specifications & Features:
Eco-friendliness: Specifically designed for environmentally conscious homeowners.
Ultra-low NOx Burner: Features Bryant's innovative technology, providing 65% lower NOx emissions than standard models.
AFUE Rating: Up to 95% efficiency.
Blower: Multi-speed for adjustable and tailored comfort.
Noise Reduction: Comes with an insulated cabinet for quiet operation.
Position in Bryant's Line: It does not have the high-end perks seen in the Bryant's Evolution series but delivers impressive energy efficiency.
Bryant Furnace Price
Installing a Bryant furnace will cost you anywhere from $3,500 to $6,000.
This price includes installation but can vary based on several factors: your location, home size, model choice, and installation complexity. Keep an eye out for discounts, rebates, and offers, which can significantly reduce this cost.
Bryant Furnace Warranty
Bryant offers a 10-year standard parts limited warranty.
Register your Bryant furnace within 90 days of purchase to secure a comprehensive warranty. Remember, while parts are covered, you might have to bear labor or installation fees. For extended warranty options, check with your local Bryant dealer.
Real Reviews from Real Homeowners
Our deep dive into customer feedback from platforms like BBB and Trustpilot revealed a mixed bag. Many praise Bryant for its product quality, noiseless operation, and heating bill reductions. Some laud their experience with local Bryant dealers.
On the flip side, a few customers had gripes regarding product failure and technician visits. But remember, for every complaint, there's a plethora of positive feedback.
Bryant's line of furnaces stands strong in the HVAC industry. They offer a potent blend of efficiency, technological prowess, and a range suitable for various needs. However, as with any significant investment, potential buyers should conduct thorough research, possibly get quotes and consult an HVAC technician, and consider their specific needs and local climate conditions before making a final decision.