Earlier this month, EcoFlow announced the official release of their popular portable air conditioner in the United States. The EcoFlow Wave is said to be able to cool a small area in just 8 minutes and has a cooling power of 4,000 BTU. Read on to learn more about the EcoFlow Wave Portable Air Conditioner review below.
Many people, in an effort to minimize costs, choose to only cool certain rooms in their homes rather than the entire house. Yet there are times when these folks, whether because of the temperature or a large number of people in the room, may have an urgent need to chill in a space that does not have air conditioning. A portable air conditioner would be useful in this situation.
How do portable air conditioners work?
Portable air conditioners work in a lot of the same ways that window units and central air conditioning systems do. The chemical refrigerant flows through a series of coiled tubes and soaks up the heat from inside. Through an exhaust hose, the heat is then sent outside. The main difference is that the part of a window AC unit that hangs out of the window lets the heat out.
The best thing about a portable air conditioner is that it can be moved around. Because portable units are easy to move from one place to another, they can be useful in a number of situations. People can choose what's most important to them without giving up convenience.
Compared to air conditioners that are mounted on the wall or window, these portable units are cheaper and require less maintenance. There are many reasons why someone might want to get a portable AC, but most of them have to do with convenience.
In some models, they more than just cool the room. They also make the room more comfortable by adding humidity to the air so that people don't breathe in dry, stale air. Portable air conditioners are helpful all year long. Think about getting a portable air conditioner if you want a new one for the guest room, kitchen, or for different events.
This EcoFlow Wave Portable Air Conditioner Review will tell you pretty much everything you need to know about this popular portable air conditioner, including its features, pros, cons, customer reviews, and other information.
EcoFlow Wave Portable Air Conditioner Review
We were quite impressed by the EcoFlow Wave's sturdy construction. Built-in carrying handles on the front and back make it simple to transport, and the power cord plugs in through the unit's side for quick disconnect. That way, you won't have to worry about the cables being tangled up as you transport it from one spot to another. Corrugated tubes can be attached with the help of the included shrouds and detached swiftly for storage.
What is in the box:
1 x EcoFlow Wave Portable Air Conditioner + Add-On Battery
1 x AC cable
1 x User manual and Warranty Card
1 x Cold-End Outlet Shroud
1 x Hot-End Outlet Shroud
2 x Air Ducts
1 x Drainage Tube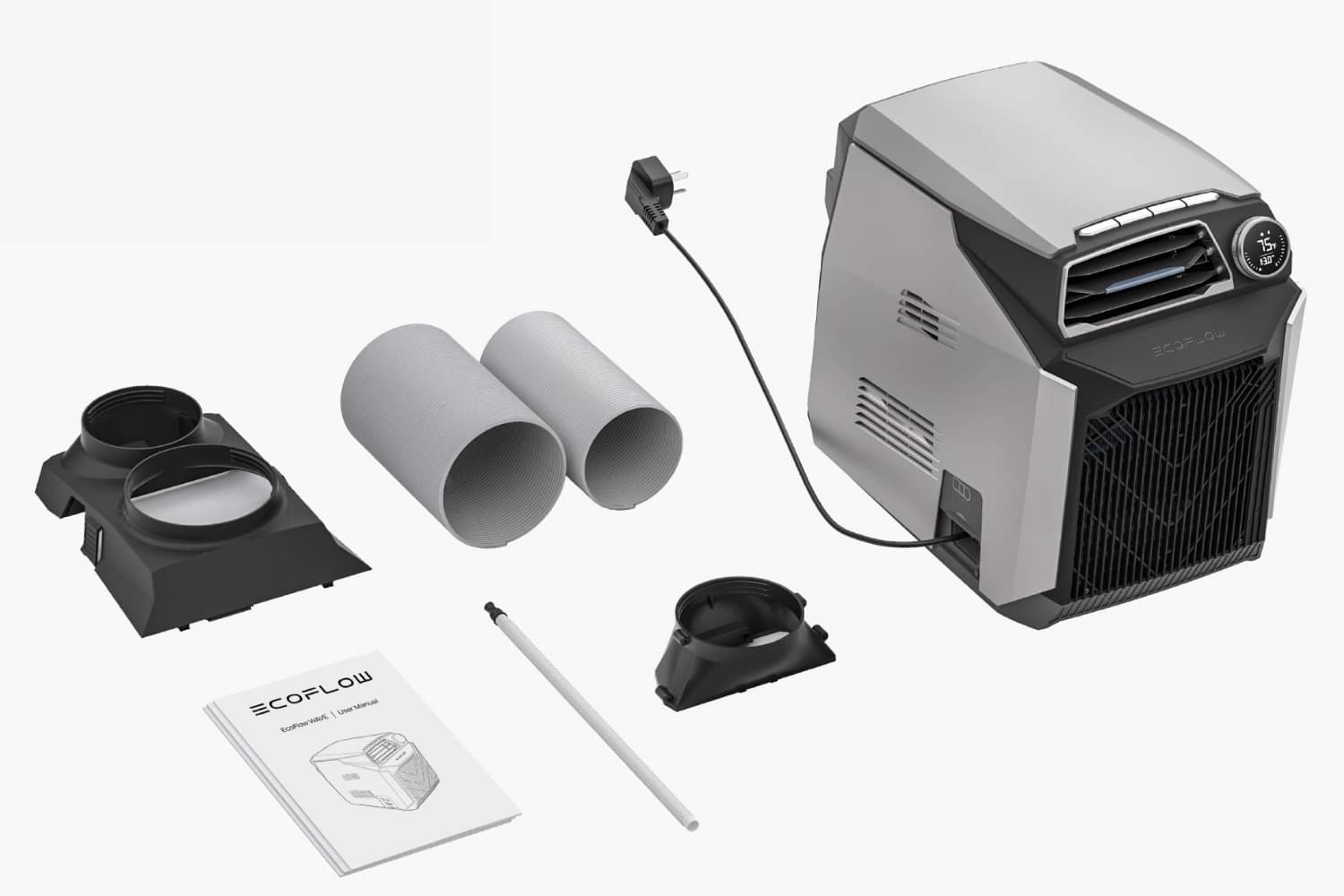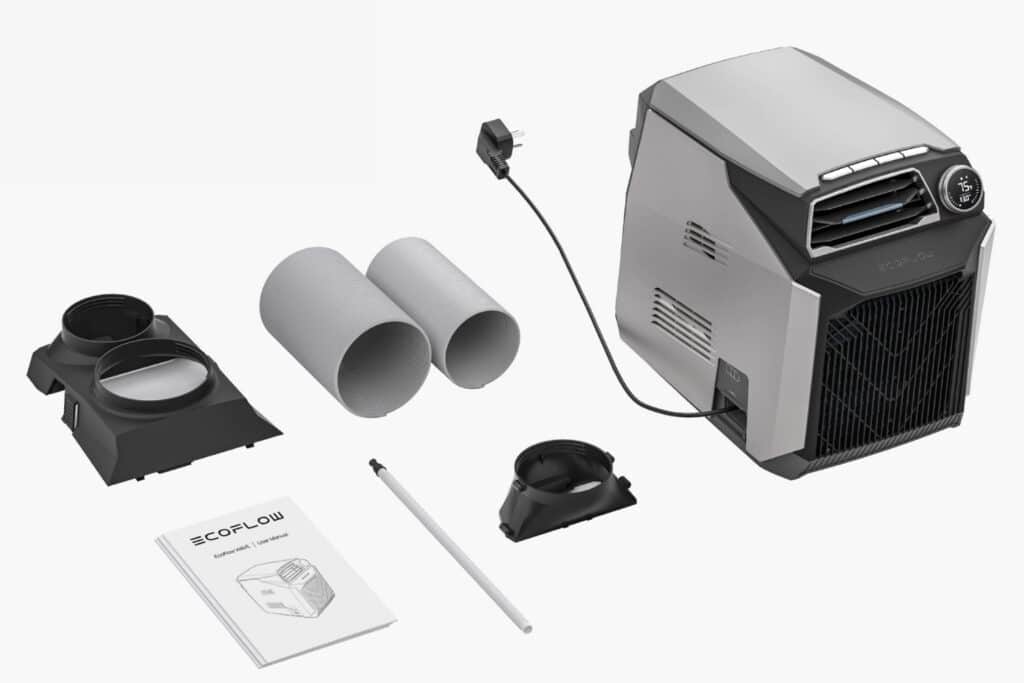 It has a height of about 20 inches, a width of about 16 inches, and a weight of about 30 pounds. As a result, the standalone AC unit can be quite small and easy to transport. It's not too heavy on its own, but with the additional battery fitted (weighing roughly 20 lbs), you'll want to take care when carrying it.
The Price
This EcoFlow Wave Portable Air Conditioner can be gotten for just $1.199 per unit. The place to buy EcoFlow Wave Portable AC is from its official website or Amazon.
Features and Specs
Input
Car Charging: 200W, 12V/24V, 8A Max
AC Charging: 700W
Add-on Battery Power: 600W
Solar Charging Input: 200W, 11-35V, 12A Max
General
Net weight: 38.58lbs
Cooling
Ambient Temperature: 41°F ~ 122°F
Ambient Temperature: 5°C ~ 50°C
Refrigerant/amount: R134a/14.1oz
Cooling Temperature Settings: 16°C ~ 30°C
Cooling Temperature Settings: 60.8°F ~ 86°F
Circulation Air Volume: 290m3/h
Max. cooling power: 600W
Noise level: <55dB
Cooling Capacity: 1200W
Rated cooling power: 460W/410W
Supported Battery
EcoFlow Wave Add-On Battery
EcoFlow DELTA Max Extra Battery
EcoFlow DELTA Pro Extra Battery
EcoFlow DELTA Pro
EcoFlow DELTA Max
EcoFlow Wave Portable Air Conditioner Pros and Cons
Pros
The sleek and robust design
The portability and adaptability
The performance
The included battery
The convenience
Cons
Final Thought
While the EcoFlow Wave portable air conditioner's high price tag may put some people off, there's no denying its usefulness. I like that it can be used independently thanks to the battery, and that I can move it about the house to set it up just where I need it. Even if its specifications don't call for cooling spaces that are as huge as some others, it can nonetheless blast a lot of cool air and keep them comfortable. I think it's great and highly recommend it for its design, functionality, and general effectiveness.