Trane XB13 is a single-stage Air Conditioner with an efficiency rating of up to 14.5 SEER. This model is one of Trane's most affordable air conditioners in its era. This post will give you the detailed information needed to evaluate this Trane XB13 air conditioner, including specs, price, and my honest reviews.
When it comes to heating and cooling, homeowners look at Trane as the most reliable and longest-lasting in the industry. The Trane XB13 heat pumps and air conditioners represent a serious commitment to quality and your comfort.
With a SEER to meet new federal regulations, Trane XB13 offers homeowners the excellent comfort they're looking for. Incorporating the same technical advancements and innovative features found in the super efficiency units and extreme weather tested for durability.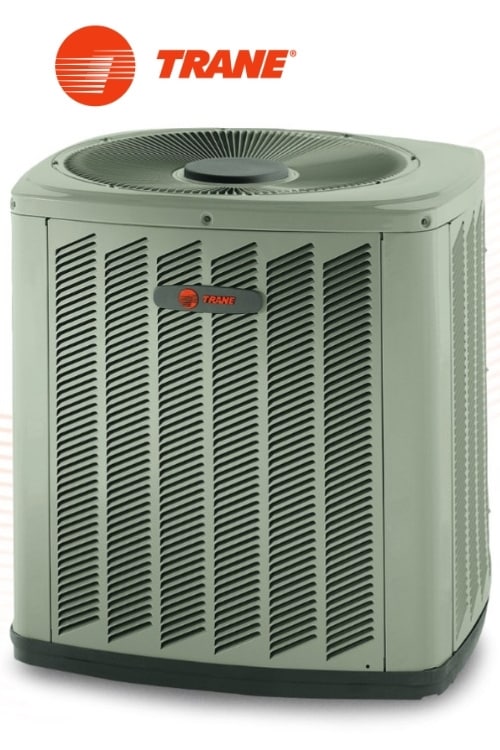 Trane XB13 Specs
Learn about some of the key specifications and top features you can enjoy with the Trane XB13 air conditioner below.
Cooling Efficiency: up to 14.5 SEER.
Sound Level: as low as 87 dB.
Climatuff® compressor: rated as one of the best in the industry.
Durability: Full-sided louvred panels, baked-on powder paint, Composite DuraTuff base pan.
Warranty: 10-year limited warranty on compressor, 10-year limited warranty on outdoor coil, and 10-year limited warranty on internal functional parts.
Top Features
Climatuff® compressor
TRANE's Climatuff compressor has long been the standard for reliable operation. Whether the best-in-the-industry reciprocating or the new scroll design, you get superior durability, cost-saving efficiency and low sound levels.
Full-sided louvred panels
22-gauge, galvanized steel, louvred panels serve to keep the coil clean while protecting the coil surface from damaging elements like leaves, tree branches, hail and rambunctious neighbourhood kids.
Baked-on powder paint
A virtually indestructible finish, even if the metal gets dented. 90,000 volts are applied to the paint as it exits the paint gun. The paint gives up its electrons to the grounded metal, resulting in a smooth finish. Maximum corrosion and rust resistance. Eliminates sharp metal edges. Attractively blends with any architectural style and outdoor landscape.
Spine Fin coil
It was engineered with internally grooved, all-aluminium tubes that stir the refrigerant and enhance heat transfer—carefully designed to maximize the inherent efficiency, durability and low maintenance requirements of single-row, radial-tube heat exchangers—fabricated in continuous lengths with brazed connections only at the coil (or circuit) inlet and outlet. Eliminates return bends, resulting in dramatically lower leak potential.
DuraTuff base pan
They are manufactured to exacting standards. Will not crack, warp, corrode or rust.
Quick-Sess cabinet with complete coil protection
This feature allows easy access to electrical and refrigerant controls. Shortens installation and service time. Decreases unit downtime.
Easy-access service valves
Located off the ground and away from the cabinet, the chance of burning the cabinet when connecting refrigerant lines is significantly reduced.
Trane XB13 Models and Size
Trane XB13 is available in different models which vary in size. I've put the information into a table below. 
| Model | SEER | Cooling Capacity (BTUH) | Size / Tonnage |
| --- | --- | --- | --- |
| 4TTB3018A | 14.5 | 18,000 | 1.5 |
| 4TTB3024A | 14.5 | 24,000 | 2.0 |
| 4TTB3030A | 14.5 | 30,000 | 2.5 |
| 4TTB3036A | 14.5 | 36,000 | 3.0 |
| 4TTB3042A | 14.5 | 42,000 | 3.5 |
| 4TTB3048A | 14.5 | 48,000 | 4.0 |
| 4TTB3060A | 14.5 | 60,000 | 5.0 |
Price and Warranty Information
How much does the Trane XB13 air conditioner cost? Trane air conditioner prices are a little bit higher than any other brand.
The XB13 price vary between $1,250 and $1,900. Several factors can affect the price of an air conditioner, such as the size and any modifications needed during installation.
Warranty terms for the XB13 air conditioner include a 10-year limited warranty on compressor, outdoor coil, and internal functional parts. Extended warranty options are available, covering labour and other costs not covered by the manufacturer's warranty.
Trane warranty registration must be done within 60 days of installation in order to get the warranty benefits.
Conclusion
Trane XB13 air conditioner would be the best option if you were looking for a reliable and durable air conditioner at an economical price. The XB13 model is available at a price that puts it within reach for a broad segment of customers. It will deliver substantial savings on cooling bills year after year.