Almost every RHEEM furnaces have a reset button on their system. It's a safety feature to shut down the furnace before it can trip the circuit breaker. When there is an electrical problem or your unit becomes very hot, the furnace reset button pops out. To get the system working again, you need to reset your RHEEM furnace using the reset button.
RHEEM furnace reset button maybe pops out for many different reasons. These can include:
Loss of fuel.
If you have a gas or oil furnace, check to see if the fuel is lost.
Blocked or closed gas valves.
Checking to see if any valves have been closed.
Overheating.
Your furnace will become overheated if not receive enough airflow. Make sure to clean and/or replace the furnace filters regularly to keep the proper airflow.
Dirty flame sensor.
A dirty RHEEM furnace flame sensor also can cause the furnace to shut off.
A furnace reset button is a safety feature designed to quickly shut off the unit. If your furnace reset button keeps tripping, it may indicate that your furnace needs repair.
RHEEM Furnace Reset Button Location
Where is the reset button on the RHEEM furnace? The reset button on the RHEEM furnace is located around the blower motor. To access the button, you need to remove the panel housing and look inside. It's a red or yellow button, so finding the RHEEM furnace reset button shouldn't be challenging.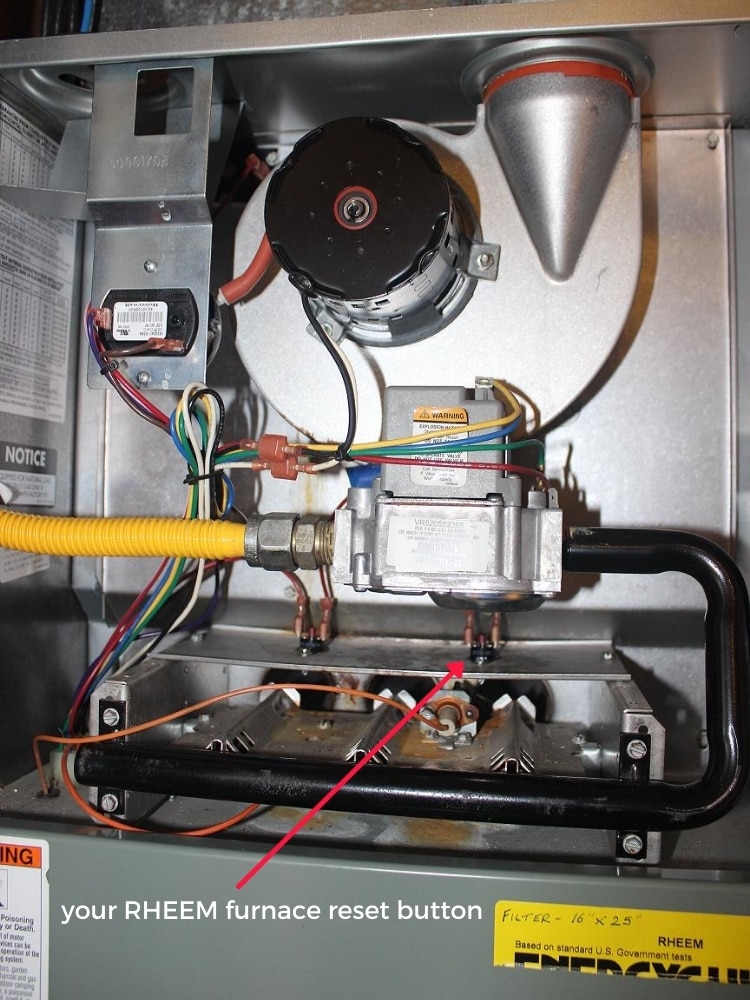 If you can't find the RHEEM furnace reset button, consult your owner's manual to help you find it.
Steps to Reset Your RHEEM Furnace
The correct procedures to reset the RHEEM gas furnace are as follows:
Make sure the pilot light is out.
Turn down the thermostat temperature setting.
Turn off the circuit breaker.
Turn the gas valve off.
Turn the circuit breaker back on.
Turn the gas valve back on.
Press and hold the reset button for about 30 seconds.
Set the thermostat for the desired temperature.
If, however, your furnace has a standing pilot light, you may need to reignite it. If the pilot light stays off, reach out to a professional for help.
By following the above steps, you'll be able to reset your RHEEM gas furnace safely. If you have followed these steps and still the furnace doesn't restart, call a professional HVAC technician to diagnose the problem.
Resetting the RHEEM furnace is a simple procedure that can be done by yourself. But, if you are trying to reset the RHEEM furnace several times, you might risk damaging your system. Don't hesitate to call for a professional HVAC technician when your furnace starts having problems or you do not feel confident enough to make the DIY repairs.