I am excited to share some valuable and relevant information about Kapsul W5 Air Conditioner. It is a revolutionary window air conditioning unit that provides efficient cooling while saving space and energy. This AC unit is rapidly gaining popularity among homeowners looking for an affordable and reliable cooling solution. In this review, we will discuss the Kapsul W5 AC, its features, pros, and cons to help you make an informed decision.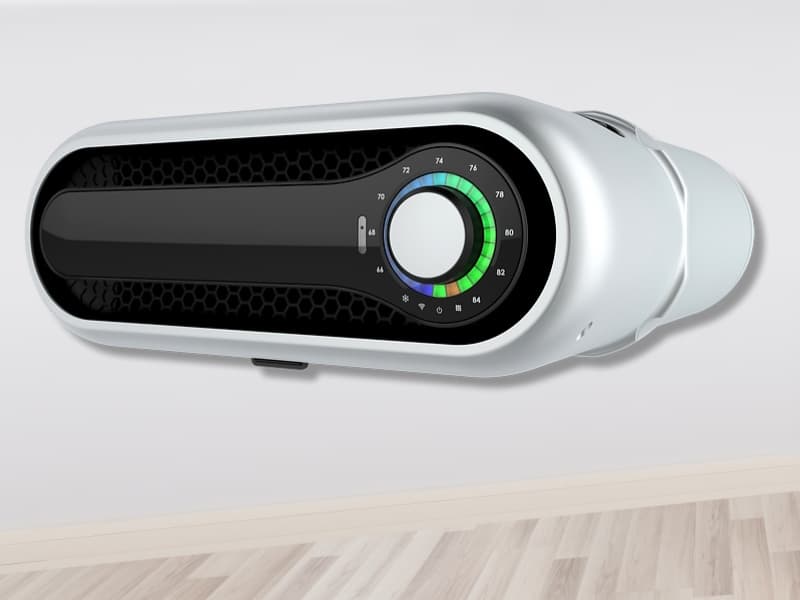 About Noria (now Kapsul)
To understand Kapsul AC, we must first look at its history. The original concept for Kapsul AC began with Noria. This startup company aimed to create a compact and easy-to-install air conditioning unit. The first prototype was introduced in 2016 and quickly gained recognition for its innovative design. However, the company struggled with production and fulfillment, and the product was unavailable for several years.
In 2019, Kapsul, a company specializing in smart home technology, acquired Noria and took over the development of the AC unit. With Kapsul's expertise in manufacturing and distribution, the Kapsul AC was finally launched in 2020 with improved features and functionality.
Features of Kapsul W5
The Kapsul W5 is a sleek, modern window air conditioning unit designed to provide efficient cooling in small to medium-sized spaces.
Here are some of its key features:
Compact Size: The Kapsul W5 measures only 7 inches tall, 19 inches wide, and 12 inches deep, making it one of the smallest AC units on the market. Its compact size allows it to fit easily in a window or wall, saving space and ensuring easy installation.
Easy Installation: The unit has a simple installation kit for easy and hassle-free installation. The unit can be installed in just minutes without the need for any special tools or professional assistance.
Energy-Efficient: The Kapsul AC is designed to be energy-efficient, with a 6.8 EER rating. It uses less energy to cool a room, which can help reduce your energy bills.
Smart Features: It has smart features such as a mobile app that allows you to control the temperature, set schedules, and monitor energy usage. It also has voice control compatibility with Amazon Alexa and Google Assistant.
Quiet Operation: The Kapsul W5 AC operates at a noise level of only 45 decibels, making it one of the quietest AC units on the market. This makes it ideal for use in bedrooms, offices, and other spaces where noise levels must be low.
Specifications
5,000 BTU.
7 inches tall, 20 inches wide, and 22 inches deep.
48 pounds with handles for easy lifting.
Uses a 120-volt power supply.
11 EER (Energy Efficiency Ratio)
RoHS (Restriction of Hazardous Substances) compliant.
Temperature operating range of 32-120 degrees Fahrenheit.
Has three "on-board" sensors: temperature, humidity, and ambient light.
Humidity operating range of 0% to 97%.
Pros and Cons of Kapsul AC
There are many pros to using the Kapsul AC, including the following:
Space-Saving Design: The Kapsul AC's compact size allows it to fit easily in small spaces, making it ideal for apartments, condos, and other living spaces with limited space.
Easy Installation: Designed to be easy to install, so you can have it up and running in just a few minutes.
Energy-Efficient: You can save money on your energy bills while still enjoying a cool and comfortable living space.
Smart Features: It has smart features, such as the mobile app and voice control compatibility, which make it easy to control and monitor your AC unit from anywhere.
Quiet Operation: You can enjoy a cool and comfortable living space without distracting noise.
As with any product, there are also some cons to using the Kapsul AC, including:
Limited Cooling Capacity: Cool small to medium-sized spaces, which may not be powerful enough to cool larger rooms or open-concept living spaces.
Price: The price is higher than some other AC units on the market, which may not be affordable for everyone.
Limited Availability: It is a new product, so it may not be available in all regions or countries.
Limited Warranty: The Kapsul AC has a limited one-year warranty, which may not be sufficient for some consumers.
Final Thought
Overall, the Kapsul W5 window air conditioner is a sleek and innovative air conditioning unit that benefits homeowners and renters looking for an efficient, space-saving cooling solution. Its compact size, easy installation, energy-efficient design, smart features, and quiet operation make it an ideal choice for small to medium-sized spaces. However, its limited cooling capacity, price, limited availability, and limited warranty should also be considered before making a purchase.
If you want to purchase a Kapsul W5 AC, consider your specific cooling needs before deciding. With its innovative design and features, it is a great option for an efficient and space-saving cooling solution.