The American Standard Freedom 90 is an Energy Star gas furnace that can get up to 92 AFUE. The Freedom 90 has 11 models that come in different sizes and can hold from 2 to 5 tons.
The high-efficiency blower motor has more than one speed and runs quietly. You can count on it for years to come. It comes with a solid warranty, as do the heat exchanger and other parts, so you can install one without worrying.
The cabinet is made of thick, strong steel that is tightly sealed so that neither noise nor heat can get out. The heavy-duty filter can be easily vacuumed or washed, so you won't have to spend money on disposable filters again.
When saving money on energy is a big part of your budget, you should look into the American Standard Freedom 90 Gas Furnaces. They are made to last for decades and use very little fuel every day. They have a very good AFUE rating of 92.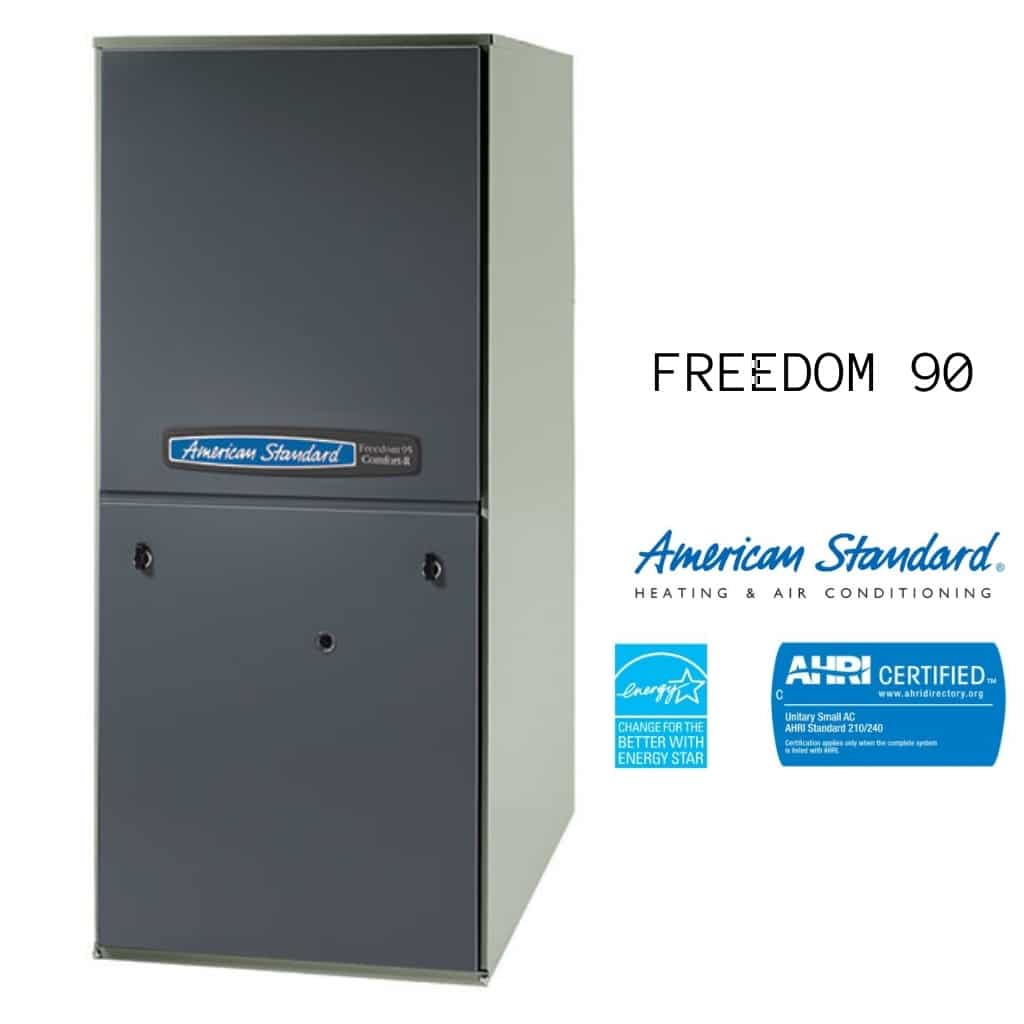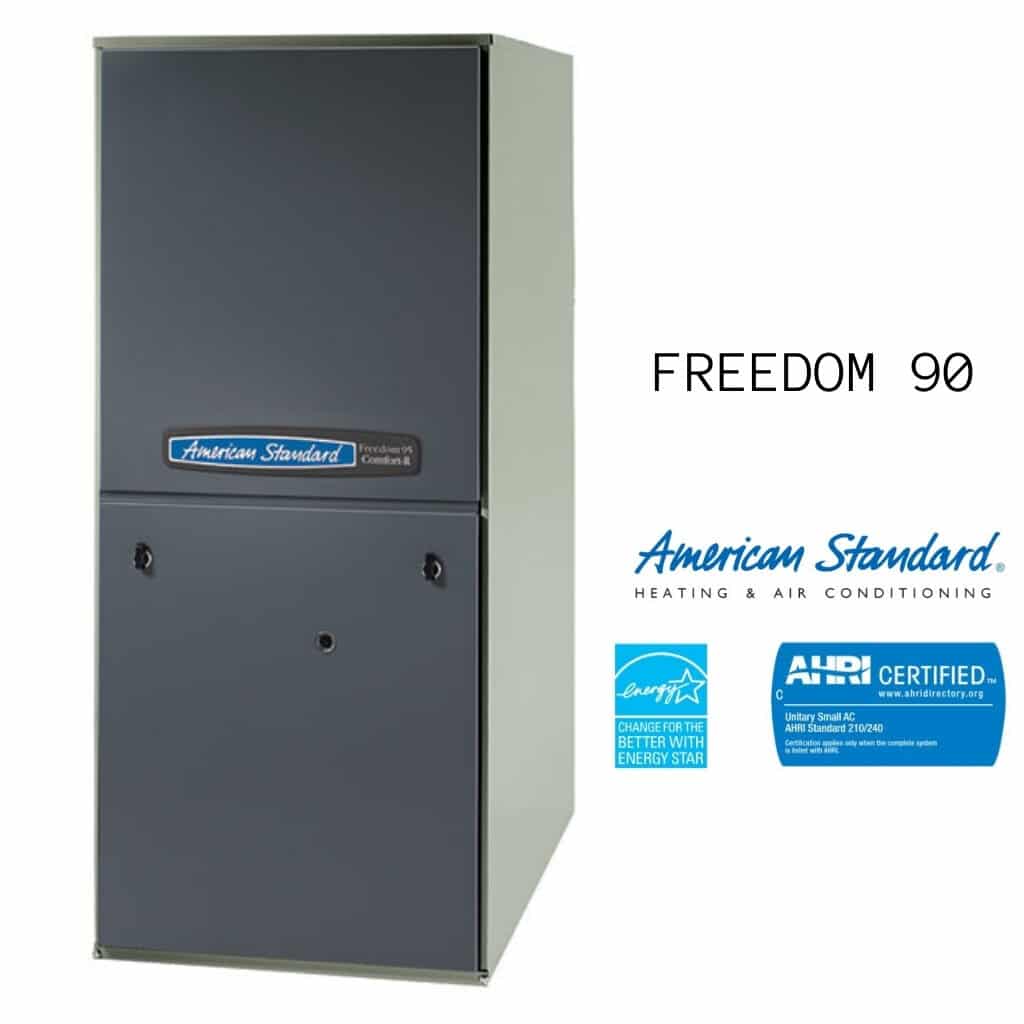 American Standard Freedom 90 Furnace Features
High-efficiency blower motor
Controlled by a microcomputer and relays that are built-in. During heating cycles, the indoor fan is controlled by a fixed 45-second time delay. You can change when the blower turns off using presets, which gives you more control over how comfortable your home is.
Adaptive silicon nitride hot surface igniter
Prevents overheating, which results in a highly reliable ignition system and the longest possible service life.
Heavy steel insulated cabinet
Holds more heat in the furnace and assures greater durability and quieter operation.
Self-diagnostic controls
Full diagnostics make service easy. Also has a system fault analysis for turning off the gas flow quickly and an automatic ignition retry after a fault has been fixed.
Easy access doors
Quarter-turn dual door latches provide quick and easy access for servicing (upflow models only).
Multi-port in-shot burners
Shape the flame cone just right to get the most heat out of it while using less fuel. There is no need to change the service.
Aluminized steel heat exchanger
Crimped, not welded, to prevent cracks from heat stress. The stamped serpentine channel offers the greatest efficiency in less space. Backed by American Standard lifetime limited warranty.
AL29-4C™ stainless steel secondary heat exchanger
Captures more of the heat your customers pay for. Backed by a lifetime limited warranty.
Sealed combustion
For maximum safety, the burner combustion unit is sealed tight, also assuring that it meets all local codes.
100% fresh air option
Uses 100% outdoor air for combustion, increasing equipment life and providing fresher air
Specifications & Models
Upflow/Horizontal
| | | | |
| --- | --- | --- | --- |
| Model | TONNAGE | Stage 1 Capacity | Stage 2 Capacity |
| AUX060R936W | 3 | 36,000 | 56,000 |
| AUX080R942W | 3 | 48,000 | 73,000 |
| AUX100R948W | 4 | 60,000 | 93,000 |
| AUX120R960W | 5 | 72,000 | 112,000 |
Downflow/Horizontal
| | | | |
| --- | --- | --- | --- |
| Model | TONNAGE | Stage 1 Capacity | Stage 2 Capacity |
| ADX060R936W | 3 | 36,000 | 55,000 |
| ADX080R942W | 3 | 48,000 | 74,000 |
| ADX100R948W | 4 | 60,000 | 93,000 |
| ADX120R960W | 5 | 72,000 | 111,000 |
Warranty Information
Every American Standard Freedom 90 Furnace is covered by:
Lifetime limited warranty on heat exchangers
5-year limited warranty on all other parts
When your product is installed, your warranty starts. How long you are covered depends on the product and whether you registered it for an extended warranty. If you are the original buyer or a later buyer, or if the product was installed in a single-family home, a multi-family home, or a business, these are all things that can affect how long the warranty lasts.
Check your warranty card or use our American Standard warranty lookup guide to find out exactly what your warranty covers.
Reviews
Your home will be more comfortable if your American Standard Freedom 90 gas furnace works more efficiently and is more reliable. That's because every part of the American Standard gas furnace, from the ultra-quiet motor to the smallest screw, is made with the goal of making your home the best it can be and using as little energy as possible.