When it comes to HVAC systems, American Standard stands tall as one of the pioneers in the industry, boasting a legacy of reliability and excellence. Like industry giants Carrier and Trane, American Standard has solidified its reputation by crafting dependable units that deliver optimal performance. With a legacy spanning generations, the company has etched its name in the annals of home comfort, redefining what it means to experience superior heating in your abode. If you're seeking an HVAC system that combines cutting-edge technology, exceptional performance, and unwavering reliability, look no further than the exceptional range of American Standard furnaces.
What sets American Standard Furnaces apart is its affiliation with Trane, sharing the same manufacturing lineage renowned for its top-tier HVAC heating units. The intriguing part? You can acquire an American Standard system for a slightly more budget-friendly price.
Aligning with the powerhouse Trane under the umbrella of Ingersoll Rand, American Standard brings forth products that emerge from the same assembly line. In essence, the two brands' models are remarkably similar, often differentiated merely by their paint color and distinctive badging.
Here's the crux: American Standard's product lineup is slightly more streamlined than its sibling company. Nevertheless, American Standard furnishes solutions that are not only cost-effective but also strategically designed for performance excellence. While American Standard's systems present a modest reduction in price, let it be known that installation costs could offset this distinction, contingent on your chosen installer.
About American Standard
With its roots tracing back to 1929, American Standard's inception followed the merger of American Radiator, a cast iron radiator manufacturer, and Standard Sanitary Manufacturing Company, renowned for its plumbing prowess. American Standard demonstrated its commitment to evolution and innovation by stepping into the scene.
1984 marked a monumental turn in the company's journey as it welcomed Trane. Fast forward to 2008, and the acquisition of American Standard by Ingersoll Rand led to a remarkable coexistence of American Standard and Trane HVAC lines.
Remarkably, these two industry titans roll out their HVAC systems from the same factory floor. The nuances differentiating most units often come down to a play of colors and distinctive branding.
American Standard Furnace Features
AccuLink™ Communicating System
Introducing the AccuLink™ Communicating System, a sophisticated integration within select American Standard furnaces. This system orchestrates seamless communication between various HVAC components, guaranteeing impeccable operation. Not just that, it empowers you to monitor performance remotely and tweak settings to your preference.
Comfort-R™: Unparalleled Comfort at Your Command
Let Comfort-R™ take center stage in your home. This innovation is designed to whisk away excess humidity, elevating comfort levels. With humidity levels tamed, you can push the thermostat slightly higher while still luxuriating in optimal comfort. A bonus? Comfort-R™ extends its magic to the summer months, ensuring your abode remains cool and inviting.
Vortica™ II Blower: The Ultimate Airflow Virtuoso
Prepare to be amazed by the Vortica™ II Blower, an engineering marvel crafted from robust composite materials. Designed to withstand the trials of time, this blower resists rust, corrosion, and cracks, translating into enhanced durability. It orchestrates a symphony of efficient airflow while minimizing noise, unleashing a harmonious experience in both the scorching summers and chilly winters.
Hot Surface Igniter: Igniting Efficiency
Embrace the future with the hot surface igniter, a resolute catalyst for efficient ignition. Unlike its counterpart, the standing pilot light, this igniter brings electronic ignition into play, rendering your furnace more efficient and effective. Say goodbye delayed ignition or unnecessary gas wastage when your furnace is idle. This innovation safeguards energy while ensuring safety, marking a step forward in performance and sustainability.
AccuClean™ Whole-Home Air Cleaner: Breathe Easy
Introducing AccuClean™, a game-changer in air quality. This specialized filter showcases its prowess by eliminating up to 99.98% of allergens, pollutants, and contaminants in your home's air. Size matters, and AccuClean™ filters particles as minuscule as 0.1 microns – an accomplishment that surpasses HEPA filters. Not to mention, this filter is a breeze to clean, allowing you to maintain peak efficiency easily.
The Lineup of American Standard Furnaces
American Standard presents an impressive line of 12 gas furnaces, spanning from the pinnacle of efficiency – the Platinum 95, boasting an AFUE rating of up to 97.3%, to the single-stage S8B1, flaunting an AFUE rating of 80%.
Platinum 95 Gas Furnace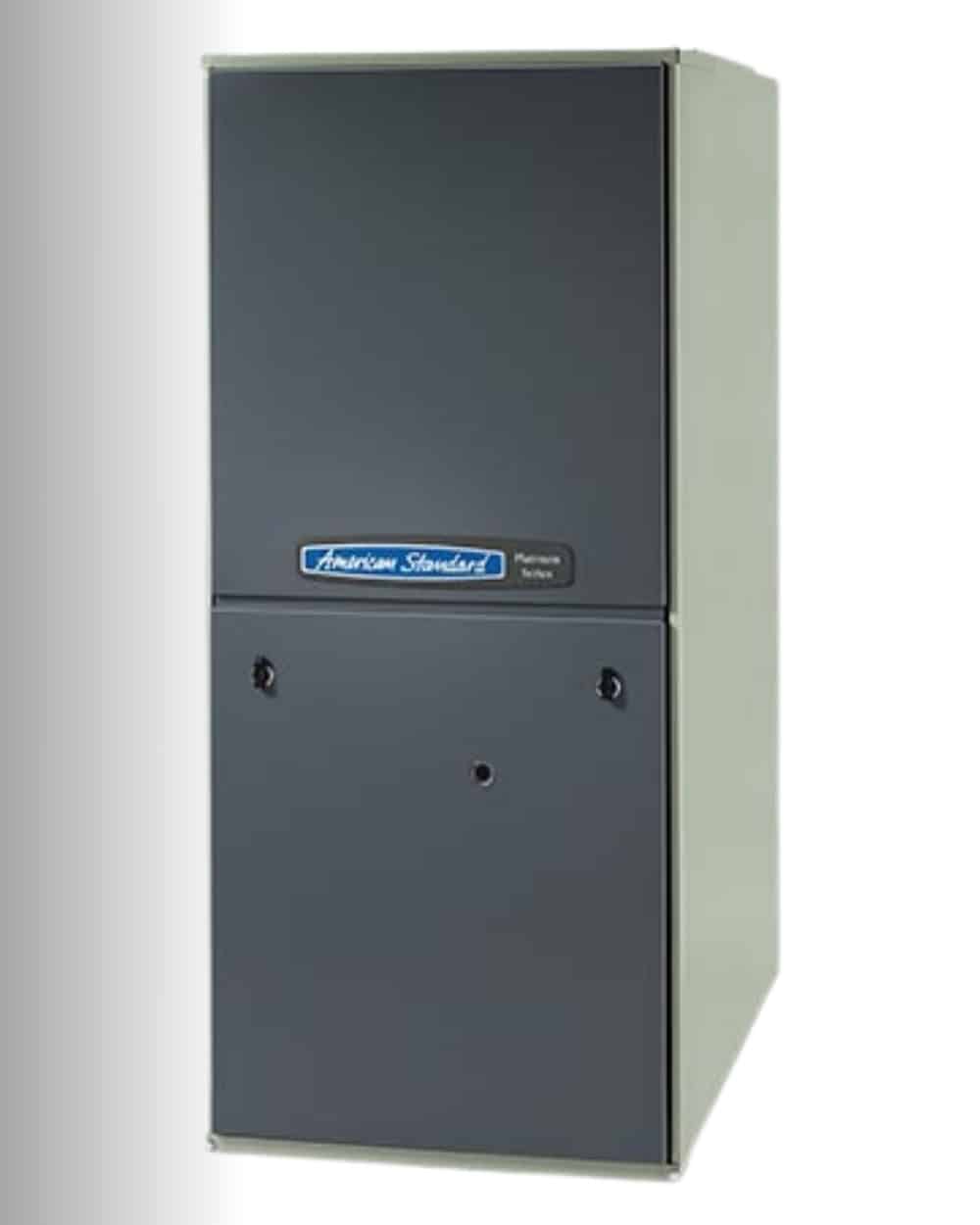 Witness the epitome of efficiency with the Platinum 95 Gas Furnace.
Armed with AccuLink™ capabilities and the seamless Comfort-R™ mode, this furnace reigns supreme in controlled comfort. Expect a fully modulating heating experience, converting up to 97.3% of fuel into toasty warmth. Its variable-speed fan motor ensures an even distribution of cozy air. At the same time, its energy-efficient design beckons a greener lifestyle.
American Standard Gold S9V2-VS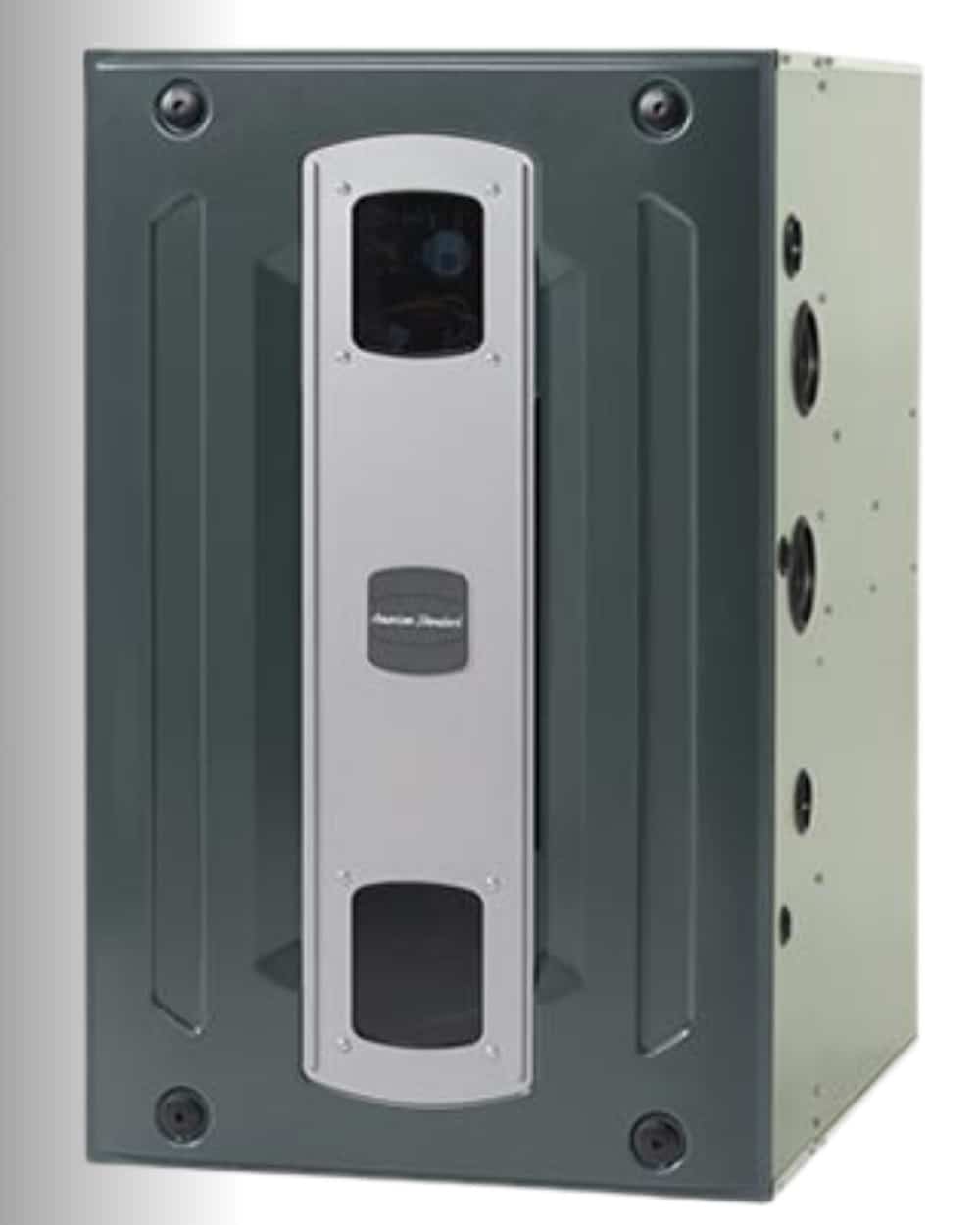 The Gold S9V2-VS sets a new standard with its updated cabinet design, tailor-made for diverse homes.
Experience a gas efficiency rating of 97% AFUE, propelled by the Vortica™ II Blower, celebrated for its efficiency and quiet prowess. Enhancing your cooling efficiency rating by up to 2 SEER points, this furnace is a game-changer in efficiency. All are encased within a sleek 34″ frame.
American Standard Gold S9X2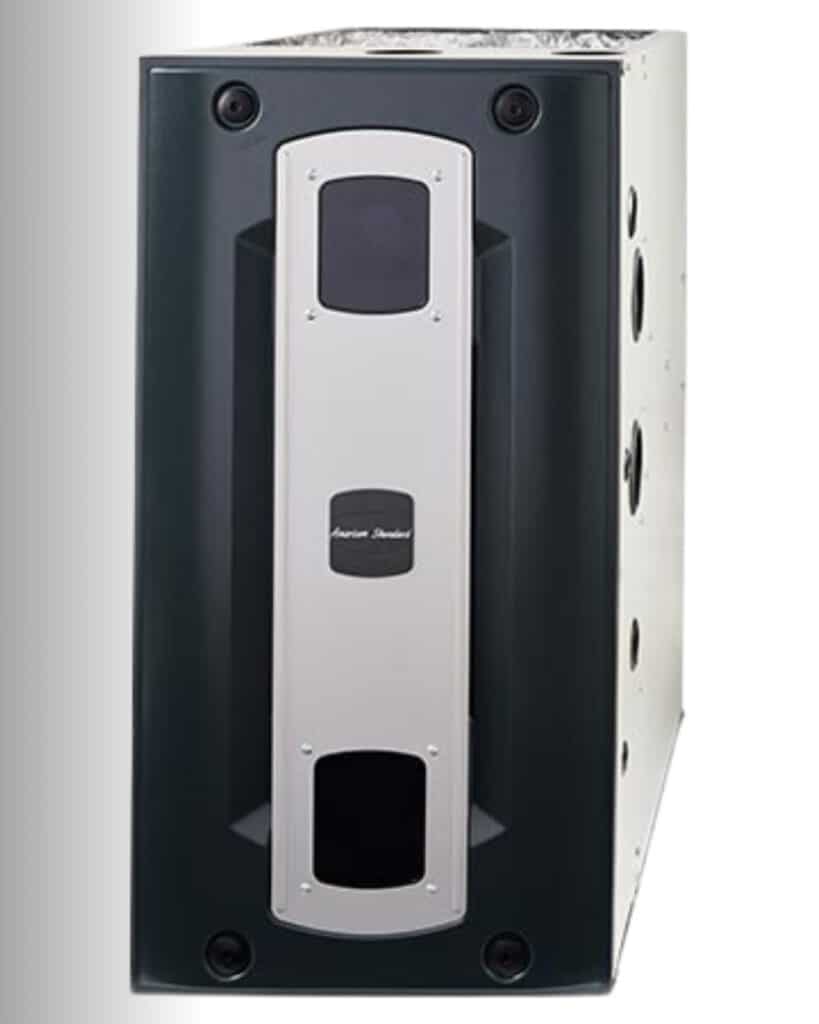 Standing tall with an AFUE of 96%, the American Standard Gold S9X2 is a testament to two-stage furnace innovation.
Featuring a 5-speed ECM Constant Torque motor, this furnace maximizes electrical efficiency while elevating performance. This furnace adapts seamlessly to your abode with options for upflow, horizontal left, and horizontal right.
American Standard S9B1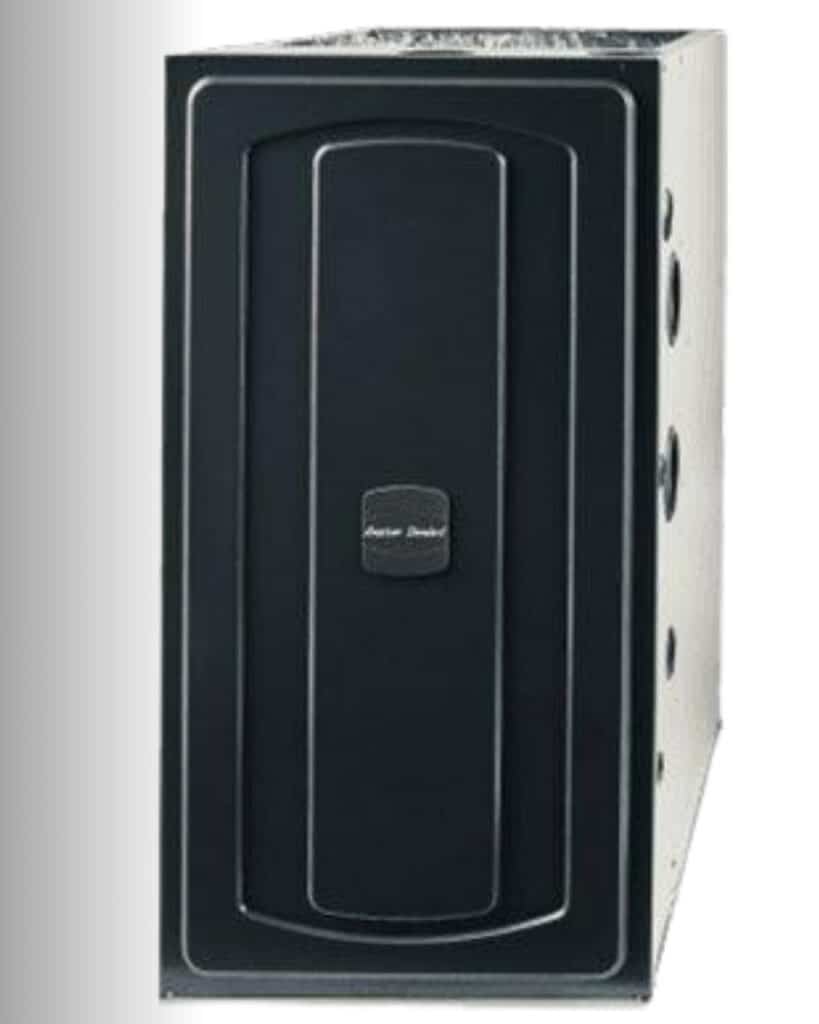 ENERGY STAR® South certified, the American Standard S9B1 is an energy-efficient marvel. With a 92.1% AFUE rating, this furnace translates most of the energy it consumes into comforting warmth for your home. Say goodbye to energy wastage and embrace an economical and sustainable choice.
American Standard Furnace Prices
The unit only price range from $2,150 to $5,500. The cost largely hinges on the size of the furnace system your home demands and the AFUE percentage of the replacement gas furnace.
The final price of your chosen unit is influenced by many factors that define your unique HVAC system. From the location of your residence to the dimensions of your abode, installation intricacies, and the specific model you select – every detail plays a role in shaping the ultimate cost.
Your HVAC needs are as distinct as your living space, so pricing must align with your individual requirements. Local contractors' offerings, coupled with seasonal promotions, further contribute to the dynamic nature of pricing.
It's crucial to engage with local professionals who understand the intricacies of your region, possess insights into seasonal deals, and can align their expertise with your unique preferences. This collaborative approach ensures that your investment in American Standard furnace yields optimal comfort and exceptional value.
American Standard Warranties
American Standard furnaces should be registered within 60 days of purchase for comprehensive warranty protection. Failing to register within this window triggers the American Standard Base Limited Warranty terms.
A lifetime heat exchanger limited warranty and a 10-year limited warranty for internal functional parts back American Standard furnaces. Additionally, an extended warranty option stands ready for those seeking enhanced coverage.
Here's what you gain under the protective umbrella of your warranty:
Air conditioner compressor, outdoor coil, internal functional parts
Heat pump compressor, outdoor coil, internal parts
Furnace heat exchanger, internal parts
These warranty provisions stand firm for the following models/series:
American Standard Platinum Series – Embrace a lifetime heat exchanger limited warranty and a 10-year limited warranty on internal functional parts. Extend your coverage with an optional extended warranty, with the possibility of transferring the warranty for added peace of mind.
American Standard Gold Series – Bask in the assurance of a lifetime heat exchanger limited warranty and a 10-year limited warranty on internal functional parts. Elevate your protection with an optional extended warranty, allowing for the transfer of warranty benefits.
American Standard Silver Series – Envelop yourself in the embrace of a lifetime heat exchanger limited warranty and a 10-year limited warranty on internal functional parts. Elevate your coverage through an optional extended warranty, allowing you to transfer warranty privileges.
American Standard 92 – Step into a world of assurance with a limited 20-year warranty on the heat exchanger and a 10-year limited warranty on internal functional parts. If you desire, an extended warranty option is required, accompanied by the possibility of transferring warranty benefits.
My Expert Insight into American Standard Furnaces
Like its sibling Trane, American Standard holds its units to the most rigorous testing standards, mimicking demanding environments to ensure peak performance. Consequently, American Standard emerges as the go-to choice for those in extreme climates. Ideal for mobile and compact homeowners, American Standard's compact units carve their niche in the industry.
While American Standard's reputation for well-constructed and reliable units precedes it, it's worth noting that the brand doesn't necessarily tout the most energy-efficient models on the market. Some have commented on the brand's slightly elevated noise levels, which can stand out compared to other brands.
However, the allure of an American Standard heating or cooling system lies in its remarkably low maintenance requirements. With proper care, American Standard systems can revel in a lifespan of up to 25 years – a testament to their enduring quality and performance.
As a professional HVAC professional, I confidently recommend American Standard Furnaces to homeowners seeking a reliable, efficient, and innovative solution for their heating needs. With American Standard, you're not just investing in a furnace – you're embracing a legacy of excellence that transforms how you experience warmth and comfort in your home.