Have you ever owned a Honeywell thermostat? Honeywell thermostats, among the most reliable and trustworthy on the market, occasionally need to be reset and repair. So how can Honeywell thermostat troubleshooting be accomplished?
Here are some tips and tricks that you might find helpful, like how to reset your thermostats, or how to replace batteries. Make sure your Honeywell thermostat is working properly by following our tips and tricks.
Honeywell Thermostats are electronic control devices used inside cooking equipment. Using these thermostats, the heat or cold in an oven can be controlled. An oven's temperature can also be automatically changed and its airflow adjusted by them.
Honeywell thermostats can control heating, ventilation, and air conditioning systems digitally. These thermostats may be programmed, and there are a variety of settings that can be altered to suit your needs.
Honeywell thermostats can be classified into the following types:
1. Non-programmable Thermostats
Non-programmable thermostats generally have the following basic features: you can turn your device on or off, and change the temperature up or down. The plastic faceplates on these thermostats include buttons to activate the appliance. A little digital panel shows the current temperature. Non-programmable thermostats only cost $20 to $40.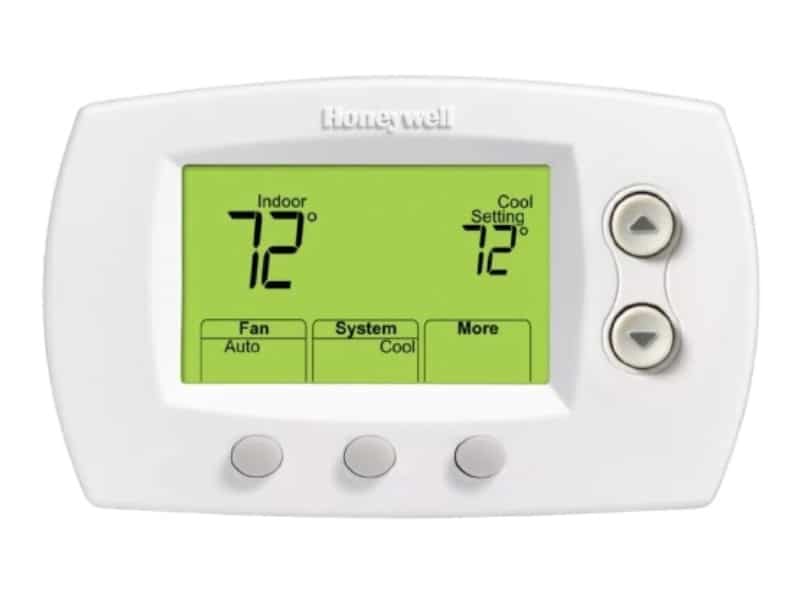 2. Programmable Thermostats
You can create an operation schedule for your device using programmable thermostats. They use preset settings to automatically regulate the temperature. When no one is home, programmable thermostats automatically switch off or lower your heating or cooling, saving you money.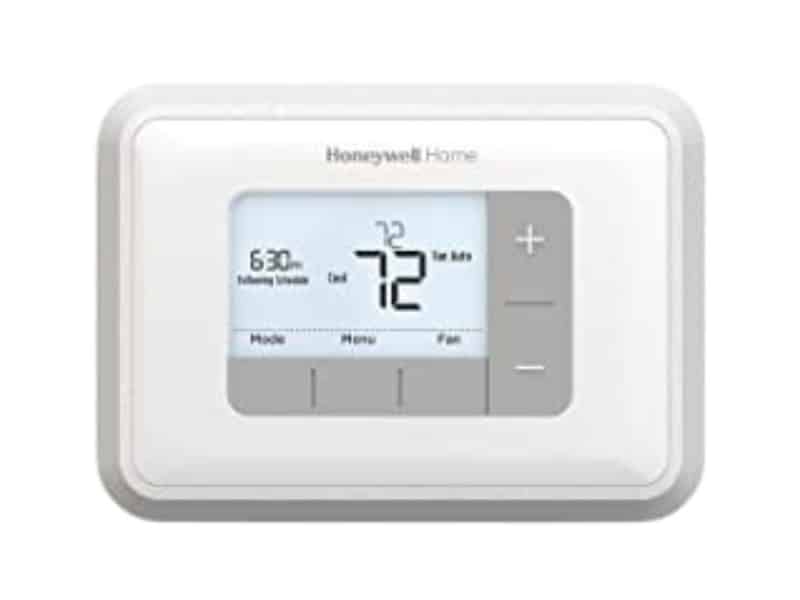 3. Wi-Fi Thermostats
Wi-Fi thermostats can be operated remotely using a smartphone. They are frequently programmable as well. Check out this latest model from, Honeywell Wi-Fi Thermostat (LyricRound Wi-Fi tstat; Part# Th8732Wfh5002) which is most sought after.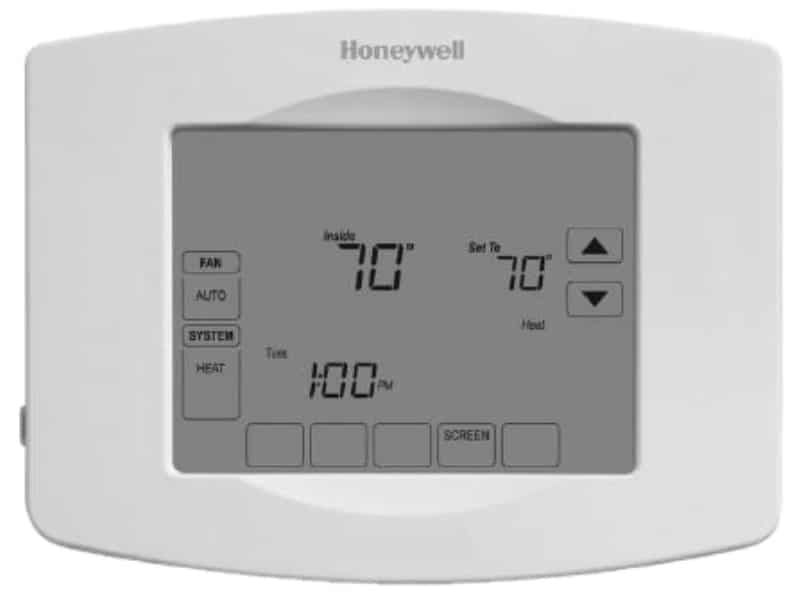 4. Smart Thermostats
Wi-Fi and programmability are typical features of smart thermostats. Furthermore, they have the capacity to pick up on your habits and modify themselves accordingly. Most smart thermostats are ENERGY STAR certified because they make power-saving adjustments whether you are away from home or asleep.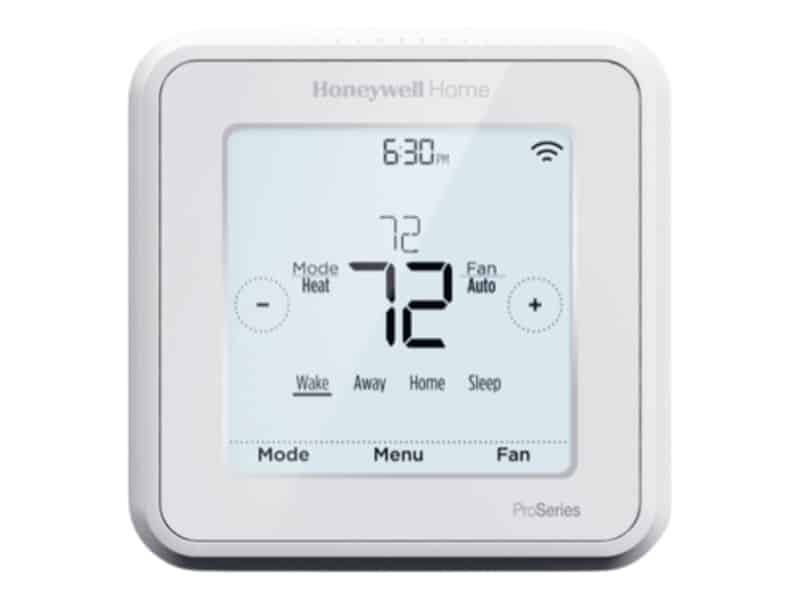 Here's how to reset a Honeywell thermostat of all varieties
Is there a reset button on a Honeywell thermostat? Let's figure out that before we learn how to reset a Honeywell thermostat of all varieties. While there is no official "reset" button on a Honeywell thermostat, there are a few options to help fix any problems.
Each thermostat can be reset in a different way. Firstly, understand the kind of thermostat you have. There are a number of reasons why Honeywell thermostat troubleshooting may need to be performed. Learn how to set Honeywell thermostat models by using the steps below.
1. Programmable Thermostat
The batteries or a battery flip-flop must be removed in order to reset a programmed thermostat. Here are the steps for resetting the Honeywell thermostat:
Switch your thermostat to the off position to turn it off.
Ensure to remove the thermostat from the wall before unlocking it if the battery door is on the back.
Take the batteries out.
Put the batteries in reverse and press the positive terminal against the negative side for five seconds.
Put the normal batteries in their position after removing the reverse ones.
Once the display comes on, you can check if your heating, cooling, or programming issues have been resolved.
2. Line Voltage or Low Voltage Electronic Thermostat
Cleaning the components and testing the various settings are required before resetting a line voltage or low voltage electronic thermostat. These thermostats are typically used with direct-wired electric furnaces or baseboard heating systems and do not have digital displays.
Honeywell thermostat reset detailed instructions are given below:
Uncover the thermostat, if necessary
Using a soft brush, carefully clean the inside parts.
Turn the thermostat's cooling setting all the way down.
Wash the parts once more using a soft brush.
Turn up the heat on the thermostat, then clean the coil once again.
Set your thermostat to the appropriate temperature.
3. Non-Programmable Digital Thermostat
You can easily reset a non-programmable digital thermostat by taking off the face and pressing the reset button, or by taking out the batteries for five seconds. If you do either of those two things, your thermostat should reset.
4. Mechanical Thermostat
When troubleshooting a mechanical thermostat, you must remove the cover first to check that everything is mounted securely and correctly within. If everything appears to be in order, the circuit breaker might need to be reset. If your thermostat is mechanical, you can tell since it cannot be programmed and must be manually set, turned on, and shut off. They also require you to reset your circuit breaker because they are not battery-operated.
Mechanical Honeywell thermostat reset steps are as follows:
Activate the off setting on your thermostat to turn it off.
To turn off your device's power, locate the breaker.
Restart the breaker after waiting for 30 seconds.
Restart the thermostat.
In actuality, analog or battery power is most likely how your thermostat operates. Like older models, it frequently lacks a reset button. Then, how to reset the Honeywell thermostat with no reset button?
Here are the steps on how to reset the Honeywell thermostat, the old model:
Remove the batteries after turning off the thermostat.
Placing the battery in reverse—positive in negative and vice versa—will make it work.
Restore the position to its correct setting after a brief delay.
The Honeywell thermostat will be reset to factory defaults and restarted.
Set the thermostat to its default position once more.
Do not forget that not all older Honeywell thermostat models require batteries.
PartsHnC offers an extensive range of HVAC parts. Buy ventilation parts, air conditioning parts, furnace parts, and other accessories such as digital thermostats for HVAC systems of 200+ brands. Explore our catalog today for your HVAC needs and be assured you won't be disappointed!