The new Daikin Fit heat pumps combine the top features into new units that give you the most comfort while saving you money on your utility bills because they use less energy. This Daikin Fit heat pump review will discuss everything, including the price, features, warranty, and more.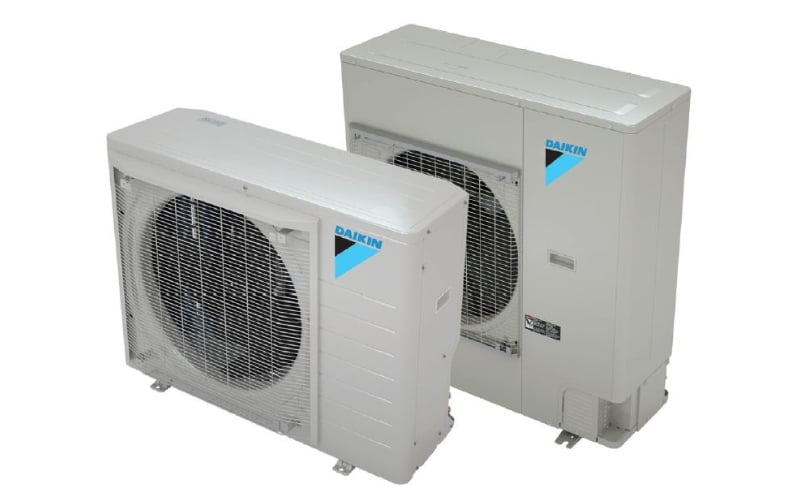 In the world of HVAC systems, new technologies are being made all the time, and better ways to make them work are found. These new technologies can help home and business owners and managers. The whole point of Daikin Fit technology is to make the air inside as refreshing as the air outside but more comfortable, easier to control, and more energy efficient. With Daikin Fit technology, you can make your own unique ecosystem so that every day inside your home is perfect. This means that the temperature and humidity will be just right, and the air will be clean and fresh, just like after it rains outside.
The Daikin Fit technology has a side discharge and a smart HVAC system that doesn't skimp on comfort and is easy to add to ducted solutions. There are a lot of expensive high-tier inverters on the market right now. Still, the Daikin Fit technology offers a high-quality system at a price that everyone can afford. Theoutdoor unit's unique low profile lets it do things that a traditional cube system can't do.
The Fit is an air conditioner from Daikin that is small and works well. It has some great selling points, like the ability to change speeds, a blower motor with multiple speeds, an energy-saving SEER, and the ability to work with Daikin's communication technologies.
Top Features
Here are four that we like because they save space, are cheap, and are comfortable:
1# Fits into smaller spaces.
Traditional heat pump systems, which look like cubes, are bulky and aren't always an option for people who don't have many lines or live in a building with more than one floor. The outdoor side discharge compressor unit is more compact than a traditional top discharge system because it is thinner. It can be on the ground, on a patio, or on a wall.
2# The swing compressor operates efficiently in all stages of cooling.
Most heat pumps turn off when they reach a certain temperature. When the temperature starts to go down, they start up again, and a rush of cold air often comes with it. On the other hand, the Daikin FIT runs all the time and keeps your home at a certain temperature without letting cold air in.
3# Powered by inverter technology, which is quiet and works well.
Heat pumps that don't have inverters tend to make a lot of noise when they turn on. The Daikin FIT runs all the time and is only 25% as loud as traditional air conditioners. The FIT makes as quiet as 56 A-weighted decibels (dBA). For comparison, a normal conversation is about 60 dBA (A). A non-inverter unit can be as loud as 73 dB(A) on average, which is almost as loud as a vacuum cleaner, which is 75 dB(A) (A).
4# Lower electrical consumption.
Americans spend the most on energy bills for their homes. With the inverter technology of the Daikin FIT, the heat pump stays at the right temperature all the time. A traditional heat pump that starts and stops all day long at full power. Compared to HVAC systems that don't use inverters, homeowners can expect to save 30 percent on electricity use. This high level of temperature control also stops humidity from coming into the house and keeps the air clean.
Other key features:
Daikin variable-speed swing compressors
High-density foam compressor sound blanket
Compatible with Daikin One+ smart thermostat and other Daikin communicating equipment
Daikin control algorithmic logic
Intelligent Defrost Mode
In communicating mode – only two low-voltage wires to the outdoor unit required
Diagnostic indicator lights – seven-segment LED display – and fault code storage
Daikin Inside intelligence for diagnostics
Field-selectable boost mode increases compressor speed during unusually high loads
Quiet DC outdoor fan motor
Field-installed bi-flow filter drier
Coil and ambient temperature sensors
Suction pressure transducer
Sweat connection service valves with easy access to gauge ports
Advanced water-shedding drain pan
Hot start technology
Product Specifications
Compressor: Variable-speed swing
SEER: Up to 18
HSPF: Up to 10
Inverter technology: Yes
ENERGY STAR certified: No
AHRI Certified – ETL Listed
Decibel rating: As low as 57
Tonnage: 1.5 to 5 tons
Cooling capacity: 17,100 to 54,000 Btus
The Daikin Fit Heat Pump Price
The average price, including installation, is between $4,500 and $5,500
Warranty Information
The Daikin Fit comes with an industry-leading warranty that includes a 12-year parts warranty and a 12-year unit replacement warranty. Suppose the compressor breaks down during the coverage period. In that case, Daikin will replace the whole heat pump and/or air conditioner with a new one.
Any new Daikin HVAC should be registered in order to be eligible for the full warranty. You'll have 60 days from the time the unit is installed to register it. The warranty will expire after five years if you fail to register. To register, you need to give information such as the serial number and model number, the date it was installed, and the HVAC dealer who did the work.
Conclusion
The Daikin Fit is quiet, works well, and is perfect for homeowners who don't have a lot of extra space outside. The variable-speed swing compressor can make small changes to the amount of cooling and provide quiet, consistent comfort without the hot and cold spots that come with single-stage air conditioners. These features are also better at controlling humidity and using less energy because they run at lower speeds for longer periods.
One thing to keep in mind about this model is that it does not have ENERGY STAR® certification, even though it has a high SEER and a variable-speed compressor. This could make it harder to get rebates. Still, Daikin Fit heat pump and air conditioner will save you a lot on your monthly cooling bills.