Thinking of buying an infrared heater for your home but don't know where to start? Look no further! We'll break down the various types of infrared heaters on the market and help you choose the best one that suits your needs.
We also have recommendations on which of these infrared space heaters is the best for you and your family. Whether you're warming your home or your office, going infrared can be a great choice.
What is Infrared Heater
Infrared heaters are becoming more and more popular due to their high heating efficiency and low energy consumption. They work differently from standard heaters, which warm the air. Infrared heaters work by transferring their heat to surrounding objects through light waves that are invisible to us. Thermal energy, like the sun, is transmitted from infrared heaters.
Since objects and people are heated directly, infrared heaters warm areas very fast. It does not heat the air, however, so any place the heat waves don't reach directly will not be warmed at all. You'll also feel the healing power stop immediately once you turn off a unit.
Despite a couple of drawbacks, infrared heaters are the most comfortable heat source you can have for your home. They work silently and don't dry out the air or add any pollutants, so you get clean and gentle heat while using very little electricity.
The Different Styles of Infrared Heaters
One popular type of infrared heater is a wall-mounted model, which can be used either outdoors or indoors. They don't take up any floor space, have an inconspicuous design, and can heat a small to a medium-sized area well. Some of these types of space heaters are also mounted to the ceiling.
Infrared heaters that mount to the wall can often be used on a stand as well, and the stand can be bought separately. Heaters made specifically for the patio often come on tall stands that you can easily position throughout your outdoor space. They are durable, weatherproof, and made of lightweight aluminum for long-lasting performance. Many people prefer the cost-effectiveness and convenience of infrared over propane patio heaters.
Another type of heater that is popular for the home is a portable space heater, which either looks like a traditional table fan or comes in a box shape. An infrared portable space heater will sometimes be housed in wood to match the furniture in your home. The housing also protects you and your family from the hot elements of the heater.
A portable infrared heater that is positioned on a short stand is the cheapest option for your home. The heating element is more exposed, but these space heaters come with tip-over safety features that automatically shut off the unit in case it's knocked over or overheats. They can also be tilted up or down and oscillate for versatile heating.
Our Recommendations for the Best Infrared Space Heater
If you want to find the best electric infrared heater that can make your room nice and warm, then these infrared heater reviews are perfect for you.
Dr. Infrared Heater Portable Space Heater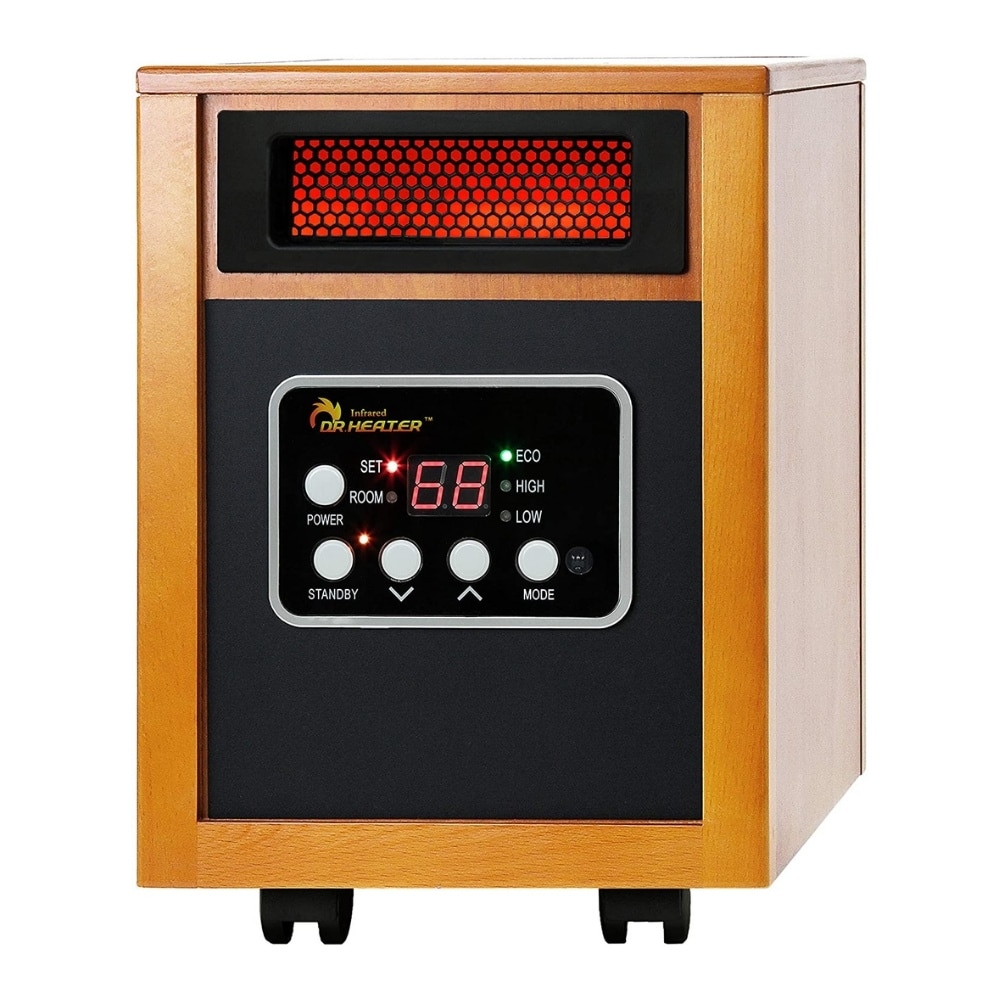 Dr. Infrared Heater is of the most popular infrared heaters on the market today. This machine uses 100% of the heat that is produced. This creates almost zero loss in heat transfer which makes it extremely efficient at heating large areas up to 1,000 square feet. It comes with 1,500 watts of power and a quartz element that is able to produce powerful infrared heat.
A programmable thermostat allows for setting the exact temperature of 50 to 86 degrees Fahrenheit. With important safety features, like an overheat protection sensor and a shut-off feature if the unit is tipped over, this heater is safe, and it's been proven through several tests.
Duraflame Electric Infrared Tower Heater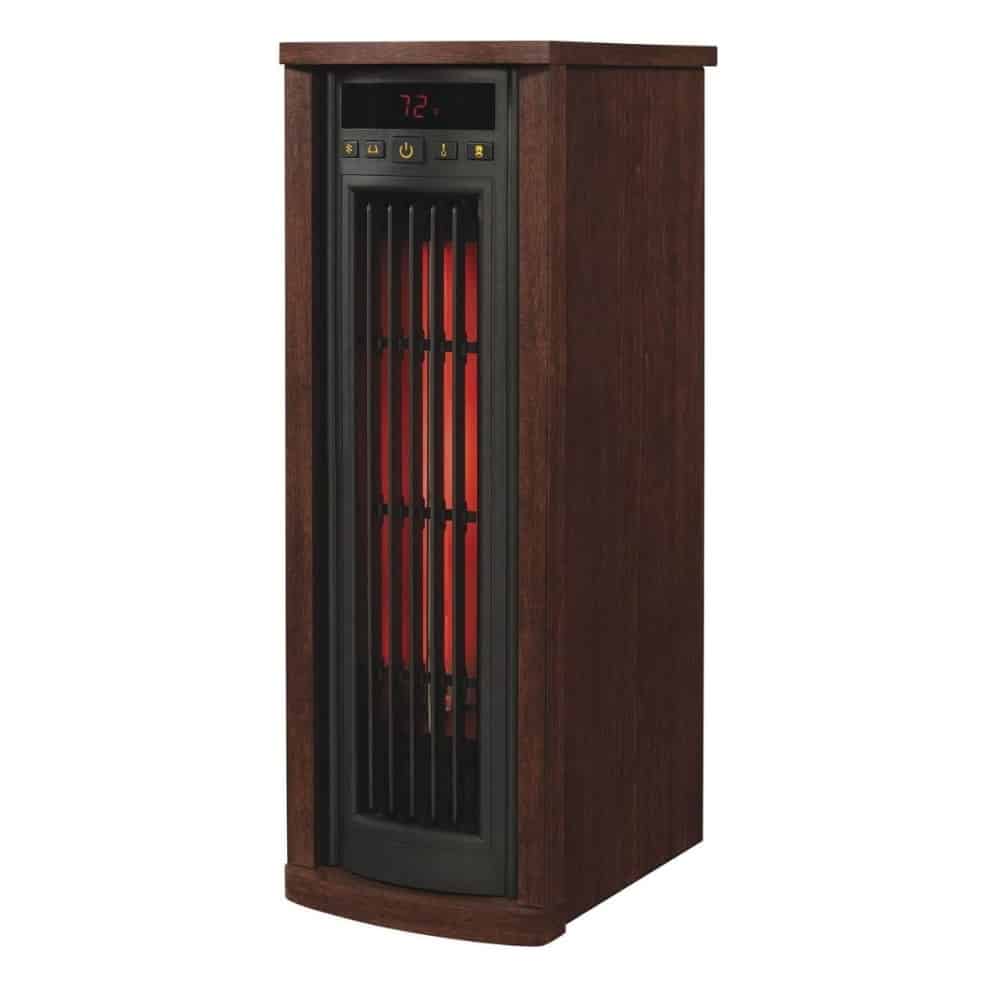 The Duraflame Duraflame 5HM7000-NC04 is one of the most unique and quite cool design infrared heaters available. It can heat up to 1,000 square feet, making it great for large basements, living rooms, open floor plans, etc.
What we like about this infrared heater is that it comes with a flame effect that makes this look like an actual fireplace.
LifePlus Electric Infrared Space Heater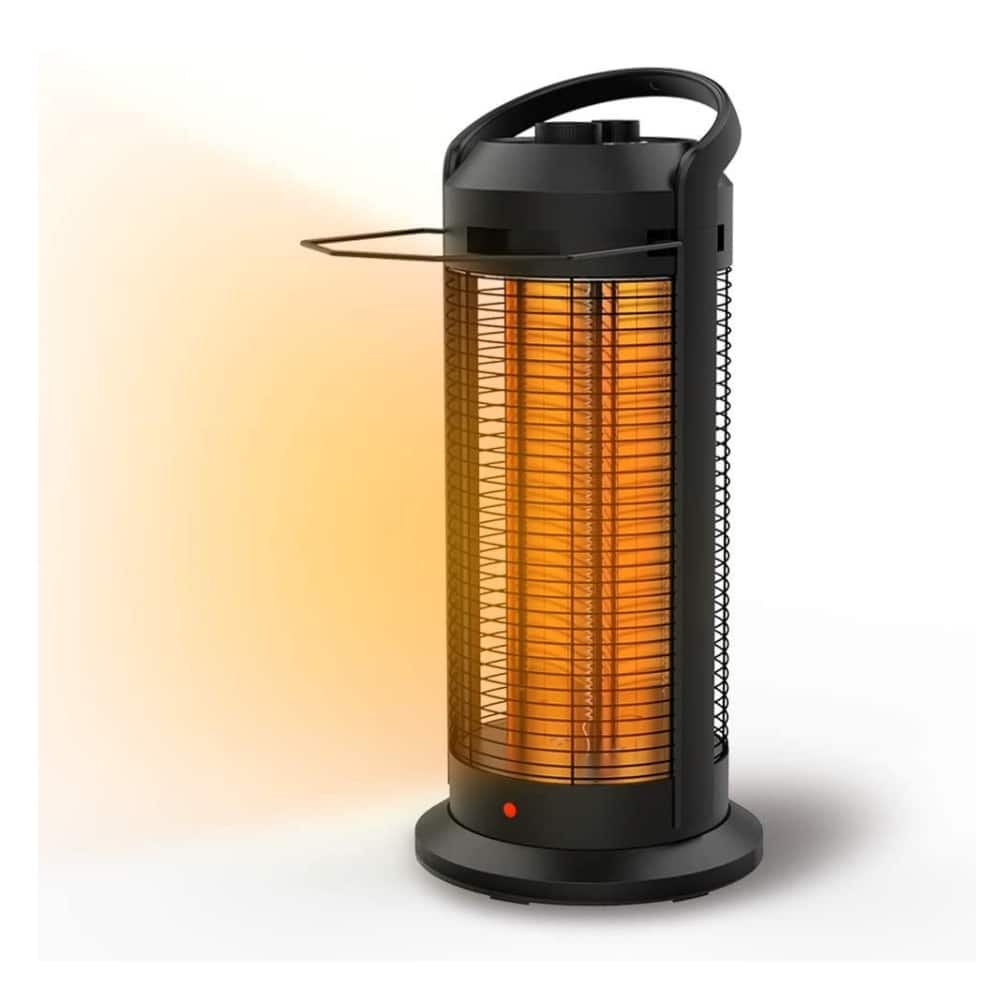 When it comes to an infrared heater that's powerful and budget-friendly, the LifePlus infrared heater is a solid option. It features a quartz heating element that can provide ultra-fast heating with 1500 watts of power.
LifePlus infrared heater has two adjustable temperature settings and a tip-over safety feature to ensure the heater is turned off automatically if it is knocked over.
How to Use an Infrared Space Heater At Home
The initial and long-term costs of infrared heaters are relatively low, thanks to their energy-saving operation and minimal upkeep. Infrared heaters are silent and produce clean heat, so they're ideal for quiet home environments.
They're also great for outdoor use since they don't waste energy trying to heat the air and instead heat objects directly. Plus, you don't have to deal with the hassle of propane.
For quick, efficient, and gentle heating in your home, infrared heaters are a great alternative to other traditional types of electric heaters and fit many different kinds of lifestyles.
Ideal Places for Your Infrared Heater
Infrared heaters are an efficient and generally safe way to heat the inside of your home, patio, or office. The heating coils can get very hot, but since home use for infrareds has increased so much, manufacturers now make very safe units that are enclosed in cases, so they're not burning hot.
Infrared space heaters are safe to use on carpet or hardwood floors, and many models have a tip-over safety switch that automatically turns the unit off if it accidentally topples over.
To get the most heat in the room, you can place an infrared heater anywhere, even in the corner, and just face it towards the center of the room for effective warming. No installation is required for these space heaters– just plug and heat!
Since infrared heaters work silently, they're ideal for noise-sensitive rooms, like a bedrooms. Never again will you be kept up all night from a loud, whirling fan or have to hear the clicking on and off of traditional heaters trying to warm an entire room.
Infrared space heaters are great for any room in your home or at the office, but they're also great for outdoor use. Use one on your patio for wintertime entertaining! Since an infrared heater warms an object directly, no energy is wasted trying to warm the cold, wide expanse of outdoor air. Restaurants favor infrared heat lamps for this very reason. Many infrared heater models come in a weatherproof casing for durability in an uncovered, outdoor application.
Other popular commercial uses for infrared heaters are in garages with poor insulation and infrared saunas. Some claim infrared saunas even have health benefits and will help with joint and muscle pain.
Conclusion
Many homeowners like infrared heaters because they provide instant heat. Instead of warming an entire large area, an infrared heater only warms people and objects in front of it. Remarkably energy efficient, the best infrared heaters use less power to create the same amount of warmth provided by many other types of heaters.