Most safety experts conclude that electric space heaters are the only ones that are safe for regular indoor use. According to Harvey Sachs of the American Council for an Energy-Efficient Economy, fossil fuel heaters, such as kerosene or propane heaters, add a large amount of humidity to the air and could produce carbon monoxide if the fuel doesn't burn completely. While this doesn't pose a problem if the unit is used outdoors, it does clearly make a case for why we should stick to electric space heaters for indoor use.
Aside from energy efficiency and fuel costs, many electric space heaters also come with an additional safety feature – they immediately switch off if it tips over or overheats. If your space heater comes with this feature, the slightest tilt in any direction will automatically shut off the heater. This is especially useful if you have children or pets.
What is Space Heater?
The term "space heater" usually refers to a small, self-contained heating unit, usually portable but sometimes wall-mounted. A room heater keeps the air and surroundings at a comfortable temperature when the main heating system is inadequate or when central heating is too expensive to operate or install.
Unlike central heating systems, which warm many connected spaces at once, a portable space heater just warms a single, small area. Anywhere from 150 to 500 square feet. An electric room heater is also great for boosting the temperature of frequently occupied rooms without overheating the rest of a home or office. With space heaters, the heating bills are reduced because you're heating less square footage.
And since electric space heater usage is far more efficient today than it used to be, too, you'll still save money when you reduce your household thermostat.
Why Choose an Electric Space Heater?
An electric space heater may help you save money on heating if you use it just to take the chill off a single room without having to crank up the heat in the entire house.
After safety, money is the next deciding factor. With the cost of gas heat going through the roof, the best way to heat your home for the winter is to do it by only heating those rooms which you actually use. This is a clever but simple strategy that should be put into effect, especially if there's only one person in the dwelling or if only one or two rooms are being used.
Space heaters also convert almost all of the electricity into heat. Electricity, often created from gas, oil, or coal, is usually only able to convert to 30% usage – so if you switch on an appliance, about 30% of the energy used is actually serving the purpose of powering the appliance. While you probably wouldn't want to use electricity to heat your whole house in a cold climate, it's often the most cost-efficient method for heating your home – summing up at about 13 centers per hour.
Two Commonly Used Types of Electric Space Heaters
Space heaters come in all different shapes, sizes and models. A quick look at our electric space heater buying guide will help distinguish between the various types and sizes.
There are two commonly used types of electric space heaters: convection heaters and radiant heaters.
Convection Heaters vs Radiant Heaters
Most consumers make a mistake in thinking that convection and radiant heaters are not electric space heaters – when in fact, they are.
Radiant space heaters heat objects and people rather than just the air in the room. Radiant heat works the way the sun's rays do. When you're in those rays, you're warm; when the rays are blocked, you get cold. Consequently, you have to keep a radiant heater within your line of sight to feel its warmth.
The U.S. Department of Energy says radiant heaters are a more efficient choice than convection heaters on a case by case basis. With radiant heating (also referred to as infrared heaters), if you'll be in the room for only a few hours and can stay within that line of sight.
This is made possible since radiant heaters don't need to heat the entire room – which is an advantage for these types of heaters since there are no drafts from moving air.
Should you choose a convection heater instead, the Energy Department recommends buying the type that contains a heat transfer liquid such as oil. The electric element heats the fluid, which stores some of the heat for gradual release into the room. That way, the heater can cycle less, but the warmth from the heater remains more constant.
Convection heaters heat the air in the room, and aside from the portable heater variety, they also come as baseboard and wall heaters. Though baseboard and wall heaters are stationary units, they are nonetheless space heaters as well.
One of the benefits of convection heaters is that you can heat the whole room more quickly than a radiant heater since the fan forces out the heater's air. So convection heaters would probably be a better choice if there are a lot of people in a room or if they were constantly moving around or within the room.
Best Electric Space Heaters – Reviews
We've tested several electric space heaters and have selected the best in terms of quality, value and efficiency. See our best space heaters reviews below:
Vornado MVH Vortex Heater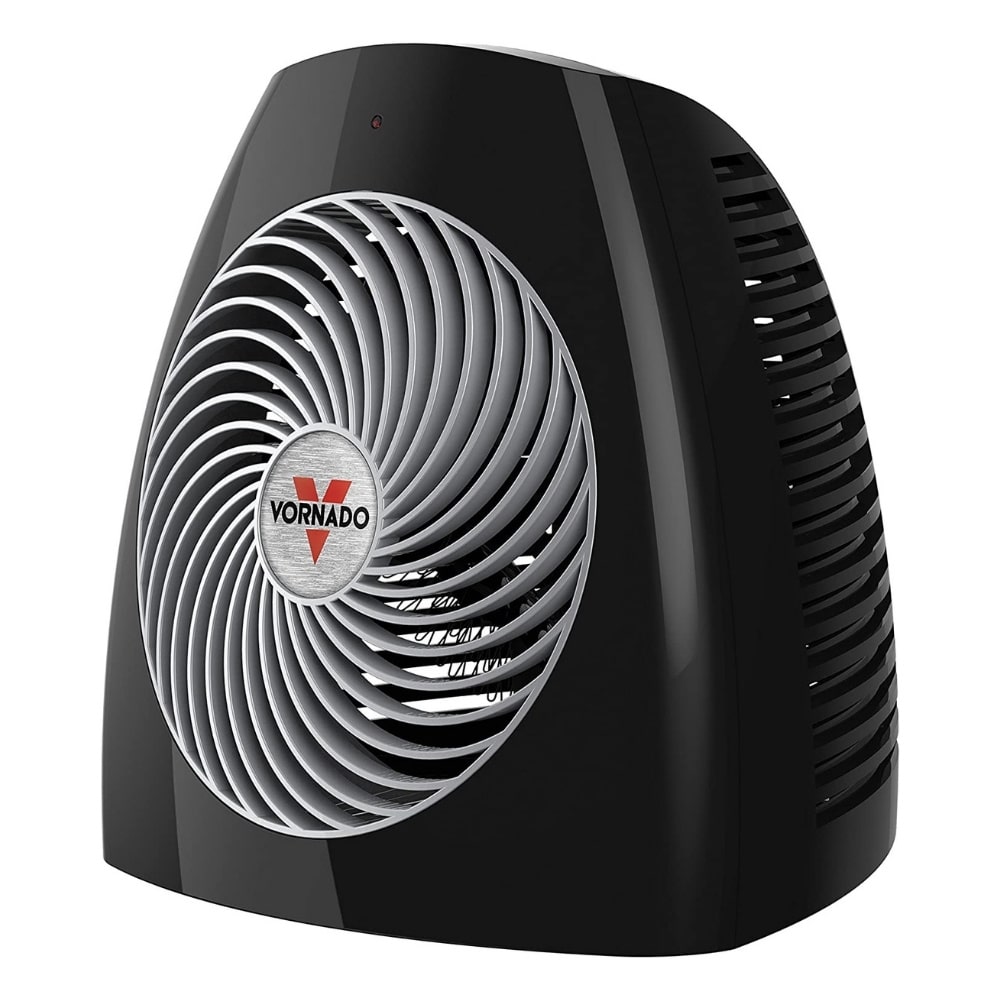 The Vornado MVH Vortex Heater has 3 heat settings (Low/750W, Medium/1125W, High/1500W) with the option for fan only. A top feature of the MVH Vortex is you can set the unit to a specific temperature from the internal Adjustable Thermostat. This portable machine may be small, but it can heat a room in minutes. The manufacturer covered this electric space heater with a five-year warranty.
Dyson HP04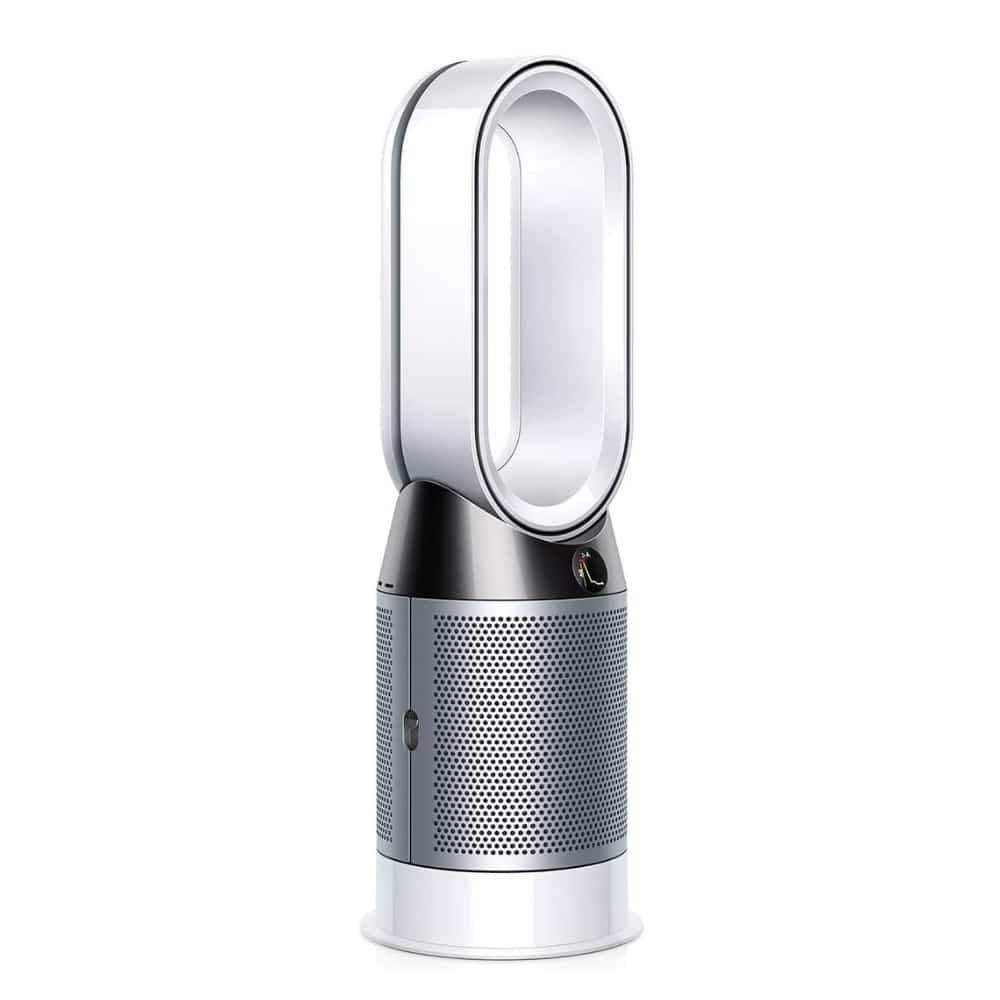 The Dyson Pure Hot + Cool is the only purifying heater + fan to clean and heat a whole room properly. This electric space heater can be used for long-range personal heating in Jet Focus mode or fast, even room heating in diffused mode. You are able to monitor the temperature in the room and adjust it in the winter to bring heat to the room to the right temperature with thermostatic control.
Lasko FH500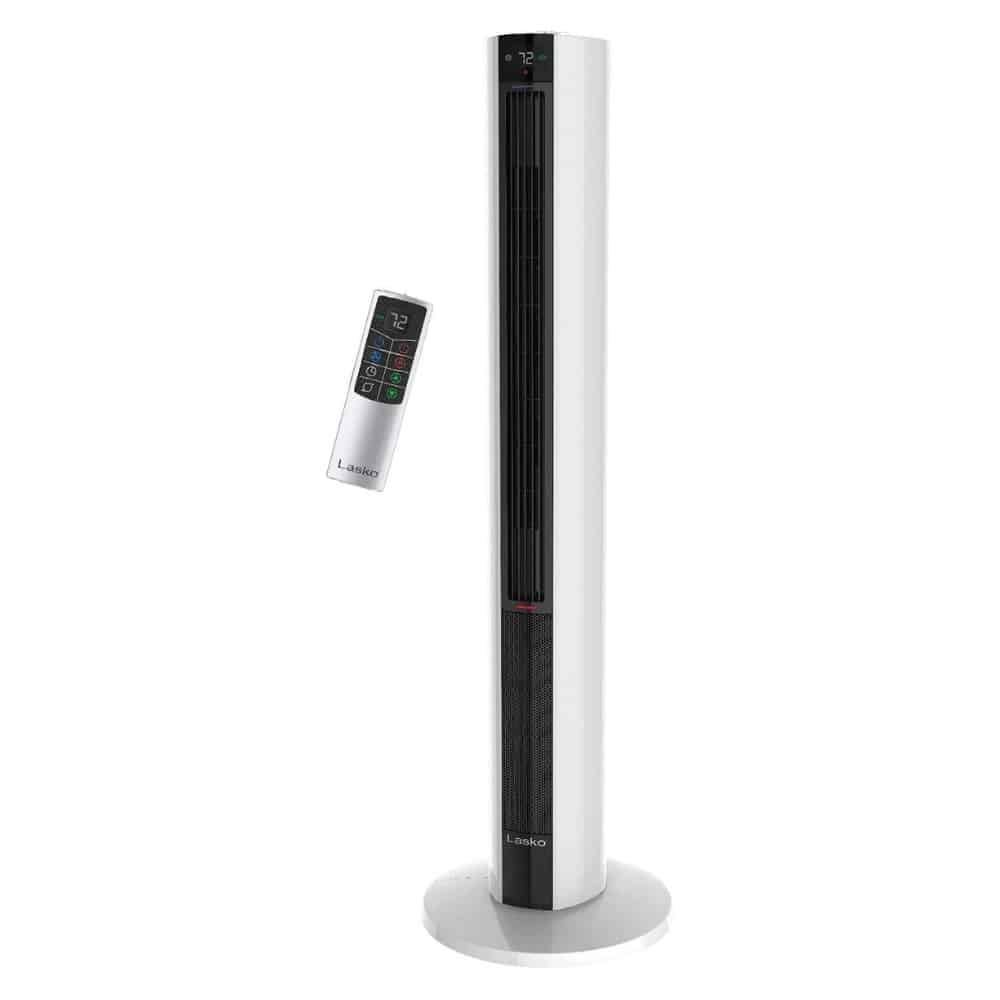 If you're looking for a space heater to heat an entire room, the Lasko FH500 is the best choice available. Powered by a 3-speed 1500 watt ceramic heater and 4 quiet fan speeds, this oscillating tower is great for all-season use. The machine can be programmed directly on its control panel or with a remote that comes with it. The biggest benefits are the built-in safety feature. With Tip-Over Safety Switch and Overheat Protection, take the worry out of using this electric space heater for long periods of time. The self-contained, self-regulating ceramic heating element helps keep the exterior cool to the touch.
De'Longhi Ceramic Tower Heater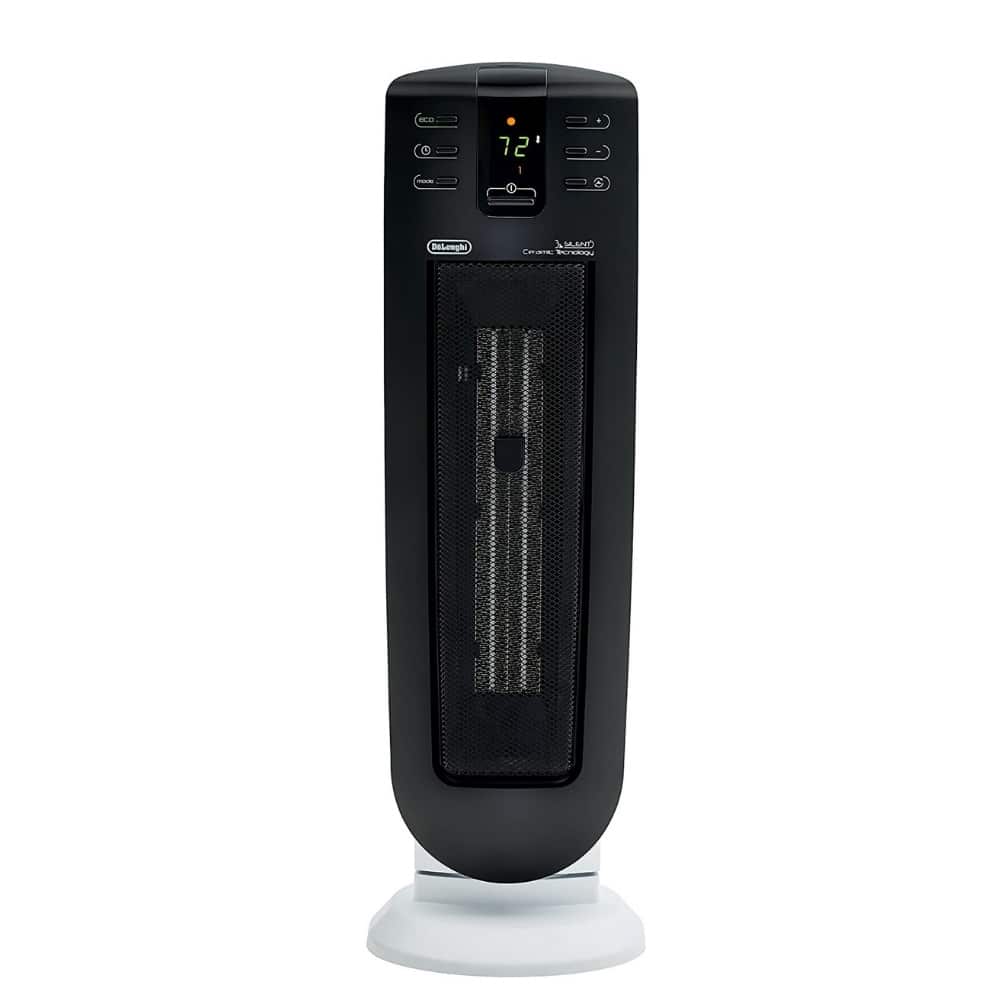 This electric space heater is very sleek and modern good looking. The De'Longhi Tower Ceramic Heater with 1500 watts (5120 BTUs) of power gives you instant heat in medium to large rooms whenever you need it. You can customize your heating needs with digital controls, including an adjustable thermostat and multiple heat settings. It can be set to go on whenever you need heat most. For safety, a thermal shutoff to prevent overheating and an internal tip-over switch that automatically turns the unit off if it falls over.
Vornado VH202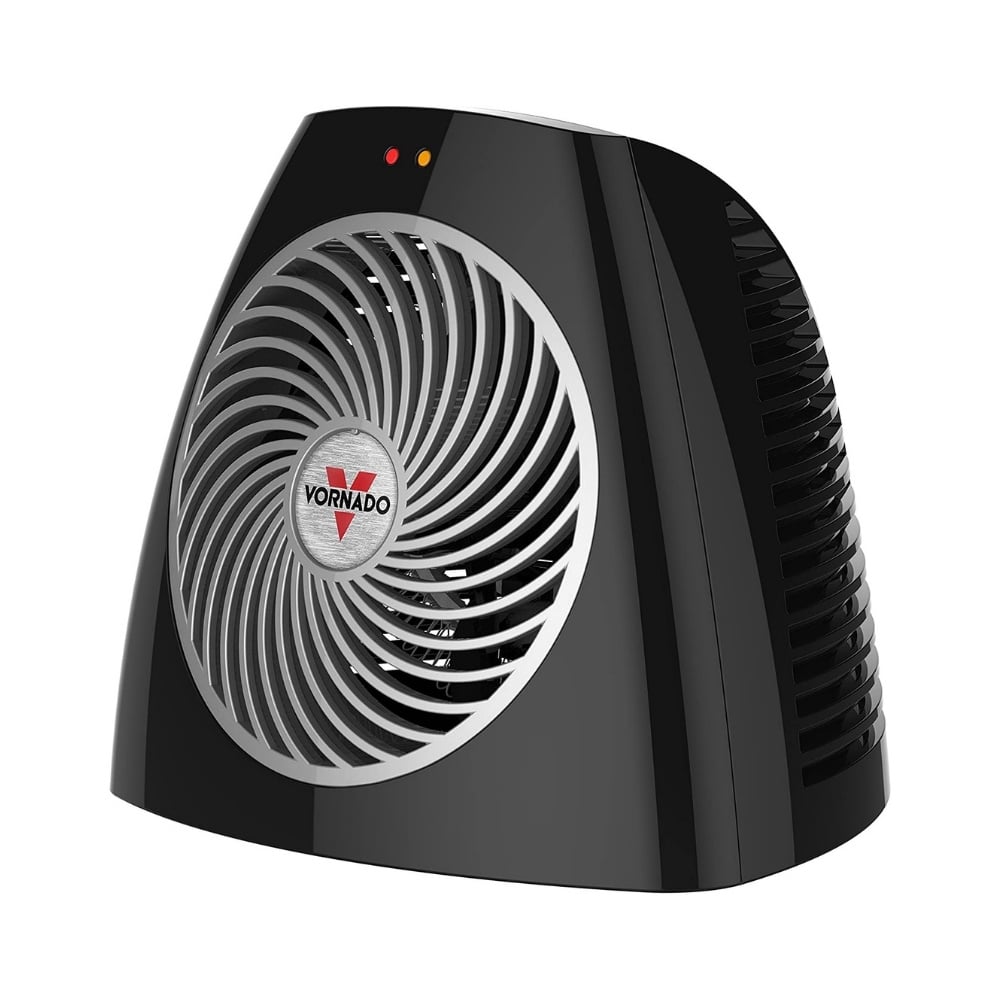 Vornado VH202 electric space heater is a top choice for small rooms. This machine has a thermostatic temperature control knob to select your desired heat setting with a simple dial turn. It offers quiet performance and uses vortex air circulation to quickly heat the air around you. On top of that, it's great value for the money at less than $50.
Choosing a Safe Electric Space Heater
Shopping for a safe space heater is easier than ever. Modern electric space heaters are designed to be as risk-free as possible. Models like ceramic heaters greatly reduce the risk of burns and fires from exposed heating elements. You'll also want to be sure to look for safety features, including:
Tip-over safety switches that turn off the heater in case it gets knocked over.
Thermal cutoff switches that shut off the heater if it starts to overheat.
Cool touch surfaces to protect against contact burns.
If you keep these features in mind, you're sure to find the safe space heater you need.
Are space heaters more efficient than central heating systems?
Studies by the U.S. Department of Energy show that you can save over 10% on your monthly home heating bills by lowering the thermostat on your central heating bills and using space heaters to warm only the rooms you are using. Why heat the whole house when you are in the bedroom, the den, or the kitchen with portable space heaters.
Conclusion
Not all electric space heaters are built the same. Any model will only help heat up a small room, while some are good for keeping your large space warm. We have tested and researched a number of space heaters on the market and find the above units tailored for different needs.
When you shop for a new space heater, the latest models are more attractive. Whichever models you choose, some common safety concerns must be overlooked. Safety features are key when deciding which is the best electric space heater to buy.