Below, we are reviewing an Amana ASX16, a Two Stage Compressor and high-efficiency air conditioner with an efficiency rating up to 16 SEER. Amana is a well known and one of the most respected brand in North America originating and since the 1930s. Have a look at the review of this Amana ASX16 air conditioner and check out the best price available also some features that leave these models unique.
Amana provides 8 different central air conditioners series ranging in efficiency rating from 14 SEER to 24.5 SEER. Amana ASX16 is at the lower end of Amana's mid-tier air conditioner series. This air conditioner unit is able to achieve an impressive SEER performance rating of up to 16 SEER.
Some of the necessary features of ASX16 model is a single-speed ECM condenser fan motor, Copeland CoreSense Diagnostics, high-density foam compressor sound blanket, factory-installed pressure switches and factory-installed filter drier. This model is ideal if you need to use your AC extensively.
Amana ASX16 High-Efficiency Air Conditioner Features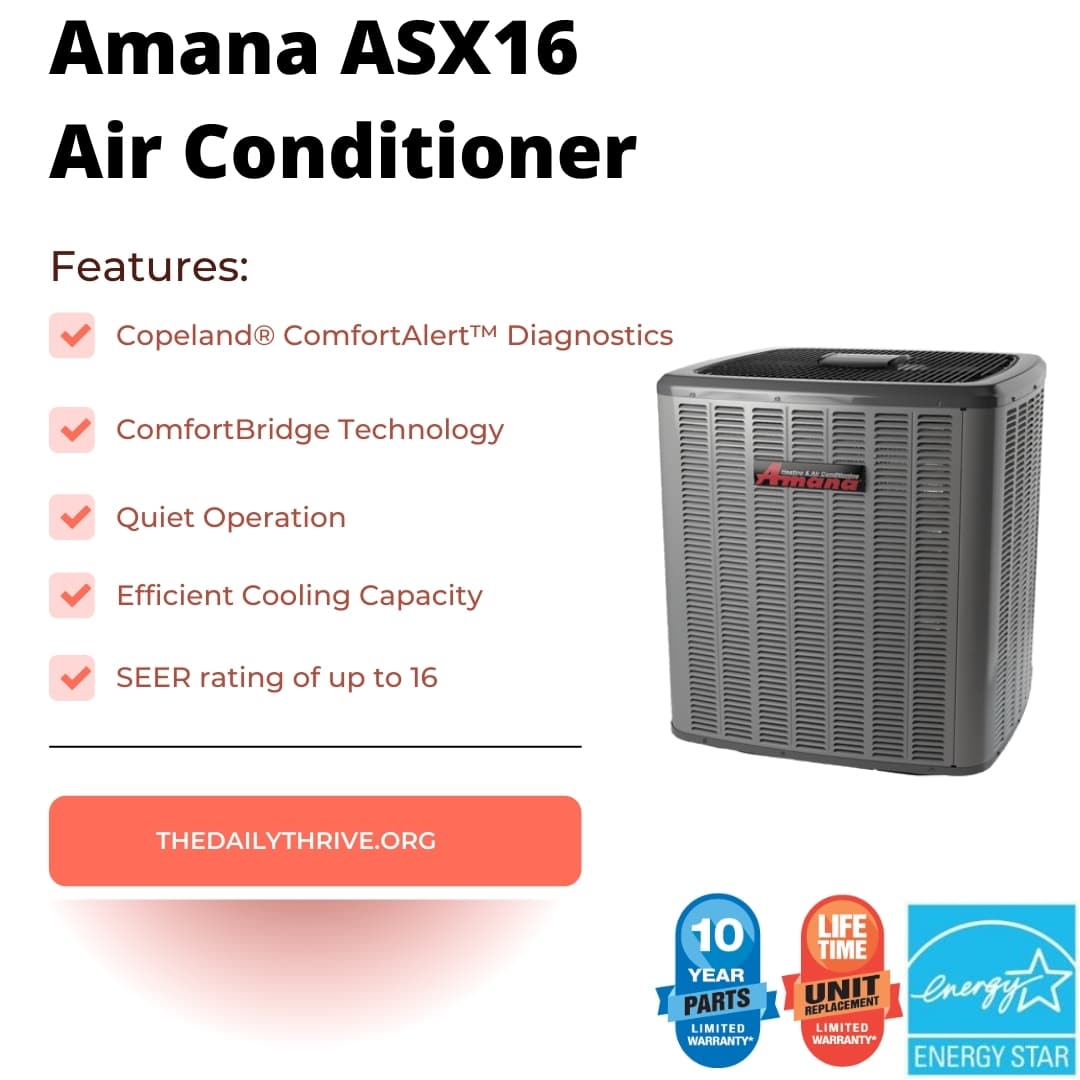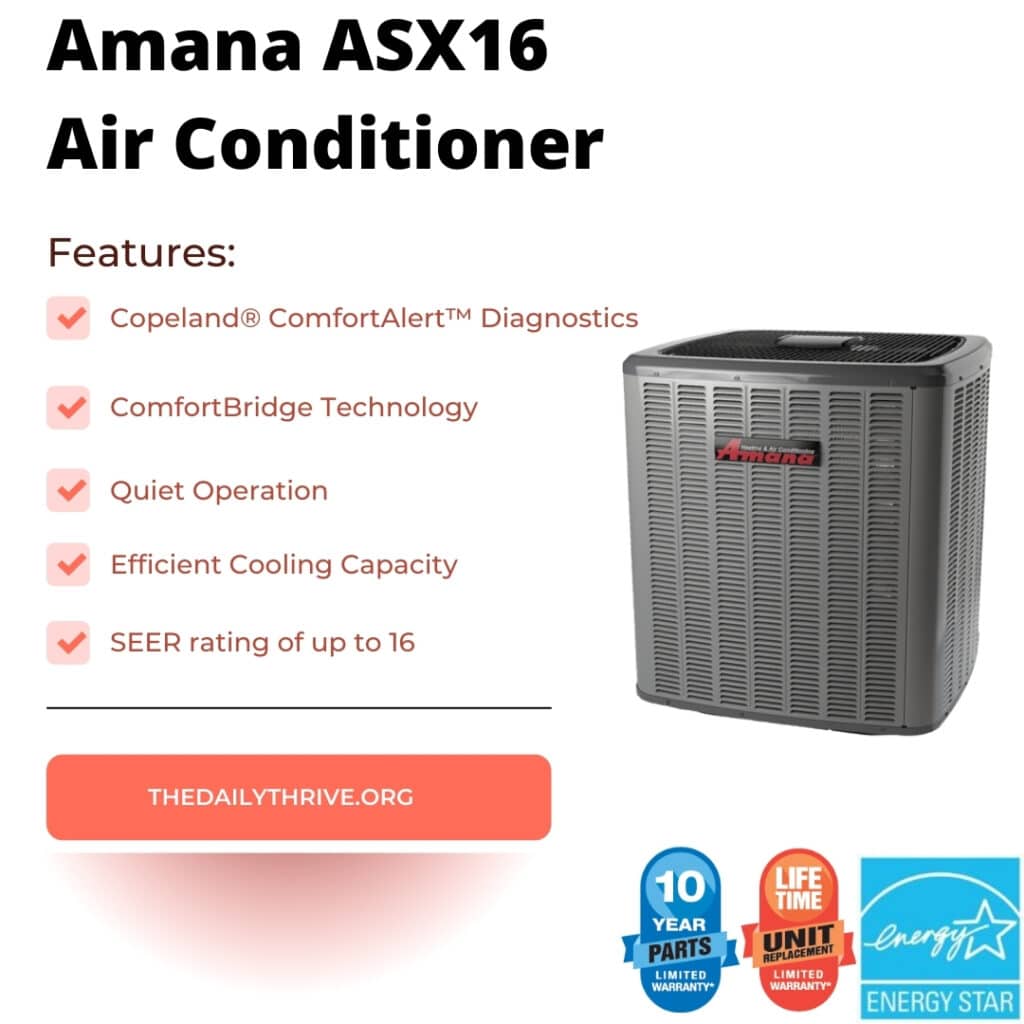 ComfortBridge Technology Compatible – Continuously monitors system performance for customized indoor comfort.
Comfort Speed Technology – Designed to automatically adjust the speed of the compressor and condensing fan motor based on cooling demand – full, 100% capacity for extreme temperatures, and reduced capacity for milder days. A system with Comfort Speed technology may lower your energy costs when compared to a single-speed unit that only runs at 100% on or 100% off.
Copeland® ComfortAlert™ Diagnostics – Advanced diagnostics constantly monitor your air conditioner system, reducing failures and pinpointing trouble spots for a fast fix.
Copeland CoreSense Diagnostics system will monitors your Amana ASX16 air conditioner for existing and potential problems, offers troubleshooting guidance, and provides advice on possible repairs. The system will also automatically shuts down the unit if it detects an issue that can damage the compressor. This saves many home owner from huge problems and costly repair.
Efficient Cooling Capacity – Five millimeter, refrigeration-grade premium copper tubing and aluminum fin condenser coil configuration deliver outstanding heat transfer properties with R-410A refrigerant.
Factory-Installed Inline Filter Drier – Protects the refrigerant system from dirt and moisture for longer service life compared to an unit without a filter drier.
Quiet Operation – Acoustically engineered, highdensity sound control blanket helps to reduce noise levels compared to units without sound blankets for years of quiet comfort. Amana ASC16 air conditioner has sound rating as low as 70 decibels.
Heavy-Gauge Galvanized Steel Enclosure with SoundControl Top – With advanced fan design, it provides dependable, quiet airflow across the condensing coil.
Amana ASX16 Price
Average Price for Amana ASX16 air conditioner with installation is about $3,500 – $6,200. The price range is for unit with 2 – 5 tons.
Amana Warranty
Every Amana air conditioner features a warranty that protects both parts and the compressor. Amana ASX16 come with brand's premium-grade warranty coverage, 10-year limited warranty that covers functional parts and the compressor. This includes a limited lifetime unit replacement warranty as well.
Complete Amana warranty details available from your local dealer or www.amana-hac.com. To receive the Lifetime Unit Replacement Limited Warranty (good for as long as you own your home) and 10-Year Parts Limited Warranty, online registration must be completed within 60 days of installation. Online registration is not required in California or Quebec.
Amana ASX16 Reviews
Amana ASX16 air conditioner has average 4.7 out of 5 review stars in homeowner satisfaction from Heating and Air Conditioning forum. This model offers great efficiency, and its SEER rating are high as compared to similar products. As this model comes with a high-efficiency compressor, single-speed condenser fan motor, Copeland CoreSense Diagnostics system, inline filter driver, and dozens of other features, it is definitely worth investing in. If you are looking for an air conditioner to keep your home comfort all year, then it is best to consider the ASX16 as your 1st choice.