The best air conditioner is the one that is well maintained. It doesn't make a hoot whether you have a Trane, Carrier, Goodman, or any brand that you can think of. None of these units will perform properly if not maintained regularly. I have seen units that have lasted 25 years and longer with proper maintenance. I've also witnessed units under a five-year warranty destroyed by a lack of AC maintenance.
I have tried to explain this throughout the entire website. It is not the brand name of the unit; it is how it is installed and maintained that gives the unit longevity. People no longer maintain their air conditioning systems nowadays; they only call when they completely stop working. This is actually a shame because Air Conditioners have the ability to last 30+ years if properly maintained.
This article will guide you about what you can do by yourself and when you should call a professional for air conditioner maintenance.
DIY Air Conditioner Maintenance
I recommend completing an Air Conditioner maintenance checklist at least two times a year. It's a fact that preventative maintenance can improve efficiency, prevent costly repair, and extend the system's lifespan.
The good news is that there are simple things you can do to help keep your AC running effectively and efficiently. There are several things you can do on your own that are considered preventative maintenance for your Air Conditioner.
Inspect the Thermostat
The thermostat should be the first thing to check, and this may be the easiest task for air conditioner maintenance. Just check your thermostat, check the battery, clean from dust and debris. Make sure it works properly and keeps your home at the correct temperature.
Change Or Clean The Air Filters
The most important AC maintenance checklist is routinely replacing and cleaning the air filters. Clogged, dirty filters reduce the amount of airflow and significantly reduce a system's efficiency. Replacing a dirty, clogged filter with a clean one can lower your energy bills by 5% to 15%.
Clean or replace your filters every month or two during the cooling season. Air filters need a more routine lookout if your unit is in continuous use, is subject to dusty conditions, or you have pets in the house.
Clean the Outdoor Unit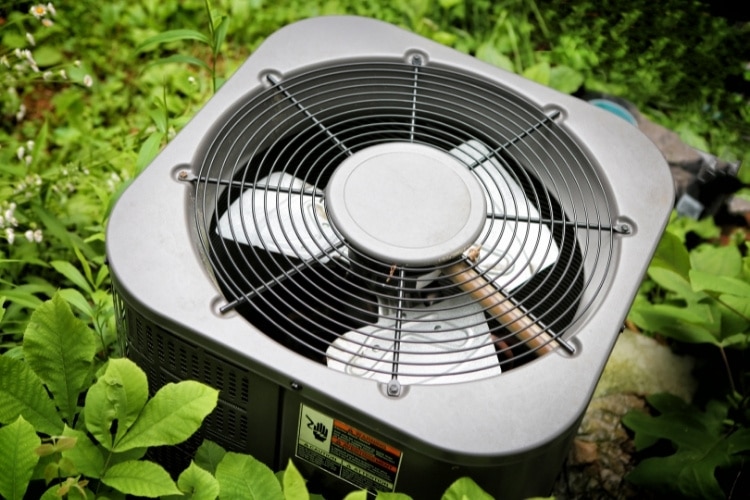 Over time, things like leaves and grass clippings will build upon the outdoor unit, reducing airflow and decreasing efficiency. You should trim any shrubs or other plants back from around the unit to keep restricting airflow.
Clean & Straighten the Evaporator Coils
Another relatively simple chore that the homeowner can perform is to clean the evaporator coil. The air across the coils in your AC unit can cause dust and debris to stick to the coils. By annually cleaning the evaporator coils, you can minimize energy usage and reduce utility costs.
The aluminum fins on the evaporator and condenser coils are easily bent and block airflow through the coil. Check this component when performing DIY AC maintenance and straighten the fins if necessary.
Keep Your Drain Line Clean
As your air conditioning system pumps cold air to your house, condensation builds up in the system and drains through a series of tubes, usually to an outlet outside. If left stagnant, these pipes are the perfect breeding ground for mold, fungus, and algae, which can spread and clog your whole drainage system. Once a year, as part of regular air conditioner maintenance, your need to clean everything out of the drain line.
To prevent the problem in the first place, you want to visually inspect the drain at least once a month. If there's a buildup of liquid in your drain pan or in the pipe, attempt to remove any debris that may be clogging the outlet.
When to Call Professional
While many homeowners can do some AC maintenance tasks, it's still necessary to have a professional HVAC technician perform in-depth inspections periodically.
A professional HVAC technician will check these things:
Check electrical components; clean and tighten any connections.
Check mechanical components.
Check for the correct amount of refrigerant.
Test for refrigerant leaks using a leak detector.
Check for and seal duct leakage in central systems.
Measure airflow through the evaporator coil.
Verify the correct electric control sequence.
Oil motors and check belts for tightness and wear.
Check the accuracy of the thermostat.
The Best Time To Schedule Air Conditioner Maintenance
Air Conditioner maintenance should be performed in what I call open-door weather. This is the time of year when you don't need your air conditioner. This is the time when all HVAC companies are slow. This is a time when HVAC companies are trying to keep their best technicians on the payroll with more than 15 hours for the week. This is the time when a technician can actually take the time to make sure your system is up to snuff and ready for the next season.
When you look to do Air Conditioner maintenance during the peak part of the season, the demand part is when it's 100° or the first hot day. In the wintertime, at the first cold night. This is when all the HVAC company is very busy. This is when they are trying to get to all the customers simultaneously.
This is also the time when really good technicians do not want to hear the boss say, can you run two more calls. He has worked hard to get all the calls he ran today out of the way so that he can go home and be with his family. When a technician has done his 45 hours already for the week by Wednesday, the quality of work that he puts out to the end of Friday, in my opinion, is not his best.
Both DIY and professional AC maintenance will go a long way in saving you money on repairs and extending the lifespan of your system. Keep you comfortable during the hottest days of summer.