Air conditioners may inevitably need professional repair services due to continued use and wear and tear. Regular repair services can save you a lot of money. But how to know that it's time to call an HVAC technician? This guide addresses 5 of the most common HVAC problems that require professional service.
Your HVAC system needs to be serviced regularly by a professional, but even the best-maintained system can break down at the worst time. If you notice your AC showing signs of any damage, or reduced efficiency, consult an HVAC technician immediately.
5 Common HVAC Problems That Need Professional Repair Services
Take a look at the five most common problems with air conditioning. We even tell you how to fix these problems.
AC not working
If your AC suddenly stops working one afternoon, you may have to call an HVAC professional and have them look at it. Before you call a technician, try switching the AC on and off from the main power outlet or wait a few hours before turning it on. Ensure that your thermostat's batteries are working and don't need replacing. Adjust the settings of the thermostat to desired levels as well.
If you've done all these things and your air conditioner still refuses to work, it's best to call someone. You can consult Downtown Air and Heat for all your HVAC-related issues.
AC blowing warm air
One of the most frustrating issues with AC is when it blows warm air. The prime reason this could happen is if the thermostat settings accidentally got changed. Ensure that it's set to cooling and the desired temperature.
Consider replacing your air filter as well. Dirty air filters can lead to issues with proper AC cooling. If not, your AC unit could be short on refrigerant.
If you cannot pinpoint the issue or fix the problem, call for professional help. They can refill the refrigerant reservoir or repair any component that is causing the problem in your AC.
Leaking AC unit
Leaks in AC units are very common. While a few leaks and condensation are regular, excessive leaks are unusual and may require professional assistance. This could happen because of a clogged condensate line.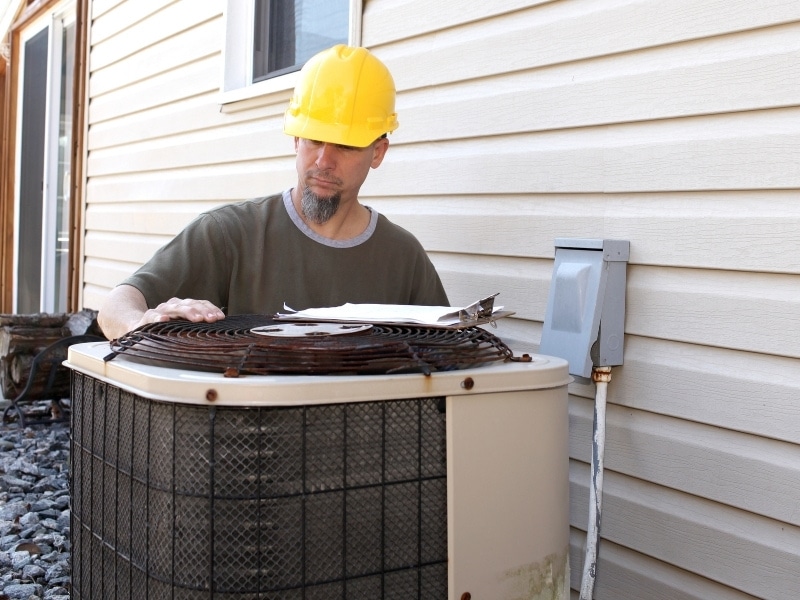 Homeowners often use DIY methods for the unclogging, but if you're unsure about it, you can call a technician and have them deal with the issue. An HVAC professional can detect the leak's source and fix the problem. They can also ensure that the problem doesn't spiral out of hand and lead to more issues.
Loud AC
Air conditioners have an innate sound. The subdued buzz it makes when turned on is normal. You'd notice when it starts making unusual noises. The noise usually occurs when the unit works harder to keep the room cool.
Failing air conditioners make various noises, including screeching, rattling, squealing, etc.
Screeching sounds indicate issues with the belt, while rattling sounds indicate problems with the fans, motor, or compressors. You can start by checking the thermostat and ensuring everything is okay.
Consider cleaning your outside unit and getting rid of debris from around it. If the noises persist, you might have to call a professional and see if there's an issue with the internal mechanism of the AC.
Thermostat malfunctions
The thermostat is a critical component of your HVAC unit. Any malfunctions in the thermostat could lead to issues with your AC unit as well. If that's the case, review your thermostat settings and ensure everything is set correctly. You can refer to the owner's manual to understand the mechanism of the thermostat. Read the operating instructions and follow the steps to get the settings right.
Check whether the thermostat's batteries are fine. If they're dead, replace them and set the thermostat to the desired temperature. You can deal with various thermostat issues without paying for repair jobs. However, if the problem seems out of your hand, you could be forced to call for a professional and have them take a look.
Some other HVAC issues that could warrant a professional's help include the following:
mechanical wear and tear
ignition problems
tripped breakers
dirty evaporator or condenser coils
and continued running the blower motor
It's not advised to resort to DIY hacks to fix the issues. If you're not experienced repairing HVAC units, you could make matters worse and earn an even longer repair bill.
As soon as you detect the issue with the AC, consult professionals. They can inspect the unit and let you know if the repairs would do the trick or if any replacements would be required. The sooner you call a professional for a repair job, the more money you could save yourself.